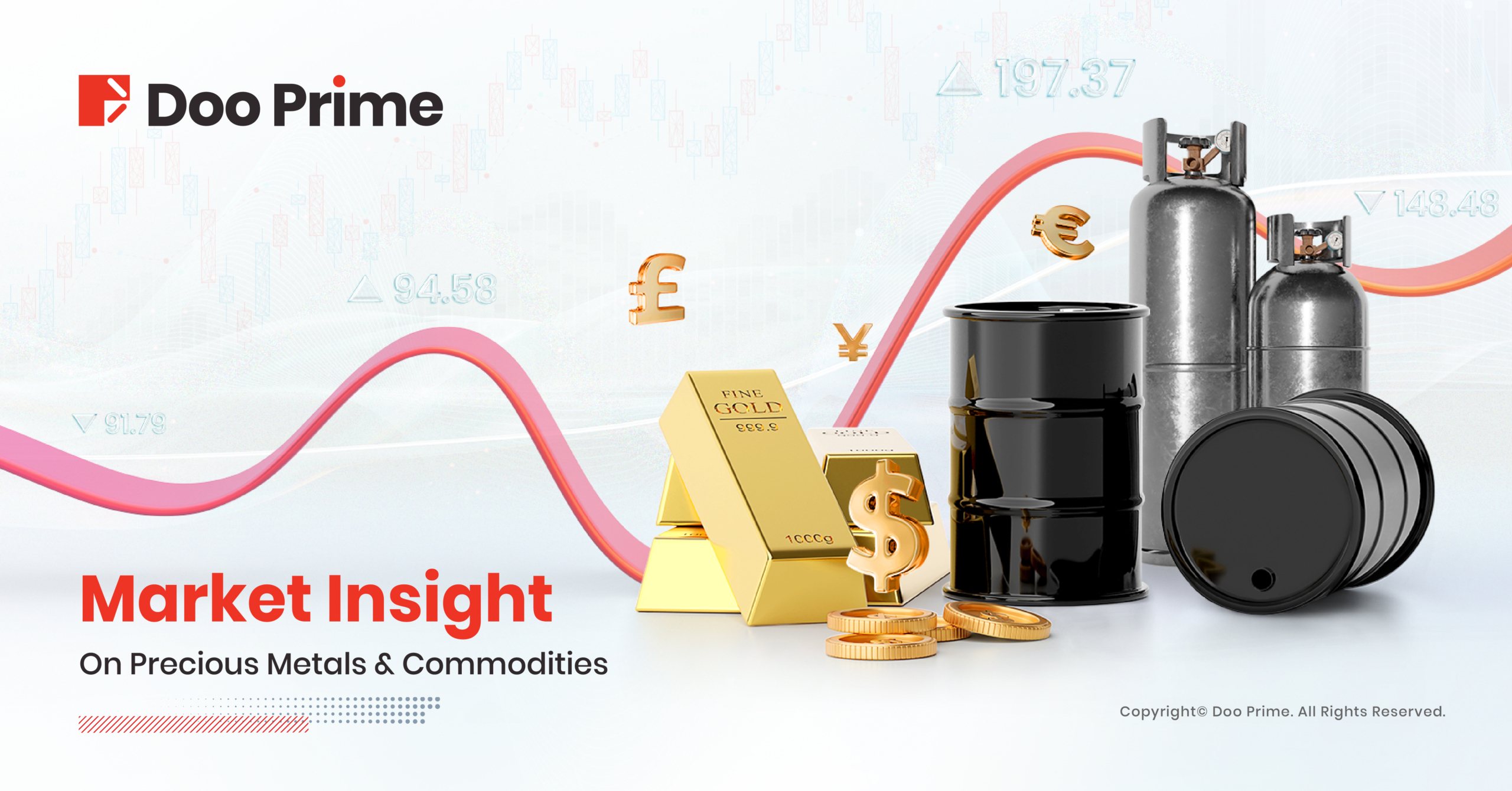 Gold prices rebounded from a nearly three-month low reached in the previous trading session, driven by concerns about the Russian situation and leading to an influx of capital into the safe-haven asset of gold.
This overshadowed the risks associated with a hawkish outlook from the Federal Reserve. On the other hand, political instability in Russia has intensified supply disruptions, resulting in a minor increase and volatility in oil prices.
Gold>>
Weak performance in the June PMI data from European and American countries on Friday provided safe-haven support for gold prices, resulting in marginal gains in spot gold on Monday.
At the same time, increased demand for the safe-haven U.S. dollar limited the upside potential of gold. Furthermore, hawkish remarks from Federal Reserve officials last week led to a rebound in the U.S. dollar from its recent lows, undermining bullish sentiment for gold.
Additionally, most central banks, apart from the Federal Reserve, also leaned towards a hawkish stance, causing gold to record its largest weekly decline in over four months.
The U.S. dollar index rose by 0.5% last week, reaching a new high since June 15 at 103.16 before closing at 102.86, reducing the attractiveness of gold for investors holding other currencies.
The recent turmoil in Russia's domestic situation and the dispute between Wagner and Russia undoubtedly provided impetus for gold prices on the safe-haven front. Even if the situation quickly eases, gold prices overall remain resilient.
Technical Analysis:
The market has breached the 20-day moving average, suggesting a short-term weakness. It is important to monitor the situation throughout the day.
Resistance is focused on the $1940 level for gold.
Support is focused on the $1910 level for gold.
WTI Oil>>
Crude oil prices experienced a slight increase yesterday amid volatile trading, as investors sought a balance between concerns about global demand growth and potential supply disruptions.
The risks of reduced production from Saudi Arabia starting in July, declining U.S. output, the conclusion of the Strategic Petroleum Reserve (SPR) release action, and the political instability in Russia may exacerbate supply shortages in the coming months.
OPEC+ has implemented significant production cuts, coupled with a decline in the U.S. oil rig count. Amid escalating geopolitical tensions, the risks of supply interruptions have increased.
Weak manufacturing data in Europe and the indications of further interest rate hikes from major central banks (both in Europe and the U.S.) pose risks of an economic downturn, which could dampen oil demand and limit upward price movement.
Therefore, in the short term, oil prices are likely to be influenced primarily by market sentiment, leading to continued low-level consolidation.
Today, crude oil opened at $69.456 per barrel, finding support near the lower band of a short-term range. There are signs of a potential rebound towards the upper band.
However, with limited momentum observed yesterday and the mid-range facing resistance, the market is currently experiencing contracting oscillations.
The short-term market structure does not indicate a clear breakout in either direction, thus maintaining a range-bound pattern with a bias towards selling at higher levels and buying at lower levels.
Technical Analysis:
Expect crude oil to experience wide-ranging oscillations, considering a strategy of shorting at higher levels and longing at lower levels.
Short-term resistance levels to monitor above: $70.8-$71.4 per barrel.
Short-term support levels to monitor below: $68.6-$67.0 per barrel.
Forward-looking Statements
This article contains "forward-looking statements" and may be identified by the use of forward-looking terminology such as "anticipate", "believe", "continue", "could", "estimate", "expect", "hope", "intend", "may", "might", "plan", "potential", "predict", "should", or "will", or other variations thereon or comparable terminology. However, the absence of such terminology does not mean that a statement is not forward-looking. In particular, statements about the expectations, beliefs, plans, objectives, assumptions, future events, or future performance of Doo Prime will be generally assumed as forward-looking statements.
Doo Prime has provided these forward-looking statements based on all current information available to Doo Prime and Doo Prime's current expectations, assumptions, estimates, and projections. While Doo Prime believes these expectations, assumptions, estimations, and projections are reasonable, these forward-looking statements are only predictions and involve known and unknown risks and uncertainties, many of which are beyond Doo Prime's control. Such risks and uncertainties may cause results, performance, or achievements materially different from those expressed or implied by the forward-looking statements.
Doo Prime does not provide any representation or warranty on the reliability, accuracy, or completeness of such statements. Doo Prime is not obliged to provide or release any updates or revisions to any forward-looking statements.

Disclaimer
While every effort has been made to ensure the accuracy of the information in this document, DOO Prime does not warrant or guarantee the accuracy, completeness or reliability of this information. DOO Prime does not accept responsibility for any losses or damages arising directly or indirectly, from the use of this document. The material contained in this document is provided solely for general information and educational purposes and is not and should not be construed as, an offer to buy or sell, or as a solicitation of an offer to buy or sell, securities, futures, options, bonds or any other relevant financial instruments or investments. Nothing in this document should be taken as making any recommendations or providing any investment or other advice with respect to the purchase, sale or other disposition of financial instruments, any related products or any other products, securities or investments. Trading involves risk and you are advised to exercise caution in relation to the report. Before making any investment decision, prospective investors should seek advice from their own financial advisers, take into account their individual financial needs and circumstances and carefully consider the risks associated with such investment decision.