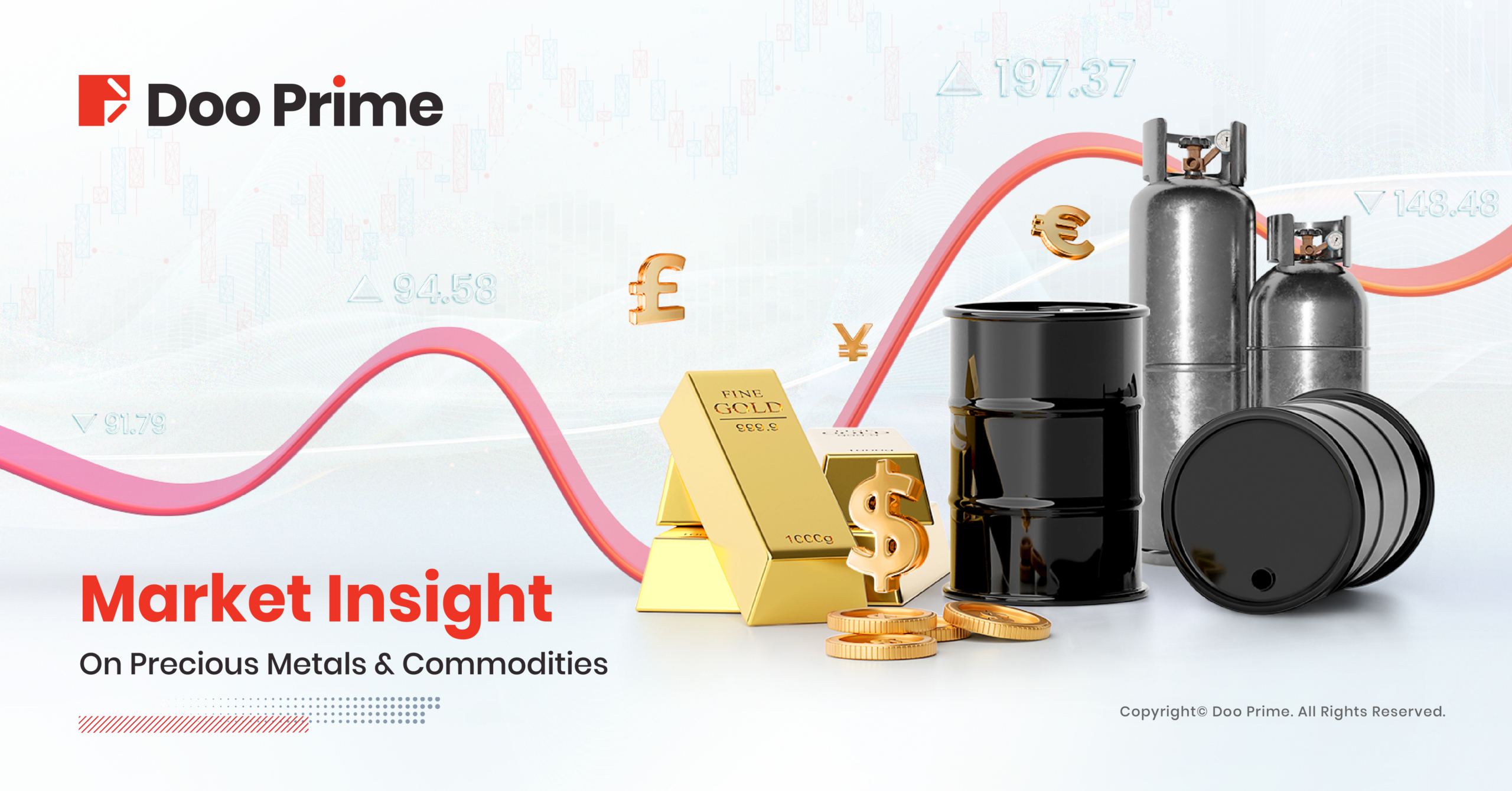 Yesterday, the U.S. dollar rebounded, causing the gold price's upward momentum to slow down, hovering near an eight-week high. Recent economic data has once again ignited hopes that the Federal Reserve may soon pause its interest rate hike cycle.
As for oil, investors took profits earlier as U.S. crude supply concerns eased, coupled with last week's lower-than-expected decline in U.S. crude inventories, limiting the oil price gains and resulting in a decline in prices yesterday.
Gold >>
Yesterday, gold prices hovered around $1980 per ounce, showing signs of slowing down after reaching a new high since May 24th at $1984.25 per ounce in the previous trading session.
Investors continue to bet on recent U.S. economic data, giving the Federal Reserve reasons to consider pausing interest rate hikes.
However, resilient U.S. core inflation raises doubts about whether the Federal Reserve will adopt a more dovish policy stance, hindering new bearish positions on the U.S. dollar and restricting the upward momentum of gold prices.
Technically, gold experienced a slow rise during the U.S. session, breaking through the $1970 level with strong one-sided gains. The Asian and European sessions saw gradual price increases with support around the $1955 level.
In the late U.S. session, there were repeated attempts to test the $1970 resistance, eventually leading to an acceleration and further breakthrough.
During the early hours, gold continued its upward surge, breaking through the $1980 level and reaching around $1984 before slightly retracing for a strong closing. The daily chart showed a strong rebound with a bullish candle, indicating a firm breakthrough and a short-term bullish phase. Prices have found support above the $1955 level.
Technical Analysis: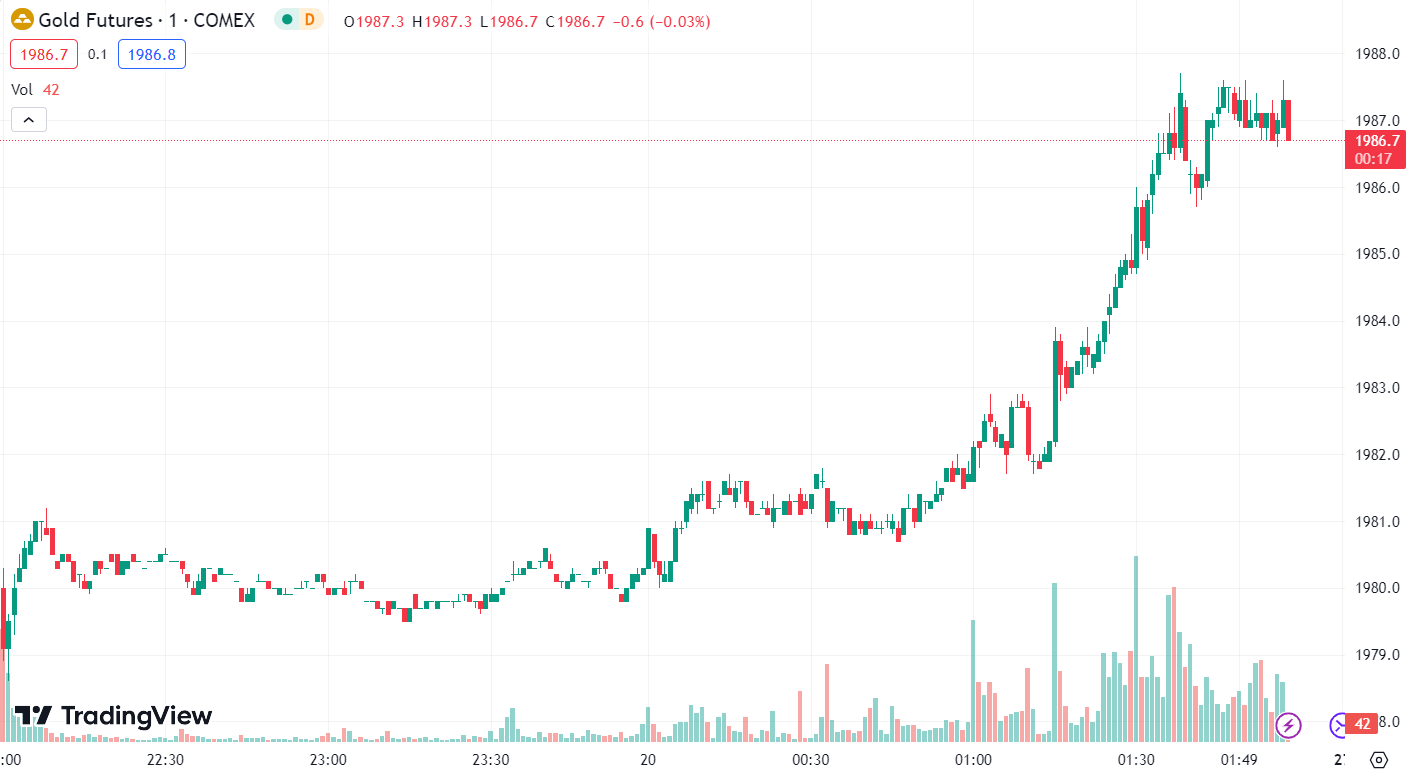 Today, the short-term trading strategy for gold suggests focusing on buying during pullbacks and considering short positions during rebounds.
Key resistance levels to watch in the short term are around 1985-1990.
Key support levels to monitor in the short term are around 1960-1965.
WTI Crude Oil >>
In the early Asian trading session today, WTI crude oil was trading near $75.21 per barrel. However, oil prices experienced a rise followed by a retreat on Wednesday as investors took profits earlier due to concerns over tight U.S. crude supplies.
Although U.S. crude stocks in strategic petroleum reserves increased for the first time in two years last week, the decline in U.S. crude oil inventories was not as significant as expected, which limited the upward movement of oil prices.
International oil prices strengthened yesterday, as China's commitment to supporting economic growth provided some relief to investors. Crude oil rose to $77.71 per barrel.
Market analysts stated that despite the less-than-expected drop in U.S. crude inventories, the positive aspect lies in China's top economic planner pledging to introduce policies to "restore and expand" consumption, potentially boosting oil demand.
Crude oil experienced a retracement after testing higher levels on Wednesday. The daily chart showed a small bearish doji candlestick, indicating resistance after the rally. The short-term correction period may be extended, and the daily chart structure is still consolidating after the breakout.
Although short-term fluctuations are present, as long as the closing price remains above $73.80, the short-term bullish outlook remains unchanged.
However, the weekly Bollinger Bands are starting to narrow, with resistance nearing the upper band, suggesting potential signs of broad range-bound movement on the weekly chart, indicating a period of consolidation and retracement in the short term.
Technical Analysis: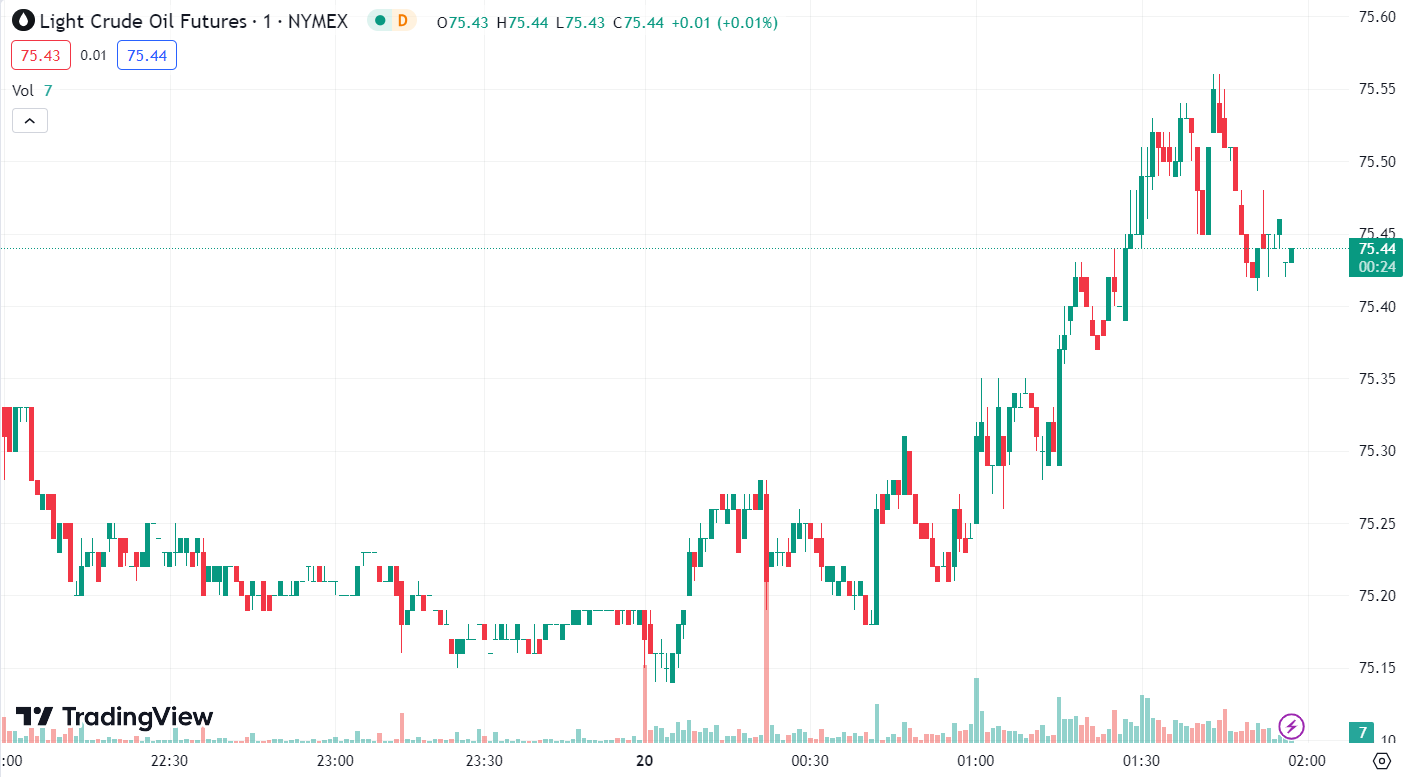 Today's short-term trading strategy suggests a focus on buying at lower levels on pullbacks and selling at higher levels on rebounds.
Key resistance levels to watch in the short term are around 77.5-78.
On the other hand, key support levels to monitor in the short term are around 74-74.6.
Forward-looking Statements
This article contains "forward-looking statements" and may be identified by the use of forward-looking terminology such as "anticipate", "believe", "continue", "could", "estimate", "expect", "hope", "intend", "may", "might", "plan", "potential", "predict", "should", or "will", or other variations thereon or comparable terminology. However, the absence of such terminology does not mean that a statement is not forward-looking. In particular, statements about the expectations, beliefs, plans, objectives, assumptions, future events, or future performance of Doo Prime will be generally assumed as forward-looking statements.
Doo Prime has provided these forward-looking statements based on all current information available to Doo Prime and Doo Prime's current expectations, assumptions, estimates, and projections. While Doo Prime believes these expectations, assumptions, estimations, and projections are reasonable, these forward-looking statements are only predictions and involve known and unknown risks and uncertainties, many of which are beyond Doo Prime's control. Such risks and uncertainties may cause results, performance, or achievements materially different from those expressed or implied by the forward-looking statements.
Doo Prime does not provide any representation or warranty on the reliability, accuracy, or completeness of such statements. Doo Prime is not obliged to provide or release any updates or revisions to any forward-looking statements.

Disclaimer
While every effort has been made to ensure the accuracy of the information in this document, DOO Prime does not warrant or guarantee the accuracy, completeness or reliability of this information. DOO Prime does not accept responsibility for any losses or damages arising directly or indirectly, from the use of this document. The material contained in this document is provided solely for general information and educational purposes and is not and should not be construed as, an offer to buy or sell, or as a solicitation of an offer to buy or sell, securities, futures, options, bonds or any other relevant financial instruments or investments. Nothing in this document should be taken as making any recommendations or providing any investment or other advice with respect to the purchase, sale or other disposition of financial instruments, any related products or any other products, securities or investments. Trading involves risk and you are advised to exercise caution in relation to the report. Before making any investment decision, prospective investors should seek advice from their own financial advisers, take into account their individual financial needs and circumstances and carefully consider the risks associated with such investment decision.