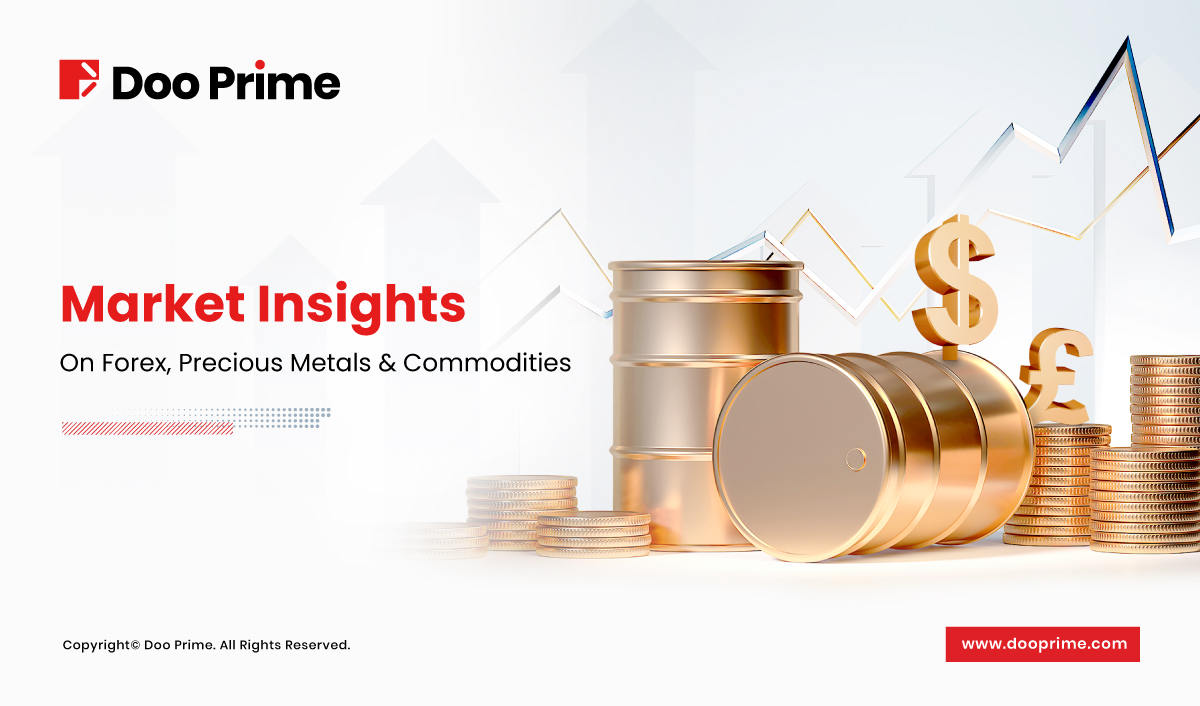 1. Forex Market Insight  


EUR/USD 
The U.S. could begin tapering the scale of monthly bond purchases as early as November, followed by the rate hike, as the Fed accelerates its shift from the pandemic crisis policy.
Markets remain anxious about the U.S. debt ceiling negotiations, although the U.S. Senate Republican Leader Mitch McConnell said Republicans would allow an extension of the federal debt ceiling until December, a move that would avoid a historic default and a heavy blow to the economy.
The U.S. nonfarm payrolls report remains the focus of investors' attention this weekend, as the report could provide clues to the Fed's next move.
Institutional surveys show that Friday's non-farm payrolls data is expected to show continued improvement in the job market and is expected to increase by 473,000 jobs in September. In addition, the ADP National Employment Report showed on Wednesday that the U.S. employment rate grew more than expected in September as the Covid-19 pandemic began to recede, and Americans were able to travel, dine-in and re-engage in other high-contact activities.
Technical Analysis: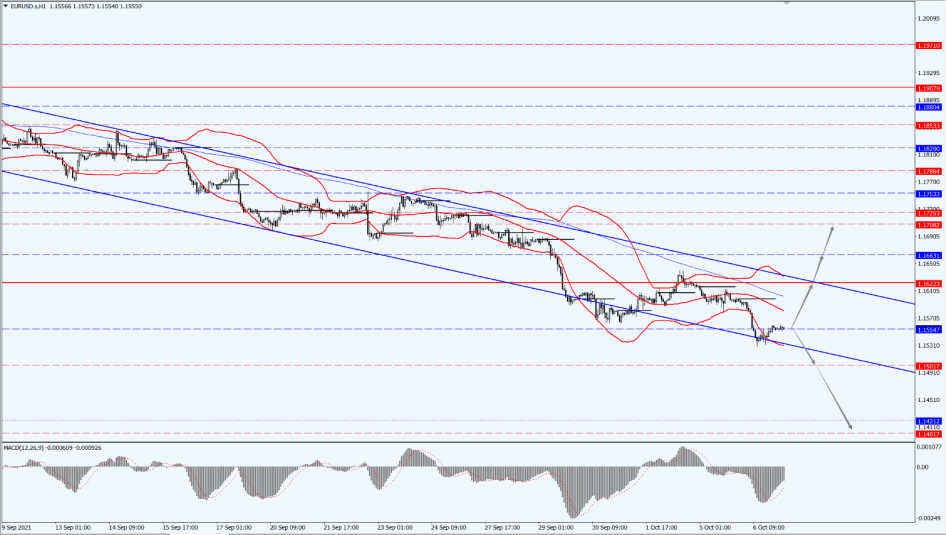 (EUR/USD 1-hour chart) 
Execution Insight:
Today, we pay attention to the 1.1554-line of support. If the euro breaks below the 1.1554-line, it will open up a further downside potential. At that time, pay attention to the 1.1501-line of support as it could possibly open up a further upside potential.


GBP Intraday Trend Analysis 
Fundamental Analysis:
The pound fell by 0.34% against the dollar to 1.3582. The pair's implied volatility rose to a seven-month high of around 7.9% on Wednesday, 6th October. The surging energy prices, and the surging bond yields led to a 0.3% drop in the pound against the dollar, implied volatility. With this, it acts as an indicator to measure the expected volatility in currency options.
The recent weak sentiment is driven by higher energy prices and the impact on inflation and possible central bank shocks Given the upward pressure on inflation, markets are becoming increasingly skeptical that some central banks, particularly the Federal Reserve, can continue to delay policy normalization. The dangerous combination of tighter monetary policy and slower economic growth is clearly making investors nervous.
Technical Analysis: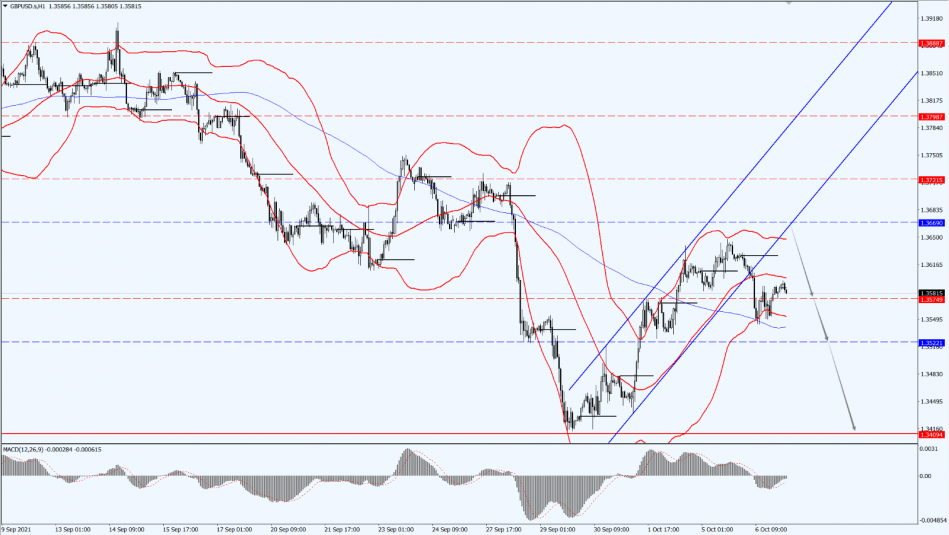 (GBP/USD 1-hour chart) 
Execution Insight:
The pound today is focused on the suppression of 1.3669, and the support below 1.3522 and 1.3409.


2. Precious Metals Market Insight


Gold 
Fundamental Analysis:
Yesterday, gold prices bottomed out and closed higher as U.S. bond yields retreated. But a stronger dollar limited gold's gain, while the improvement of the ADP employment data and market optimism also weighed on gold prices.
The main concern during the day is the initial jobless claims and challenger layoffs data. Against this background, the data may be a positive sign for the dollar and negative for gold.
Technical Analysis: 
(Gold 1-hour chart) 
Trading Strategies:
Gold is still paying attention to the direction of the breakthrough in the 1751 to 1768 range. If it breaks through 1768 upwards, it will open up a further upside. At that time, pay attention to the suppression of 1782 and 1801. If it falls below the 1751-line, it will open up a further downside space. At that time, we will pay attention to the strength of support at 1740 and 1724.


3. Commodities Market Insight 


WTI Crude Oil 
Fundamental Analysis:
Oil prices fell by nearly 2% yesterday as rising U.S. inventories prompted buyers to take a breather after a recent surge. Russia hinted that it was ready to ease the global energy crisis, sending prices down the most in two weeks and away from a fresh multi-year high.
Technical Analysis: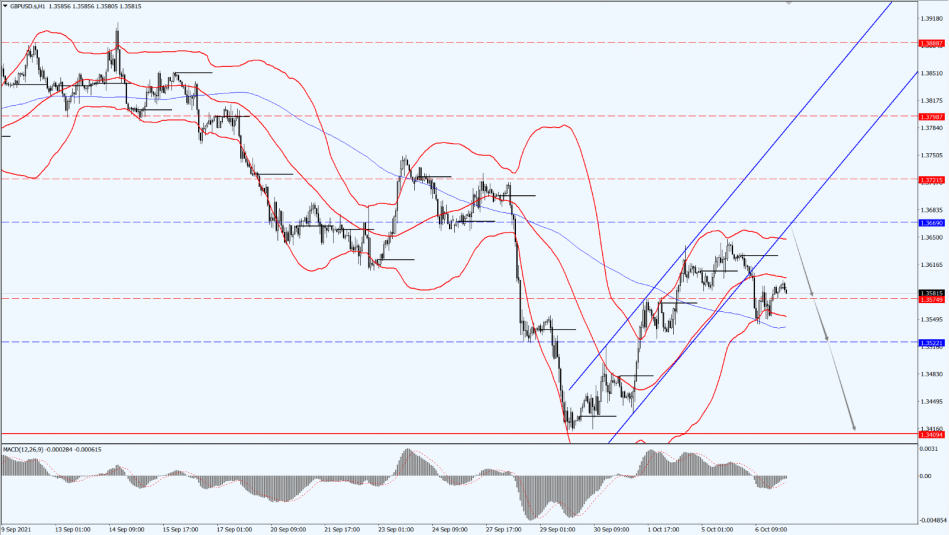 (Crude oil 1-hour chart) 
Trading Strategies:
Today, oil prices pay attention to the 78.30-line. Below the 78.30-line, pay attention to the support at 76.89 and 75.04. If it rises above the 78.30-line, it will open up a further upside. At that time, focus on the suppression of the 80-line.


Disclaimer
While every effort has been made to ensure the accuracy of the information in this document, DOO Prime does not warrant or guarantee the accuracy, completeness or reliability of this information. DOO Prime does not accept responsibility for any losses or damages arising directly or indirectly, from the use of this document. The material contained in this document is provided solely for general information and educational purposes and is not and should not be construed as, an offer to buy or sell, or as a solicitation of an offer to buy or sell, securities, futures, options, bonds or any other relevant financial instruments or investments. Nothing in this document should be taken as making any recommendations or providing any investment or other advice with respect to the purchase, sale or other disposition of financial instruments, any related products or any other products, securities or investments. Trading involves risk and you are advised to exercise caution in relation to the report. Before making any investment decision, prospective investors should seek advice from their own financial advisers, take into account their individual financial needs and circumstances and carefully consider the risks associated with such investment decision.