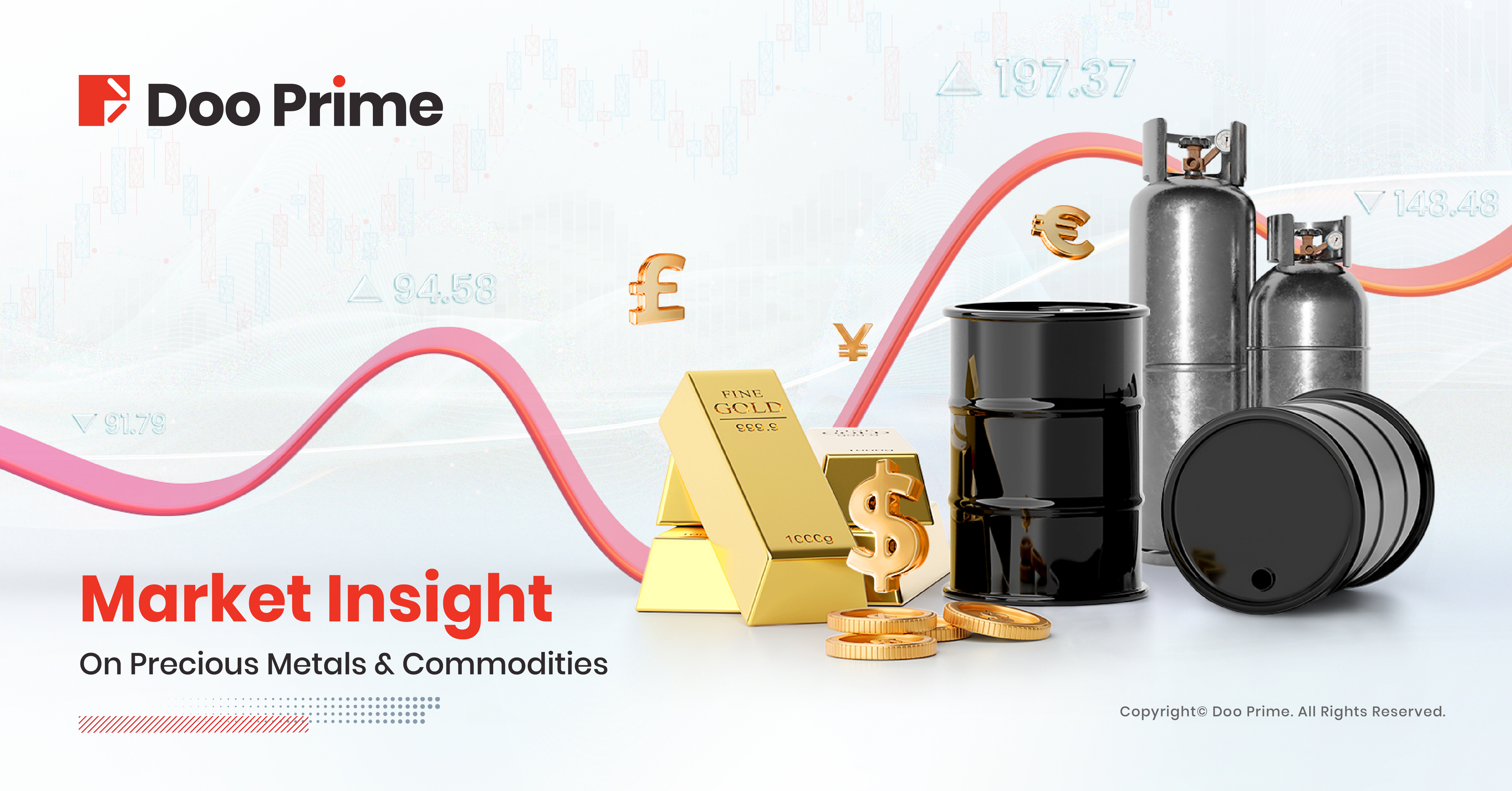 Gold recorded a slight increase last Friday as unexpectedly robust U.S. manufacturing data emerged. Meanwhile, oil prices soared to new yearly highs due to supply shortages.
This week, market attention is centered on central bank monetary policy meetings and PMI data from various countries, with a particular focus on the Federal Reserve's interest rate decision. 
Gold >> 
Gold recorded a slight uptick last week with relatively limited overall volatility. By Friday's close, gold was trading at $1,923.64 per ounce, marking a weekly gain of $13.02 per ounce and a weekly increase of 0.26%.
Early in the week, gold continued its weaker trend, approaching the $1,900 level. However, a corrective rebound began on Thursday, driven by unexpectedly strong U.S. manufacturing data published on Friday, briefly pushing gold prices to touch $1,930.
The market focus this week revolves around monetary policy meetings of central banks such as the Bank of Japan, the Bank of England, the Swiss National Bank, and the Federal Reserve.
The primary hope for gold bulls this week lies in the actions of various central banks. Additionally, preliminary data on global Purchasing Managers' Index (PMI) figures for September is set to be released this Friday, providing initial insights into economic activity for the month.
Positive data could help improve market sentiment and offer some moderate support to gold prices. Conversely, an adverse surprise in the PMI data might lead to a rise in bond prices, subsequently pushing gold prices higher.
From a technical standpoint, gold exhibited intraday fluctuations on Friday, breaking through resistance around the $1,916 level and heading toward the $1,930 level. 
Technical Analysis:
Today's short-term trading strategy for gold suggests a preference for long positions on pullbacks, with short positions on rebounds. 
Key resistance levels to watch in the short term are around 1935-1940. 
Key support levels to watch in the short term are around 1913-1905. 
WTI Crude Oil >> 
International oil prices surged significantly last week, reaching yearly highs in the middle of the week for both WTI and Brent crude. WTI crude broke through the $90 per barrel mark during trading, while Brent crude surpassed $94.
By the end of the U.S. trading session on Friday, international oil prices closed around $91.18 per barrel, marking the third consecutive week of gains.
The primary drivers behind this increase are Saudi Arabia's production cuts and optimism about an improvement in the Chinese economy, which have led to supply constraints.
This month, with the support of OPEC+ partners like Russia, Saudi Arabia extended its production cut plan of 1.3 million barrels per day until the end of the year, accelerating the reduction of global inventories. Supply issues have pushed benchmark prices for Brent crude and West Texas Intermediate (WTI) crude to their highest levels since November of last year.
On Friday, oil prices continued to rise with a bullish candle, backed by strong trading volume. After a week of consolidation with multiple doji candlesticks, the market broke out, reaching new highs around $90.83.
This short-term uptrend aligns with expectations, and the daily chart suggests further upside potential in the short term. 
Technical Analysis: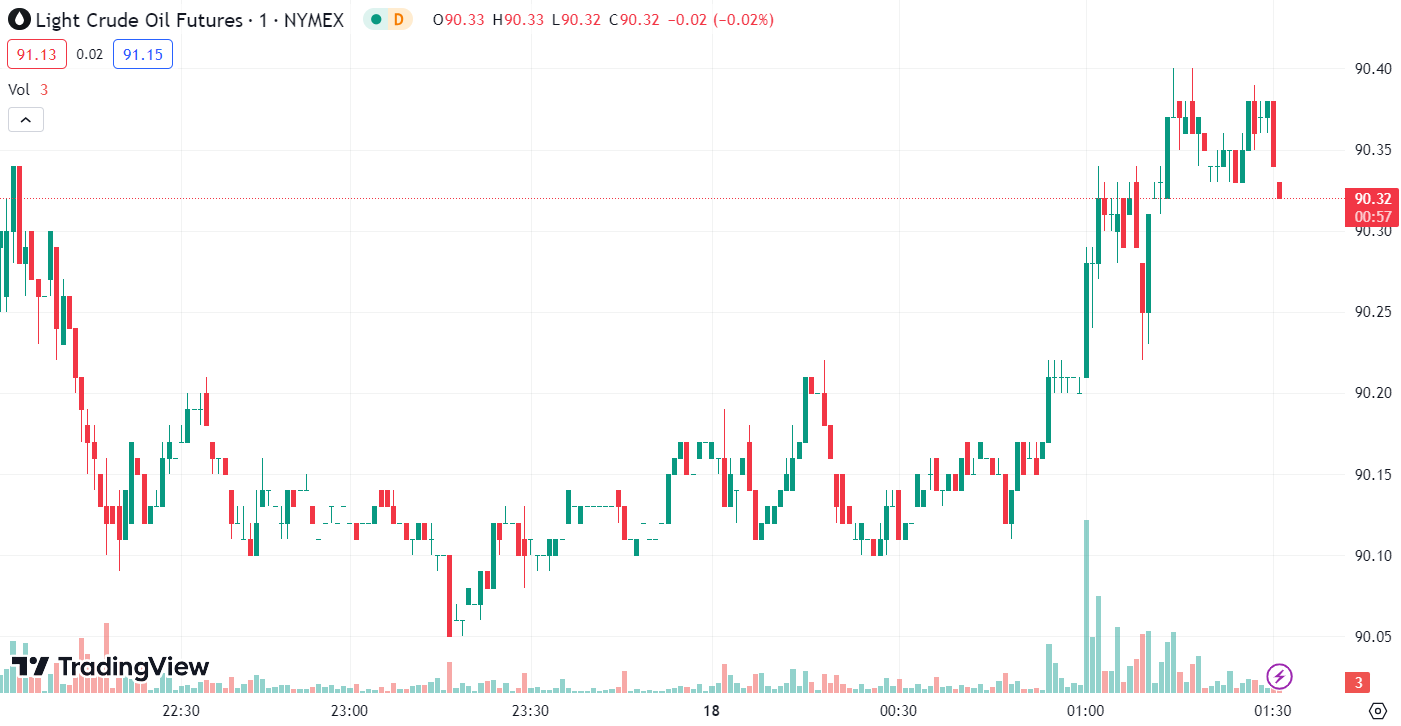 Crude oil's short-term trading strategy today is primarily to go long on dips and consider shorting on high rebounds. 
Key resistance levels to monitor in the short term are around 92.3-92.8. 
Key support levels to monitor in the short term are around 90.0-89.5. 
Forward-looking Statements
This article contains "forward-looking statements" and may be identified by the use of forward-looking terminology such as "anticipate", "believe", "continue", "could", "estimate", "expect", "hope", "intend", "may", "might", "plan", "potential", "predict", "should", or "will", or other variations thereon or comparable terminology. However, the absence of such terminology does not mean that a statement is not forward-looking. In particular, statements about the expectations, beliefs, plans, objectives, assumptions, future events, or future performance of Doo Prime will be generally assumed as forward-looking statements.
Doo Prime has provided these forward-looking statements based on all current information available to Doo Prime and Doo Prime's current expectations, assumptions, estimates, and projections. While Doo Prime believes these expectations, assumptions, estimations, and projections are reasonable, these forward-looking statements are only predictions and involve known and unknown risks and uncertainties, many of which are beyond Doo Prime's control. Such risks and uncertainties may cause results, performance, or achievements materially different from those expressed or implied by the forward-looking statements.
Doo Prime does not provide any representation or warranty on the reliability, accuracy, or completeness of such statements. Doo Prime is not obliged to provide or release any updates or revisions to any forward-looking statements.

Disclaimer
While every effort has been made to ensure the accuracy of the information in this document, DOO Prime does not warrant or guarantee the accuracy, completeness or reliability of this information. DOO Prime does not accept responsibility for any losses or damages arising directly or indirectly, from the use of this document. The material contained in this document is provided solely for general information and educational purposes and is not and should not be construed as, an offer to buy or sell, or as a solicitation of an offer to buy or sell, securities, futures, options, bonds or any other relevant financial instruments or investments. Nothing in this document should be taken as making any recommendations or providing any investment or other advice with respect to the purchase, sale or other disposition of financial instruments, any related products or any other products, securities or investments. Trading involves risk and you are advised to exercise caution in relation to the report. Before making any investment decision, prospective investors should seek advice from their own financial advisers, take into account their individual financial needs and circumstances and carefully consider the risks associated with such investment decision.