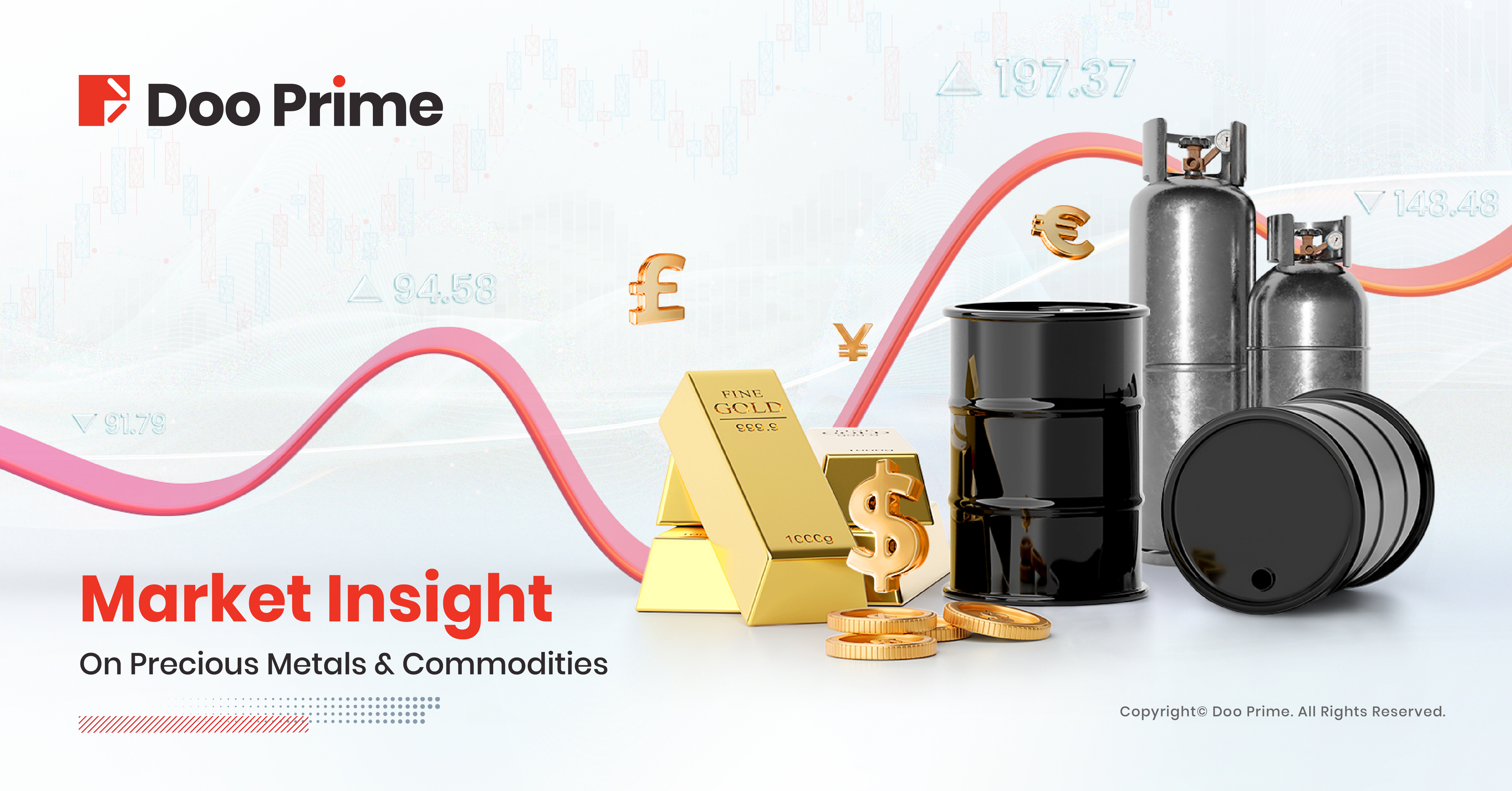 The U.S. July employment data signaled a cooling trend, approaching pre-pandemic levels. As a result, the U.S. dollar and Treasury bonds experienced a significant drop, while gold surged by over $15.
Additionally, due to reduced expectations of a Fed rate hike, hurricane threats, and a larger-than-expected drop in crude oil inventories, oil prices rose by more than 1%. 
Gold >> 
During Wednesday's early Asian trading, gold opened at $1937.20 per ounce, stabilizing near a three-week high. It's currently trading at $1935.94 per ounce.
Major U.S. employment data for July has started approaching pre-pandemic levels, indicating a cooling trend in the job market. This caused a significant drop in the US dollar and Treasury yields on Tuesday, with the 10-year Treasury yield hitting a two-week low. This helped gold surge by over $15, breaking through the key level near the 55-day moving average of $1931.5.
On Tuesday, gold climbed to a three-week high, exhibiting strong momentum and closing at this elevated level. After testing the vicinity of the low point at $1914 before the U.S. session, gold began a sustained rebound, notably breaking through the previous day's high of $1926 and reaching a short-term high above the $1935 mark.
Spot gold closed on Tuesday at $1937.17 per ounce, up around 0.9%. It reached a daily high of $1938.16 per ounce and a low of $1914.39 per ounce. U.S. gold futures also gained 0.9%, closing at $1965.10 per ounce.  
Technical Analysis: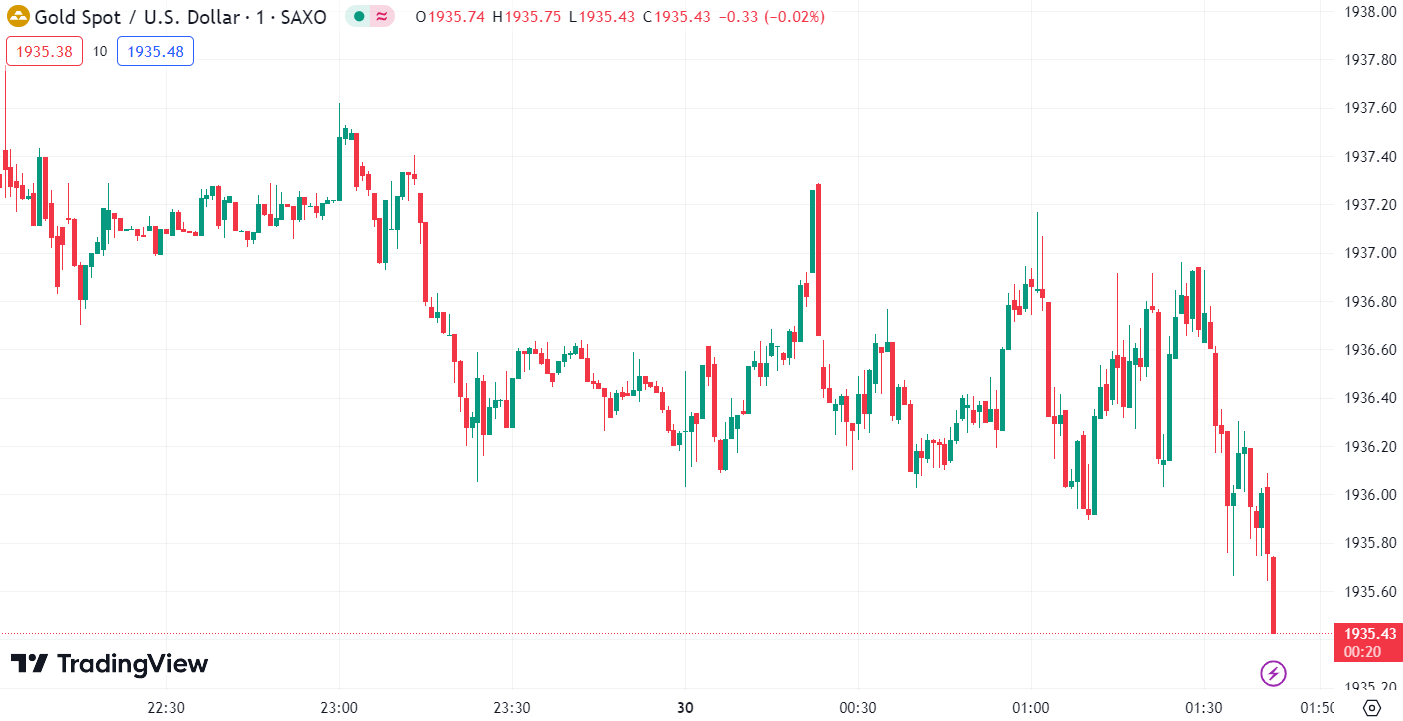 For today's short-term gold trading strategy, it's advisable to focus on buying during pullbacks and consider shorting on rebounds.
Key resistance levels to watch in the short term are around 1940-1945. 
Key support levels to watch in the short term are around 1918-1913. 
WTI Crude Oil >> 
Amid cooling expectations of a Fed interest rate hike, a weakening U.S. dollar, and the influence of a hurricane, international oil prices surged over 1% on Tuesday, with U.S. crude hitting a one-week high.
Oil prices climbed by more than $1 per barrel on Tuesday, propelled by a weakening U.S. dollar. Simultaneously, investors discussed the potential impact of Hurricane Idalia, set to hit Florida this week, on energy supply and demand.
Currently, the storm's trajectory is situated to the east of most major oil and gas production and infrastructure, suggesting it might not significantly affect energy production. However, any westward shift in its path could alter this scenario.
The latest API data indicated a substantial decrease of 11.486 million barrels in U.S. crude inventories up to August 25, far exceeding market expectations of a 2.9 million barrel decline. This data provided further support to oil prices.
Brent crude futures rose by $1.07 on Tuesday, marking a 1.3% increase, closing at $85.49 per barrel. U.S. crude futures settled at $81.86 per barrel, climbing by $1.06 or 1.3%. Wednesday's oil opening stood at $81.245 per barrel, sustaining its high level.
Yesterday's rebound from a dip led to a strong bullish candle, breaking the prior high while avoiding a new low. This pattern suggests bullish continuity in the near future. 
Technical Analysis: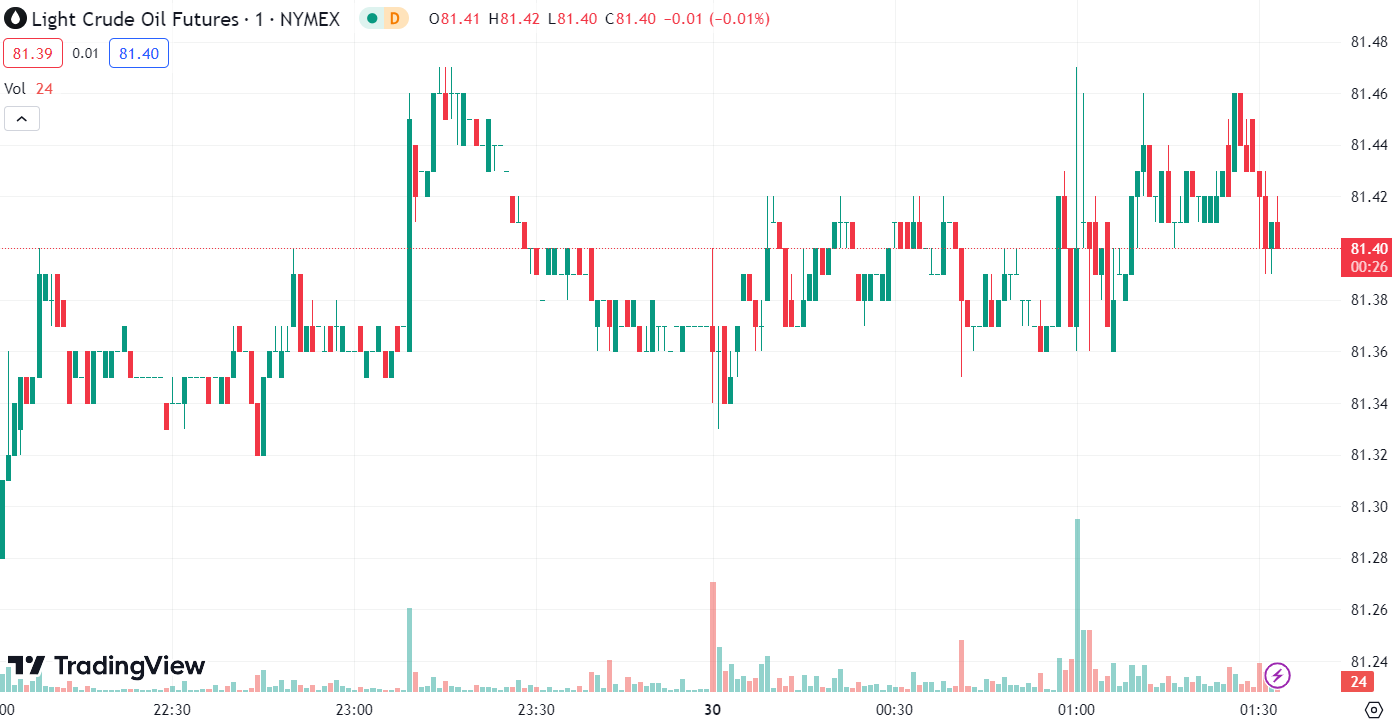 Today's short-term trading strategy suggests prioritizing long positions as the main approach, with shorting on higher rebounds as a secondary option. 
Key resistance levels to monitor in the short term are around 82.0-83.0. 
Key support levels to monitor in the short term are around 80.6-79.9. 
Forward-looking Statements
This article contains "forward-looking statements" and may be identified by the use of forward-looking terminology such as "anticipate", "believe", "continue", "could", "estimate", "expect", "hope", "intend", "may", "might", "plan", "potential", "predict", "should", or "will", or other variations thereon or comparable terminology. However, the absence of such terminology does not mean that a statement is not forward-looking. In particular, statements about the expectations, beliefs, plans, objectives, assumptions, future events, or future performance of Doo Prime will be generally assumed as forward-looking statements.
Doo Prime has provided these forward-looking statements based on all current information available to Doo Prime and Doo Prime's current expectations, assumptions, estimates, and projections. While Doo Prime believes these expectations, assumptions, estimations, and projections are reasonable, these forward-looking statements are only predictions and involve known and unknown risks and uncertainties, many of which are beyond Doo Prime's control. Such risks and uncertainties may cause results, performance, or achievements materially different from those expressed or implied by the forward-looking statements.
Doo Prime does not provide any representation or warranty on the reliability, accuracy, or completeness of such statements. Doo Prime is not obliged to provide or release any updates or revisions to any forward-looking statements.

Disclaimer
While every effort has been made to ensure the accuracy of the information in this document, DOO Prime does not warrant or guarantee the accuracy, completeness or reliability of this information. DOO Prime does not accept responsibility for any losses or damages arising directly or indirectly, from the use of this document. The material contained in this document is provided solely for general information and educational purposes and is not and should not be construed as, an offer to buy or sell, or as a solicitation of an offer to buy or sell, securities, futures, options, bonds or any other relevant financial instruments or investments. Nothing in this document should be taken as making any recommendations or providing any investment or other advice with respect to the purchase, sale or other disposition of financial instruments, any related products or any other products, securities or investments. Trading involves risk and you are advised to exercise caution in relation to the report. Before making any investment decision, prospective investors should seek advice from their own financial advisers, take into account their individual financial needs and circumstances and carefully consider the risks associated with such investment decision.