US Stocks
Fundamental Analysis:
The pandemic's summer resurgence is slowing the global economic recovery as the Delta variant tampers efforts to rev up factories, offices, and schools.  
Instead of entering the final months of 2021 confident that the acute phase of the pandemic is over, it is becoming clear that booster shots may be needed for fading vaccines, workplace reopenings will be delayed, and borders remained closed. 
Data over the past week captured a worldwide weakening as infections hit travel and spending, as well as worsen supply bottlenecks that are dampening manufacturing and trade. Surging gas prices are also emerging as a threat. In the US, hiring sharply slowed in August, with the number of jobs increasing by the smallest amount in seven months. Besides that, airport check-ins, hotel bookings, and dining reservations show softer demand. 
Germany's key business sentiment gauge deteriorated and China's services sector crumbled in August. A global measure of manufacturing slumped.
Activity gauges have missed expectations in major economies. The recovery could moderate with a deepening divergence between sectors and regions. The spread of the Delta variant is slowing the reopening process and has caused investment institutions to mark down their growth globally.
Technical Analysis: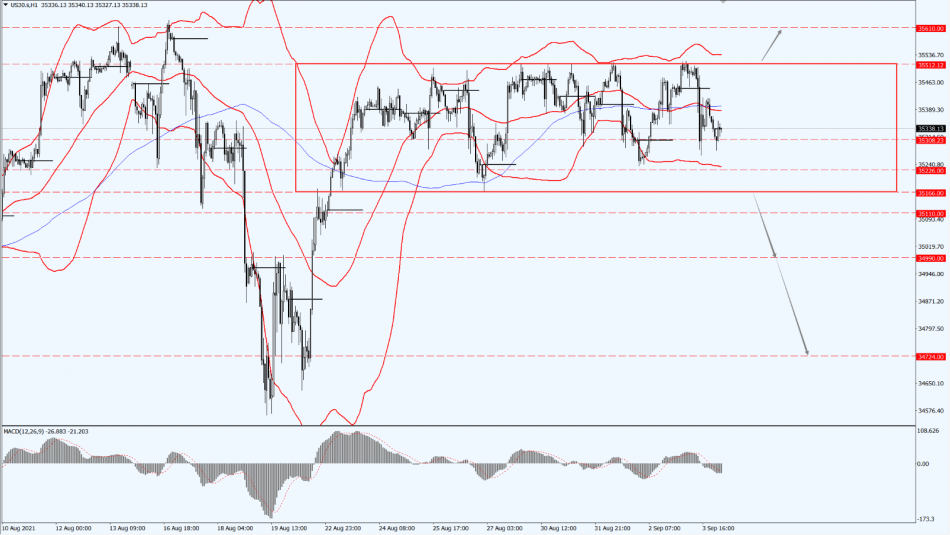 (Dow30,1-hour chart)
Execution Insight:
Today, continue to pay attention to the direction of the Dow's breakthrough in the expanded shock range. If it falls below the 35166 line, it will open up further downward revision. Then, focus on the support of the 34990 line, if it breaks through the 35512 line, it will open up further upward revision. At that time, shift your attention to the suppression strength of the 35610 line. 
Hong Kong Stocks
Fundamental Analysis:
On Friday, 3 September 2021, the United States announced an increase of 235,000 in non-farm payrolls after the August quarter adjustment. This is the lowest gain since January 2021, far lower than the 750,000 growth previously expected by the market. The three major US indices showed divergence and little volatility.
However, Hong Kong stocks were under pressure in early trading, with the Hang Seng Index opening 0.29% lower at 25,827 points, Hang Seng China Enterprises Index falling 0.33% to 9,260 points, and the Hang Seng Technology Index falling 0.61% to 6,687 points. Among the blue-chip stocks, Anta Sports rose by 1.31%; BYD shares rose by 1.02%; Longfor Group rose by 0.69%; Meituan fell by 2.37%; WH Group fell by 1.31%; and Bud APAC fell by 1.22%.
Technical Analysis: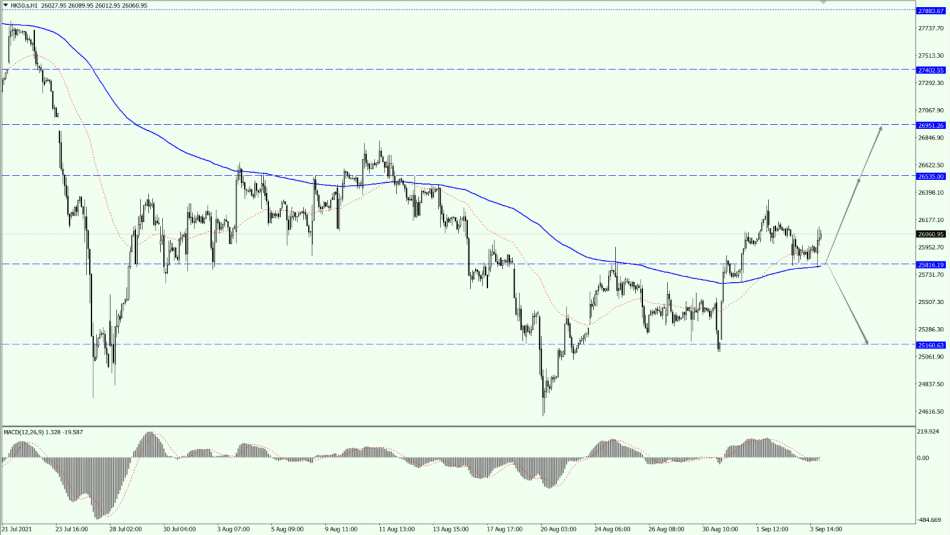 (HK50,1-hour chart)
Execution Insight:
Today, on HK50, pay attention to the support of the 25816 line. If it crosses the 25816 line above, it will maintain a bullish trend. Then, focus on the suppression strength of the two positions of 26535 and 26951 above. If HK50 falls below the 25816 line, then it will test the support of the 25160 line again.
FTSE China A50 Index 

Technical Analysis: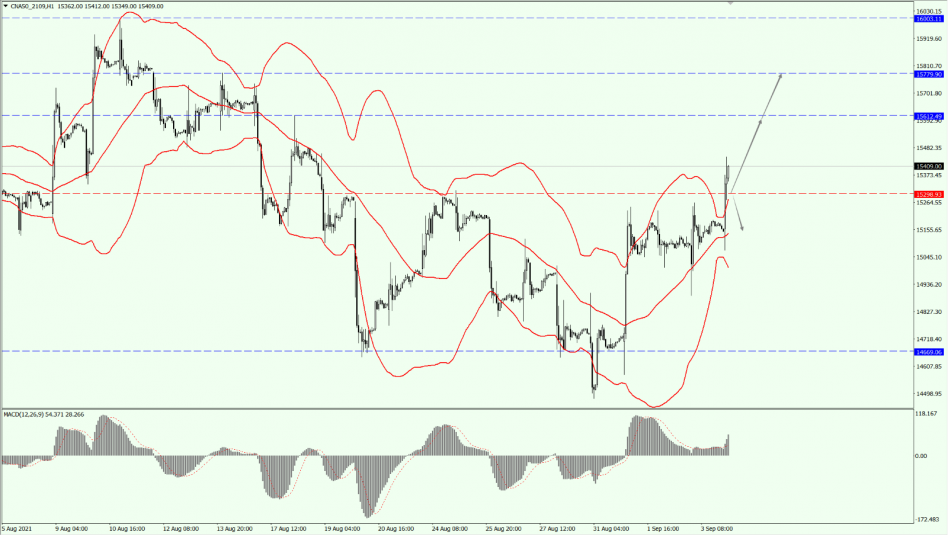 (A50,1-hour chart)
Execution Insight:
A50 broke through the 15298 line earlier today. As long as A50 runs stably above the 15298 line, pay attention to the suppression strength of the 15612 line. Then, focus on the support of the middle Bollinger Band below, as long as it does not fall below the middle Bollinger Band, it will maintain a bullish mode. 
Disclaimer
While every effort has been made to ensure the accuracy of the information in this document, DOO Prime does not warrant or guarantee the accuracy, completeness or reliability of this information. DOO Prime does not accept responsibility for any losses or damages arising directly or indirectly, from the use of this document. The material contained in this document is provided solely for general information and educational purposes and is not and should not be construed as, an offer to buy or sell, or as a solicitation of an offer to buy or sell, securities, futures, options, bonds or any other relevant financial instruments or investments. Nothing in this document should be taken as making any recommendations or providing any investment or other advice with respect to the purchase, sale or other disposition of financial instruments, any related products or any other products, securities or investments. Trading involves risk and you are advised to exercise caution in relation to the report. Before making any investment decision, prospective investors should seek advice from their own financial advisers, take into account their individual financial needs and circumstances and carefully consider the risks associated with such investment decision.