U.S. Stocks 


Fundamental Analysis:
The U.S. stock market, S&P 500 Index and Dow Jones Industrial Average touched record highs yesterday as investors shifted to defensive stocks.
Economically sensitive stocks such as energy, materials, and finance have weakened. In relation to that, China announced that the pandemic combined with flooding conditions have slowed China's industrial, investment and consumption growth in July to a slower-than-expected pace.
The S&P 500 and the Dow Jones Industrial Average both set new record closing highs for the fifth consecutive trading day, although the major stock indexes had fallen sharply previously.
The Dow was up by 0.31%, the S&P 500 was up by 0.26%, while the Nasdaq was down by 0.2%.
The rebound in the U.S. economy, including a bright second-quarter corporate earnings season, and accommodative monetary policy have supported the positive sentiment of the stock market.
The S&P 500 Index has doubled since its low in March 2020.
Technical Analysis: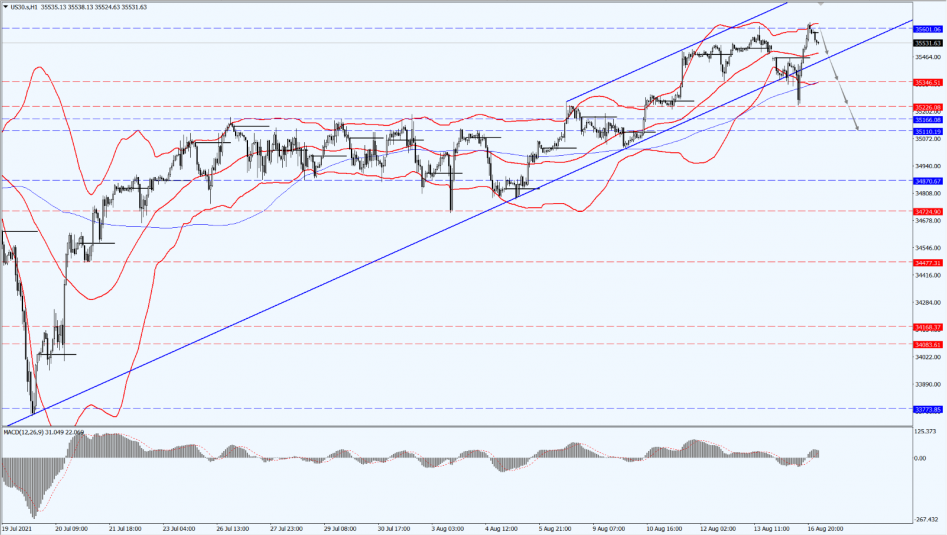 (Dow30,1-hour chart) 
Execution Insight:
Once again, on Dow today, pay attention to the suppression of the 35601-line. On the lower end, we will focus on the Bollinger Bands and the support of the 35346-line. Once Dow drops below the 35346-line, it will open up a greater downside potential. At that time, we will pay attention to the supporting strength of the 35226 and 35110 positions.


Hong Kong Stocks 


Fundamental Analysis: 
The Hang Seng Index opened at 26,137.9-points, falling by 43.56-points or 0.17%. The Hang Seng China Enterprises Index (HSCEI) was down by 0.4% at 9228.4-points, while China's Red-Chips Index was up by 0.26% at 3873.97-points.
The Hong Kong stocks market traded HK$2.88 billion in pre-market as the U.S. stocks market closed mixed. Dow rose by 0.31% to 35625.4-points, S&P 500 index rose by 0.26% to 4479.71-points, both hitting refreshing new record highs. Whereas, Nasdaq fell by 0.2% to 14,793.76-points.
In terms of China's Blue-Chips Index, Tencent Holdings Ltd. opened by 2.42% lower at HK$442.8, Alibaba-SW fell by 1.39%, HSBC Holdings fell by 1.13% while AIA Group Ltd. rose by 2.66%.
Technical Analysis: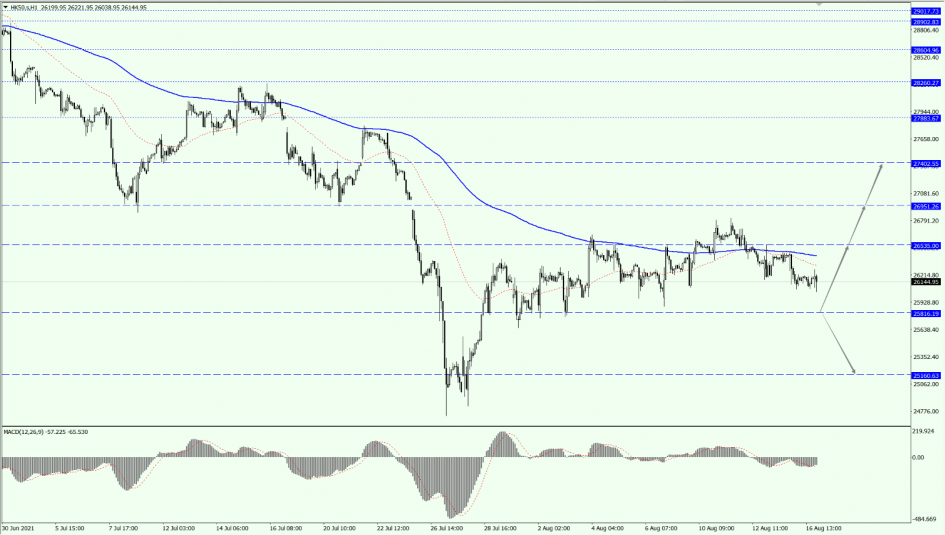 (HK50,1-hour chart) 
Execution Insight:
On HK50, continue to focus on the 25816-line today. If HK50 runs above the 25816-line, it will focus on the suppression of the 26535 and 26951 positions in turn. If the strength of HK50 falls below the 25816-line, attention should be diverted to the support of the 25160-line.


FTSE China A50 Index 


Technical Analysis: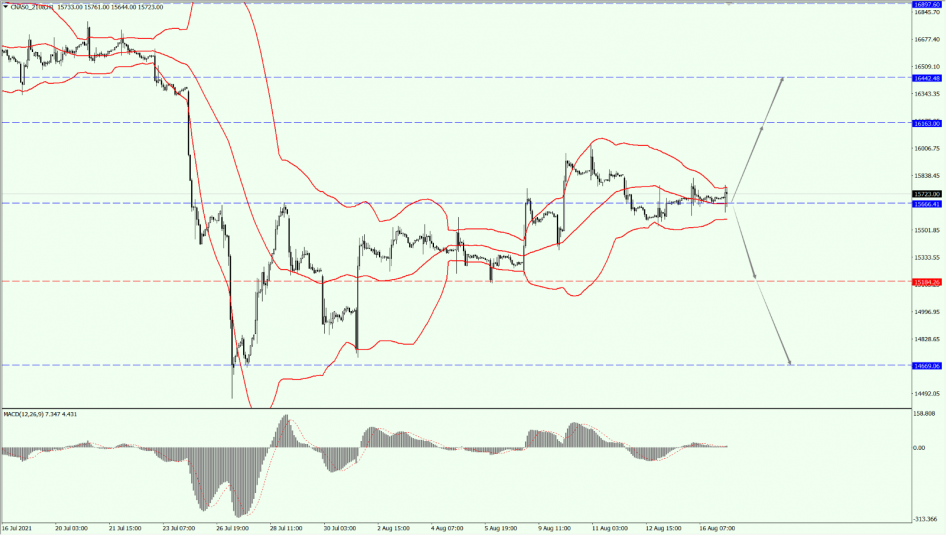 (A50,1-hour chart) 
Execution Insight: 
On A50, continue to pay attention to the 15666-line today. When A50 is above the 15666-line, the main idea is to maintain the bullish trend. At that time, pay attention to the suppression of the 16163 and 16442 positions. If A50 falls below the 15666-line, then pay attention to the support of the 15184-line.


Disclaimer 
While every effort has been made to ensure the accuracy of the information in this document, DOO Prime does not warrant or guarantee the accuracy, completeness or reliability of this information. DOO Prime does not accept responsibility for any losses or damages arising directly or indirectly, from the use of this document. The material contained in this document is provided solely for general information and educational purposes and is not and should not be construed as, an offer to buy or sell, or as a solicitation of an offer to buy or sell, securities, futures, options, bonds or any other relevant financial instruments or investments. Nothing in this document should be taken as making any recommendations or providing any investment or other advice with respect to the purchase, sale or other disposition of financial instruments, any related products or any other products, securities or investments. Trading involves risk and you are advised to exercise caution in relation to the report. Before making any investment decision, prospective investors should seek advice from their own financial advisers, take into account their individual financial needs and circumstances and carefully consider the risks associated with such investment decision.