U.S. Stocks


Fundamental Analysis:
The S&P 500 and the Dow hit a record closing day for the third consecutive day as data shows a steady recovery in the U.S. economy.
The U.S. stocks, Dow Jones Industrial Average, and S&P 500 closed at record highs for the third consecutive day on Thursday,12th August 2021. Meanwhile, large technology stocks drove the broader market higher as investors reacted positively to employment data that showed a steady recovery in the U.S. economy.
"Today the S&P 500 Index hit a record high again, and there are good reasons for it to be at a record high," said Terry Sandven, chief equity strategist at U.S. Bank Wealth Management in Minneapolis, Minnesota.
Sandven then added, "Fundamentals are supporting higher stock prices." Corporate earnings are on the rise, while interest rates are low and inflation remains moderate, he said.
With these conditions, the Dow closed by 0.04% higher, the S&P 500 closed by 0.30% higher while the Nasdaq closed by 0.35% higher.
Tim Ghriskey, chief investment strategist at Inverness Counsel LLC, said traders are snapping up large technology stocks that have missed the overall market rally over the past week.
"The move into big tech is simply a trading opportunity. Big tech has been down for a week or so, underperforming the market pretty significantly," Ghriskey said. "There are bargain hunters coming in, jumping on those securities."
Data released on Thursday showed that the U.S. Producer Price Index (PPI) recorded its biggest annual increase in more than 10 years in July, triggering inflation concerns. Meanwhile, the Consumer Price Index (CPI) released on Wednesday showed that the increase appears to be slowing.
The data reflect well-known supply chain challenges that will not change Federal Reserve policy, said Mike Loewengart, managing director of investment strategy at E*TRADE Financial.
Technical Analysis: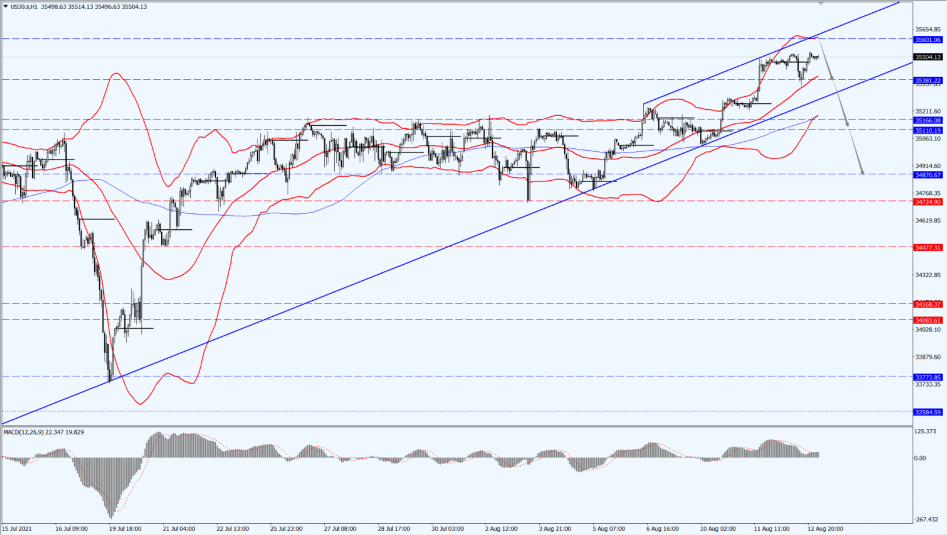 (Dow30,1-hour chart)
Execution Insight:
Today, on the Dow, pay attention to the suppression of the 35601-line. If there is a rush-high fall or a yin-yang technical pattern near this position, it is likely that the Dow will form a phase top, and then it will face a retracement. The magnitude of the retracement is mainly to observe its subsequent decline in strength. At that time, pay attention to the support strength of the two positions of 35381 and 35110 in turn.


Hong Kong Stocks


Fundamental Analysis:
The Hang Seng Index fell by 221.63-points, or 0.84%, to 26296.19-points at the opening. The Hang Seng China Enterprises Index (HSCEI) fell by 90.68-points, or 0.96%, to 9374.78-points at the opening, while the China Red Chip Index fell by 10.27-points, or 0.27%, to 3,818.03-points at the opening.
The Hang Seng Technology Index fell by 1.26%, Tongcheng-Elong fell by 2.69%, Alibaba Health Information Technology fell by 2.46%, Tencent Holdings fell by 2.24%, and Meituan-W fell by nearly 2%, while Alibaba-SW, JD Health, and NetEase-S fell about 1.7%.
Hong Kong's education sector stocks fell, with China Oriental Education falling by more than 8%. New Oriental-S fell by nearly 4%, Tianli Education fell by 2.65%, and South China Vocational Education fell by 2.17%.
Hong Kong's carbon-neutral concept stocks strengthened. China Oriental Group (00581) rose by more than 13%, China Everbright Environment rose by 4.24%, and Shuifa Singyes Energy rose by 1.7%. Flat Glass and Xinyi Glass rose by more than 0.85% due to supply shortages, therefore, boosting the market of the lithium industry sector.
Technical Analysis: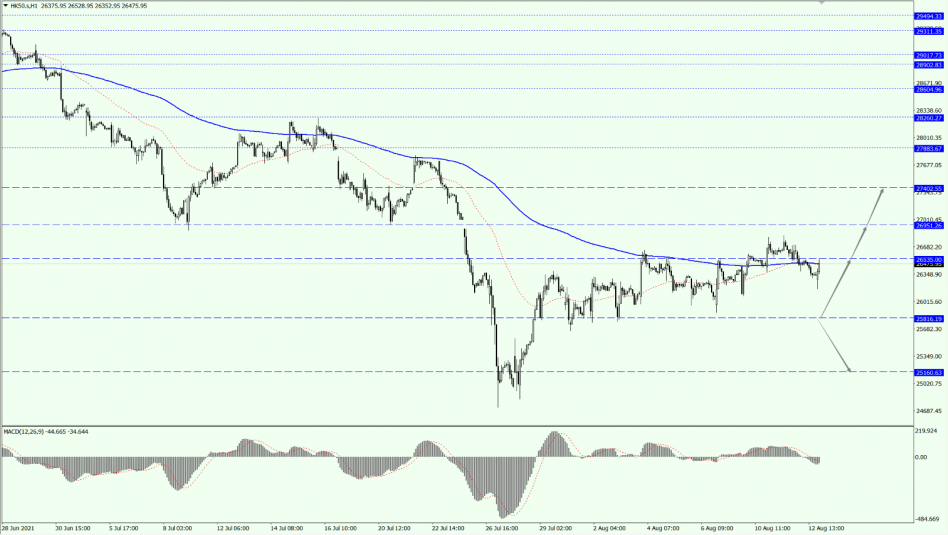 (HK50,1-hour chart)
Execution Insight:
On HK50, mainly focus on the 25816-line today. If HK50 runs above the 25816-line, it will apply pressure on the suppression of the 26535 and 26951 positions in turn. If the strength of HK50 falls below the 25816-line, attention should be diverted to the support of the 25160-line.


FTSE China A50 Index


Technical Analysis: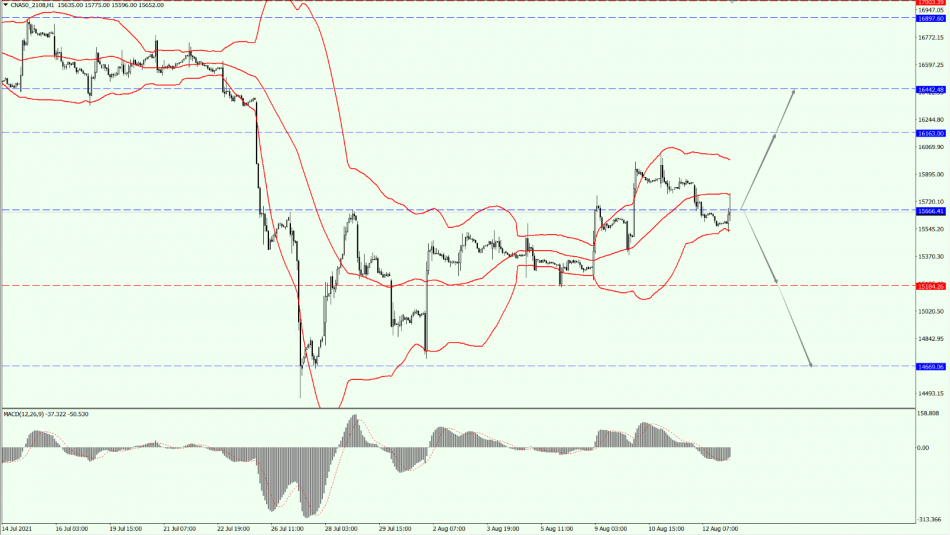 (A50,1-hour chart)
Execution Insight:
On A50, continue to pay attention to the 15666-line today. When A50 is above the 15666-line, the main idea is to maintain the bullish trend. At that time, pay attention to the suppression of the 16163 and 16442 positions. If the A50 falls below the 15666-line, then pay attention to the support of the 15184-line.


Disclaimer
While every effort has been made to ensure the accuracy of the information in this document, DOO Prime does not warrant or guarantee the accuracy, completeness or reliability of this information. DOO Prime does not accept responsibility for any losses or damages arising directly or indirectly, from the use of this document. The material contained in this document is provided solely for general information and educational purposes and is not and should not be construed as, an offer to buy or sell, or as a solicitation of an offer to buy or sell, securities, futures, options, bonds or any other relevant financial instruments or investments. Nothing in this document should be taken as making any recommendations or providing any investment or other advice with respect to the purchase, sale or other disposition of financial instruments, any related products or any other products, securities or investments. Trading involves risk and you are advised to exercise caution in relation to the report. Before making any investment decision, prospective investors should seek advice from their own financial advisers, take into account their individual financial needs and circumstances and carefully consider the risks associated with such investment decision.