US Stocks
Fundamental Analysis:
Although no one expects the stock market to fall sharply, the rise in the stock market during the summer has caused investors to overinflate and be easily hit by any bad news. The S&P 500 index has risen for seven consecutive months – the longest streak since January 2018 – so there may be a wave of pullback in a seasonally weak September.
"We're going to have a period where data is going to be weak in September at the time when you have a heightened risk of the Delta variant and school reopening," Morgan Stanley cross-asset strategist, Andrew Sheets, said on Wednesday, 8 September 2021. "If the data does stay soft, the market valuations just haven't adjusted like other parts of the market have," he added.
Retail investors are seen as the key force behind recent gains. They plowed almost USD30 billion of cash into U.S. equities and exchange-traded funds (ETFs) in July and August, the most in a two-month period, according to JPMorgan Chase & Co. They could also be the bedrock that could keep the market stable, as long as easy money policies persist, according to JPMorgan. 
Technical Analysis: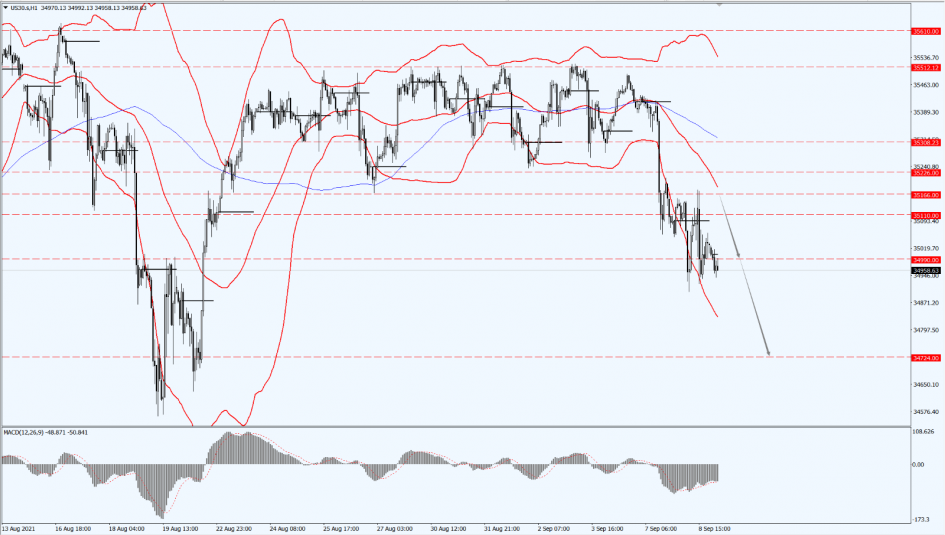 (Dow30,1-hour chart)
Execution Insight:
Today, pay attention to the direction of the Dow on the 35166 line. If the Dow does not recover to the top of the 35166 line, it will maintain a bearish trend. Then focus on the support strength of the two positions of 34990 and 34724 below. 
Hong Kong Stocks
Fundamental Analysis:
The three major Hong Kong stock indices edged lower. The Hang Seng Index fell by 0.93%, to 26,076 points; Hang Seng China Enterprises Index dropped by 1.16%, to 9,336 points; and the Hang Seng Technology Index lost 2.02%, to 6,732 points.
On the intraday market, the popular medium-sized stocks fell collectively overnight, and large technology stocks opened low across the board. Shares of NetEase and Tencent fell by nearly 7% and 3%, respectively, after Chinese regulators called them and other gaming companies for an interview.
Baidu, Alibaba, and Kuaishou fell by more than 3%. China Evergrande Group continued to fall sharply, power stocks were individually weak, Longyuan Power opened 4% lower but hit a record high yesterday.
Haitong Securities is investigated by the China Securities Regulatory Commission for alleged violations of laws and regulations, which led to a 4.5% slump in its stock. Education stocks, pharmaceutical stocks, and gambling stocks rose. Scholar Education rose by 2.45%, while Antengene Corp opened 3.67% higher.
Technical Analysis: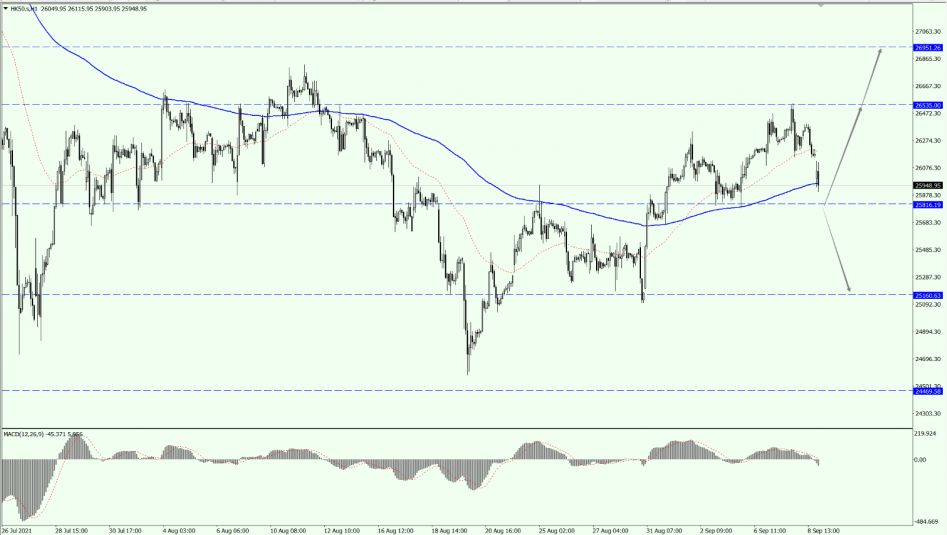 (HK50,1-hour chart)
Execution Insight:
After HK50 rose to the target level of 26535 yesterday, it reached a resistance level. Today, we pay attention to the support of the 25816 line. Above this line, it will remain a bullish trend. Then focus on the suppression strength of the two positions of 26535 and 26951. If HK50 falls below the 25816 line, then it will test the support of the 25160 line again.
FTSE China A50 Index 

Technical Analysis: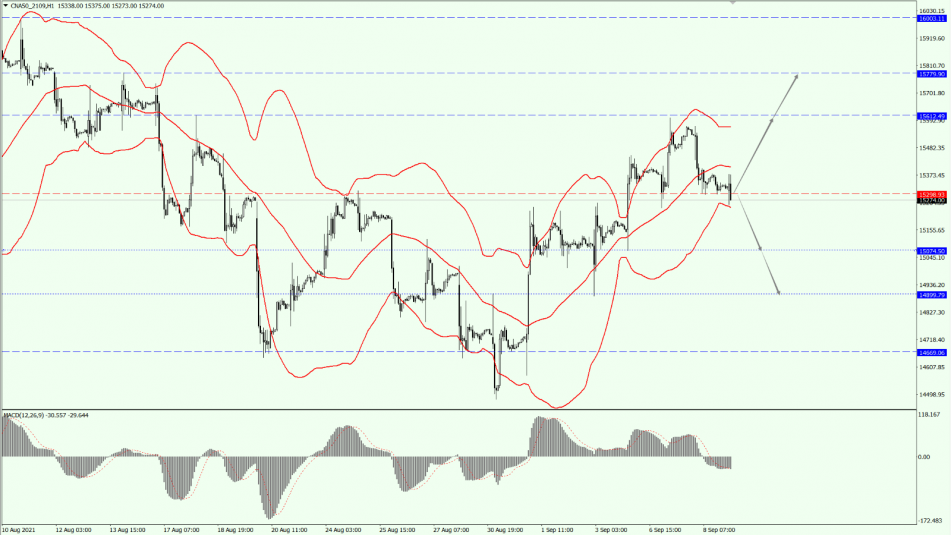 (A50,1-hour chart)
Execution Insight:
Today, on A50, pay attention to the support of the 15298 line. As long as A50 runs stably above the 15298 line, focus on the suppression strength of the 15612 line. After that, divert your attention to the support of the 15074 and 14899 lines below. 
Disclaimer
While every effort has been made to ensure the accuracy of the information in this document, DOO Prime does not warrant or guarantee the accuracy, completeness or reliability of this information. DOO Prime does not accept responsibility for any losses or damages arising directly or indirectly, from the use of this document. The material contained in this document is provided solely for general information and educational purposes and is not and should not be construed as, an offer to buy or sell, or as a solicitation of an offer to buy or sell, securities, futures, options, bonds or any other relevant financial instruments or investments. Nothing in this document should be taken as making any recommendations or providing any investment or other advice with respect to the purchase, sale or other disposition of financial instruments, any related products or any other products, securities or investments. Trading involves risk and you are advised to exercise caution in relation to the report. Before making any investment decision, prospective investors should seek advice from their own financial advisers, take into account their individual financial needs and circumstances and carefully consider the risks associated with such investment decision.