U.S. Stocks 
Fundamental Analysis:
The S&P 500 and Nasdaq closed higher on Tuesday, 10th May 2022, with large growth stocks that had sold off the day before rising as U.S. bond yields plunged.
Bank stocks followed bond yields lower. 10-year U.S. bond yields fell below 3% from a more than three-year high. The Dow closed lower in choppy intraday trading, with major stock indexes tugging between gains and losses as investors get nervous ahead of Wednesday's U.S. Consumer Price Index (CPI) and Thursday's Producer Price Index (PPI) releases.
Investors will be looking for signs that inflation is peaking. Concerns that the Federal Reserve may have to take more aggressive action to curb inflation have driven the recent market sell-off.
Many other concerns have added to the pressure. By the close, the Dow Jones Industrial Average was down 84.96 points, or 0.26%, to 32,160.74. The S&P 500 was up 9.81 points, or 0.25%, to 4,001.05 and the Nasdaq was up 114.42 points, or 0.98%, to 11,737.67.
Technical Analysis: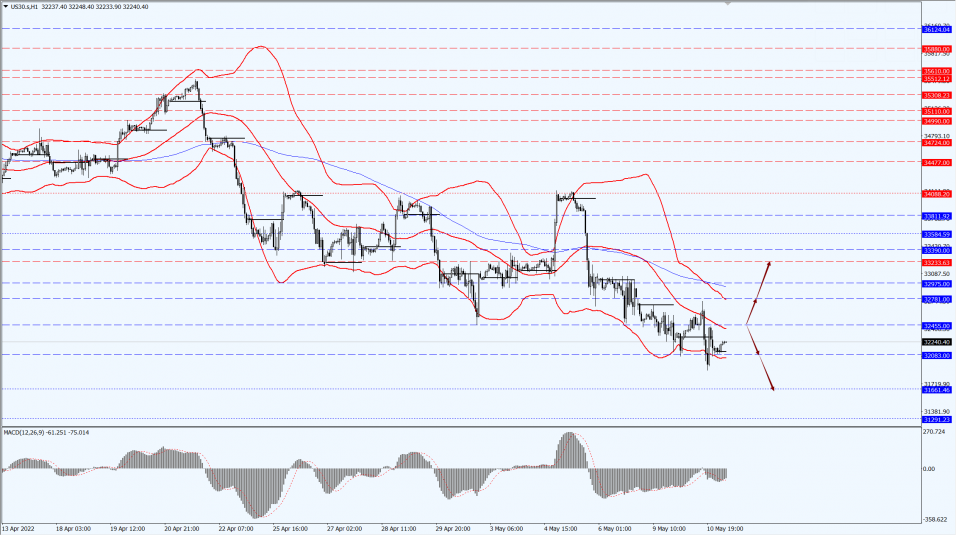 (Dow 30, 1-hour chart) 
Execution Insight:
The Dow focuses on the 32455-line today. If the Dow runs steadily above the 32455-line, it will pay attention to the suppression strength of the 32781 and 33233 positions. If the Dow falls below the 32455-line, then pay attention to the support strength of the 32083 and 31661 positions.


Hong Kong Stocks 
Fundamental Analysis:
Hong Kong stocks continued to open lower yesterday, with the Hang Seng Index (HSI) down by 0.62%, the Hang Seng China Enterprises Index (HSCEI) down by 0.69% and the Hang Seng TECH Index (HSTECH) down by 0.86%.
On the market, large technology stocks continued to decline. Alibaba Group Holding Limited (9988.HK) and Baidu, Inc. (9888.HK) fell by 2.6%, JD.com, Inc. (9618.HK) fell by nearly 2%, Trip.com Group Limited (9961.HK) fell by more than 3%, and Tencent Holdings Limited (0700.HK) all fell.
Photovoltaic stocks, domestic insurance stocks, and domestic real estate stocks fell the most, while oil stocks, power stocks, shipping stocks, dairy stocks, gas stocks fell significantly. COSCO SHIPPING Holdings Co., Ltd. (1919.HK) fell 2%, ENN Energy Holdings Limited (2688.HK), PetroChina Company Limited (0857.HK) fell more than 1%.
On the other hand, biopharmaceutical stocks rose sharply, CARsgen Therapeutics Holdings Limited (2171.HK) opened 9.6% higher, F Shanghai Fosun Pharmaceutical (Group) Co., Ltd. (2196.HK) rose 5%, and F&B stocks rose 1.4%.
Technical Analysis: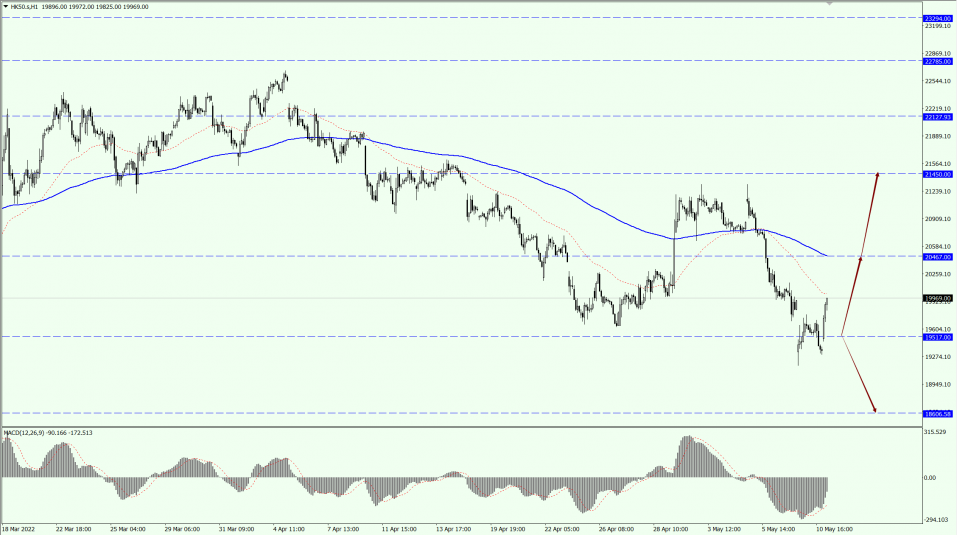 (HK50, 1-hour chart) 
Execution Insight:
HK50 focuses on the 19517-line today. If HK50 can run stably above the 19517-line, then pay attention to the suppression of the 20467 and 21450 positions. If the HK50 runs below the 19517-line, then pay attention to the support of the 18606-line.


FTSE China A50 Index 
Technical Analysis: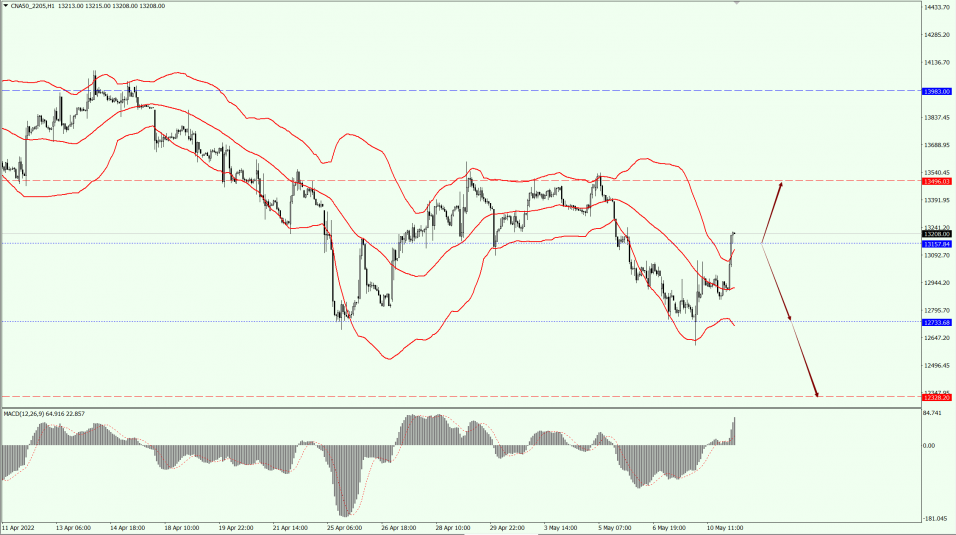 (FTSE China A50, 1-hour chart) 
Execution Insight:
FTSE China A50 pays attention to the 13157-line today. If the A50 runs steadily below the 13157-line, pay attention to the support strength of the two positions of 12733 and 12328. If the A50 runs above the 13157-line, it will open up further upward space. At that time, pay attention to the suppression strength of the 13496-line.


Risk Disclosure
Trading in financial instruments involves a high degree of risk due to fluctuations in the value and price of the underlying financial instruments. Due to the adverse and unpredictable market movements, large losses exceeding the investor's initial investment could incur within a short period of time. The past performance of a financial instrument is not an indication of its future performance.
Please make sure you read and fully understand the trading risks of the respective financial instrument before engaging in any transaction with us. You should seek independent professional advice if you do not understand the risks disclosed by us herein.
Disclaimer
While every effort has been made to ensure the accuracy of the information in this document, DOO Prime does not warrant or guarantee the accuracy, completeness or reliability of this information. DOO Prime does not accept responsibility for any losses or damages arising directly or indirectly, from the use of this document. The material contained in this document is provided solely for general information and educational purposes and is not and should not be construed as, an offer to buy or sell, or as a solicitation of an offer to buy or sell, securities, futures, options, bonds or any other relevant financial instruments or investments. Nothing in this document should be taken as making any recommendations or providing any investment or other advice with respect to the purchase, sale or other disposition of financial instruments, any related products or any other products, securities or investments. Trading involves risk and you are advised to exercise caution in relation to the report. Before making any investment decision, prospective investors should seek advice from their own financial advisers, take into account their individual financial needs and circumstances and carefully consider the risks associated with such investment decision.