U.S Stocks


Fundamental Analysis:
Nasdaq and S&P 500 Index hit new highs by dint of strong earnings reports and continued decline in the U.S. Initial Jobless Claims.
Following the U.S. stock market, Nasdaq and S&P 500 closed at record highs on Thursday, 5th August 2021, after a string of strong earnings reports from U.S. companies and a further drop in initial jobless claims last week. Once more, investors weighed concerns with the spiking numbers of the Delta variant virus infection cases ahead of Friday's jobs report.
The U.S. Department of Labor reported that initial jobless claims fell by 14,000 to 385,000 as of July 31. Meanwhile, the number of layoffs fell to the lowest in more than 21 years last month, as companies retained employees amid a labor shortage.
"The trend has continued to improve over the past few weeks and has now fallen to new lows since the outbreak." Keith Buchanan, portfolio manager at Globalt Investments, said, "I think this contributes to some of the optimism today, and the results have been positive so far."
The focus will now shift to Friday's July employment report. Analysts mention that the disappointing data could raise questions about the economic recovery, but it could also lead the Fed to keep its accommodative monetary policy.
Against this background, the Dow closed by 0.78% higher, the S&P 500 closed by 0.60% higher while the Nasdaq closed by 0.78% higher.
Ultimately, concerns about the economic growth and rising inflation have put pressure on the S&P 500 Index, but the outstanding corporate earnings reports so far put the index on track to close higher this week.
Technical Analysis: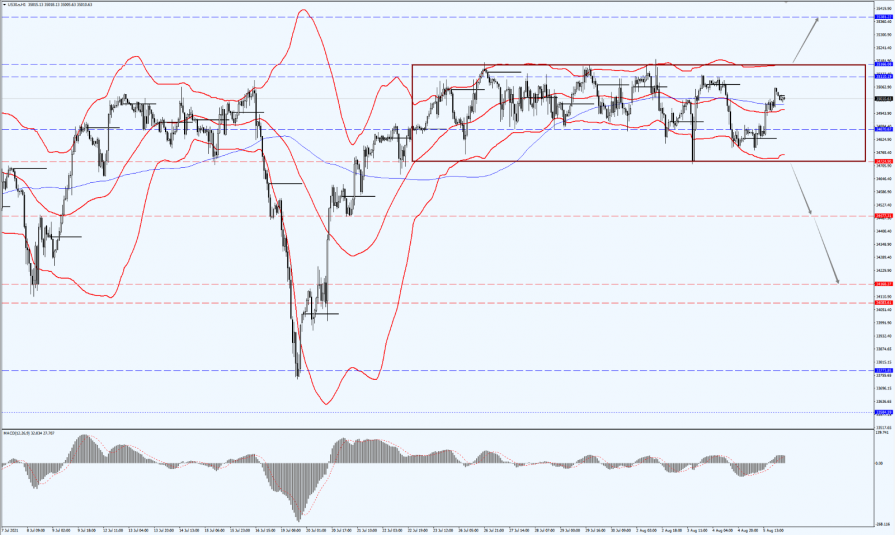 (Dow30,1-hour chart)
Execution Insight:
After several days of the evolving trend on the Dow, the range of its shock structure has expanded to the 34724 to 35166 range.
Today, we pay attention to the direction of the Dow's breakthrough in its range.
If it breaks above the 35166-line, it will open up a greater upside potential. Thus, pay attention and observe the possibility of it rising and falling to form a yin and yang.
Once this happens, a "bullish trap" may be formed.
If it falls below the line of 34724, it will open up a greater downside potential. At that time, pay attention to 34477 and 34168 positions on supporting strength.


Hong Kong Stocks


Fundamental Analysis:
Hong Kong's three major indices opened higher, the Hang Seng Index (HSI) rose by 0.22% to 26262-points, the Hang Seng China Enterprises Index (HSCEI) rose by 0.1% to 9305-points, while Hang Seng TECH Index rose by 0.6% to 6755-points.
On the market, the semiconductor industries' stocks were strong. Semiconductor Manufacturing International Corp. (SMIC) performance exceeded expectations, opening up sharply by 8.6%. Hua Hong Semiconductor Ltd. and Solomon Systech (International) Ltd. both rose by nearly 4%.
In terms of industry sectors, automobiles, pharmaceutical, papermaking, telecomm. services, gaming, and solar power stocks generally rose.
BYD Electronic (International) Co. Ltd. shares opened by nearly 4% higher.
Large technology companies' stocks saw mixed gains, Meituan rose by more than 4%, Tencent opened higher by 1.32%, Kuaishou Technology continued its sharp decline yesterday, opening by more than 6% lower.
In the dairy products industry, China Feihe fell by more than 9%, China Mengniu Dairy Co. Ltd. fell by 4%, and Ausnutria Dairy Corp fell by more than 1%.
Lastly, electric supply and real estate industries' stocks both fell significantly.
Technical Analysis: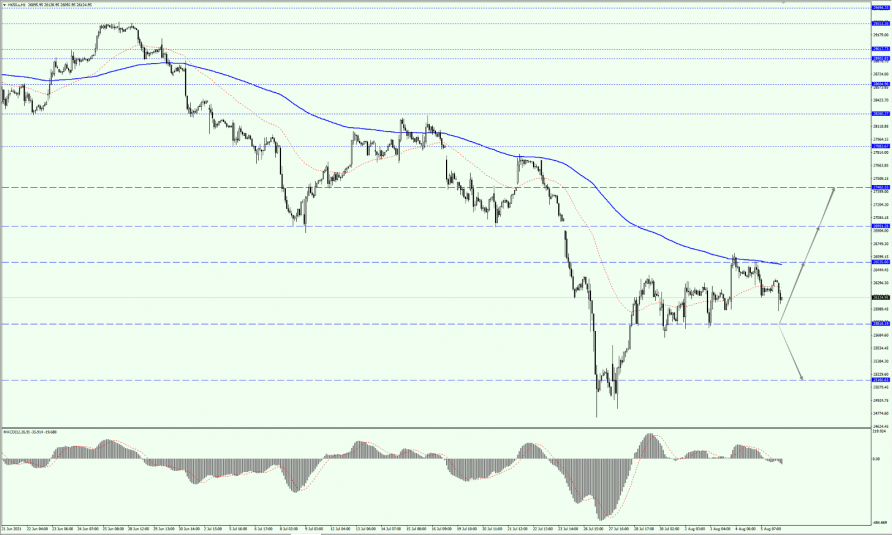 (HK50,1-hour chart)
Execution Insight:
On HK50 today, continue to pay attention to the support on the 25816-line. If the HK50 runs above the 25816-line, it will maintain a rebound trend.
At that time, pay attention to the suppression between the 26535 and 26951 positions. In particular, focus on the 26535-line, once the strength of the HK50 breaks the 26535-line.
With that, it will open up a greater upside potential.
If the HK50 market outlook falls below the 25816-line, it will open up a greater room for correction.
After this wave of rebound, pay attention to the 25160-line of support.


FTSE China A50 Index


Technical Analysis: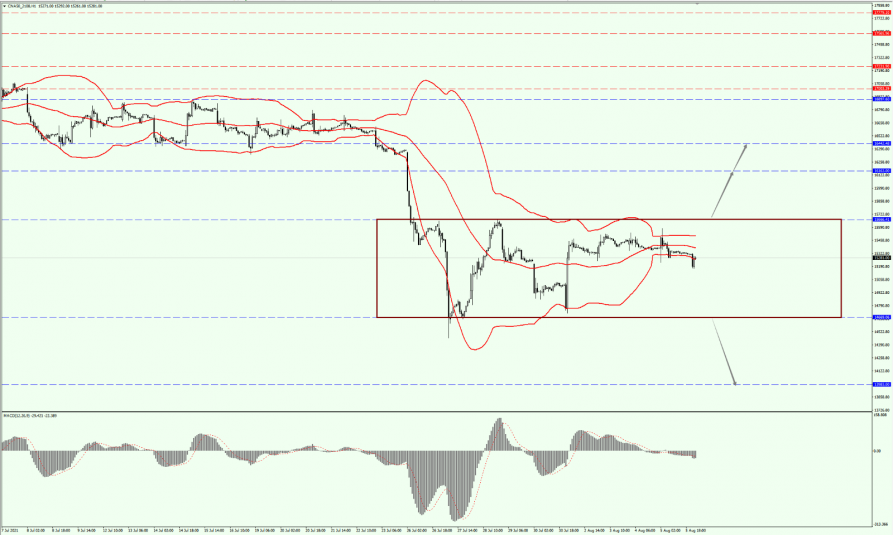 (A50,1-hour chart)
Execution Insight:
Today, on A50, continue to focus on the direction of the 15666 to 14669 breakthrough. If it breaks above the 15666-line, it will open up a greater upside potential.
Then, pay attention to the suppression on the 16163-line. If it falls below the 14669-line, it will open up a greater downside potential.


Disclaimer
While every effort has been made to ensure the accuracy of the information in this document, DOO Prime does not warrant or guarantee the accuracy, completeness or reliability of this information. DOO Prime does not accept responsibility for any losses or damages arising directly or indirectly, from the use of this document. The material contained in this document is provided solely for general information and educational purposes and is not and should not be construed as, an offer to buy or sell, or as a solicitation of an offer to buy or sell, securities, futures, options, bonds or any other relevant financial instruments or investments. Nothing in this document should be taken as making any recommendations or providing any investment or other advice with respect to the purchase, sale or other disposition of financial instruments, any related products or any other products, securities or investments. Trading involves risk and you are advised to exercise caution in relation to the report. Before making any investment decision, prospective investors should seek advice from their own financial advisers, take into account their individual financial needs and circumstances and carefully consider the risks associated with such investment decision.