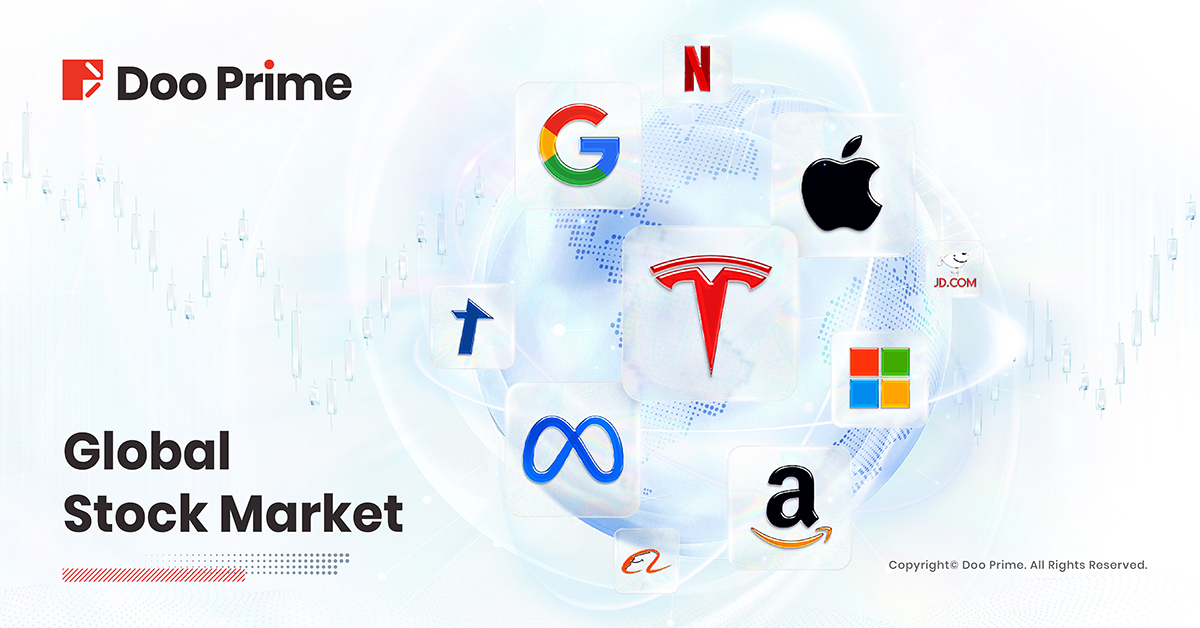 U.S. stocks closed higher on Monday, 31st July 2023. All three major indices recorded gains in July, with Nasdaq and S&P posting their fifth consecutive month of increases. The market this week is focused on several corporate earnings reports and the crucial July non-farm payroll data. 
U.S. Stocks
Fundamental Analysis:
In July, the Dow Jones Industrial Average rose 3.35%, marking its second consecutive monthly gain. The S&P 500 Index increased by 3.12%, and the Nasdaq Composite surged by 4.05%, both recording their fifth straight month of gains.
Large-cap technology stocks showed mixed performance, with Apple rising by 0.32% and reaching a new closing high, while Applied Materials surged over 2% to also achieve a record closing price.
On the other hand, Micron Technology fell by over 4%, and Intel and Meta declined by over 2%. Amazon and AMD rose by over 1%. In other sectors, most precious metals, oil, gas, and clean energy stocks saw gains, with Pan American Silver rising over 6%, Coeur Mining gaining over 4%, and U.S. Gold surging nearly 4%.
On the energy front, Caledon Energy rose over 10%, Sunrun climbed over 3%, while ConocoPhillips increased by over 4%, Chevron by over 3%, and ExxonMobil by nearly 3%.
Technical Analysis: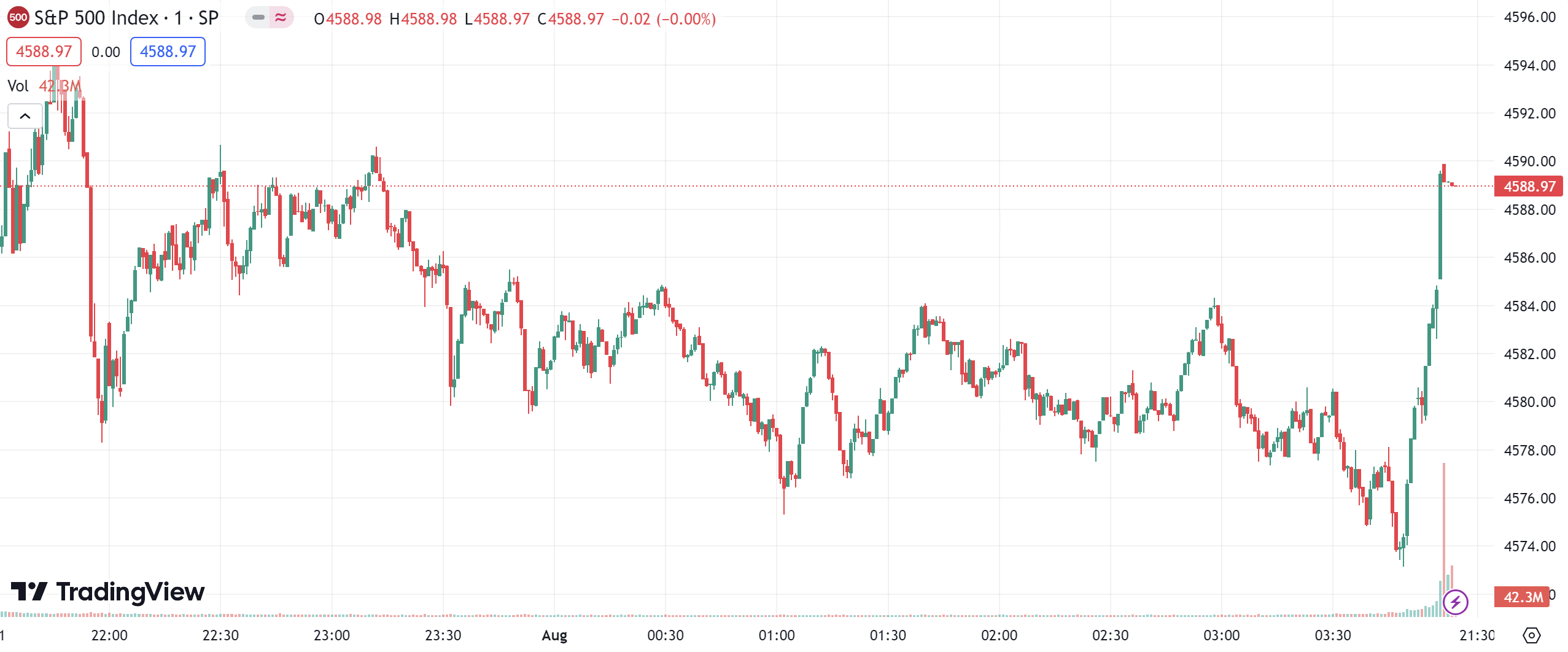 (S&P 500 Index, 1-day chart)
Market Trends:
Dow Jones Industrial Average closed higher by 100.24 points, a gain of 0.28%, at 35,559.53 points. It recorded a cumulative increase of 3.35% for July.
Nasdaq Composite closed higher by 29.37 points, a gain of 0.21%, at 14,346.02 points. It recorded a cumulative increase of 4.05% for July.
S&P 500 Index closed higher by 6.73 points, a gain of 0.15%, at 4,588.96 points. It recorded a cumulative increase of 3.11% for July.
Hong Kong Stocks
Fundamental Analysis:
Hong Kong stocks opened higher on the day but later retraced some gains, with Hang Seng Tech Index performing the best. After opening up 132 points in sync in the morning, Hong Kong stocks extended their gains and hit a high of 20,331, surging as much as 252 points. However, after surpassing 19,000 and briefly crossing the 20,000 mark, they showed signs of fatigue. There was some selling pressure at near the high levels, leading to a gradual narrowing of gains. The market experienced some retracement, falling to a low of 20,061, down by only 17 points. The stocks continued to trade sideways near the ups and downs.
On the market front, large-cap technology stocks continued their upward trend, with Kuaishou Technology (1024.HK) rising by 2.68%.
In the food and beverage sector, hot pot chain leader Haidilao International Holding Ltd. (6862.HK) continued its strong performance from the previous day, rising by 3% and hitting a new high. Other restaurant stocks like Xiabuxiabu Catering Management (China) Holdings Co., Ltd. (0520.HK), Yum China Holdings, Inc. (9987.HK), and Helens International Holdings Company Limited (9869.HK) also rose.
In the biotechnology sector, most stocks gained, with BeiGene, Ltd. (6160.HK) soaring nearly 6%. However, real estate stocks experienced a correction, with Midea Real Estate Holding Limited (3990.HK) falling by nearly 8%.
Technical Analysis: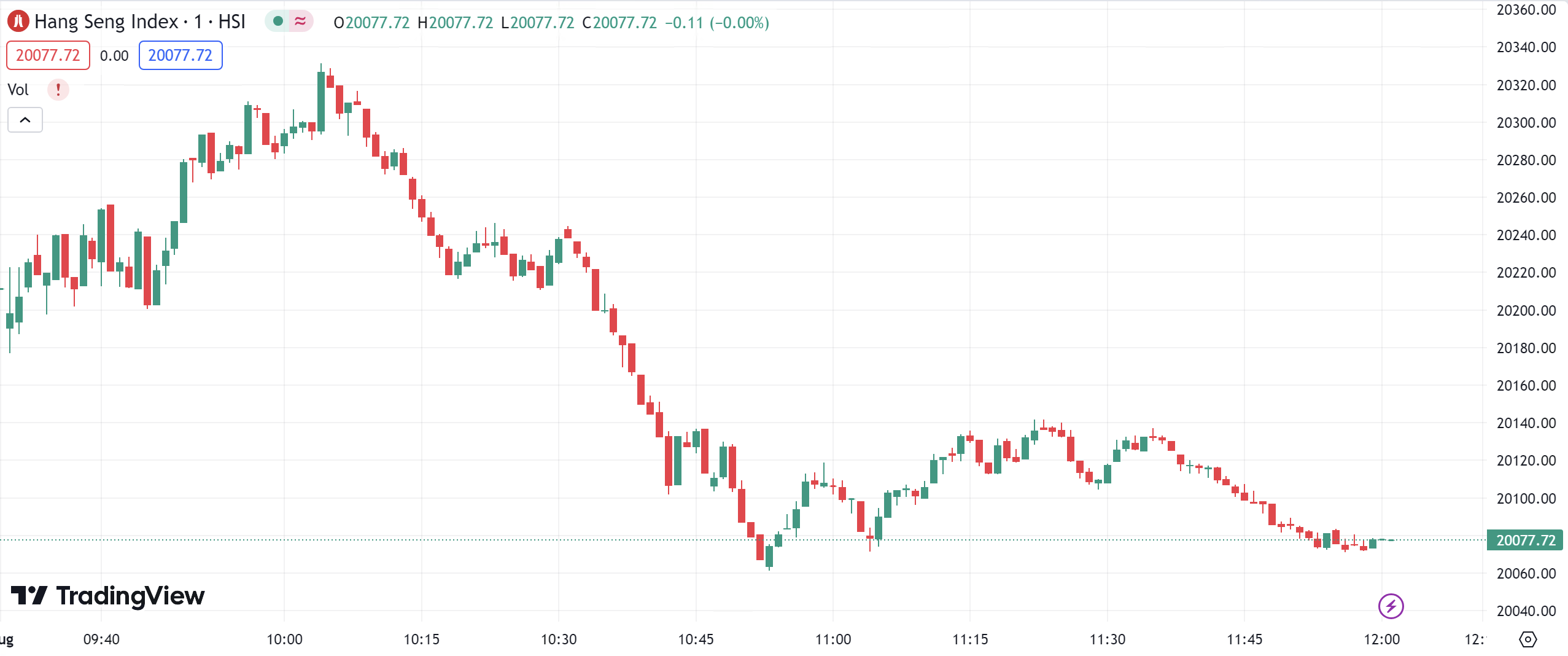 (Hang Seng Index, 1-day chart)
Market Trends:
Hang Seng Index fell by 0.01% and closed at 20,077.83 points.
Hang Seng Tech Index rose by 0.65%.
Hang Seng China Enterprises Index closed flat.
FTSE China A50 Index
Fundamental Analysis:
A-shares in China opened slightly lower for the day but rebounded in the first half-hour of trading. However, the three major indices soon retreated and entered a period of consolidation with some fluctuations.
In the market, infrastructure and consumer-related sectors experienced adjustments, while the securities sector experienced a brief plunge during the intraday trading, showing mixed trends in individual stock performances.
The combined trading volume of the Shanghai and Shenzhen stock markets was 6265.16 billion yuan, and northbound capital saw a net inflow of 3.932 billion yuan. Among individual stocks, 25 rose to the daily limit (including ST stocks), while 2 stocks hit the lower limit.
Industry sectors leading in gains included precious metals, steel, power, utilities, and coal, while engineering consulting services, shipbuilding, household light industry, photovoltaic equipment, and traditional Chinese medicine were among the sectors that fell the most.
In terms of themes, Huawei Oulu, low-carbon metallurgy, MLCC (multi-layer ceramic capacitors), computing power concepts, storage chips, and CPO concepts showed active performance.
Technical Analysis: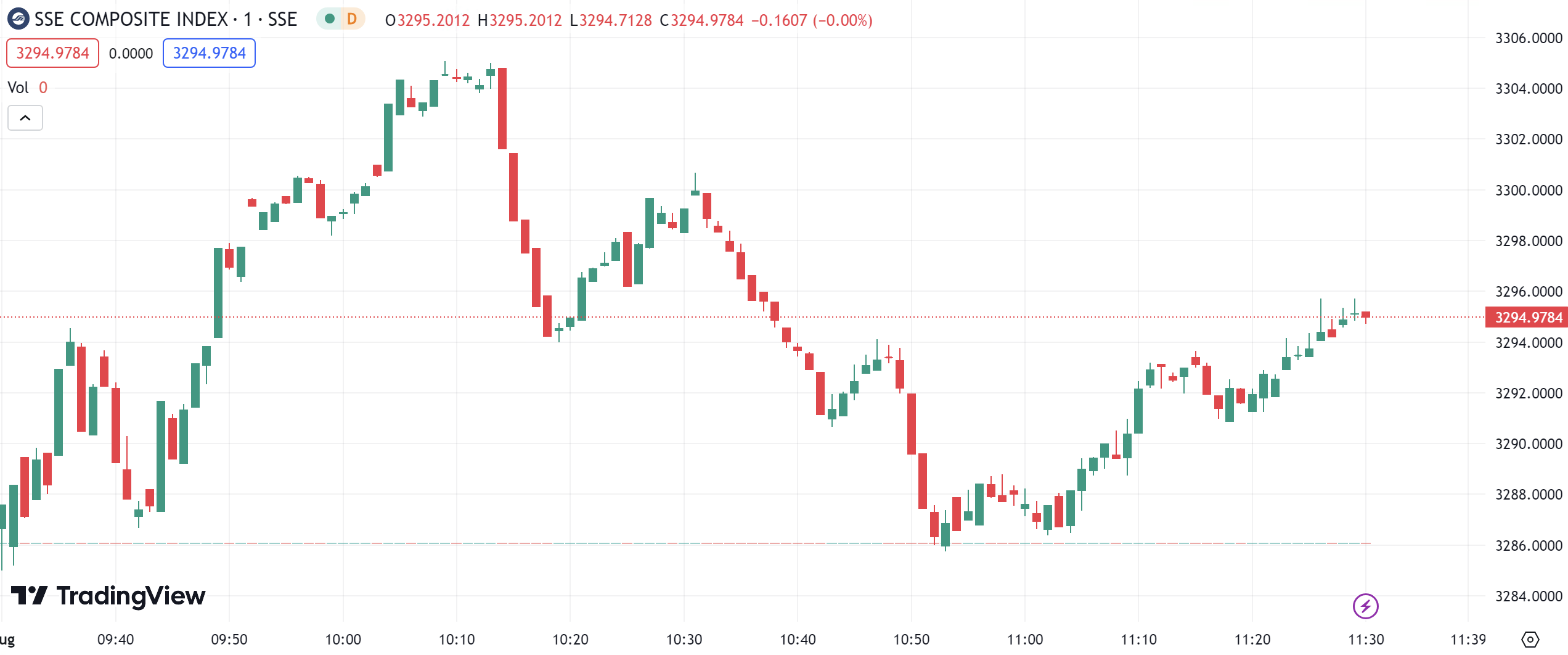 (SSE Composite Index, 1-day chart)
Market Trends:
Shanghai Composite Index rose by 0.12% and closed at 3294.98 points. 
Shenzhen Component Index rose by 0.02% and closed at 11,185.85 points. 
ChiNext Index fell by 0.06% and closed at 2,235.32 points. 
SSE STAR 50 Index fell by 0.07% and closed at 968.33 points. 


Forward-looking Statements
This article contains "forward-looking statements" and may be identified by the use of forward-looking terminology such as "anticipate", "believe", "continue", "could", "estimate", "expect", "hope", "intend", "may", "might", "plan", "potential", "predict", "should", or "will", or other variations thereon or comparable terminology. However, the absence of such terminology does not mean that a statement is not forward-looking. In particular, statements about the expectations, beliefs, plans, objectives, assumptions, future events, or future performance of Doo Prime will be generally assumed as forward-looking statements.
Doo Prime has provided these forward-looking statements based on all current information available to Doo Prime and Doo Prime's current expectations, assumptions, estimates, and projections. While Doo Prime believes these expectations, assumptions, estimations, and projections are reasonable, these forward-looking statements are only predictions and involve known and unknown risks and uncertainties, many of which are beyond Doo Prime's control. Such risks and uncertainties may cause results, performance, or achievements materially different from those expressed or implied by the forward-looking statements.
Doo Prime does not provide any representation or warranty on the reliability, accuracy, or completeness of such statements. Doo Prime is not obliged to provide or release any updates or revisions to any forward-looking statements.

Disclaimer
While every effort has been made to ensure the accuracy of the information in this document, DOO Prime does not warrant or guarantee the accuracy, completeness or reliability of this information. DOO Prime does not accept responsibility for any losses or damages arising directly or indirectly, from the use of this document. The material contained in this document is provided solely for general information and educational purposes and is not and should not be construed as, an offer to buy or sell, or as a solicitation of an offer to buy or sell, securities, futures, options, bonds or any other relevant financial instruments or investments. Nothing in this document should be taken as making any recommendations or providing any investment or other advice with respect to the purchase, sale or other disposition of financial instruments, any related products or any other products, securities or investments. Trading involves risk and you are advised to exercise caution in relation to the report. Before making any investment decision, prospective investors should seek advice from their own financial advisers, take into account their individual financial needs and circumstances and carefully consider the risks associated with such investment decision.