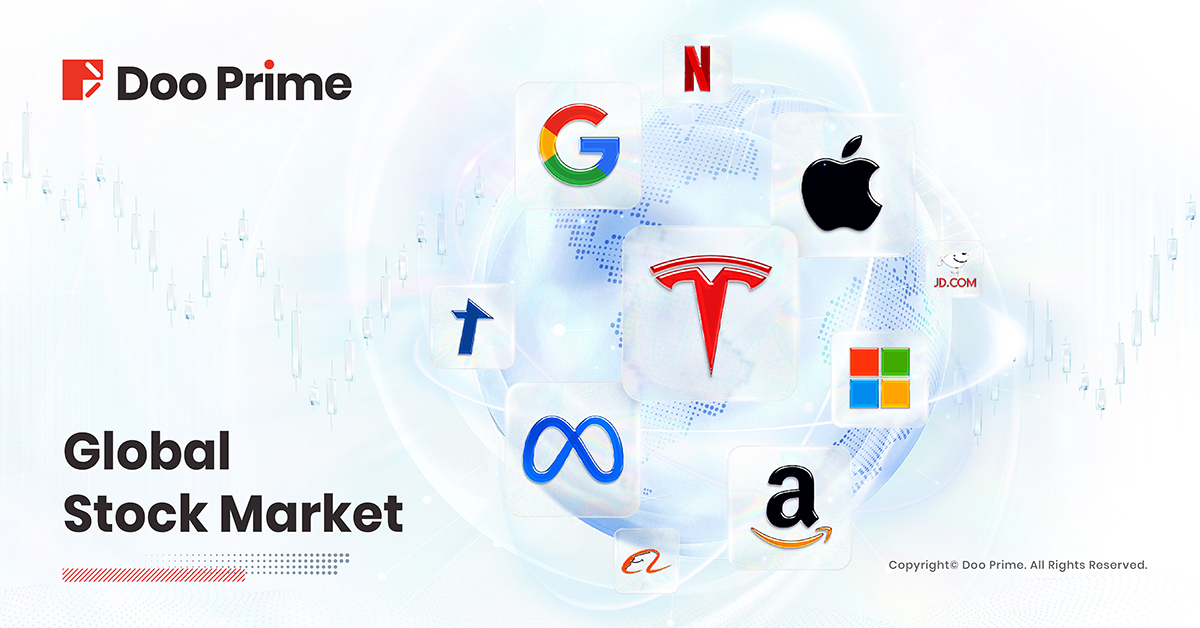 U.S. stock markets experienced a tepid performance last night, with all major indices ultimately closing in the red.
Economists predict an annual increase in the U.S. Consumer Price Index (CPI) for August, accelerating from July's 3.2% to 3.6%, while the year-over-year core CPI is expected to slow from 4.7% to 4.3%.
U.S. Stocks
Fundamental Analysis:
Key tech stocks took center stage in Tuesday's U.S. stock market.
Apple unveiled its new product lineup, featuring the iPhone 15, 15 Plus, and iPhone 15 Pro, with starting prices of $799, $899, and $999, respectively.
The entire iPhone 15 series bids farewell to the notch and Lightning port, with the highest-end Pro Max seeing a price increase but offering memory expansion.
The smartwatch gets a chip upgrade, and AirPods Pro charging case switches to a USB-C port, aligning with previous rumors, causing Apple's stock price to briefly decline by up to 2.5%.
Oracle's revenue outlook for the quarter fell short of expectations, leading to a 13.5% drop in its stock price after-hours.
Morgan Stanley analysts raised questions about when Oracle's AI demand would translate into broader business income.
Microsoft also declined by 1.8%, emerging as the weakest-performing Dow component.
International oil prices rose, with New York crude oil hitting a 10-month high.
The energy sector performed well, with ExxonMobil surging nearly 3% and Chevron also rising nearly 2%. The surge in oil prices raised concerns about inflation pressures.
The banking sector also saw gains, with Citigroup and Wells Fargo rising by 2.7% and 2.9%, respectively.
In the Chinese concept stock segment during the U.S. trading session, individual developments were noted.
The electric vehicle sector performed relatively well, with Ideal Auto gaining nearly 3% and NIO recording over a 2% increase. KE Holdings showed a relatively weak performance, closing down nearly half.
Technical Analysis: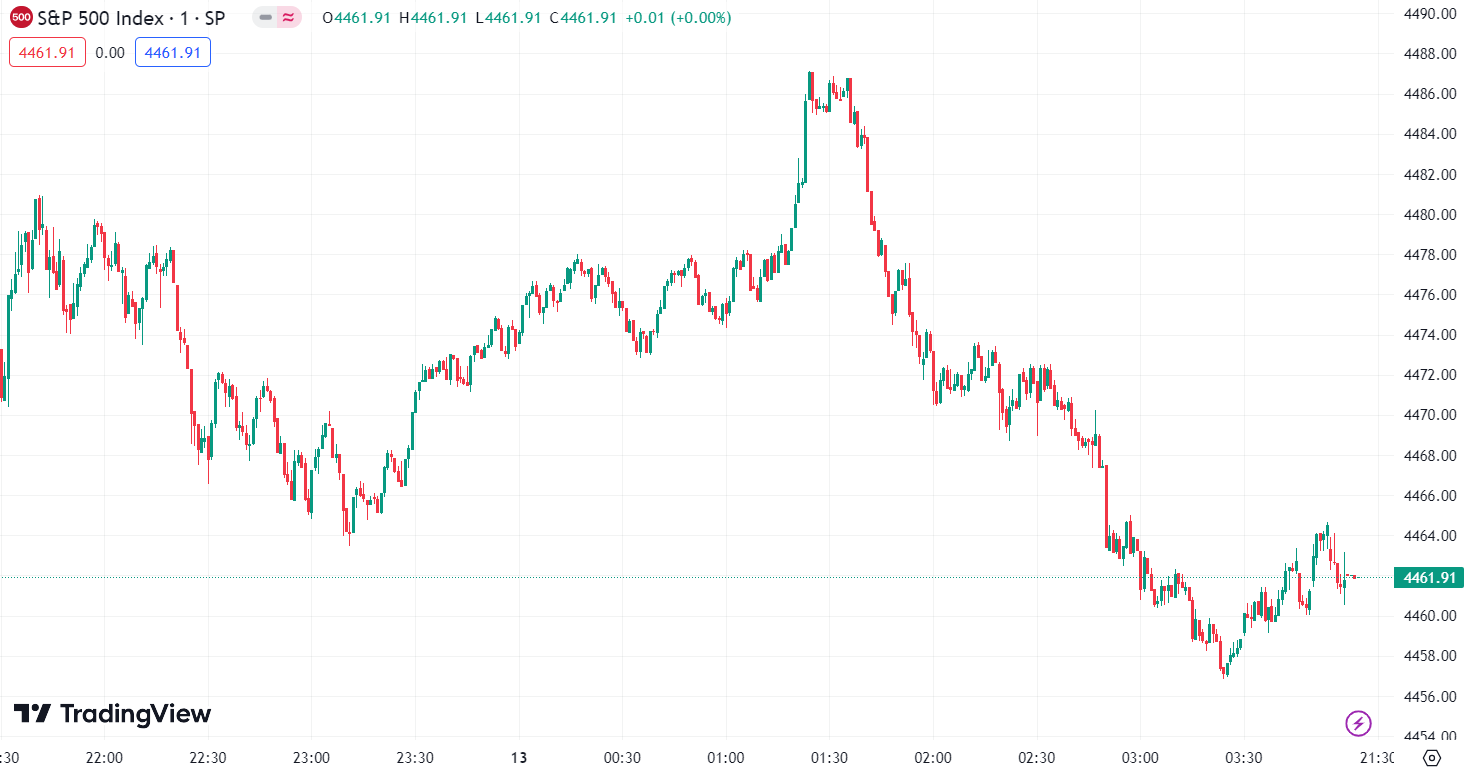 (S&P 500 Index, 1-day chart)
Market Trends:
Dow Jones Industrial Average closed down 17.73 points, a 0.05% decrease, at 34,645.99.
Nasdaq Composite Index fell by 144.28 points, a 1.04% decrease, closing at 13,773.61.
S&P 500 Index dropped 25.56 points, a 0.57% decrease, closing at 4,461.90.
Hong Kong Stocks
The Hong Kong stock market opened with a 105-point gain in the morning session, extending its gains to a high of 18,200, up 184 points at its peak.
However, profit-taking pressure near recent highs gradually narrowed the gains, leading to a downward correction.
After falling below 18,000 again, the market reached a low of 17,954, down 70 points at most, before hovering near the key level.
In the market, technology stocks generally declined, with Meituan (3690.HK), NetEase, Inc. (9999.HK), and Baidu, Inc. (9888.HK) all falling by over 1%.
Automotive stocks had mixed performance, with Zhejiang Leapmotor Technology Co., Ltd. (9863.HK) gaining over 1% and XPeng Inc. (9868.HK) down nearly 2%.
Real estate stocks collectively rose, led by China Evergrande Group (3333.HK) with a more than 36% gain.
Coal stocks led the gains, with Yanzhou Coal Mining Company Limited (HKG:1171) rising over 3%.
The mobile industry chain rebounded today, with Q Technology (Group) Company Limited (1478.HK) gaining over 3%.
However, the pharmaceutical sector showed weakness, with most Chinese brokerage stocks declining.
Technical Analysis: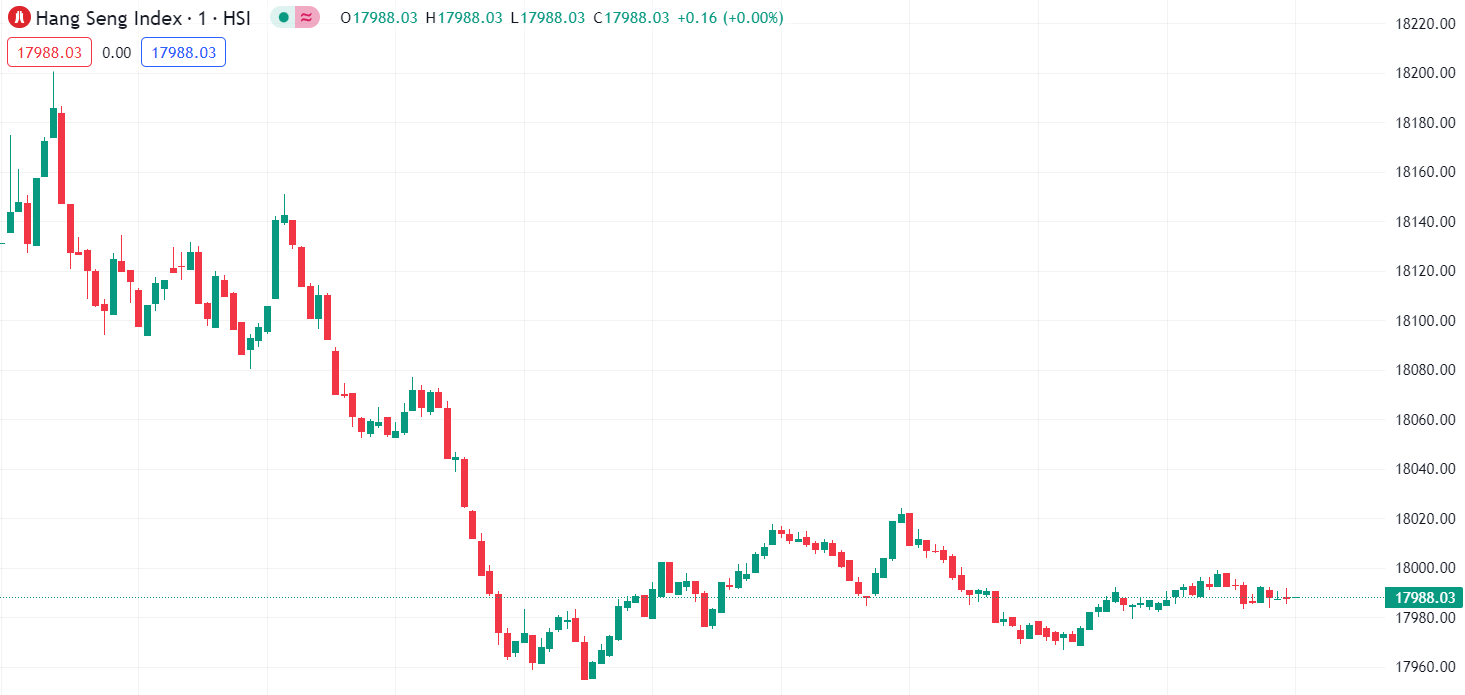 (Hang Seng Index, 1-day chart)
Market Trends:
Hang Seng Index (HSI) dropped by 0.21%, closing at 17,988.03.
Hang Seng Tech Index (HSTECH) declined by 0.62%, closing at 4,038.81.
Hang Seng China Enterprises Index (HSCEI) fell by 0.38%, closing at 6,236.64.
FTSE China A50 Index
Fundamental Analysis:
The A-share market in China witnessed mixed movements at the opening, with the market initially experiencing a fluctuating downturn.
Both the Shenzhen Component Index and the ChiNext Index fell by over 1%, with the ChiNext Index hitting a new low for the year (the lowest since June 2020). The Sci-Tech Innovation 50 Index dropped by over 2%.
In terms of industry sectors, electronic chemicals, coal, shipping ports, engineering consulting services, and cement building materials led the gains, while computer equipment, communication equipment, auto parts, internet services, and consumer electronics led the declines.
In thematic areas, local stocks in Xinjiang, photomasks, and new urbanization concepts were active.
Technical Analysis: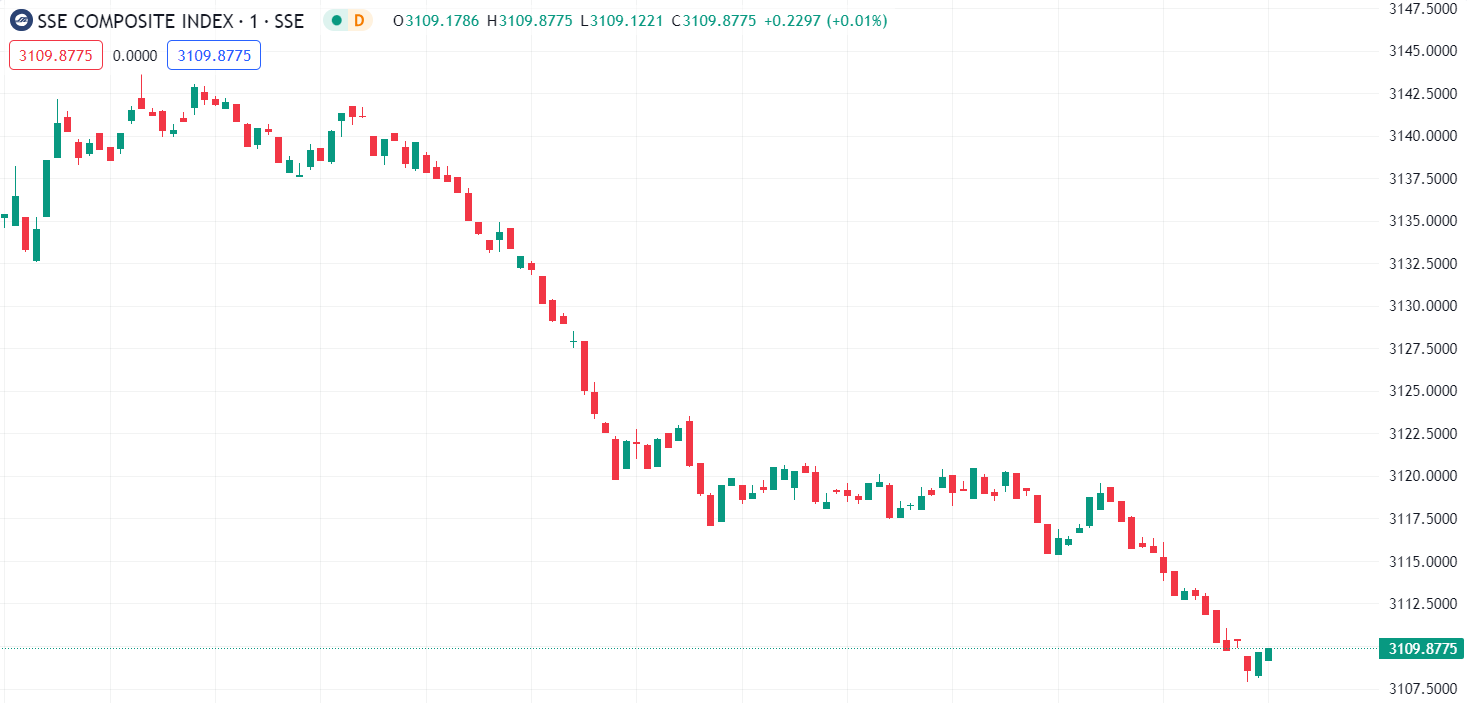 (SSE Composite Index, 1-day chart) 
Market Trends:
Shanghai Composite Index (SHCOMP) rose by 0.04%, closing at 3,144.03.
Shenzhen Component Index (SZCOMP) rose by 0.32%, closing at 10,415.22.
ChiNext Index (CHINEXT) fell by 0.1%, closing at 2,061.1.
SSE STAR Market 50 Index (SSE50) rose by 0.16%, closing at 908.92.
Forward-looking Statements
This article contains "forward-looking statements" and may be identified by the use of forward-looking terminology such as "anticipate", "believe", "continue", "could", "estimate", "expect", "hope", "intend", "may", "might", "plan", "potential", "predict", "should", or "will", or other variations thereon or comparable terminology. However, the absence of such terminology does not mean that a statement is not forward-looking. In particular, statements about the expectations, beliefs, plans, objectives, assumptions, future events, or future performance of Doo Prime will be generally assumed as forward-looking statements.
Doo Prime has provided these forward-looking statements based on all current information available to Doo Prime and Doo Prime's current expectations, assumptions, estimates, and projections. While Doo Prime believes these expectations, assumptions, estimations, and projections are reasonable, these forward-looking statements are only predictions and involve known and unknown risks and uncertainties, many of which are beyond Doo Prime's control. Such risks and uncertainties may cause results, performance, or achievements materially different from those expressed or implied by the forward-looking statements.
Doo Prime does not provide any representation or warranty on the reliability, accuracy, or completeness of such statements. Doo Prime is not obliged to provide or release any updates or revisions to any forward-looking statements.
Disclaimer
While every effort has been made to ensure the accuracy of the information in this document, DOO Prime does not warrant or guarantee the accuracy, completeness or reliability of this information. DOO Prime does not accept responsibility for any losses or damages arising directly or indirectly, from the use of this document. The material contained in this document is provided solely for general information and educational purposes and is not and should not be construed as, an offer to buy or sell, or as a solicitation of an offer to buy or sell, securities, futures, options, bonds or any other relevant financial instruments or investments. Nothing in this document should be taken as making any recommendations or providing any investment or other advice with respect to the purchase, sale or other disposition of financial instruments, any related products or any other products, securities or investments. Trading involves risk and you are advised to exercise caution in relation to the report. Before making any investment decision, prospective investors should seek advice from their own financial advisers, take into account their individual financial needs and circumstances and carefully consider the risks associated with such investment decision.