US Stocks
Fundamental Analysis:
US stocks fell the most in a month, with the S&P 500 index hit its biggest drop in nearly a month on Friday, 17 September 2021. At the same time, investors are evaluating the resilience of the global recovery amid concerns about the Delta virus strain and risks from Asia.
The 0.9% drop in the S&P 500 came amid the quarterly expiration of options and futures, which can trigger volatility.
The materials, utilities, and technology sectors pushed the benchmark index into the red, erasing gains from earlier in the week. The index dipped below its 50-day moving average, a key technical level that has provided support during the previous market selloffs in 2021. The technology-heavy Nasdaq 100 slumped 1.2%, the biggest drop since May.
September is starting off in typical fashion, with stocks struggling to maintain optimism in the face of a likely pending shift in Fed policy, slower growth, and uncomfortably high inflation. The University of Michigan's preliminary sentiment index showed US consumer sentiment rose slightly in early September, but remained close to a near-decade low, while buying conditions deteriorated to their worst since 1980 because of high prices.
Technical Analysis: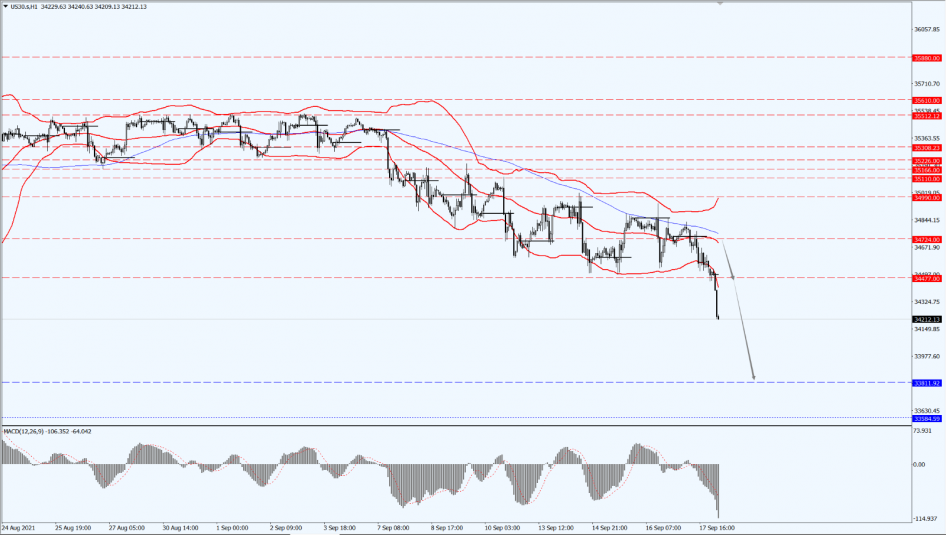 (Dow30,1-hour chart)
Execution Insight:
Today, we will be focusing on the 34724 line for the Dow. Currently, it still maintains in a bearish trend. Above, pay attention to the suppression strength of the two positions of 34477 and 34724. Then, focus on the support of the 33811 line.
Hong Kong Stocks
Fundamental Analysis:
FTSE China A50 Index futures and the Hang Seng Index opened low and went low. At the time of writing, FTSE China A50 Index futures fell by 3.5% while the Hang Seng Index fell by 2.4%.
Meanwhile, China Evergrande Group stocks fell, with Evergrande shares down by more than 12% for the first time, and total market capitalization has fallen below HK$30 billion. At the same time, Evergrande Property and HengTen Networks Group fell by more than 5%. Ping An of China also fell by nearly 7% at one point, a new low since 2017.
Technical Analysis: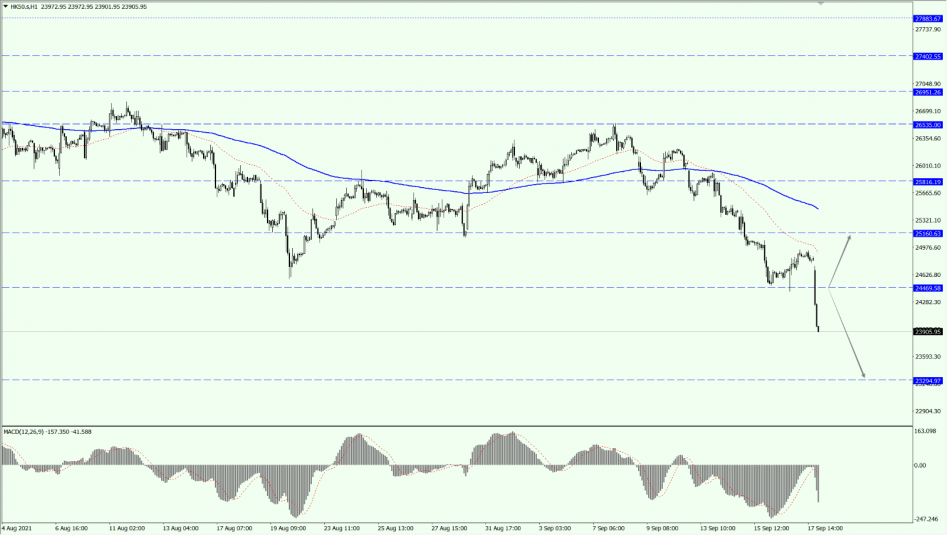 (HK50,1-hour chart)
Execution Insight:
On HK50 today, we pay attention to the support of the 24469 line. Once the buy order is obtained, then focus on the suppression strength of the two positions of 25160 and 25816 above. If HK50 falls below the 24469 line, it will open up further downward revision. 
FTSE China A50 Index 

Technical Analysis: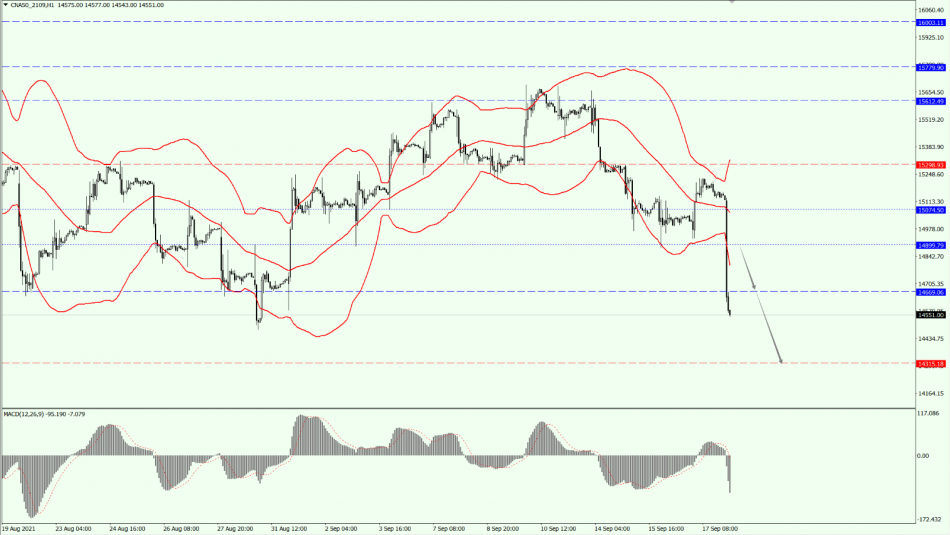 (A50,1-hour chart)
Execution Insight:
China A50 is still looking bearish today. Pay attention to the resistance of the two positions at 14899 and 14669 above, and the support of the 14315 line below.
Disclaimer
While every effort has been made to ensure the accuracy of the information in this document, DOO Prime does not warrant or guarantee the accuracy, completeness or reliability of this information. DOO Prime does not accept responsibility for any losses or damages arising directly or indirectly, from the use of this document. The material contained in this document is provided solely for general information and educational purposes and is not and should not be construed as, an offer to buy or sell, or as a solicitation of an offer to buy or sell, securities, futures, options, bonds or any other relevant financial instruments or investments. Nothing in this document should be taken as making any recommendations or providing any investment or other advice with respect to the purchase, sale or other disposition of financial instruments, any related products or any other products, securities or investments. Trading involves risk and you are advised to exercise caution in relation to the report. Before making any investment decision, prospective investors should seek advice from their own financial advisers, take into account their individual financial needs and circumstances and carefully consider the risks associated with such investment decision.