US Stocks
Fundamental Analysis:
The S&P 500 and Nasdaq eked out record finishes on Thursday, 2 September 2021, rising 0.28% and 0.14%, respectively; while the Dow rose by 0.37%, as higher commodity prices helped energy stocks recover lost ground and the latest jobs data left investors unfazed about existing positions.
The energy sector rose by 2.5%, reversing much of the loss suffered during the first three days of the week. Thursday's performance was fueled by U.S. crude prices jumping 2% on a sharp decline in U.S. inventories and a weaker dollar.
Cabot Oil & Gas Corporation and Occidental Petroleum Corp. were the largest risers, up by 6.7% and 6%, respectively, with oil majors ExxonMobil and Chevron Corp. both advancing more than 2%. The technology index slipped into negative territory, as some of the industry's largest companies had their recent upward momentum stalled. 
Amazon.com Inc., Microsoft Corp., Facebook Inc., and Google-owner Alphabet Inc. all fell between 0.2% and 1.8%. A notable exception was Netflix Inc., which advanced 1.1% to close at an all-time high.
U.S. stocks have regularly hit record highs over the past few weeks as a solid corporate earnings season and hopes of continued central bank support underpinned confidence.
Still, each new data set is viewed through the prism of whether the numbers might influence the Federal Reserve's tapering timetable.
Technical Analysis: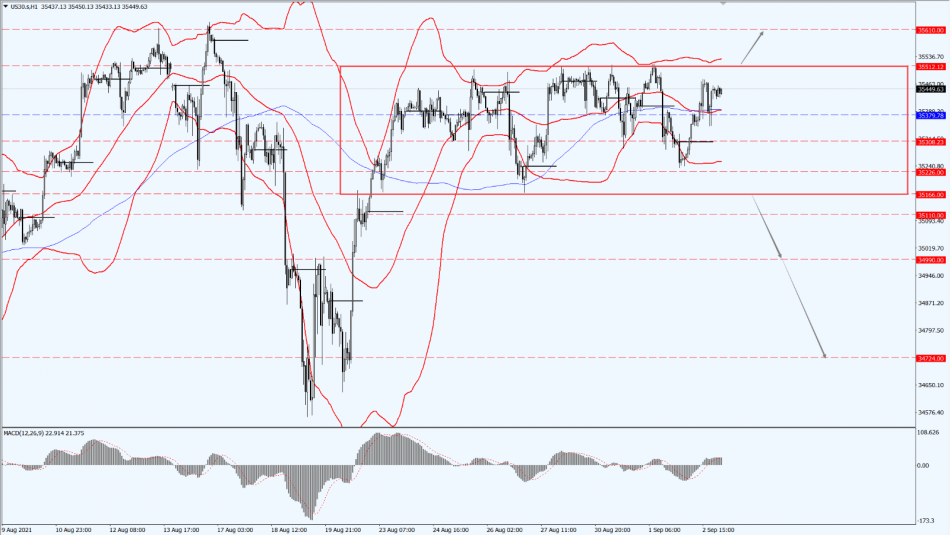 (Dow30,1-hour chart)
Execution Insight:
Today, continue to pay attention to the direction of the Dow's breakthrough in the expanded shock range. If it falls below the 35166 line, it will open up further downward revision. Then focus on the support of the 34990 line, if it breaks through the 35512 range, it will open up further upward revision. At that time, shift your attention to the suppression strength of the 35610 line.
Hong Kong Stocks
Fundamental Analysis:
The Hang Seng Index fell by 67.76 points, down 0.26%, sitting at 26,022.67; Hang Seng China Enterprises Index fell by 21.67 points, down 0.23%, maintaining at 9,319.63; the red chip index rose by 3.53 points, up 0.09%, settling at 3,977.99.
The Hang Seng Technology Index slid 0.34%. Most of the technology stocks fell, with Kuaishou Technology dropped by more than 2%, Alibaba Group Holding, Baidu, Bilibili, and Meituan fell by more than 1%. Chinese brokerage stocks collectively opened high, Shenwan Hongyuan rose by 9.6%, CSC Financial increased by more than 6%, China International Capital Corporation surged by more than 5%, CITIC Securities, China Galaxy Securities, and GF Securities all rose by more than 3%. Real estate stocks strengthened, Longfor Group rose by nearly 3%. 
Technical Analysis: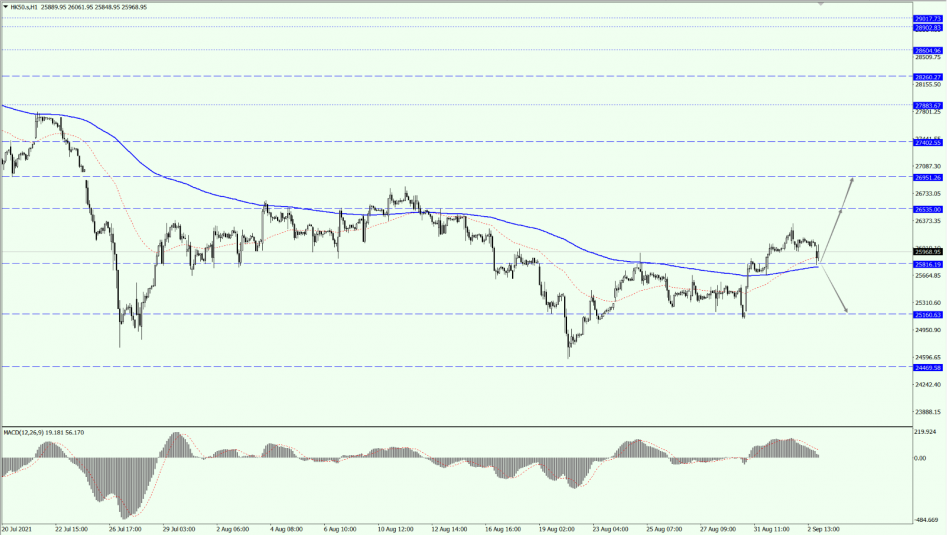 (HK50,1-hour chart)
Execution Insight:
Today, on HK50, pay attention to the support of the 25816 line. If HK50 runs above the 25816 line, it will maintain a bullish trend. On that note, focus on the suppression strength of the two positions of 26535 and 26951 above. If HK50 falls below the 25816 line, then it will test the support of the 25160 line again.
FTSE China A50 Index 

Technical Analysis: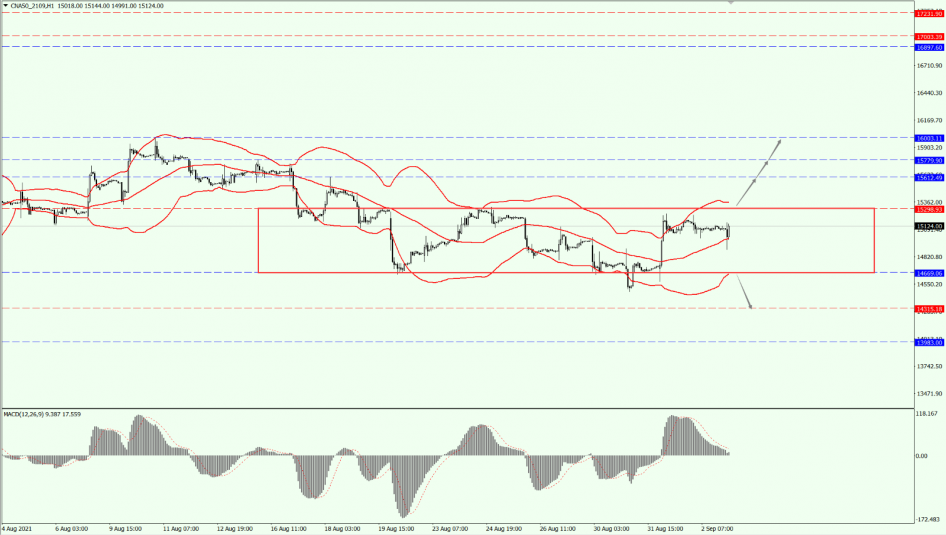 (A50,1-hour chart)
Execution Insight:
Today, we focus on whether A50 will be able to cross the 15298 line and create a further upward trend. If it can break the 15298 line, then pay attention to the suppression strength of the two positions 15612 and 15779. If it is suppressed by the 15298 line and turns to the downside, it will enter the shock collation again. At that time, divert your attention to the breakthrough direction of the 14669–15298 range.
Disclaimer
While every effort has been made to ensure the accuracy of the information in this document, DOO Prime does not warrant or guarantee the accuracy, completeness or reliability of this information. DOO Prime does not accept responsibility for any losses or damages arising directly or indirectly, from the use of this document. The material contained in this document is provided solely for general information and educational purposes and is not and should not be construed as, an offer to buy or sell, or as a solicitation of an offer to buy or sell, securities, futures, options, bonds or any other relevant financial instruments or investments. Nothing in this document should be taken as making any recommendations or providing any investment or other advice with respect to the purchase, sale or other disposition of financial instruments, any related products or any other products, securities or investments. Trading involves risk and you are advised to exercise caution in relation to the report. Before making any investment decision, prospective investors should seek advice from their own financial advisers, take into account their individual financial needs and circumstances and carefully consider the risks associated with such investment decision.