US Stocks
Fundamental Analysis:
The S&P 500 and Nasdaq indices ended lower on Monday, 27 September 2021, with investors pivoting to value shares as tech shares were hit by rising Treasury yields. As a result, tech shares weighed on equities in the quarter's final week. 
Economically sensitive stocks are up, while technology stocks have suffered huge blows. Meanwhile, the Fed is also indicating it is going to start tapering sooner rather than later, and that will probably help upward trajectory in rates. Rising rates typically reflect investors having a little bit more confidence in the economy not being stalled out.
In Washington, negotiations over funding the government, as well as raising the debt ceiling were heating up at the start of a week. and Congress could also include a vote on U.S. President Biden's USD1 trillion infrastructure bill.
On the economic front, new orders for durable goods waltzed past analyst expectations, gaining 1.8% in August. The value of total new orders has grown beyond pre-pandemic levels to a seven-year high.
Subsequently, the S&P 500 is on track to snap its seven-month winning streak, with the prospect of higher corporate tax rates and hints from the U.S. Federal Reserve that it could start to tighten its accommodative monetary policies in the months ahead.
Technical Analysis: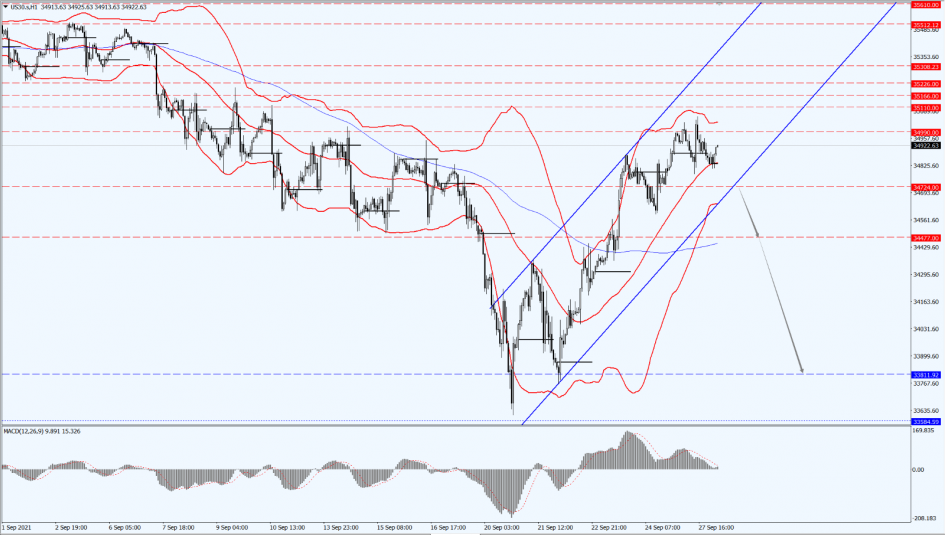 (Dow30,1-hour chart)
Execution Insight:
The Dow is still in the upward channel. Therefore, we will pay attention to the 34724 line today. Only when the Dow falls below the 34724 line, it will open up further downward revision. At that time, focus on the support of the 34477 line. 
Hong Kong Stocks
Fundamental Analysis:
The Hang Seng Index expanded to 1%, Hang Seng China Enterprises Index rose by 1.3%, and the MSCI China Red Chip Index rose by 1.12%.
On the technology front, the Hang Seng Technology Index added 1.41%, Alibaba rose by nearly 5%, Kuaishou increased by 4.42%, and Meituan rose by 2.9%.
On the other hand, domestic housing stocks rose collectively. Sunac China Holdings rose by nearly 15%, Kaisa Group rose by 7.54%, and China Evergrande rose by 6.27%.
Technical Analysis: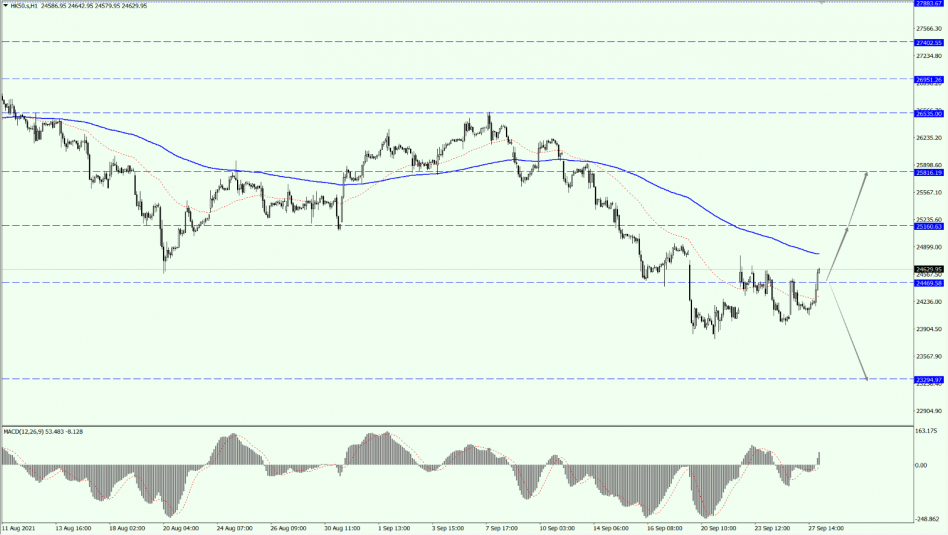 (HK50,1-hour chart)
Execution Insight:
On HK50 today, we pay attention to the support of the 24469 line. Once the buy order is obtained, then focus on the suppression strength of the two positions of 25160 and 25816 above. If HK50 falls below the 24469 line, it will open up further downward revision. 
FTSE China A50 Index 

Technical Analysis: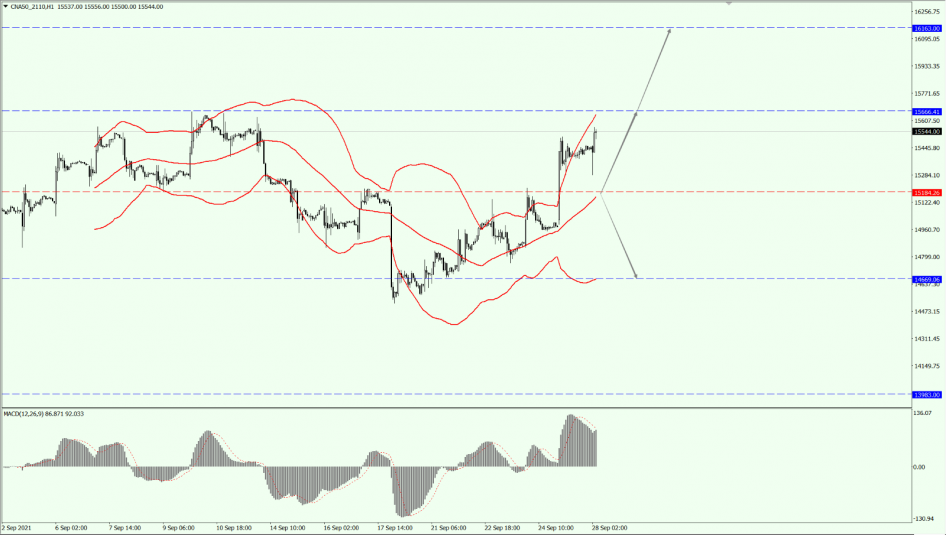 (A50,1-hour chart)
Execution Insight:
On A50, pay attention to the 15184 line today. If A50 is above the 15184 line, it will remain as a bullish trend. Then, pay attention to the support of the 14669 line below.
Disclaimer
While every effort has been made to ensure the accuracy of the information in this document, DOO Prime does not warrant or guarantee the accuracy, completeness or reliability of this information. DOO Prime does not accept responsibility for any losses or damages arising directly or indirectly, from the use of this document. The material contained in this document is provided solely for general information and educational purposes and is not and should not be construed as, an offer to buy or sell, or as a solicitation of an offer to buy or sell, securities, futures, options, bonds or any other relevant financial instruments or investments. Nothing in this document should be taken as making any recommendations or providing any investment or other advice with respect to the purchase, sale or other disposition of financial instruments, any related products or any other products, securities or investments. Trading involves risk and you are advised to exercise caution in relation to the report. Before making any investment decision, prospective investors should seek advice from their own financial advisers, take into account their individual financial needs and circumstances and carefully consider the risks associated with such investment decision.