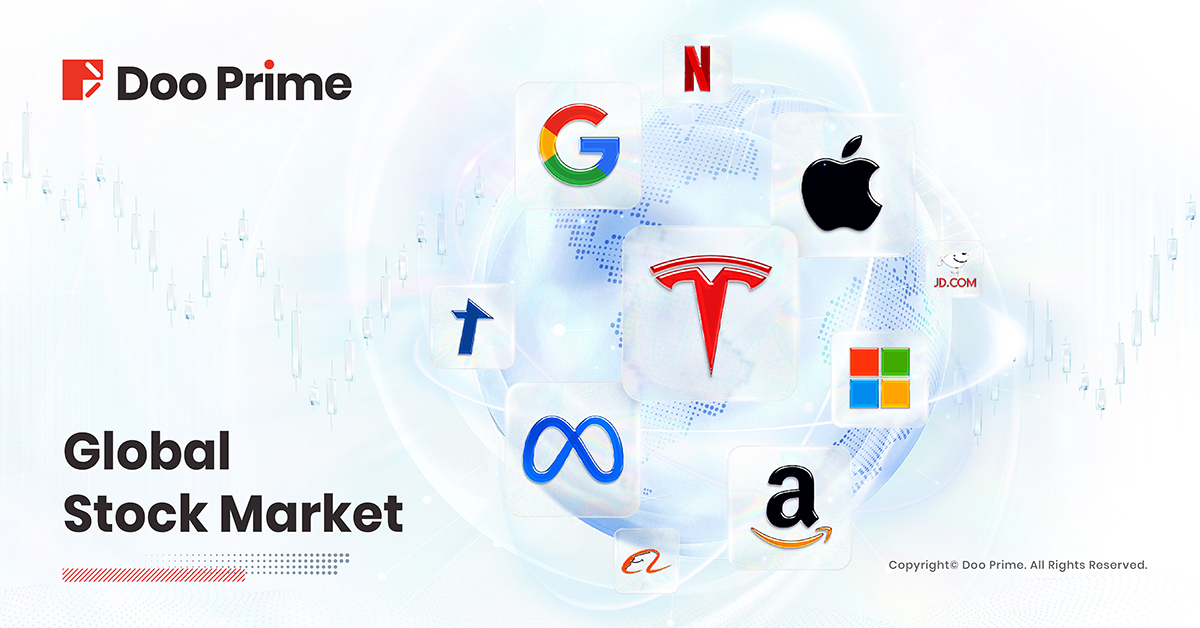 U.S. stocks edged higher on Monday. The market is closely watching the Federal Reserve's monetary policy meeting scheduled for later this week, with expectations that the institution will maintain interest rates.
Investors are assessing the potential for inflation to rise due to the recent UAW strike and the risk of a U.S. government shutdown. 
The Federal Reserve meeting takes center stage in the market this week. The institution's monetary policy meeting begins on Tuesday, with the results set to be announced on Wednesday, followed by a press conference by Fed Chair Powell.
The market generally anticipates that the Fed will keep interest rates unchanged. Traders hope to gain deeper insights into the Fed's future stance on inflation from the meeting statement and Powell's remarks.
U.S. Stocks
Fundamental Analysis:
Tesla fell over 3% last night as Goldman Sachs revised its earnings forecasts for Tesla in 2023 and 2024. This adjustment is due to lower average selling prices, resulting in a corresponding decrease in automotive gross margins.
Goldman Sachs has slightly lowered its earnings expectations for 2023/2024 from $3.00/$4.25 per share to $2.90/$4.15 per share.
Tesla CEO Elon Musk continued his social media attacks on Microsoft co-founder Bill Gates, this time in response to Gates' implication that Tesla's Semi electric truck is an unattainable endeavor.
Musk wrote, "Gates had some understanding of technology at a certain point in his career, but he's definitely off the planet now."
Morgan Stanley upgraded its rating on Alteryx from "Hold" to "Buy," with a target price of $54.00, implying approximately a 35% upside potential from the current price.
Alteryx is a provider of self-service data analytics software that helps organizations improve business outcomes and productivity for business analysts.
Chevron has successfully resolved an issue at a liquefied natural gas export facility in Australia, restoring production despite ongoing strikes by union members at the site. The company has managed to address the problem, allowing the facility to resume production operations.
Technical Analysis: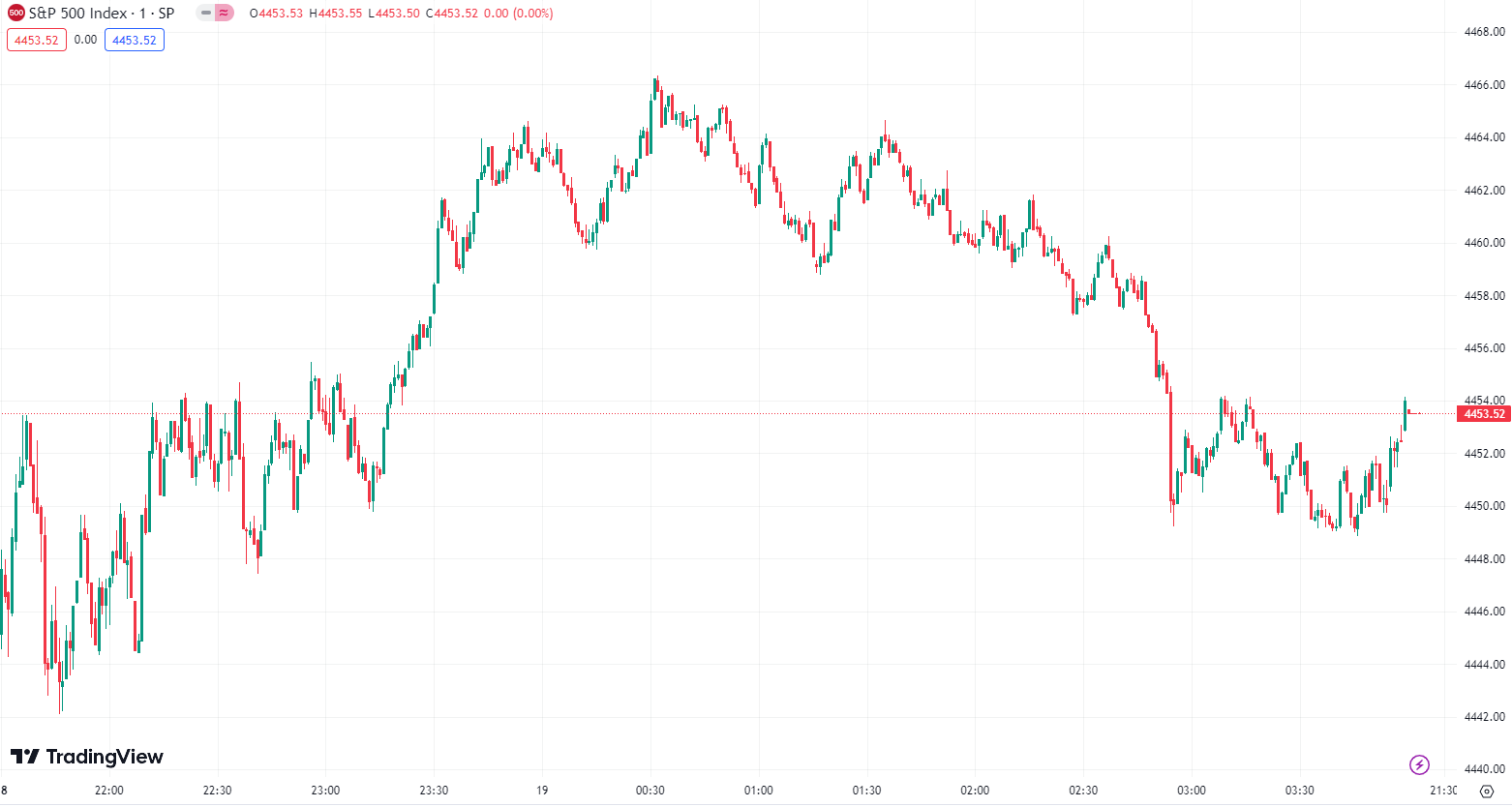 (S&P 500 Index, 1-day chart)
Market Trends:
Dow Jones Industrial Average gained 6.06 points, or 0.02%, closing at 34,624.30.
Nasdaq Composite Index rose 1.90 points, or 0.01%, ending at 13,710.24.
S&P 500 Index increased by 3.21 points, or 0.07%, finishing at 4,453.53.
Hong Kong Stocks
Today, the three major indices in the Hong Kong stock market had mixed performance.
In the tech sector, core technology stocks declined, with JD Group dropping over 2%, while Meituan and Baidu Group both fell over 1%.
New electric vehicle companies collectively experienced a decline, with Zero Run and NIO both falling over 3%.
Coal stocks led the gains, with Hengding Industrial rising over 9%. Gas stocks were active, with Kunlun Energy and Xin'ao Energy rising over 5%.
Real estate stocks showed strong performance, with Sunac China Holdings rising over 7% and China Evergrande Group gaining over 4%.
In recent news, Sunac China Holdings announced a comprehensive overseas debt restructuring plan, considering the current industry situation and the company's future development.
On September 18th, China Evergrande's overseas debt restructuring plan received approval from the majority of its creditors.
Technical Analysis: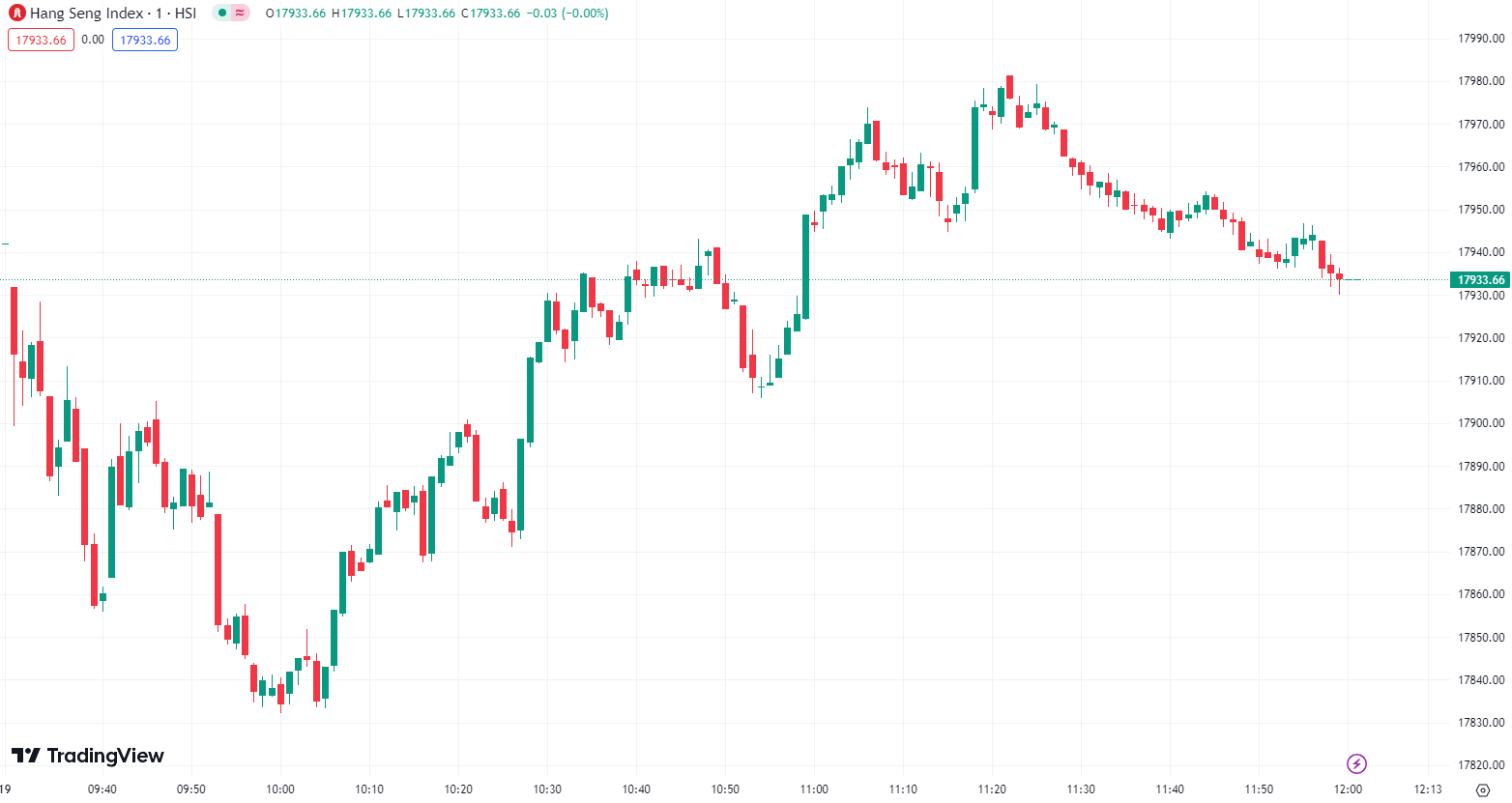 (Hang Seng Index, 1-day chart)
Market Trends:
Hang Seng Index (HSI) increased by 0.02%, closing at 17,933.69.
Hang Seng Tech Index (HSTECH) fell by 0.53%, closing at 3,966.31.
Hang Seng China Enterprises Index (HSCEI) rose by 0.02%, closing at 6,210.77.
FTSE China A50 Index
Fundamental Analysis:
On September 19th, China A-shares' three major indices opened lower. In the first hour of trading, the market experienced initial fluctuations and declines, with both the Shenzhen Component Index and the ChiNext Index falling by over 1%, with the latter breaking through the 2,000-point threshold.
Subsequently, the indices gradually stabilized and began to rebound, with the Shanghai Composite Index turning positive.
In terms of sector performance, railway and highway, gas, shipping ports, cement, and automotive services led the gains, while tourism and hotels, non-ferrous metals, computer equipment, communication equipment, and consumer electronics faced declines.
Active themes included Northeast revitalization, brokerage concepts, oil and gas equipment, and weight-loss drugs.
Technical Analysis: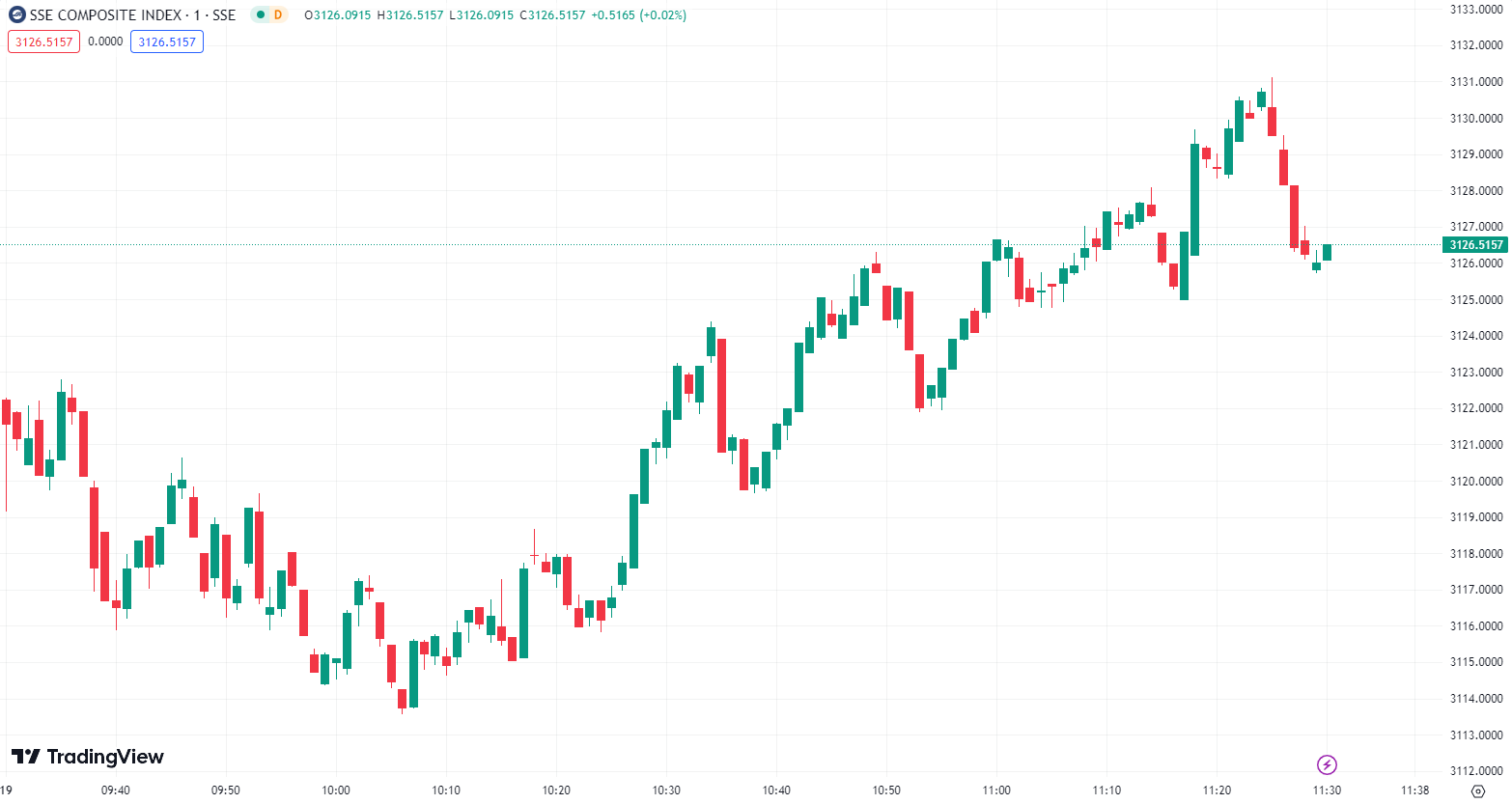 (SSE Composite Index, 1-day chart)
Market Trends:
Shanghai Composite Index (SHCOMP) rose by 0.02%, closing at 3,126.52. 
Shenzhen Component Index (SZCOMP) fell by 0.73%, closing at 10,126.08. 
ChiNext Index (CHINEXT) fell by 0.78%, closing at 2,004.74. 
SSE STAR Market 50 Index (SSE50) fell by 0.39%, closing at 876.06. 


Forward-looking Statements
This article contains "forward-looking statements" and may be identified by the use of forward-looking terminology such as "anticipate", "believe", "continue", "could", "estimate", "expect", "hope", "intend", "may", "might", "plan", "potential", "predict", "should", or "will", or other variations thereon or comparable terminology. However, the absence of such terminology does not mean that a statement is not forward-looking. In particular, statements about the expectations, beliefs, plans, objectives, assumptions, future events, or future performance of Doo Prime will be generally assumed as forward-looking statements.
Doo Prime has provided these forward-looking statements based on all current information available to Doo Prime and Doo Prime's current expectations, assumptions, estimates, and projections. While Doo Prime believes these expectations, assumptions, estimations, and projections are reasonable, these forward-looking statements are only predictions and involve known and unknown risks and uncertainties, many of which are beyond Doo Prime's control. Such risks and uncertainties may cause results, performance, or achievements materially different from those expressed or implied by the forward-looking statements.
Doo Prime does not provide any representation or warranty on the reliability, accuracy, or completeness of such statements. Doo Prime is not obliged to provide or release any updates or revisions to any forward-looking statements.
Disclaimer
While every effort has been made to ensure the accuracy of the information in this document, DOO Prime does not warrant or guarantee the accuracy, completeness or reliability of this information. DOO Prime does not accept responsibility for any losses or damages arising directly or indirectly, from the use of this document. The material contained in this document is provided solely for general information and educational purposes and is not and should not be construed as, an offer to buy or sell, or as a solicitation of an offer to buy or sell, securities, futures, options, bonds or any other relevant financial instruments or investments. Nothing in this document should be taken as making any recommendations or providing any investment or other advice with respect to the purchase, sale or other disposition of financial instruments, any related products or any other products, securities or investments. Trading involves risk and you are advised to exercise caution in relation to the report. Before making any investment decision, prospective investors should seek advice from their own financial advisers, take into account their individual financial needs and circumstances and carefully consider the risks associated with such investment decision.