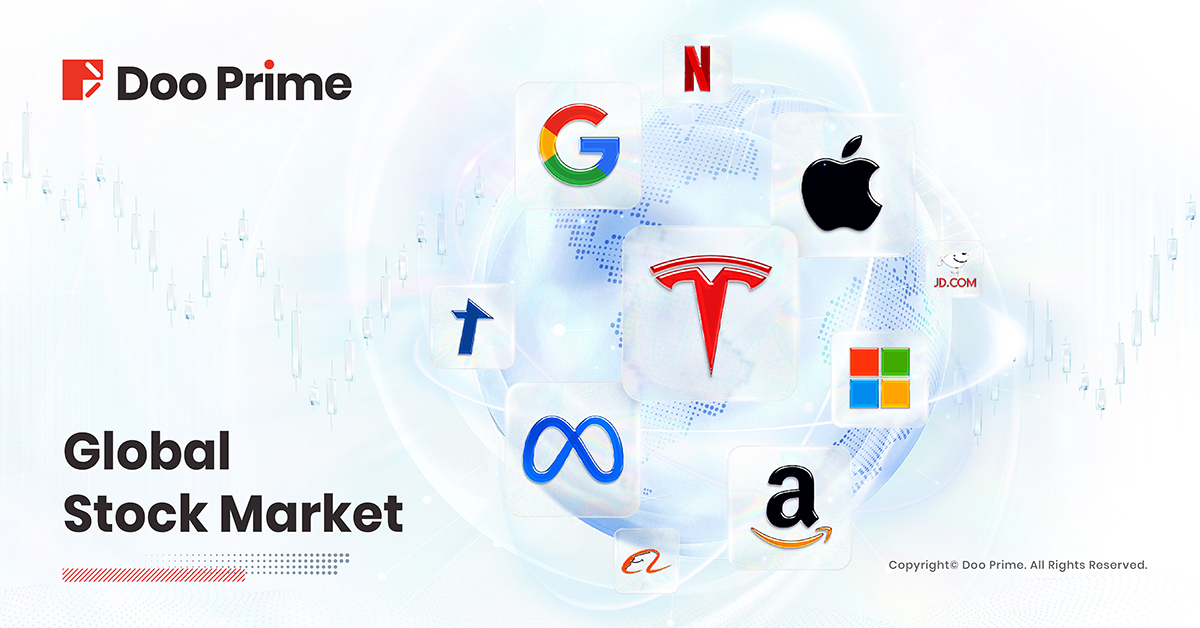 The U.S. stock market was closed for one day on Monday due to the Labor Day holiday in the United States. 
U.S. Stocks
Fundamental Analysis:
On Monday, both the U.S. stock market and the U.S. bond market were closed for the day. 
Hong Kong Stocks
Fundamental Analysis:
After a significant surge yesterday, the Hong Kong stock market opened lower and continued on a downward trend. It faced early pressure as it initially dropped 126 points before extending losses to a low of 18,525, marking a decline of up to 318 points. It then remained near these lower levels.
The Hang Seng Index had seen a sharp rise of over 462 points on the first trading day of September, benefiting from positive external news, marking its largest increase since late July.
Total trading volume for the day also exceeded HK$152.6 billion, the highest since August. However, with no positive news emerging from Hong Kong, the market saw an extension of losses after the opening.
Large tech stocks experienced a general decline, with Xiaomi Corporation (1810.HK) dropping by nearly 4%. Companies like Meituan (3690.HK), Tencent Holdings Limited (0700.HK), JD.com, Inc. (9618.HK), NetEase, Inc. (9999.HK), Baidu, Inc. (9888.HK), and Alibaba Group Holding Limited (9988.HK) all recorded declines.
In contrast, real estate stocks, which had been strong performers yesterday and were included in the Hong Kong Stock Connect, witnessed a notable surge, with China Evergrande Group (3333.HK) rising by nearly 20%.
Consumer stocks weakened, with L'Occitane International S.A. (0973.HK) declining by approximately 25%.
On the other hand, power stocks, which had been on a continuous decline, rebounded, with China Power International Development Limited (2380.HK) rising by more than 5%.
Some Apple-related stocks and entertainment companies also saw partial gains.
Technical Analysis: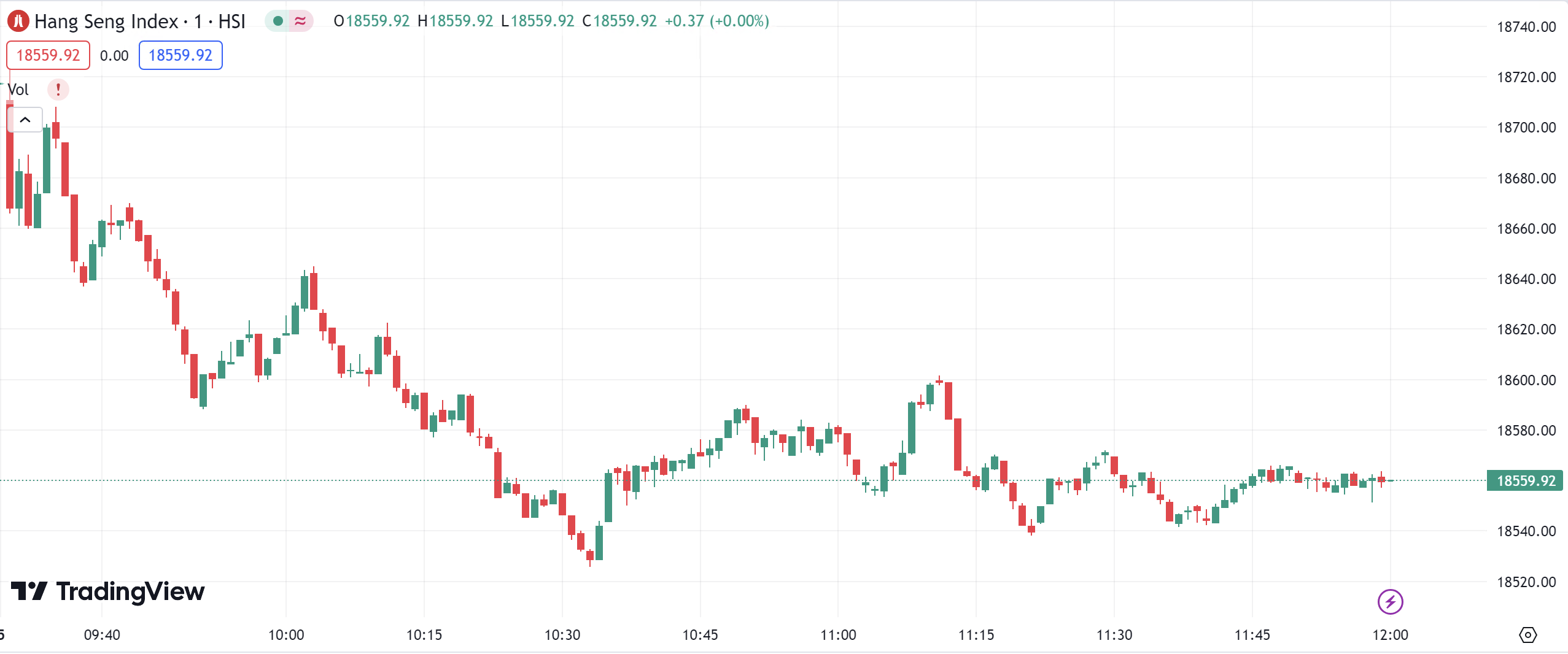 (Hang Seng Index, 1-day chart)
Market Trends:
Hang Seng Index (HSI) fell by 1.51%, closing at 18,559.92 points.
Hang Seng Tech Index (HSTECH) dropped by 1.5%.
Hang Seng China Enterprises Index (HSCEI) declined by 1.47%.
FTSE China A50 Index
Fundamental Analysis:
In the morning session of September 5th, A-share markets saw a slightly lower opening across the three major indices.
After the Shanghai Composite Index initially opened with a modest gain, it gradually weakened.
Similarly, the Shenzhen Component Index and the ChiNext Index also started with small gains before retreating, entering a period of volatile consolidation.
Meanwhile, the previously surging CSI 300 Index, which had performed strongly on Monday, began to adjust, experiencing a decline of approximately 1%.
The total trading volume for the Shanghai and Shenzhen stock markets combined amounted to CNY 5235.68 billion, with northbound capital recording a net outflow of CNY 44.63 billion.
Among the stocks traded, 22 hit the daily limit-up, including ST stocks, while 2 hit the limit-down.
Sector-wise, sectors like electronic chemicals, optoelectronics, photovoltaic equipment, semiconductors, and consumer electronics showed prominent gains, whereas real estate services, insurance, property development, engineering consulting services, and education experienced notable declines.
In terms of thematic sectors, Huawei, photolithography materials, TOPCon batteries, storage chips, 3D cameras, OLED, and other concepts were actively traded.
Technical Analysis: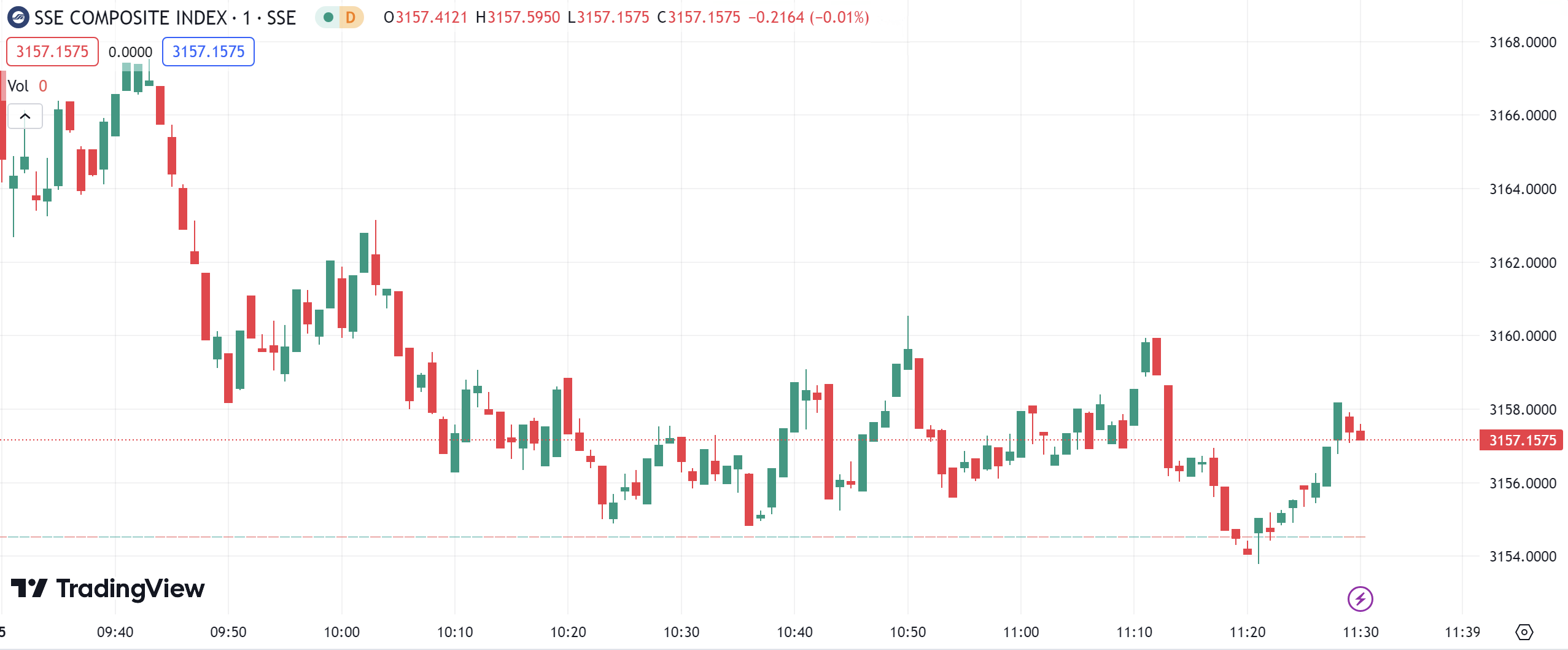 (SSE Composite Index, 1-day chart)
Market Trends:
Shanghai Composite Index (SHCOMP) fell by 0.63%, closing at 3,157.16 points. 
Shenzhen Component Index (SZCOMP) fell by 0.46%, closing at 10,562.65 points. 
ChiNext Index (CHINEXT) fell by 0.05%, closing at 2,117.03 points. 
SSE STAR Market 50 Index (SSE50) fell by 0.39%, closing at 938.74 points. 


Forward-looking Statements
This article contains "forward-looking statements" and may be identified by the use of forward-looking terminology such as "anticipate", "believe", "continue", "could", "estimate", "expect", "hope", "intend", "may", "might", "plan", "potential", "predict", "should", or "will", or other variations thereon or comparable terminology. However, the absence of such terminology does not mean that a statement is not forward-looking. In particular, statements about the expectations, beliefs, plans, objectives, assumptions, future events, or future performance of Doo Prime will be generally assumed as forward-looking statements.
Doo Prime has provided these forward-looking statements based on all current information available to Doo Prime and Doo Prime's current expectations, assumptions, estimates, and projections. While Doo Prime believes these expectations, assumptions, estimations, and projections are reasonable, these forward-looking statements are only predictions and involve known and unknown risks and uncertainties, many of which are beyond Doo Prime's control. Such risks and uncertainties may cause results, performance, or achievements materially different from those expressed or implied by the forward-looking statements.
Doo Prime does not provide any representation or warranty on the reliability, accuracy, or completeness of such statements. Doo Prime is not obliged to provide or release any updates or revisions to any forward-looking statements.
Disclaimer
While every effort has been made to ensure the accuracy of the information in this document, DOO Prime does not warrant or guarantee the accuracy, completeness or reliability of this information. DOO Prime does not accept responsibility for any losses or damages arising directly or indirectly, from the use of this document. The material contained in this document is provided solely for general information and educational purposes and is not and should not be construed as, an offer to buy or sell, or as a solicitation of an offer to buy or sell, securities, futures, options, bonds or any other relevant financial instruments or investments. Nothing in this document should be taken as making any recommendations or providing any investment or other advice with respect to the purchase, sale or other disposition of financial instruments, any related products or any other products, securities or investments. Trading involves risk and you are advised to exercise caution in relation to the report. Before making any investment decision, prospective investors should seek advice from their own financial advisers, take into account their individual financial needs and circumstances and carefully consider the risks associated with such investment decision.