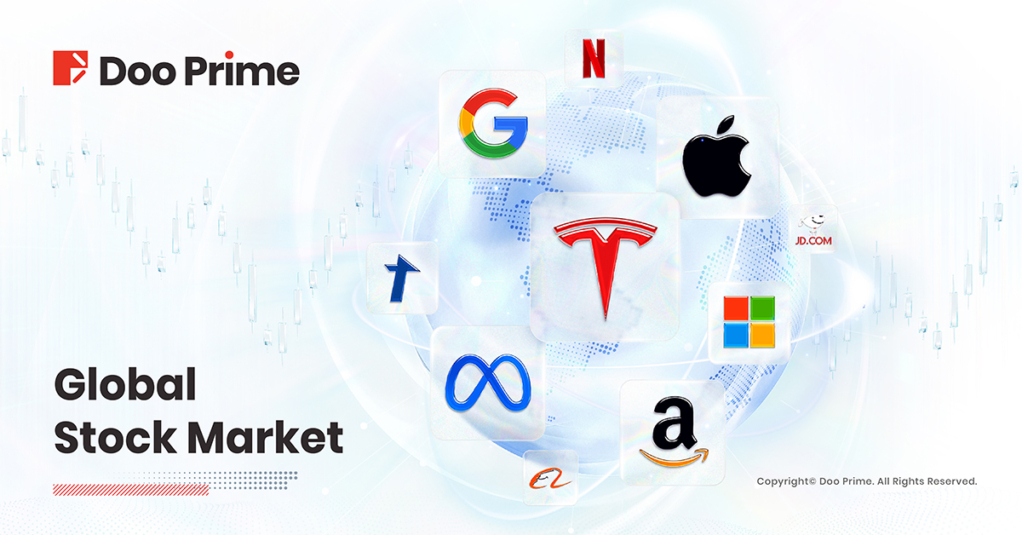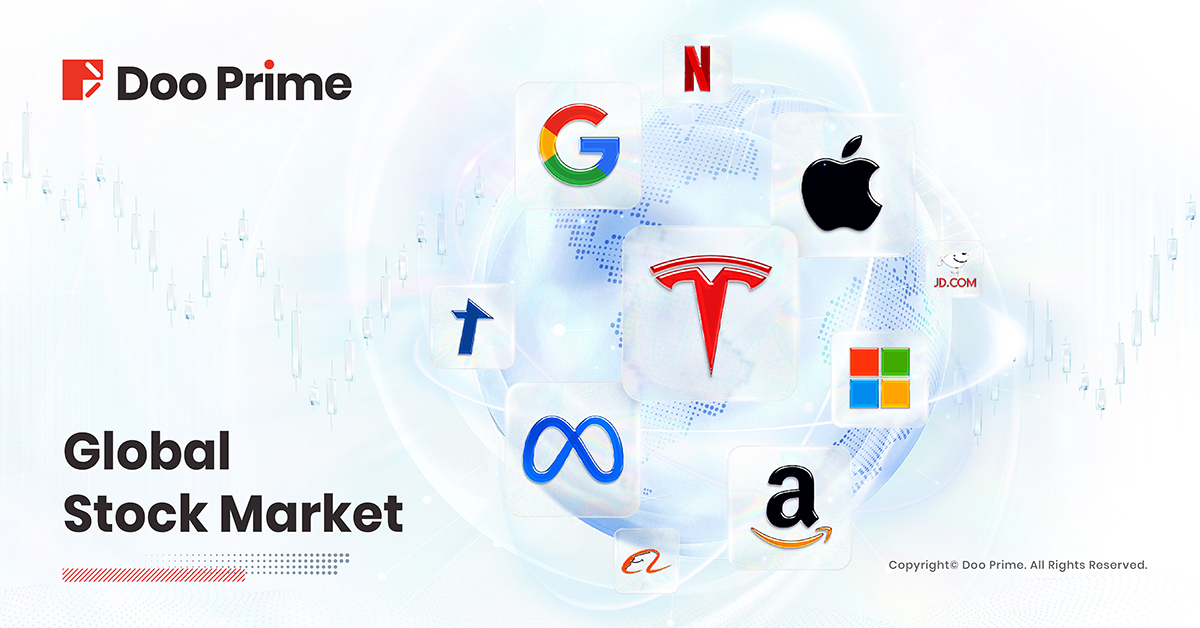 U.S. stock ended Wednesday on a positive note, with the Dow seeing its fourth consecutive day of gains.  
The October Producer Price Index (PPI) in the U.S. recorded the largest drop since April 2020, further supporting a reduction in inflationary pressures.
October's retail sales in the U.S. experienced a slight decline, reinforcing expectations of completed interest rate hikes and increasing the possibility of aggressive rate cuts by the Federal Reserve next year.
Efforts are underway in the U.S. Congress to avoid a government shutdown.
Wednesday marked the release of highly anticipated October Producer Price Index (PPI) and retail sales data in the U.S., both of which are expected to significantly impact the monetary policy path of the Federal Reserve.
According to the U.S. Commerce Department report, the October PPI increased by 1.3% year-on-year, lower than the estimated 1.9% and a decrease from the previous value of 2.2%.
The month-on-month PPI declined by 0.5%, against an estimated 0.1% and the previous value of 0.5%.
Analysts noted that the sharp 0.5% decline in the final demand PPI index from the previous month largely reflects the drop in gasoline prices.
U.S. Stock Market
Fundamental Analysis:
Major tech stocks experienced mixed movements; Intel rose by over 3%, while Tesla and Netflix gained over 2%.
Apple, Microsoft, and Google saw marginal increases, whereas Nvidia, Amazon, and Meta declined by over 1%.
Notably, Nvidia's ten-day rally came to a halt, while Microsoft continued to set new closing highs.
Popular Chinese concept stocks surged, with the Nasdaq Golden Dragon China Index rising by 2.87%.
Tencent Music and JD.com surged over 7%, Vipshop rose over 6%, and iQiyi and Weibo soared over 5%.
Nio surged over 4%, and Alibaba, Pinduoduo, and Baidu gained over 3%.
Bilibili, Futu Holdings, and XPeng Motors rose over 2%, while Li Auto and Manbang increased by over 1%. NetEase saw a slight increase.
Technical Analysis: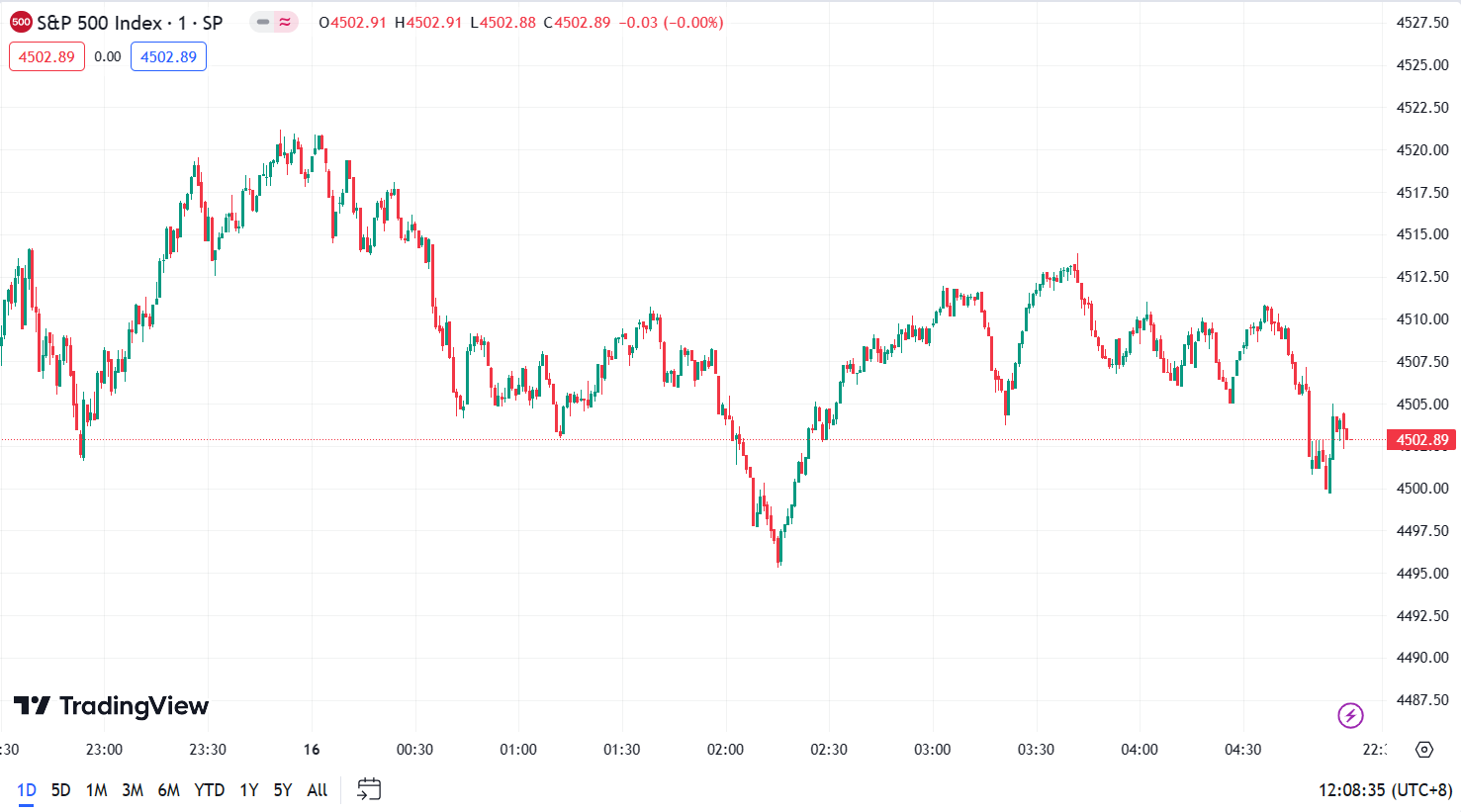 (S&P 500 Index, 1-day chart)
Market Trends:
Dow Jones Industrial Average gained 163.51 points, a 0.47% increase, closing at 34,991.21 points.
Nasdaq Composite Index rose by 9.45 points, a 0.07% increase, closing at 14,103.84 points.
S&P 500 Index declined by 7.18 points, a 0.16% increase, closing at 4,502.88 points.
Hong Kong Stock Market
Hong Kong's three major indices opened high but experienced a decline during the session.
In the market, core tech stocks mostly declined, with Xiaomi Group dropping by nearly 6%.
NetEase, Alibaba, and Meituan fell by over 2%, while Kuaishou surged over 3% and JD.com rose by over 1%.
Most automotive stocks declined, with Ideal Auto dropping by over 4%.
Stocks related to pharmaceutical outsourcing faced significant declines, with WuXi AppTec dropping by nearly 7%.
Internet healthcare also saw substantial declines, with JD Health dropping over 5%.
Core tech stocks mostly declined, especially Xiaomi Group, which fell nearly 6%.
Reports from the Ministry of Industry and Information Technology revealed information about the 'Announcement on Road Motor Vehicle Manufacturing Enterprises and Products' and 'Catalog of New Energy Vehicles Eligible for Vehicle and Vessel Tax Exemption', which included two Xiaomi-branded pure electric cars.
Technical Analysis: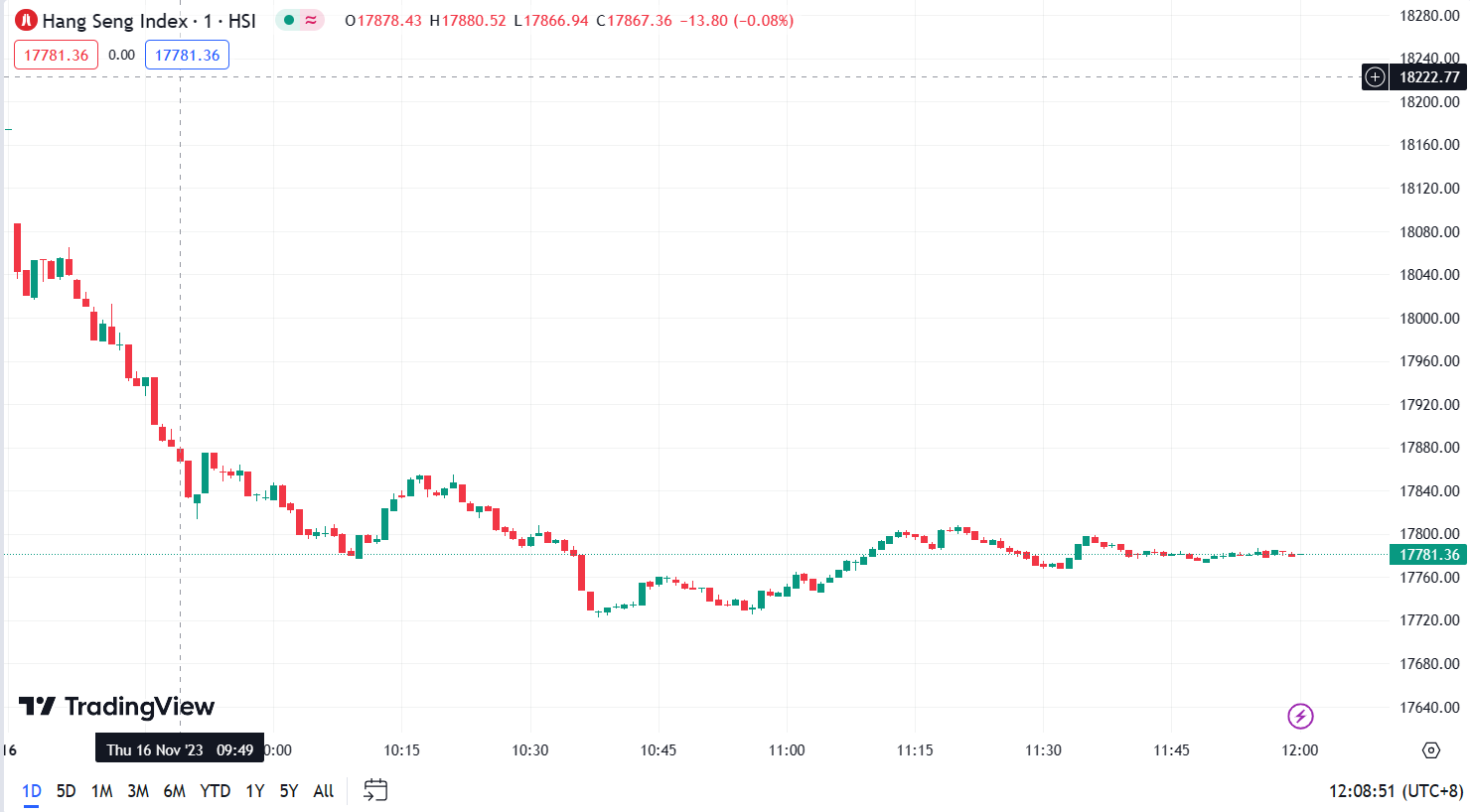 (Hang Seng Index, 1-day chart)
Market Trends:
Hang Seng Index (HSI) declined by 1.65%, closing at 17,781.36 points.
Hang Seng Tech Index (HSTECH) fell by 2.27%, closing at 4,032.03 points.
Hang Seng China Enterprises Index (HSCEI) dropped by 1.68%, closing at 6,100.10 points.
FTSE China A50 Index
Fundamental Analysis:
At the morning session on November 16th, A-share indices opened low and experienced a slight rebound before witnessing a decline.
The Shenzhen Component Index fell by over 1%, breaching the 10,000 mark, and the ChiNext Index dropped by over 1%, falling below 2,000 points.
In terms of industry sectors, gains were observed in cultural media, electronic chemicals, mining, education, and household light industries, while losses were prominent in photovoltaic equipment, energy metals, batteries, wind power equipment, and insurance.
Themes such as lithography machines, East and West computing, AIGC concepts, Xiaomi concepts, and computing power concepts were active.
Technical Analysis: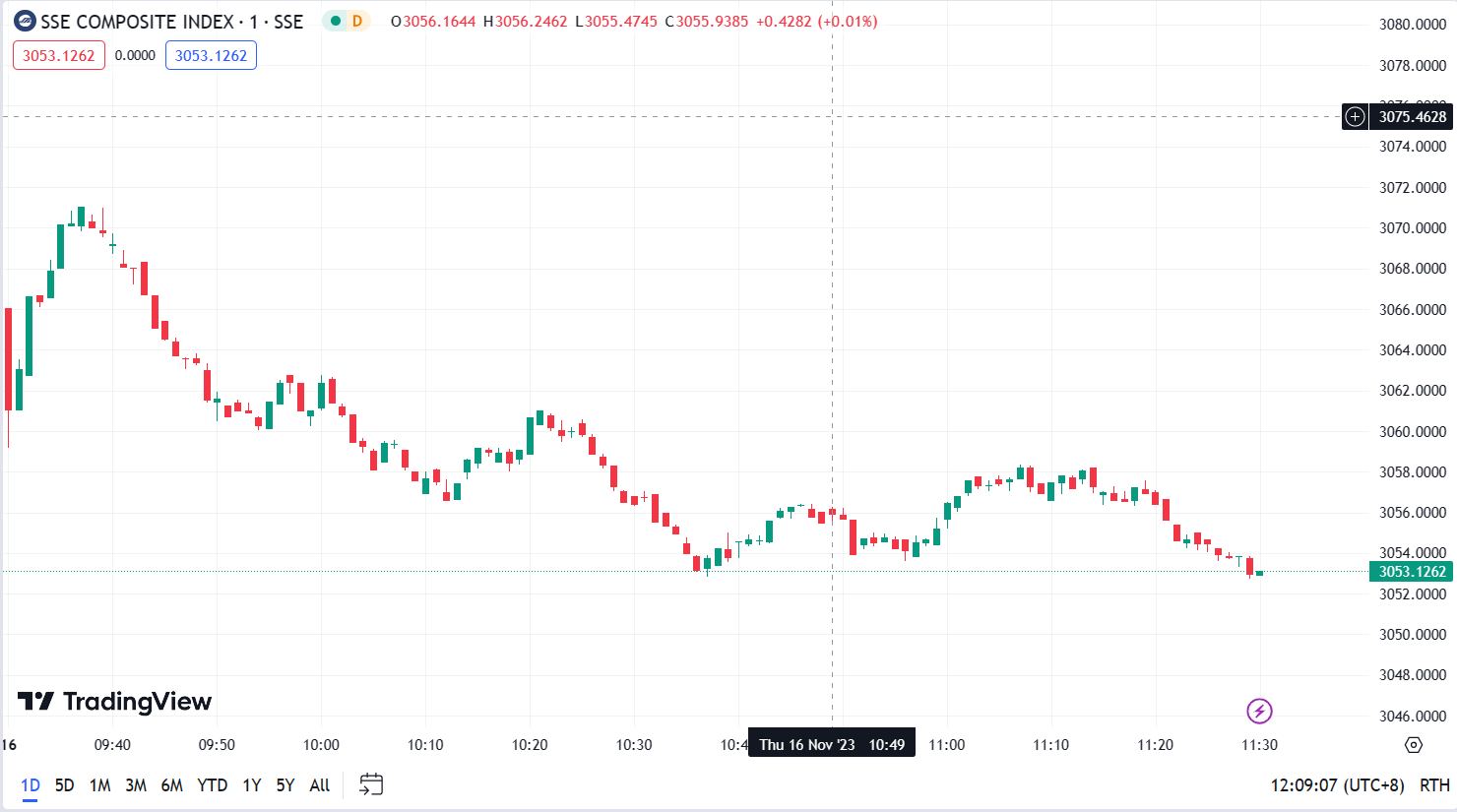 (SSE Composite Index, 1-day chart)
Market Trends:
Shanghai Composite Index (SHCOMP) declined by 0.64%, closing at 3,053.13 points.
Shenzhen Component Index (SZCOMP) fell by 1.09%, closing at 9,968.5 points.
ChiNext Index (CHINEXT) dropped by 1.68%, closing at 1,981.48 points.
SSE STAR Market 50 Index (SSE50) declined by 1.52%, closing at 888.46 points.
---
Forward-looking Statements
This article contains "forward-looking statements" and may be identified by the use of forward-looking terminology such as "anticipate", "believe", "continue", "could", "estimate", "expect", "hope", "intend", "may", "might", "plan", "potential", "predict", "should", or "will", or other variations thereon or comparable terminology. However, the absence of such terminology does not mean that a statement is not forward-looking. In particular, statements about the expectations, beliefs, plans, objectives, assumptions, future events, or future performance of Doo Prime will be generally assumed as forward-looking statements.
Doo Prime has provided these forward-looking statements based on all current information available to Doo Prime and Doo Prime's current expectations, assumptions, estimates, and projections. While Doo Prime believes these expectations, assumptions, estimations, and projections are reasonable, these forward-looking statements are only predictions and involve known and unknown risks and uncertainties, many of which are beyond Doo Prime's control. Such risks and uncertainties may cause results, performance, or achievements materially different from those expressed or implied by the forward-looking statements.
Doo Prime does not provide any representation or warranty on the reliability, accuracy, or completeness of such statements. Doo Prime is not obliged to provide or release any updates or revisions to any forward-looking statements.
Disclaimer
While every effort has been made to ensure the accuracy of the information in this document, DOO Prime does not warrant or guarantee the accuracy, completeness or reliability of this information. DOO Prime does not accept responsibility for any losses or damages arising directly or indirectly, from the use of this document. The material contained in this document is provided solely for general information and educational purposes and is not and should not be construed as, an offer to buy or sell, or as a solicitation of an offer to buy or sell, securities, futures, options, bonds or any other relevant financial instruments or investments. Nothing in this document should be taken as making any recommendations or providing any investment or other advice with respect to the purchase, sale or other disposition of financial instruments, any related products or any other products, securities or investments. Trading involves risk and you are advised to exercise caution in relation to the report. Before making any investment decision, prospective investors should seek advice from their own financial advisers, take into account their individual financial needs and circumstances and carefully consider the risks associated with such investment decision.