US Stocks
Fundamental Analysis:
U.S. stocks jumped more than 1% on Thursday, 23 September 2021, as investors appeared relieved about the Federal Reserve's stance on tapering stimulus and raising interest rates.
The U.S. Food and Drug Administration (FDA) late on Wednesday, 22 September 2021, authorized a booster dose of the Pfizer-BioNTech COVID-19 vaccine for those 65 years and older.
Meanwhile, the Fed said on Wednesday, 22 September 2021, it could begin reducing its monthly bond purchases in early November, and that interest rates could rise quicker than expected by 2022. The November deadline was largely priced in by the markets.
In a press conference after the statement, Fed chair Jerome Powell said the bar for lifting interest rates from zero is much higher than for tapering.
Among the main sectors of the S&P 500, energy and financial stocks were among the best sector performers, with the former rose by 3.4% and the latter added 2.5%. Real estate stocks and utility stocks were the only 2 of the 11 sectors to fall, both of which fell by about 0.5%.
Technical Analysis: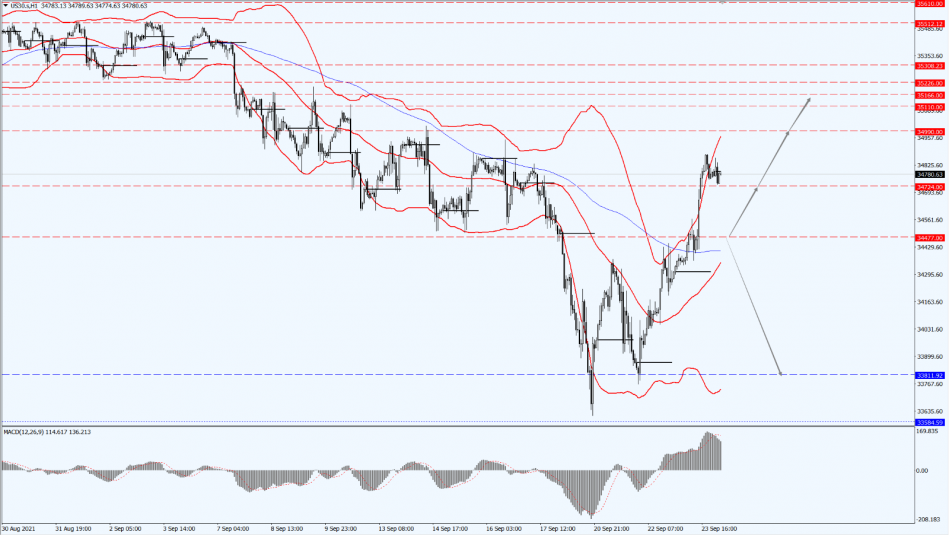 (Dow30,1-hour chart)
Execution Insight:
Once again, on the Dow today, we focus on the 34477 line. As long as the Dow is running above the 34477 line, it will maintain a bullish trend. At that time, pay attention to the suppression strength of the 34990 and 35166 positions. When the Dow falls below the 34477 line, it will open up further downside revision. After that, divert your attention to the support of the 33811 line. 
Hong Kong Stocks
Fundamental Analysis:
The three major Hong Kong stock indices collectively opened lower, with the Hang Seng Index down 0.1%, to 24,487 points; Hang Seng China Enterprises Index down 0.23%, to 8,714 points; and the Hang Seng Technology Index fell by 0.17%, to 6,289 points.
On the market, power stocks and real estate stocks continued their strength yesterday, with R&F Properties up 8.5% and Huaneng Power International up 1.6%. On the other hand, pharmaceutical stocks, catering stocks, aviation stocks, shipping stocks, petroleum stocks, steel, aluminum, and other non-ferrous sectors generally rose, with Jiumaojiu and Air China opening higher by more than 2%.
Subsequently, large technology stocks Alibaba and Xiaomi fell by more than 1%. Tencent, Meituan, and Baidu opened slightly lower. At the same time, home appliance stocks and photovoltaic glass stocks weakened significantly.
Technical Analysis: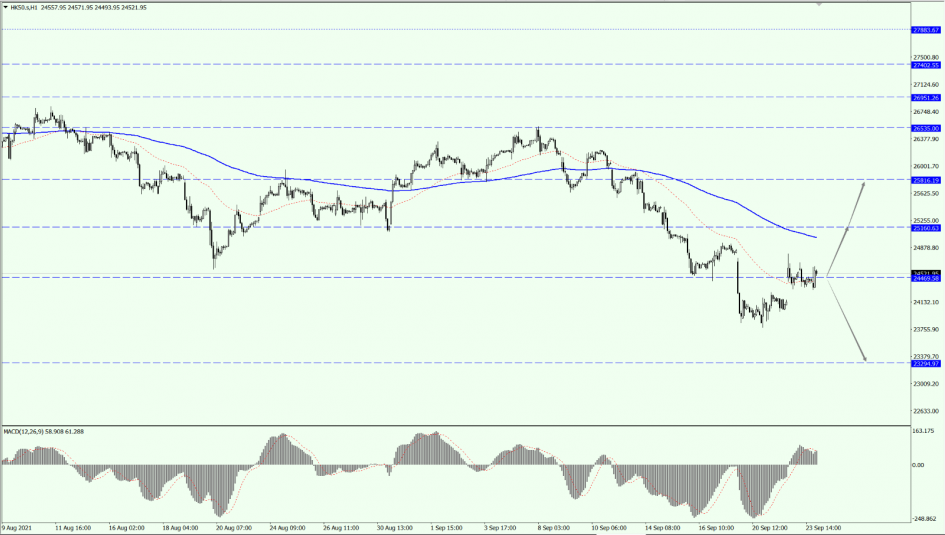 (HK50,1-hour chart)
Execution Insight:
On HK50 today, we pay attention to the support of the 24469 line. Once the buy order is obtained, then focus on the suppression strength of the two positions of 25160 and 25816 above. If HK50 falls below the 24469 line, it will open up further downward revision. 
FTSE China A50 Index 

Technical Analysis: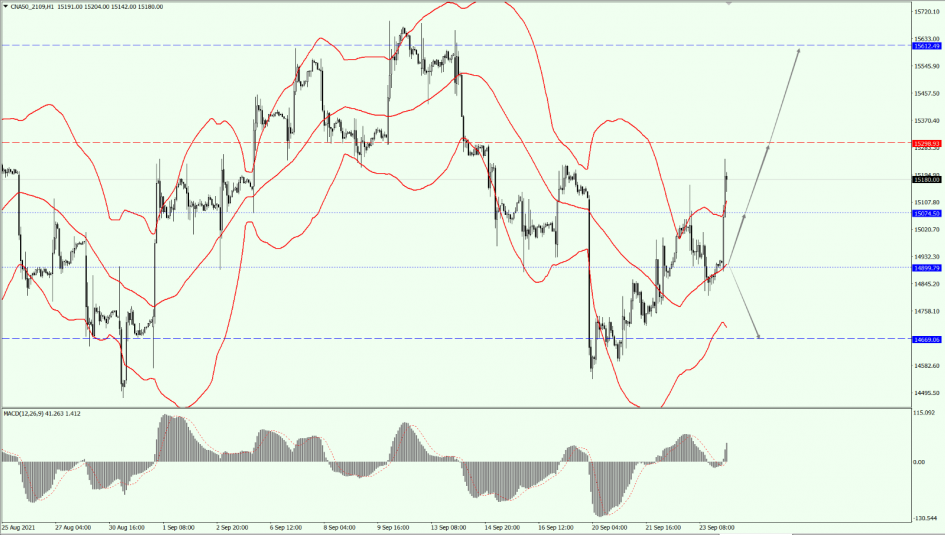 (A50,1-hour chart)
Execution Insight:
On A50, pay attention to the 14899 line today. If A50 is above the 14899 line, it will remain as a bullish trend. Then, pay attention to the support of the 14315 line below. 
Disclaimer
While every effort has been made to ensure the accuracy of the information in this document, DOO Prime does not warrant or guarantee the accuracy, completeness or reliability of this information. DOO Prime does not accept responsibility for any losses or damages arising directly or indirectly, from the use of this document. The material contained in this document is provided solely for general information and educational purposes and is not and should not be construed as, an offer to buy or sell, or as a solicitation of an offer to buy or sell, securities, futures, options, bonds or any other relevant financial instruments or investments. Nothing in this document should be taken as making any recommendations or providing any investment or other advice with respect to the purchase, sale or other disposition of financial instruments, any related products or any other products, securities or investments. Trading involves risk and you are advised to exercise caution in relation to the report. Before making any investment decision, prospective investors should seek advice from their own financial advisers, take into account their individual financial needs and circumstances and carefully consider the risks associated with such investment decision.