U.S Stocks


Fundamental Analysis:
U.S. stocks closed higher by dint of their strong performance, while Dow and S&P 500 hit record highs during the session.
The U.S. stock market closed higher on Thursday,29th July, 2021, boosted by strong U.S. corporate earnings and forecasts. That said data showed that the U.S. economy had returned to the pre-pandemic point in the second quarter.
The U.S. economy grew steadily in the second quarter, with its gross domestic product (GDP) higher than its peak before the pandemic. However, the GDP growth was lower than analysts have expected.
Peter W. Tuz, president of Chase Investment Counsel, said that today's less-than-expected economic data may alleviate investors' concerns as the Fed's "easy monetary policy" may end soon. In addition, investors also noticed "some pretty good earnings posted" today.
The Fed said that they have yet to begin withdrawing from the large-scale monetary stimulus measures. The Fed decided that with the intention of boosting the stock market on Wednesday.
On the flipside, Dow rose by 0.4%, S&P 500 rose by 0.4%, while Nasdaq rose by 0.1%.
As of Thursday morning, about half of the S&P 500 Index constituent companies have announced their second-quarter earnings. Refinitiv's data shows that nearly 91% of the profits exceeded the forecasted expectations. On top of that, it is expected that profits in the second quarter will increase by 87.2% over the same period last year.
Technical Analysis: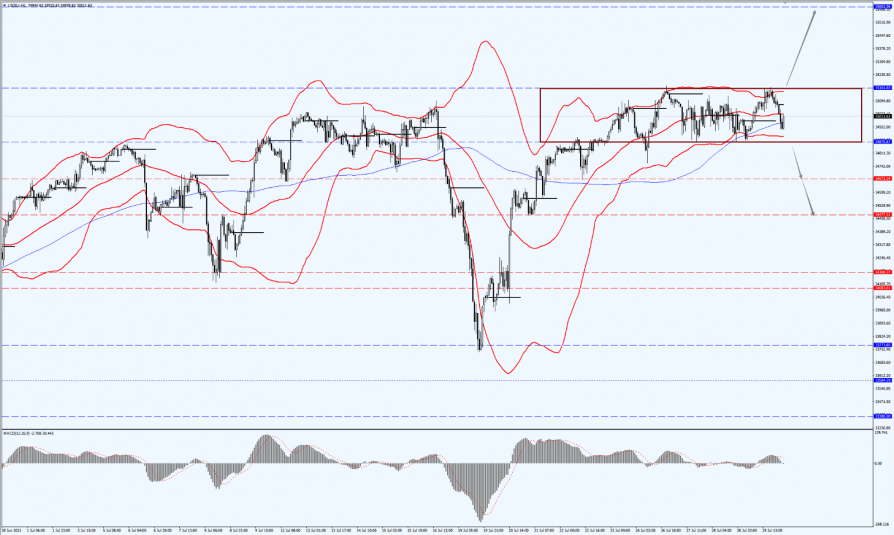 (Dow30,1-hour chart)
Execution Insight:
Today, pay attention to the direction of the Dow's breakthrough in the range of 34870 to 35161, especially on the possibility of it falling below the 34870-line.
If the Dow breaks through the 35161-line, it will create a new record high. With that, pay attention to the possibility of it forming a "long" position that can rise and fall.
Once the bearish trap signal is formed, it could be an opportunity to open a small position and possibly keeps its all-time high. If the strength below the line drops below the 34870-line, it will create a downside potential.


Hong Kong Stocks


Fundamental Analysis:
On Friday, 30th July,2021, the three major Hong Kong stock indexes that rebounded violently yesterday opened lower with a significant decline.
The Hang Seng Index fell by 1.04% to 26,042-points, the Hang Seng China Enterprises Index (HSCEI) fell by 1.37% to 9287-points, while the Hang Seng TECH Index fell by 1.92% to 6824-points.
On another note, most of the sporting goods stocks, dairy stocks, insurance stocks, home appliance stocks, pharmaceutical stocks, and aluminum stocks rose.
AIA opened with more than 3% higher. The large tech and internet stocks that rebounded violently yesterday generally fell. Bilibili Inc fell more than 6%, Meituan fell more than 4%, Alibaba and Kuaishou fell more than 3%, while Tencent and Xiaomi both fell.
Similarly, education stocks fell again, New Oriental Education & Technology Grp Inc went down by 6%, SCHOLAR EDU fell by 5.4%, and soared to 43% yesterday.
Auto stocks, power stocks, and property management stocks fell significantly, with Great Wall Motors falling by nearly 3%.
Technical Analysis: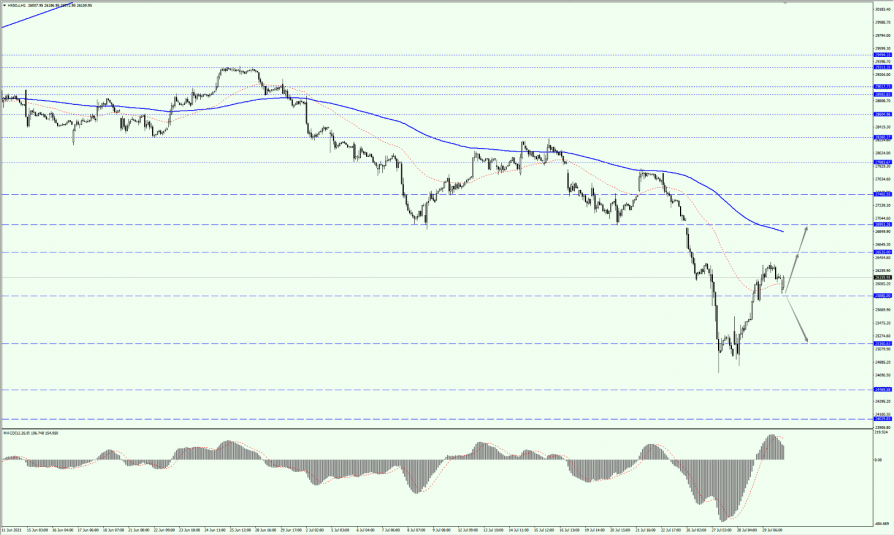 (HK50,1-hour chart)
Execution Insight:
HK50 is focusing on the 25880-line today. As long as the HK50 runs above the 25880-line, it will still maintain the rebounding trend.
With that in mind, pay attention to the suppression of the 26951-line. On the bottom part, pay attention to the supporting strength of the 25160-line.


FTSE China A50 Index


Technical Analysis: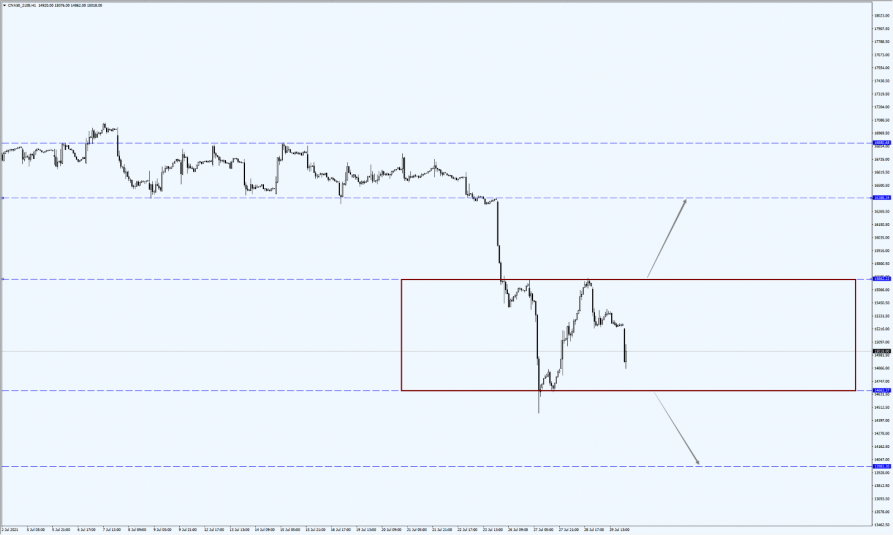 (A50,1-hour chart)
Execution Insight:
Today, A50 focuses on the direction of the breakthrough, at the interval between 14663 to 15662. If it breaks above the 15662-line, it will create an upside potential. With that, pay attention to the suppression of the 16388-line. If it falls below the 14663-line, it will create a downside potential.


Disclaimer
While every effort has been made to ensure the accuracy of the information in this document, DOO Prime does not warrant or guarantee the accuracy, completeness or reliability of this information. DOO Prime does not accept responsibility for any losses or damages arising directly or indirectly, from the use of this document. The material contained in this document is provided solely for general information and educational purposes and is not and should not be construed as, an offer to buy or sell, or as a solicitation of an offer to buy or sell, securities, futures, options, bonds or any other relevant financial instruments or investments. Nothing in this document should be taken as making any recommendations or providing any investment or other advice with respect to the purchase, sale or other disposition of financial instruments, any related products or any other products, securities or investments. Trading involves risk and you are advised to exercise caution in relation to the report. Before making any investment decision, prospective investors should seek advice from their own financial advisers, take into account their individual financial needs and circumstances and carefully consider the risks associated with such investment decision.