US Stocks
Fundamental Analysis:
US stocks closed lower yesterday after data showed that the number of Americans filing new claims for jobless benefits fell to the lowest level in nearly 18 months last week. This has eased concerns about a slowing economic recovery, but also raised arguments that the Federal Reserve may act earlier than expected to scale back its easing policy.
The Department of Labor said initial claims for state unemployment benefits dropped 35,000 to a seasonally adjusted 310,000 for the week ended 4 September 2021, the lowest level since mid-March 2020. This has suggested that job growth could be hindered by labor shortages rather than cooling demand for workers.
"The problem with the market these days is it's rotating more than it's moving. Today, because of the jobs claims report, everyone is buying cyclical stocks," said Jay Hatfield, chief executive of Infrastructure Capital Management in New York. "We see it as a range-bound market, between 4,400 and 4,600 [on the S&P 500]."
Investors have become more worried in recent sessions after a recent monthly jobs report showed a slowdown in U.S. hiring, suggesting the economic recovery may be losing steam faster than expected. Also dragging on sentiment has been uncertainty about when the Federal Reserve will scale back massive measures enacted in 2020 to shield the economy from the coronavirus pandemic.
Technical Analysis: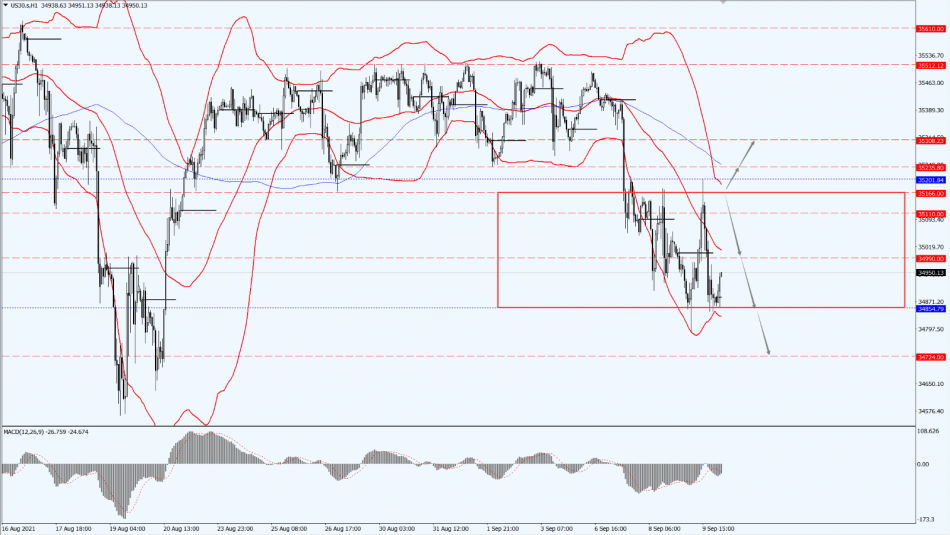 (Dow30,1-hour chart)
Execution Insight:
Today, pay attention to the direction of the Dow on the 35166 line. If the Dow does not recover to the top of the 35166 line, it will maintain a bearish trend. Then, focus on the support strength of the two positions of 34854 and 34724 below. 
Hong Kong Stocks
Fundamental Analysis:
The three major Hong Kong stock indices collectively opened higher. The Hang Seng Index rose by 0.6%, to 25,870 points; Hang Seng China Enterprises Index rose by 0.64%, to 9,241 points; and the Hang Seng Technology Index rose by 0.89%, to 6,618 points.
On the intraday market, the energy sectors such as gas and aluminum continued to be strong, with Kunlun Energy and Aluminum Corporation of China both rising by more than 3%; education stocks rebounded, pharmaceutical stocks, sporting goods stocks, property management stocks, and gambling stocks rose sharply. The technology stocks that fell yesterday collectively opened higher, NetEase rose by 3%, while Baidu, Jingdong, and Tencent rose by more than 2%; building materials and cement stocks, power stocks, and Chinese brokerage stocks fell, and China Conch Venture opened 2.4% lower. On the other hand, Helens International rose by more than 16% on the first day of listing.
Technical Analysis: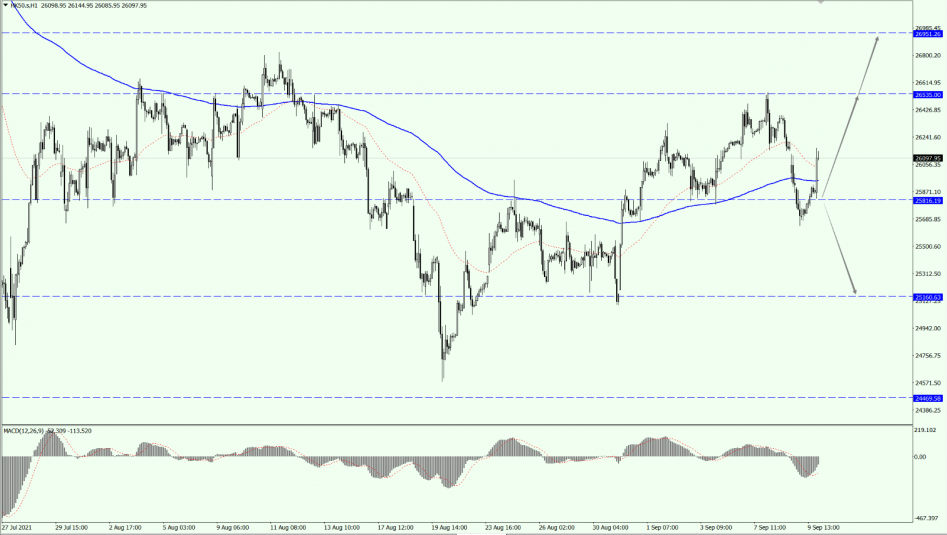 (HK50,1-hour chart)
Execution Insight:
On HK50 today, continue to pay attention to the support of the 25816 line. Above this line, it will maintain a bullish trend. Then focus on the suppression strength of the two positions of 26535 and 26951 above. If HK50 falls below the 25816 line, then it will test the support of the 25160 line again.
FTSE China A50 Index 

Technical Analysis: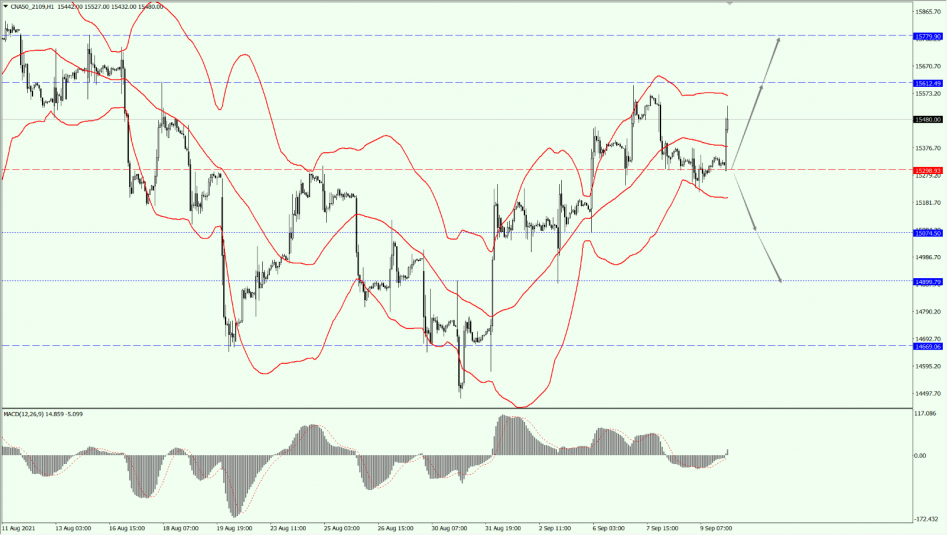 (A50,1-hour chart)
Execution Insight:
Today, on A50, pay attention to the support of the 15298 line. As long as A50 runs stably above the 15298 line, focus on the suppression strength of the 15612 line. At that time, pay attention to the support of the 15074 and 14899 lines below.
Disclaimer
While every effort has been made to ensure the accuracy of the information in this document, DOO Prime does not warrant or guarantee the accuracy, completeness or reliability of this information. DOO Prime does not accept responsibility for any losses or damages arising directly or indirectly, from the use of this document. The material contained in this document is provided solely for general information and educational purposes and is not and should not be construed as, an offer to buy or sell, or as a solicitation of an offer to buy or sell, securities, futures, options, bonds or any other relevant financial instruments or investments. Nothing in this document should be taken as making any recommendations or providing any investment or other advice with respect to the purchase, sale or other disposition of financial instruments, any related products or any other products, securities or investments. Trading involves risk and you are advised to exercise caution in relation to the report. Before making any investment decision, prospective investors should seek advice from their own financial advisers, take into account their individual financial needs and circumstances and carefully consider the risks associated with such investment decision.