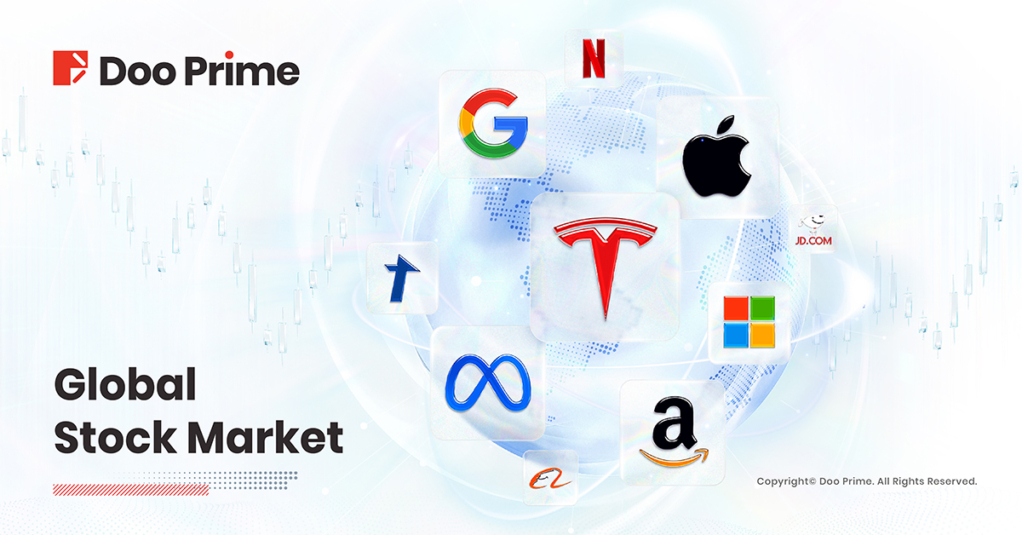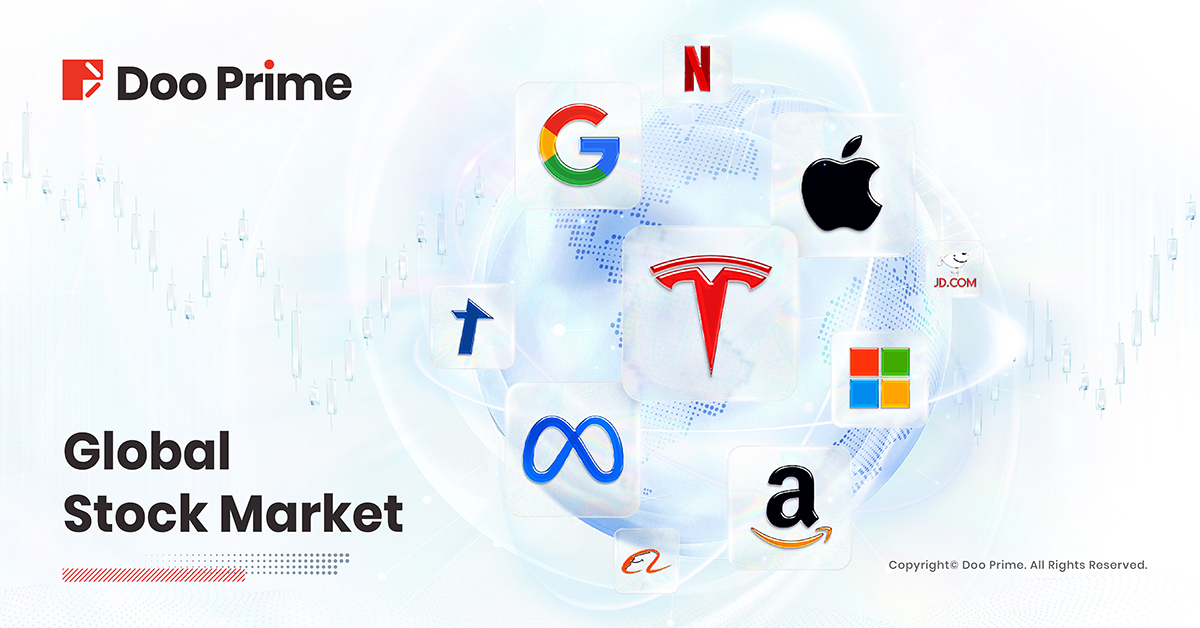 On Wednesday, U.S. stocks saw a decline, led by the technology sector. The 10-year U.S. Treasury bond yield reached a 16-year high.
The market closely monitored geopolitical risks and U.S. corporate earnings.
The Federal Reserve's Beige Book indicated that prices continued to rise moderately, and economic growth showed signs of slight fatigue.
In September, the U.S. Consumer Price Index (CPI) increased by 3.7% year-on-year, slightly surpassing the expected 3.6% and maintaining the previous rate of 3.7%.
The core CPI, which excludes volatile food and energy prices, rose by 4.1% year-on-year, marking the lowest increase since 2021 and aligning with expectations, following a previous rate of 4.3%.
These figures indicate that, although U.S. inflation has somewhat moderated from its peak, it still remains distant from the Fed's 2% target.
This could potentially lead the Federal Reserve to maintain high-interest rates for an extended period.
U.S. Stocks
Fundamental Analysis:
Most major tech stocks declined, with Google, Tesla, and Meta falling by over 1%.
Charging station, coking coal, and non-ferrous metals sectors led the decline, with ChargePoint falling by over 5%. U.S. Aluminum Corporation, Newco Steel, Blink Charging, and EVgo all falling by over 4%.
Meanwhile, lithium batteries, semiconductor equipment, and digital music sectors saw gains, with ConTech Technology and Livent rising by over 4%.
Broadcom, KLA, U.S. Yabao, and Chilean Mining & Chemicals all rising by over 3%. Sony also increased by over 1%.
Banking stocks faced a collective decline, with major banks like Morgan Stanley and Goldman Sachs falling by over 1%. Bank of America and JPMorgan Chase saw marginal declines, while Wells Fargo saw a slight increase.
Novo Nordisk increased by over 1%, reaching a historic high after preliminary evidence suggested that its drug Ozempic was effective in treating kidney failure in diabetes patients.
Popular Chinese stocks experienced significant declines, with the Nasdaq Golden Dragon China Index falling by over 3%.
JD.com fell by over 8%, TAL Education by over 7%, NIO, Weibo by over 5%, and iQiyi, Bilibili, Vipshop, Baidu, and XPeng Motors all falling by over 4%.
Futu Holdings, Alibaba, Pinduoduo, Ideal Auto, and Manbang Group also fell by over 2%, while NetEase and Tencent Music saw a decrease of over 1%.
Technical Analysis: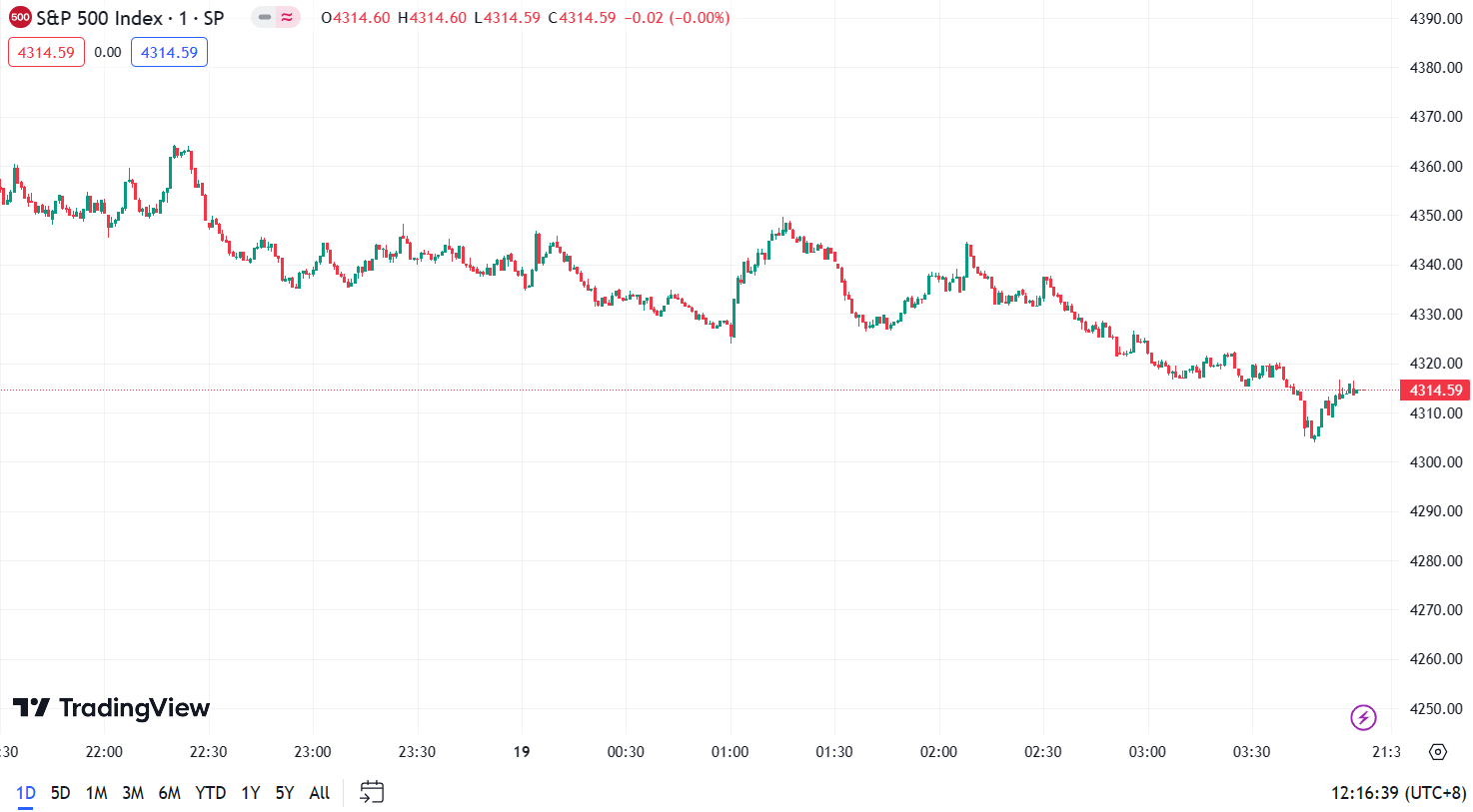 (S&P 500 Index, 1-day chart)
Market Trends:
Dow Jones Industrial Average fell by 173.73 points, a 0.51% decrease, closing at 33,631.14 points.
Nasdaq Composite Index (Nasdaq) declined by 85.46 points, a 0.63% decrease, closing at 13,574.22 points.
S&P 500 Index dropped by 27.34 points, a 0.62% decrease, closing at 4,349.61 points.
Hong Kong Stocks
In today's Hong Kong stock market, core technology stocks saw declines, with JD Group and Baidu Group falling by over 5%, Meituan dropping by over 3%, and Xiaomi and Kuaishou both increasing by over 1%.
Real estate stocks generally declined, with China Evergrande falling by nearly 4%.
Insurance stocks underperformed, with China Life Insurance dropping by over 5%.
Chinese brokerage stocks collectively fell, with CITIC Securities declining by over 3%.
Automotive stocks had the most significant declines, with XPeng Motors and NIO falling by over 8%.
According to a report by Morgan Stanley, concerns about industry competition and profit margins in the third and fourth quarters have triggered recent sell-offs of XPeng Motors stocks.
However, the bank believes that these concerns are excessive. Morgan Stanley notes that the recent pullback provides a buying opportunity.
While investors remain concerned about the macroeconomic outlook on the mainland and increased competition from technology companies like Huawei, the fact that XPeng's stock price has fallen back to pre-Volkswagen investment levels reflects ongoing operational improvements.
XPeng's continued execution in G6/G9 deliveries is key to restoring market confidence.
Technical Analysis: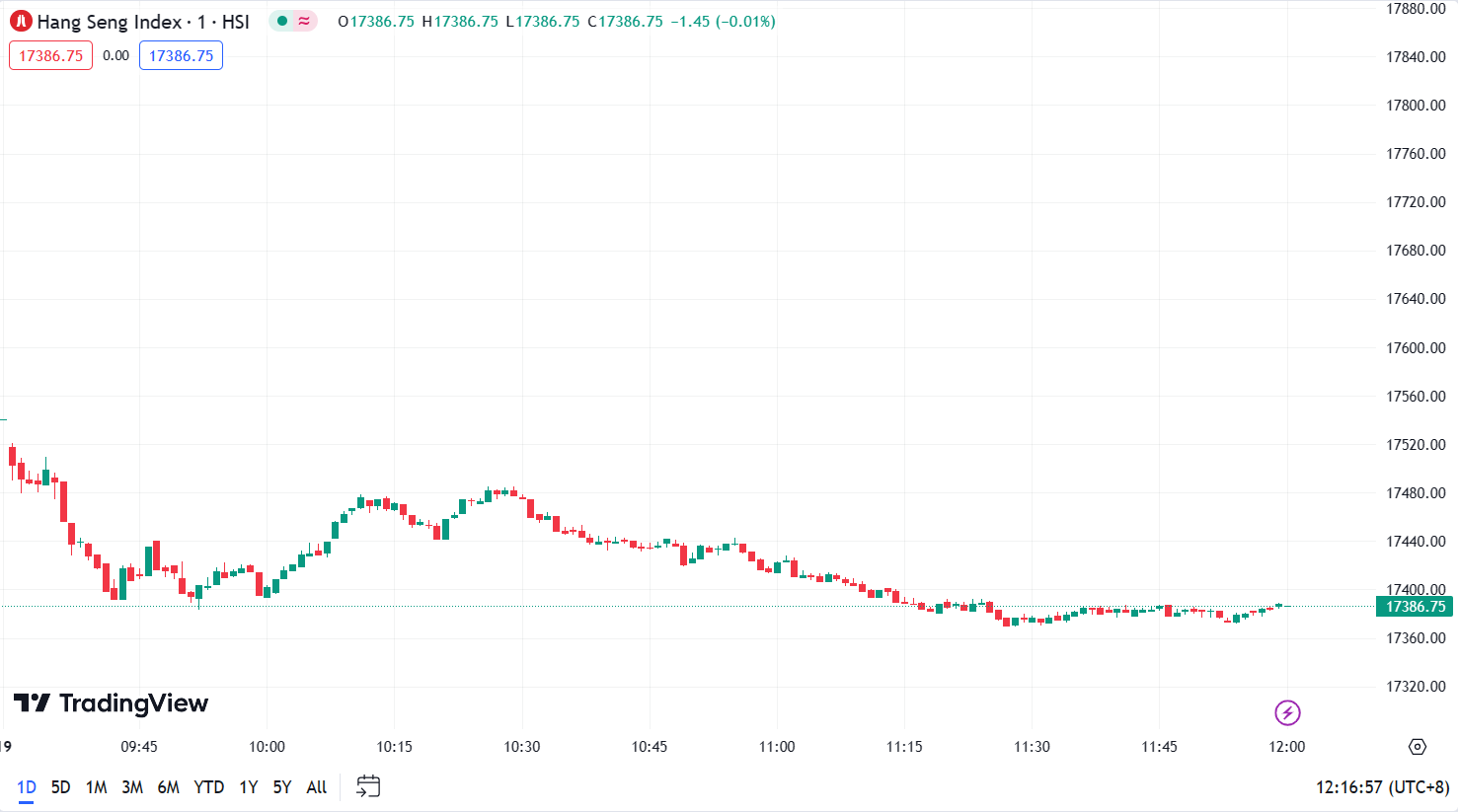 (Hang Seng Index, 1-day chart)
Market Trends:
Hang Seng Index (HSI) declined by 1.95%, closing at 17,386.75 points.
Hang Seng Tech Index (HSTECH) decreased by 1.86%, closing at 3,701.60 points.
Hang Seng China Enterprises Index (HSCEI) dropped by 1.99%, closing at 5,954.64 points.
FTSE China A50 Index
Fundamental Analysis:
On October 19th, the three major A-share indexes opened low, with the Shanghai Composite Index and Shenzhen Component Index both falling by over 1%.
On the market, there was a relative differentiation between large and small-cap stocks. The Shanghai 50 Index fell by nearly 2%, while the CSI 1000 Index resisted the decline.
Regarding industry sectors, semiconductor, electronic chemicals, aerospace, real estate services, electronic components, education, and securities saw gains.
Automotive manufacturing, mining, insurance, pharmaceuticals, traditional Chinese medicine, and banking sectors faced the most significant declines.
Technical Analysis: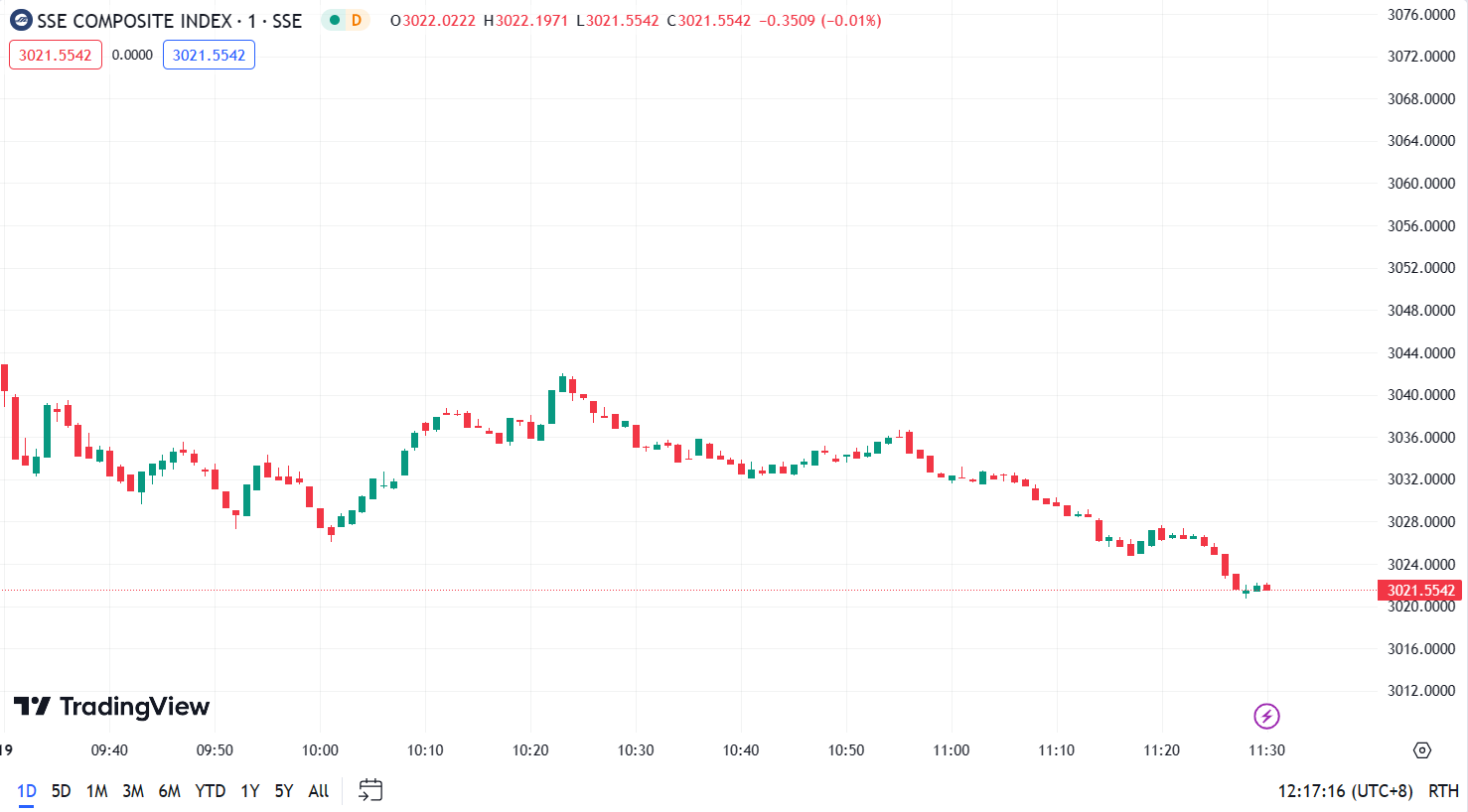 (SSE Composite Index, 1-day chart)
Market Trends:
Shanghai Composite Index (SHCOMP) fell by 1.21%, closing at 3,021.55 points.
Shenzhen Component Index (SZCOMP) declined by 1.09%, closing at 9,709.46 points.
ChiNext Index (CHINEXT) dropped by 0.79%, closing at 1,923.11 points.
SSE STAR Market 50 Index (SSE50) increased by 0.22%, closing at 871.68 points.
Forward-looking Statements
This article contains "forward-looking statements" and may be identified by the use of forward-looking terminology such as "anticipate", "believe", "continue", "could", "estimate", "expect", "hope", "intend", "may", "might", "plan", "potential", "predict", "should", or "will", or other variations thereon or comparable terminology. However, the absence of such terminology does not mean that a statement is not forward-looking. In particular, statements about the expectations, beliefs, plans, objectives, assumptions, future events, or future performance of Doo Prime will be generally assumed as forward-looking statements.
Doo Prime has provided these forward-looking statements based on all current information available to Doo Prime and Doo Prime's current expectations, assumptions, estimates, and projections. While Doo Prime believes these expectations, assumptions, estimations, and projections are reasonable, these forward-looking statements are only predictions and involve known and unknown risks and uncertainties, many of which are beyond Doo Prime's control. Such risks and uncertainties may cause results, performance, or achievements materially different from those expressed or implied by the forward-looking statements.
Doo Prime does not provide any representation or warranty on the reliability, accuracy, or completeness of such statements. Doo Prime is not obliged to provide or release any updates or revisions to any forward-looking statements.
Disclaimer
While every effort has been made to ensure the accuracy of the information in this document, DOO Prime does not warrant or guarantee the accuracy, completeness or reliability of this information. DOO Prime does not accept responsibility for any losses or damages arising directly or indirectly, from the use of this document. The material contained in this document is provided solely for general information and educational purposes and is not and should not be construed as, an offer to buy or sell, or as a solicitation of an offer to buy or sell, securities, futures, options, bonds or any other relevant financial instruments or investments. Nothing in this document should be taken as making any recommendations or providing any investment or other advice with respect to the purchase, sale or other disposition of financial instruments, any related products or any other products, securities or investments. Trading involves risk and you are advised to exercise caution in relation to the report. Before making any investment decision, prospective investors should seek advice from their own financial advisers, take into account their individual financial needs and circumstances and carefully consider the risks associated with such investment decision.