US Stocks
Fundamental Analysis:
U.S. stocks ended near flat on Tuesday, 21 September 2021, after a broad selloff on the previous day, with worries over troubles at property developer China Evergrande and caution ahead of Wednesday's Federal Reserve policy news keeping a lid on the market.
Trading was choppy, with the Dow and S&P 500 erasing session gains just before the close, while the Nasdaq finished slightly higher.
Investors are waiting for the end of this week's Fed meeting that may shed light on when its massive purchase of government debt will begin to ease.
Officials will reveal new projections as investors are also on alert for any timing on rate tightening.
The Dow Jones Industrial Average fell by 0.15%, the S&P 500 lost 0.08%, and the Nasdaq Composite added 0.22%.
Technical Analysis: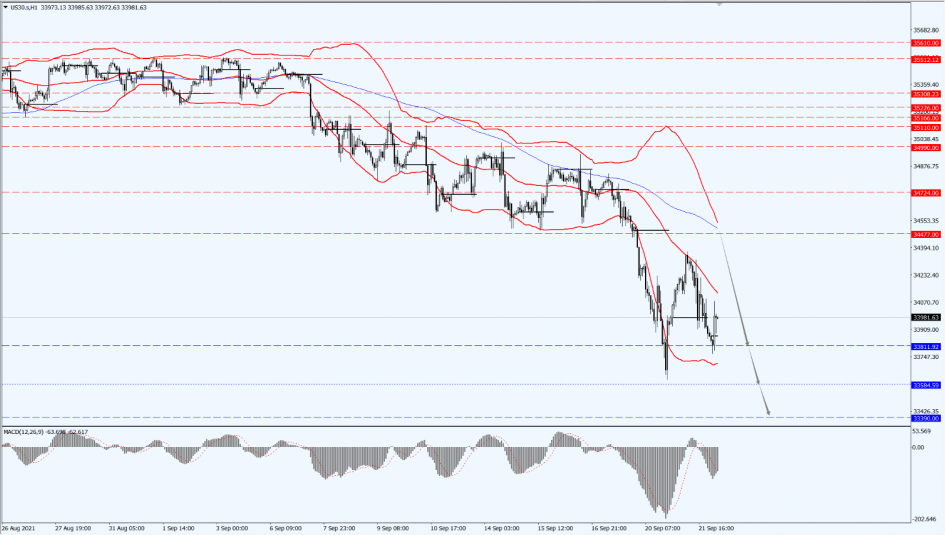 (Dow30,1-hour chart)
Execution Insight:
Today, on the Dow, focus on the 34477 line. As long as the Dow runs below the 34477 line, it will maintain a bearish trend. Only when the Dow rises again to the top of the 34477 line, there is a possibility of further upward movement. At that time, pay attention to the suppression of the two positions of 34724 and 34990. 
Hong Kong Stocks
Fundamental Analysis:
This week, Hong Kong stocks once fell below 24,000 points after opening low, with real estate stocks led the decline, dragging financial stocks down. The Hang Seng Index closed down 3.3%, narrowly guarding the 24,000-point mark.
Property giant China Evergrande Group shares dropped by more than 10%. Sinic Holdings, the leading real estate company in Jiangxi, closed down 87%, with its market capitalization evaporating more than HK$10 billion a day. This has become a major focus of the market.
Technical Analysis: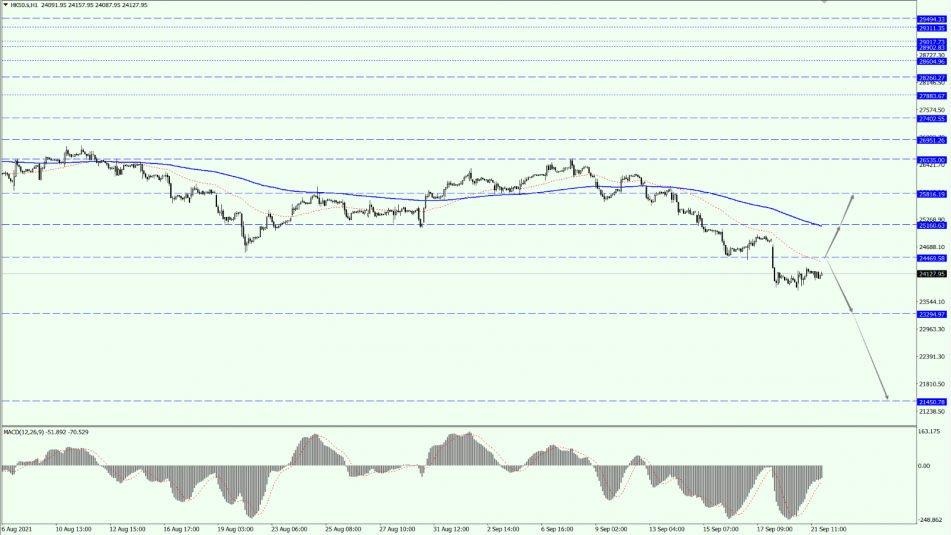 (HK50,1-hour chart)
Execution Insight:
On HK50 today, we pay attention to the support of the 24469 line. Once the buy order is obtained, then focus on the suppression strength of the two positions of 25160 and 25816 above. If HK50 falls below the 24469 line, it will open up further downward revision.
FTSE China A50 Index 

Technical Analysis: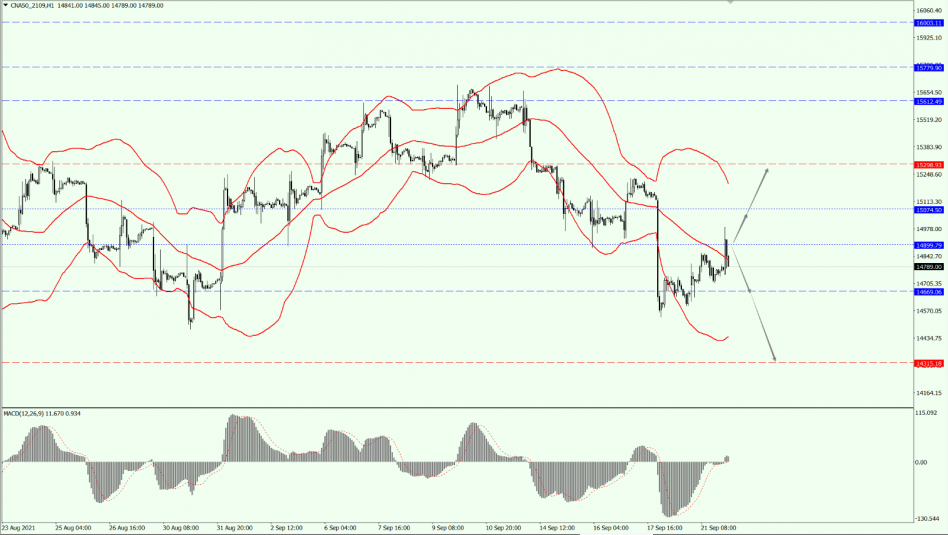 (A50,1-hour chart)
Execution Insight:
On China A50, pay attention to the 14899 line today. And take a closer look at the suppression strength of the two positions of 14899 and 14669 above. Then, focus on the support of the 14315 line below.
Disclaimer
While every effort has been made to ensure the accuracy of the information in this document, DOO Prime does not warrant or guarantee the accuracy, completeness or reliability of this information. DOO Prime does not accept responsibility for any losses or damages arising directly or indirectly, from the use of this document. The material contained in this document is provided solely for general information and educational purposes and is not and should not be construed as, an offer to buy or sell, or as a solicitation of an offer to buy or sell, securities, futures, options, bonds or any other relevant financial instruments or investments. Nothing in this document should be taken as making any recommendations or providing any investment or other advice with respect to the purchase, sale or other disposition of financial instruments, any related products or any other products, securities or investments. Trading involves risk and you are advised to exercise caution in relation to the report. Before making any investment decision, prospective investors should seek advice from their own financial advisers, take into account their individual financial needs and circumstances and carefully consider the risks associated with such investment decision.