U.S. Stocks 


Fundamental Analysis: 
The major U.S. stock indexes slipped yesterday, with the S&P 500 recording its biggest one-day percentage drop in about a month.
The decline in U.S. retail sales raised concerns about the economic recovery and Home Depot's disappointing results.
A report showed that U.S. retail sales fell more than expected in July as supply shortages curbed motor vehicle purchases. In addition, the boost to spending from the economy's reopening and stimulus checks faded, suggesting a slowdown in economic growth early in the third quarter.
This time, the decline in retail sales made investors understand that the COVID-19 virus is likely to be a big problem as we head into fall.
Under these conditions, Dow fell by 0.79%, S&P 500 fell by 0.71%, while Nasdaq fell by 0.93%.
Technical Analysis: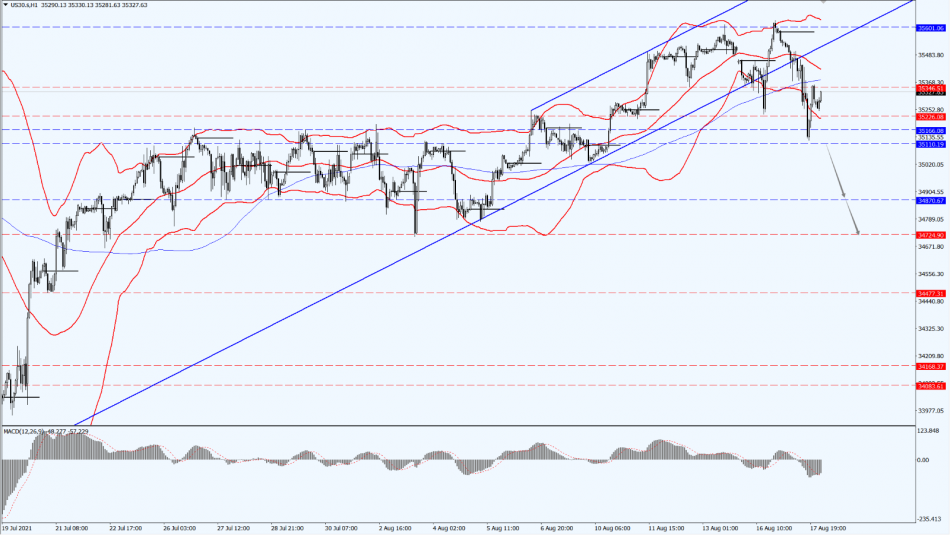 (Dow30,1-hour chart) 
Execution Insight: 
The Dow Jones Industrial Average ran as expected yesterday. It stabilized and rebounded above the target level of 35110. Today, we are still focusing on the strength of the 35110-line. If it falls below the 35110-line, there will be a possibility of downside potential. If the Dow runs above the 35110-line, it will maintain a high sideways shock state. At that time, pay attention to the suppression of the middle track on the Bollinger Band and the 35601 position.


Hong Kong Stocks 


Fundamental Analysis: 
Hong Kong's three major indices opened higher, with Hang Seng Index rising by 0.21% to 25,800-points. The Hang Seng China Enterprises Index (HSCEI) rose by 0.16% to 9,072-points, and the Hang Seng Technology Index rose by 0.38% to 6,242-points.
On the market, education sector rebounded sharply, as Koolearn Technology Holding Ltd. jumped by more than 7%, while New Oriental Education & Technology Group Inc. -S, and China Kepei Education Group Ltd. both went up.
Other sectors including sporting goods, photovoltaic, gas, drug, Chinese brokerage, and power stocks generally rose. Xinyi Solar Holdings Ltd. opened higher by 5%, while Towngas China Co. Ltd. rose by 5%.
The automobile sector was individually strong, with XPeng Motors jumped by more than 10%. Meanwhile, large technology companies were mixed, Meituan, Netease Inc. opened higher than 2%, while Alibaba and Tencent were down by 1%.
Steel and property management were amongst the top sectors with the biggest fall, while gaming, gold, and telecom stocks fell significantly.
Evergrande Property Services Group Ltd fell by 2.65% and China Evergrande New Energy Vehicle Group Ltd. fell by 2.69%, after Xia Haijun, Vice Chairman of China Evergrande, reduced his holdings of the two companies.
Technical Analysis: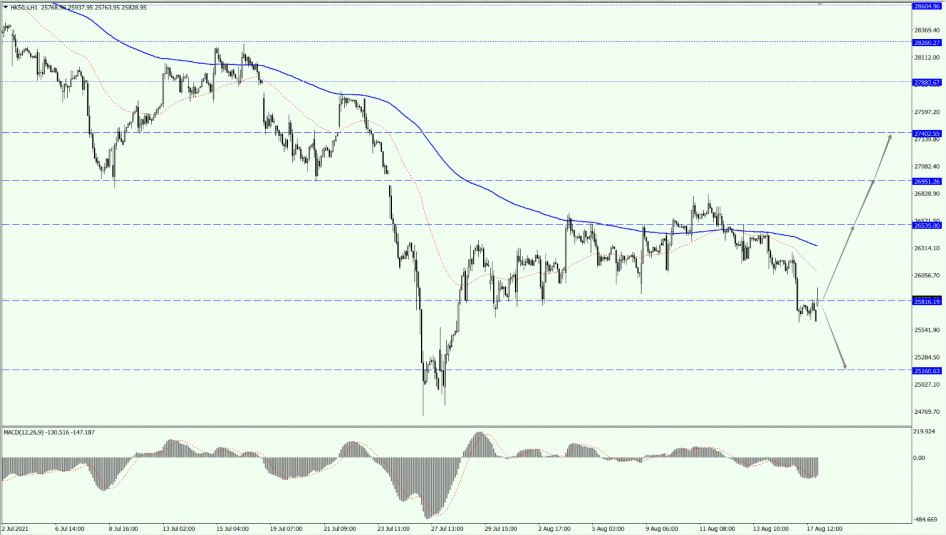 (HK50,1-hour chart) 
Execution Insight: 
On HK50, continue to focus on the 25816-line today. If HK50 runs above the 25816-line, it will focus on the suppression of the 26535 and 26951 positions in turn. If the strength of HK50 falls below the 25816-line, attention should be diverted to the support of the 25160-line. 


FTSE China A50 Index 


Technical Analysis: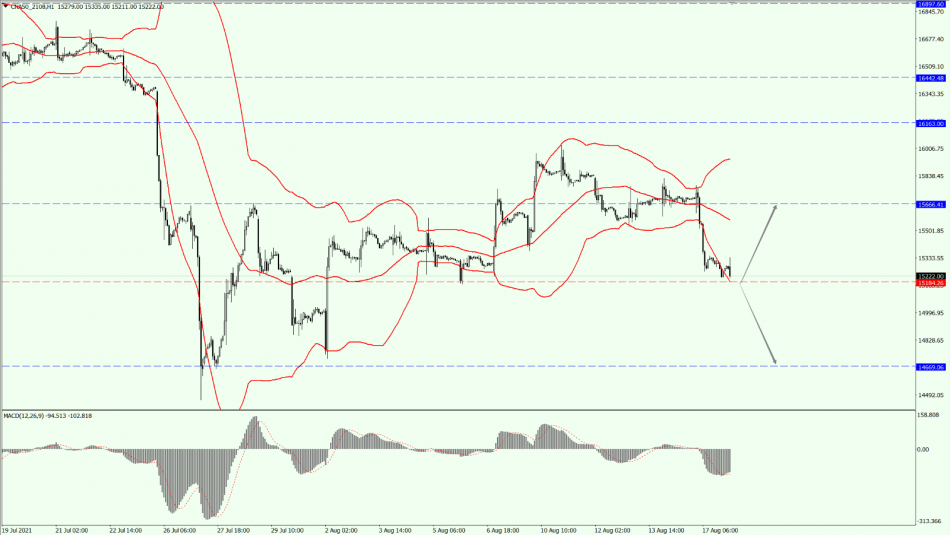 (A50,1-hour chart) 
Execution Insight: 
A50 dropped to the target level of 15184 yesterday. Today, we will pay attention to the support of 15184. If A50 is supported and rebound, we will pay attention to the suppression of 15666. If A50 falls below 15184 today, it will open up further downside potential. At that time, pay attention to the 14669-line for support.


Disclaimer 
While every effort has been made to ensure the accuracy of the information in this document, DOO Prime does not warrant or guarantee the accuracy, completeness or reliability of this information. DOO Prime does not accept responsibility for any losses or damages arising directly or indirectly, from the use of this document. The material contained in this document is provided solely for general information and educational purposes and is not and should not be construed as, an offer to buy or sell, or as a solicitation of an offer to buy or sell, securities, futures, options, bonds or any other relevant financial instruments or investments. Nothing in this document should be taken as making any recommendations or providing any investment or other advice with respect to the purchase, sale or other disposition of financial instruments, any related products or any other products, securities or investments. Trading involves risk and you are advised to exercise caution in relation to the report. Before making any investment decision, prospective investors should seek advice from their own financial advisers, take into account their individual financial needs and circumstances and carefully consider the risks associated with such investment decision.