US Stocks
Fundamental Analysis:
The U.S. stock market ended sharply lower on Thursday, 30th September 2021, and the S&P 500 posted its worst month since the onset of the global health crisis, following a tumultuous month and quarter wracked by concerns over COVID-19, inflation fears, and budget wrangling in Washington.
The U.S. Senate and the House of Representatives approved a stopgap spending bill to keep the government running late in the session. However, after a brief market uptick, stocks resumed their decline, dragging even the Nasdaq into the red after trending higher most of the day.
All three major U.S. stock indices had their worst quarterly performance since the opening months of 2020, when the COVID-19 pandemic brought the global economy to its knees.
The S&P 500 notched a modest gain from July to September, while the Nasdaq and the Dow suffered quarterly losses.
In September 2021, the S&P and the Nasdaq suffered their biggest percentage drops since March 2020, while the Dow recorded its largest monthly percentage drop since October 2020.
Technical Analysis: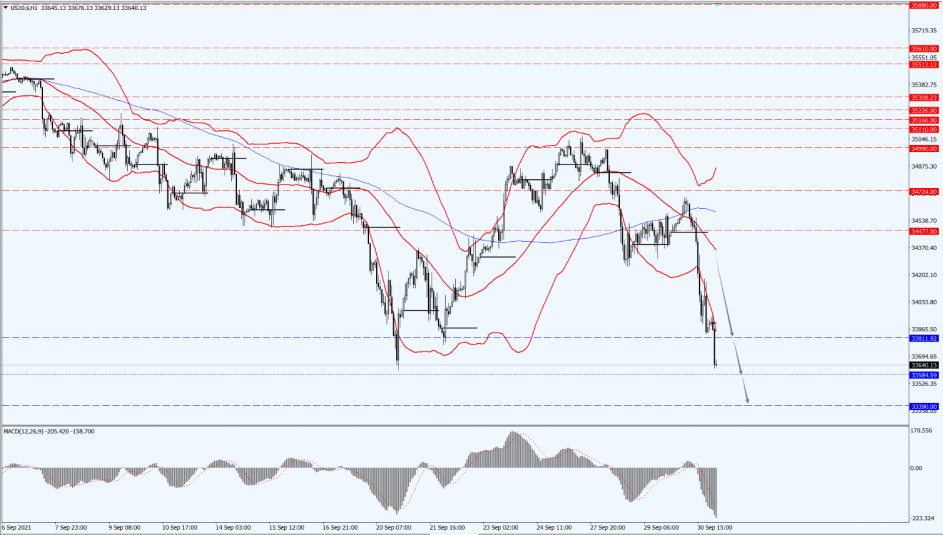 (Dow30,1-hour chart)
Execution Insight:
As long as the Dow runs below the middle Bollinger Band today, it will maintain a bearish trend. At that time, pay attention to the support strength of the two positions of 33584 and 33390.
Disclaimer
While every effort has been made to ensure the accuracy of the information in this document, DOO Prime does not warrant or guarantee the accuracy, completeness or reliability of this information. DOO Prime does not accept responsibility for any losses or damages arising directly or indirectly, from the use of this document. The material contained in this document is provided solely for general information and educational purposes and is not and should not be construed as, an offer to buy or sell, or as a solicitation of an offer to buy or sell, securities, futures, options, bonds or any other relevant financial instruments or investments. Nothing in this document should be taken as making any recommendations or providing any investment or other advice with respect to the purchase, sale or other disposition of financial instruments, any related products or any other products, securities or investments. Trading involves risk and you are advised to exercise caution in relation to the report. Before making any investment decision, prospective investors should seek advice from their own financial advisers, take into account their individual financial needs and circumstances and carefully consider the risks associated with such investment decision.