US Stocks
Fundamental Analysis:
If the economy continues to show progress, the Fed may start to reduce quantitative easing (QE) soon. The gradual reduction of QE will complete around the middle of 2022. The code reduction QE does not directly signal an interest rate hike. The members of the US Federal Open Market Committee (FOMC) have extensive support for the timing and speed of the code reduction QE.
The Fed will still implement asset purchases, but it is time to reduce QE. Substantial progress has been made in inflation. Inflation expectations reflect that the degree of inflation overshoot (rising above the target) is "very moderate".
A large number of FOMC members said that the job market is trying to make substantial progress. By the next FOMC monetary policy meeting, the employment and price tests may be met. Therefore, once QE is reduced, it will lead to tighter liquidity in the stock market, which will cause severe fluctuations in stock market volatility.
Technical Analysis:
(Dow30,1-hour chart)
Execution Insight:
The Dow today pays attention to the 34990 line. Once the pressure is down, focus on the support strength of the 34724 and 34477 positions. Once it breaks above the 34990 line, it will test the suppression of the 35166 line again.
Hong Kong Stocks
Fundamental Analysis:
The Hang Seng Index opened down 60.74 points, or 0.25%, sitting at 24,131.42; Hang Seng China Enterprises Index opened down 17.99 points, or 0.21%, remaining at 8,587; and the MSCI China Red Chip Index opened up 25.78 points, or 0.66%, settling at 3,906.3.
On the tech stocks, the Hang Seng Technology Index fell by 0.18%. Tencent and XIAOMI-W fell slightly, while BABA-SW and BIDU-SW fell by more than 1%. Meanwhile, most blockchain-based stocks opened lower, with Huobi Tech fell by 15%, OKG Technology fell by 7.9%, Grandshores Technology Group fell by 4.4%, and Meitu dropped by 2.4%.
Last week, the National Development and Reform Commission (NDRC) issued a notice on regulating virtual currency "mining" activities, and the People's Bank of China issued a notice to further prevent and deal with the risks of speculation in virtual currency transactions. On the other hand, sporting goods stocks weakened, with Li-Ning and Topsports fell by more than 2%, and Anta Sports fell by nearly 1%.
Apart from that, Evergrande Auto fell by 11.7%. The Chinese company previously announced that the group was facing a serious shortage of funds and suggested that the issuance of the renminbi's shares would not continue.
Technical Analysis: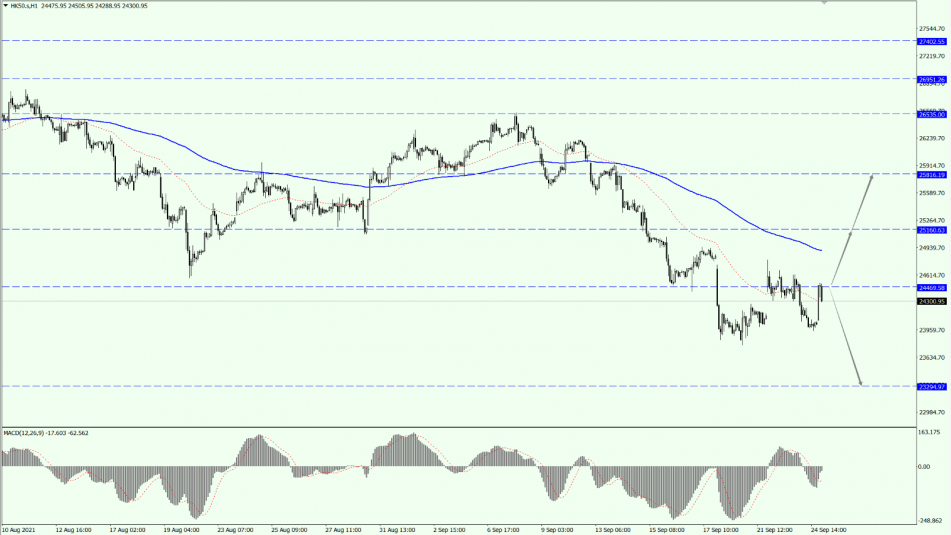 (HK50,1-hour chart)
Execution Insight:
On HK50 today, we pay attention to the support of the 24469 line. Once the buy order is obtained, then focus on the suppression strength of the two positions of 25160 and 25816 above. If HK50 falls below the 24469 line, it will open up further downward revision. 
FTSE China A50 Index 

Technical Analysis: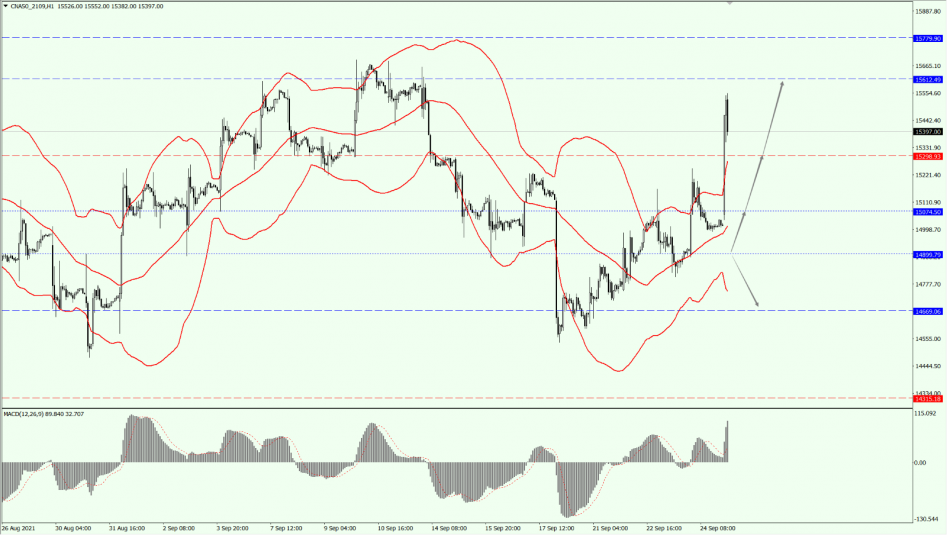 (A50,1-hour chart)
Execution Insight:
On A50, pay attention to the 14899 line today. If A50 is above the 14899 line, it will remain as a bullish trend. Then, pay attention to the support of the 14315 line below. 
Disclaimer
While every effort has been made to ensure the accuracy of the information in this document, DOO Prime does not warrant or guarantee the accuracy, completeness or reliability of this information. DOO Prime does not accept responsibility for any losses or damages arising directly or indirectly, from the use of this document. The material contained in this document is provided solely for general information and educational purposes and is not and should not be construed as, an offer to buy or sell, or as a solicitation of an offer to buy or sell, securities, futures, options, bonds or any other relevant financial instruments or investments. Nothing in this document should be taken as making any recommendations or providing any investment or other advice with respect to the purchase, sale or other disposition of financial instruments, any related products or any other products, securities or investments. Trading involves risk and you are advised to exercise caution in relation to the report. Before making any investment decision, prospective investors should seek advice from their own financial advisers, take into account their individual financial needs and circumstances and carefully consider the risks associated with such investment decision.