PayPal, the world's largest online payment transfer platform is now available on Doo Prime!
At Doo Prime, there are multiple deposits and withdrawal methods to choose from. Our latest addition will be PayPal followed by Pay4Broker, NganLuong payment gateway, Cryptocurrency, International Bank Telegraphic Transfer alongside Visa/Master Credit Card.
PayPal is the safer, efficient way to carry out transaction online. The service allows Doo Prime users to enjoy another convenient way of making deposit on the platform through various payment types and currencies at anytime and anywhere in the world.
PayPal has quickly become a global leader in online payment solutions with more than 267 million accounts worldwide. Available in 202 countries and 25 currencies around the world, PayPal enables global ecommerce by making payments possible across different locations, currencies, and languages.
In addition, users can have a peace of mind as their payment will be protected by PayPal's data encryption and 24/7 fraud prevention technology.
The grant of having PayPal as an authorised online payment method proves Doo Prime's dedication in complying with the higher standards of practice in the online trading industry.
Below is a list of items Doo Prime has prepared in which users should take note of :  
Deposit Limit: USD 100.00 ~ USD 1,500.00.
Processing time:30min during working hours
Please be noted that there ought to be delays during weekends and public holidays. 
If you happen to encounter any problems when depositing funds, please do not hesitate to contact the sales and customer service team to confirm the following information by sending an email to [email protected].
For users making deposits via online payment, they are required to make the payment via accounts registered with their real name. Making payment via bank account of another person is not allowed and third-party transfer is not accepted by Doo Prime's online deposit payment.
While making deposit via bank card, please do not leave any confidential information in the remark column.
Here's how you can start making deposit via PayPal on Doo Prime:
Step 1:  
Visit Doo Prime's home page and click on Log In.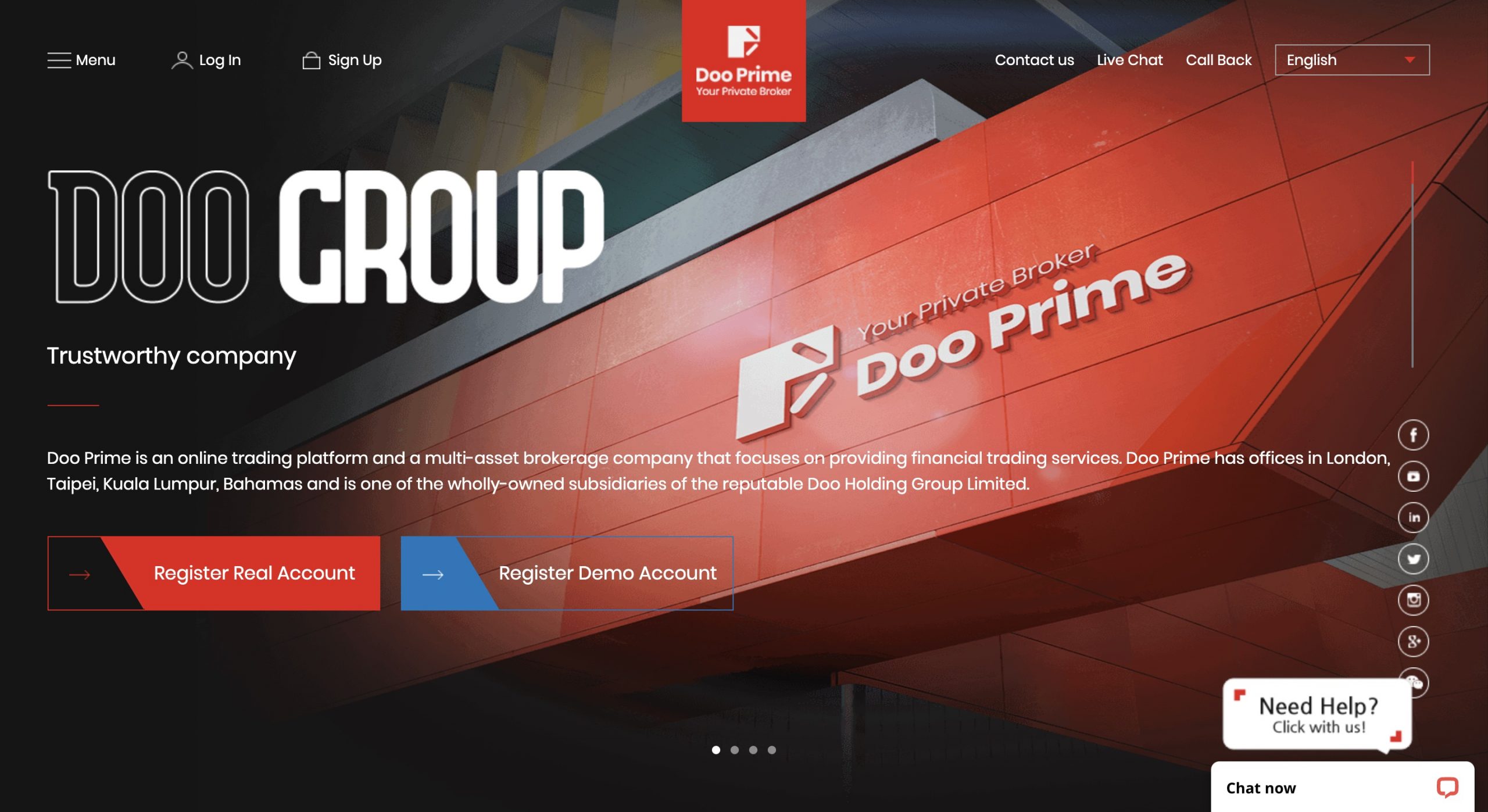 Step 2:  
Insert your account details to sign in.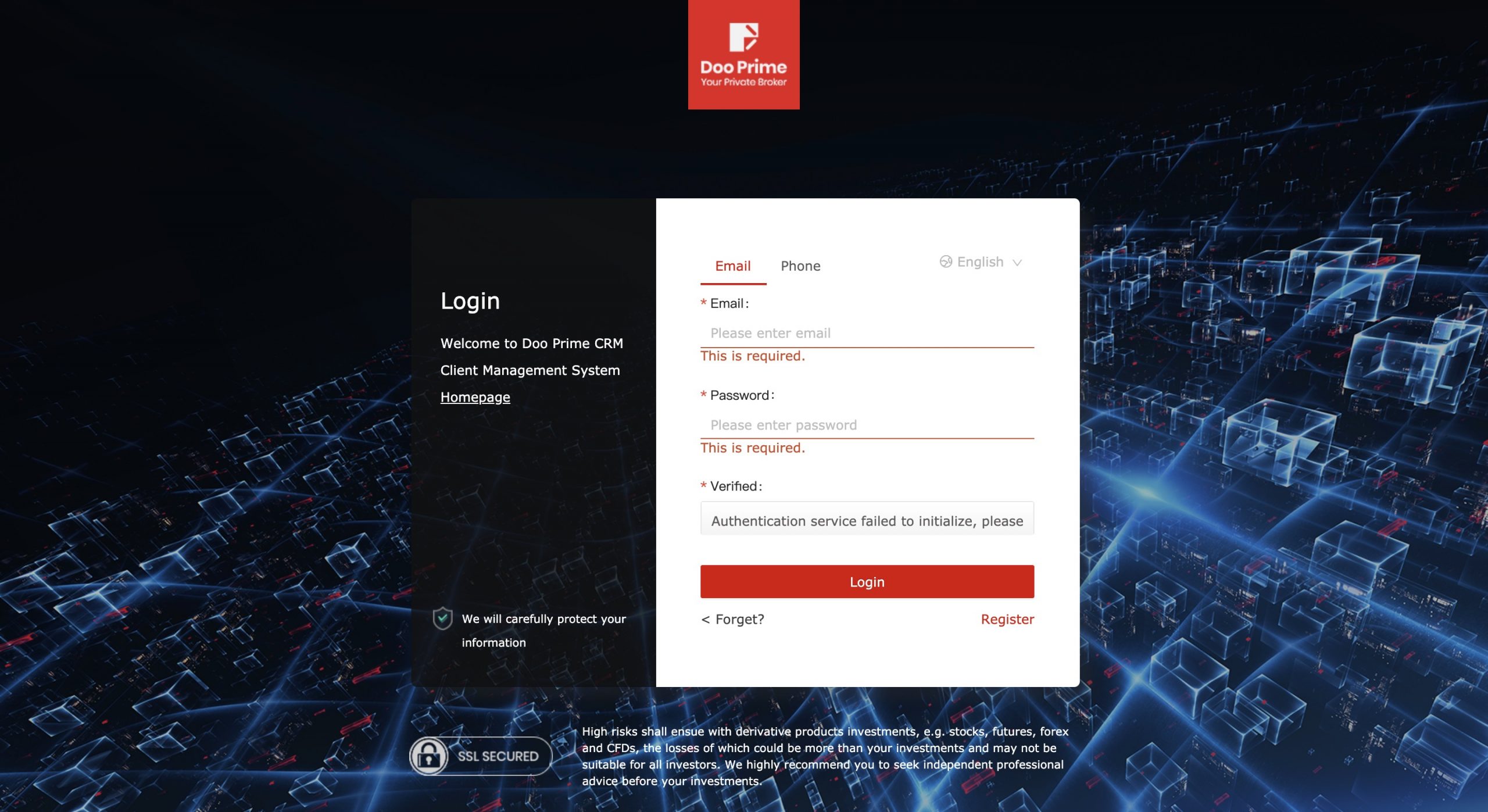 Step 3:  
Select Deposit on the homepage of your Doo Prime CRM system.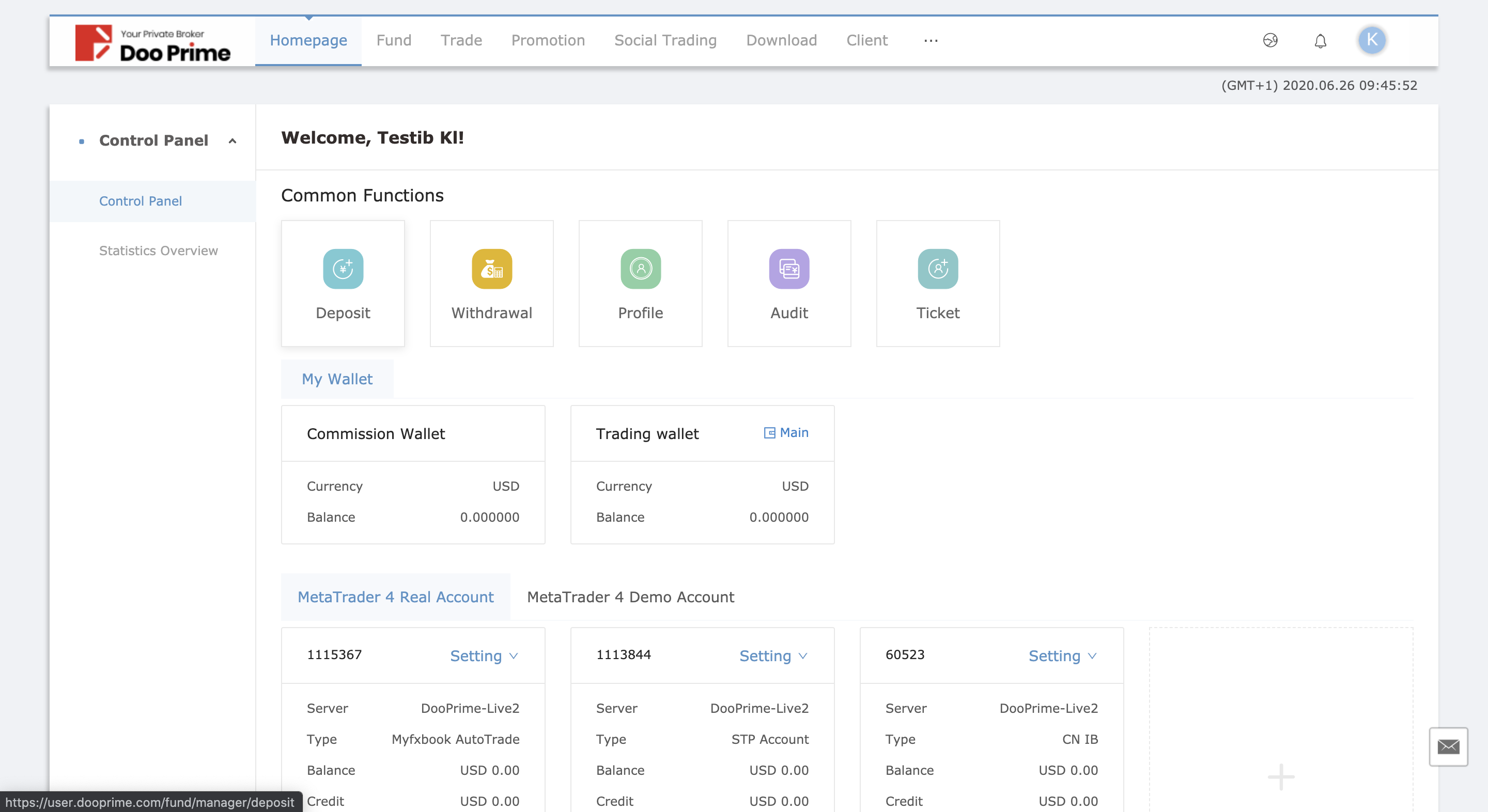 Step 4:  
Select Third Party Payment and PayPal as payment method before entering the deposit amount then proceed by clicking Confirm Payment.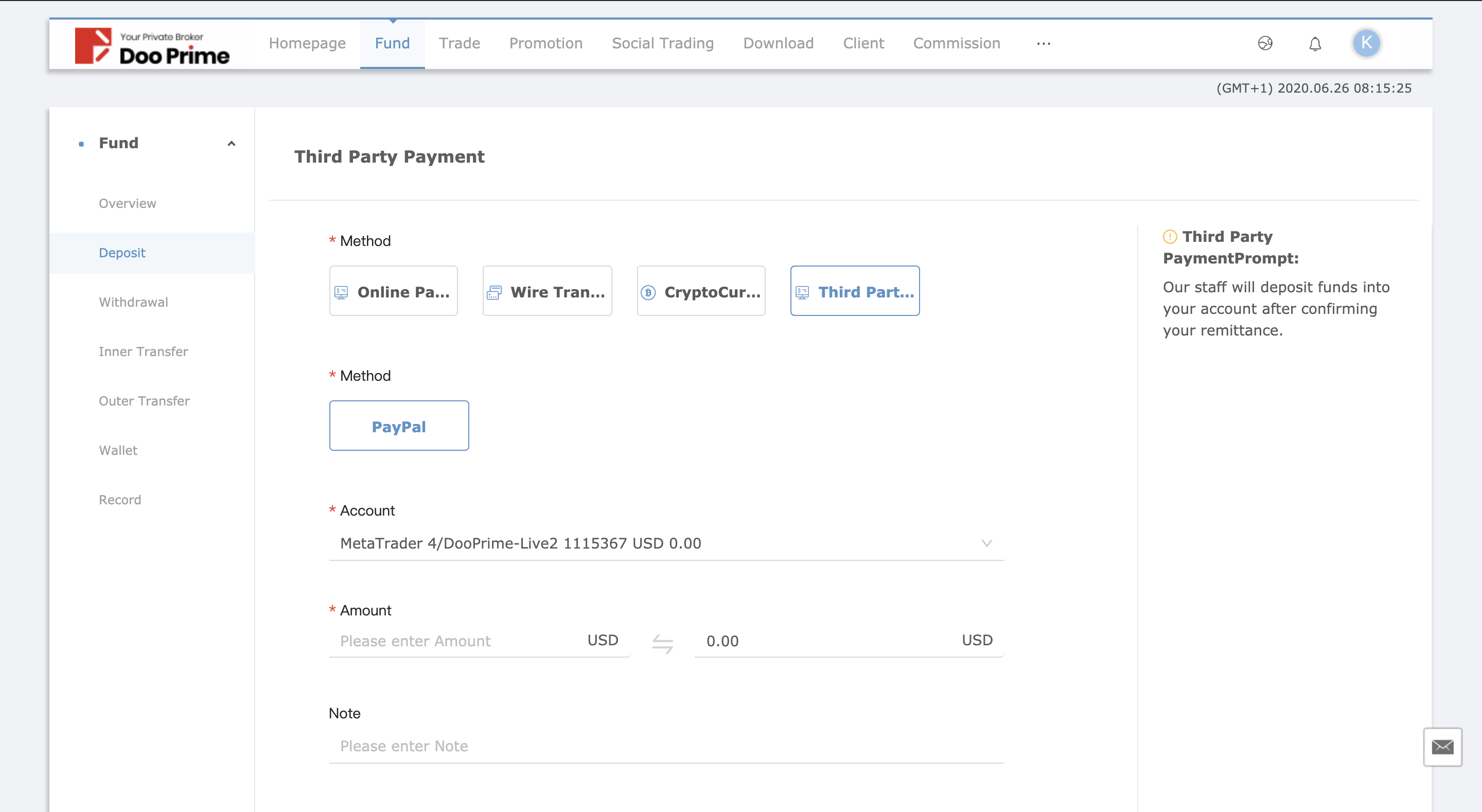 Step 5:  
You will now be redirected to PayPal's purchase detail page.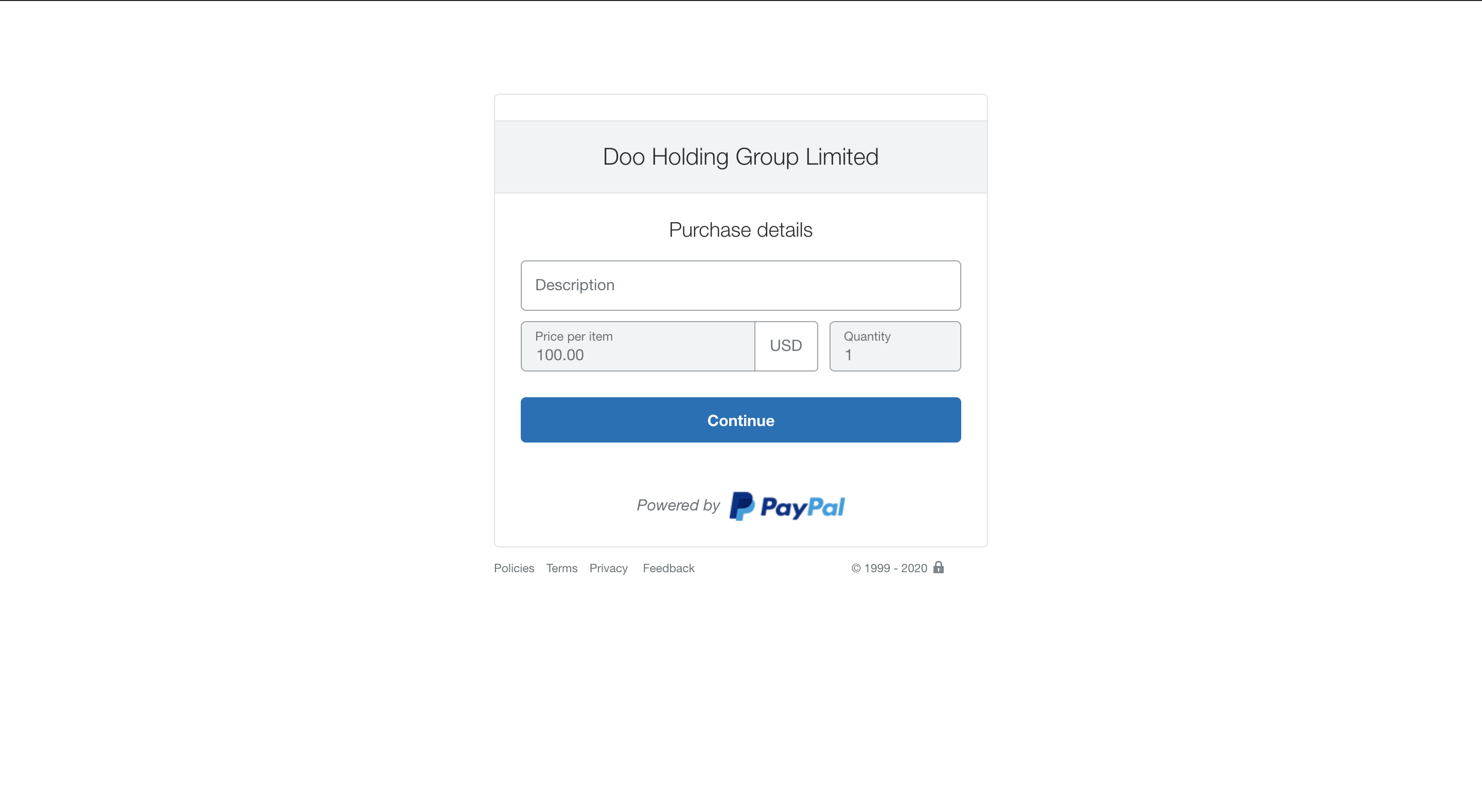 Step 6:  
Please log in to your PayPal account and fill in the required information accordingly.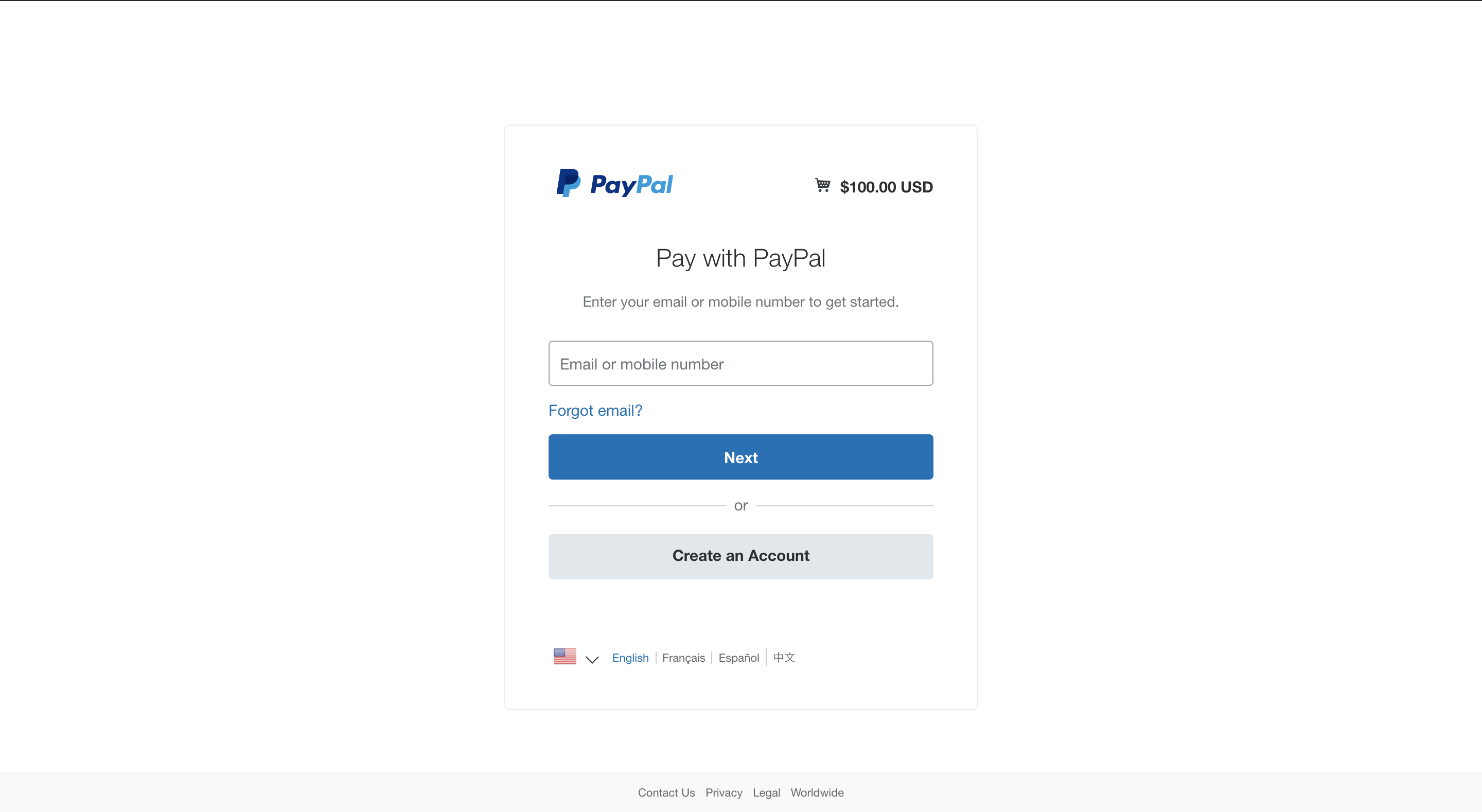 Step 7:  
Confirm your payment details and click on Pay Now
*make the payment to the broker assigned to take care of the transaction according to the information provided, which includes the broker's name, bank account number, remitting bank and the deposit amount to be made by user within the stipulated time of 15 minutes.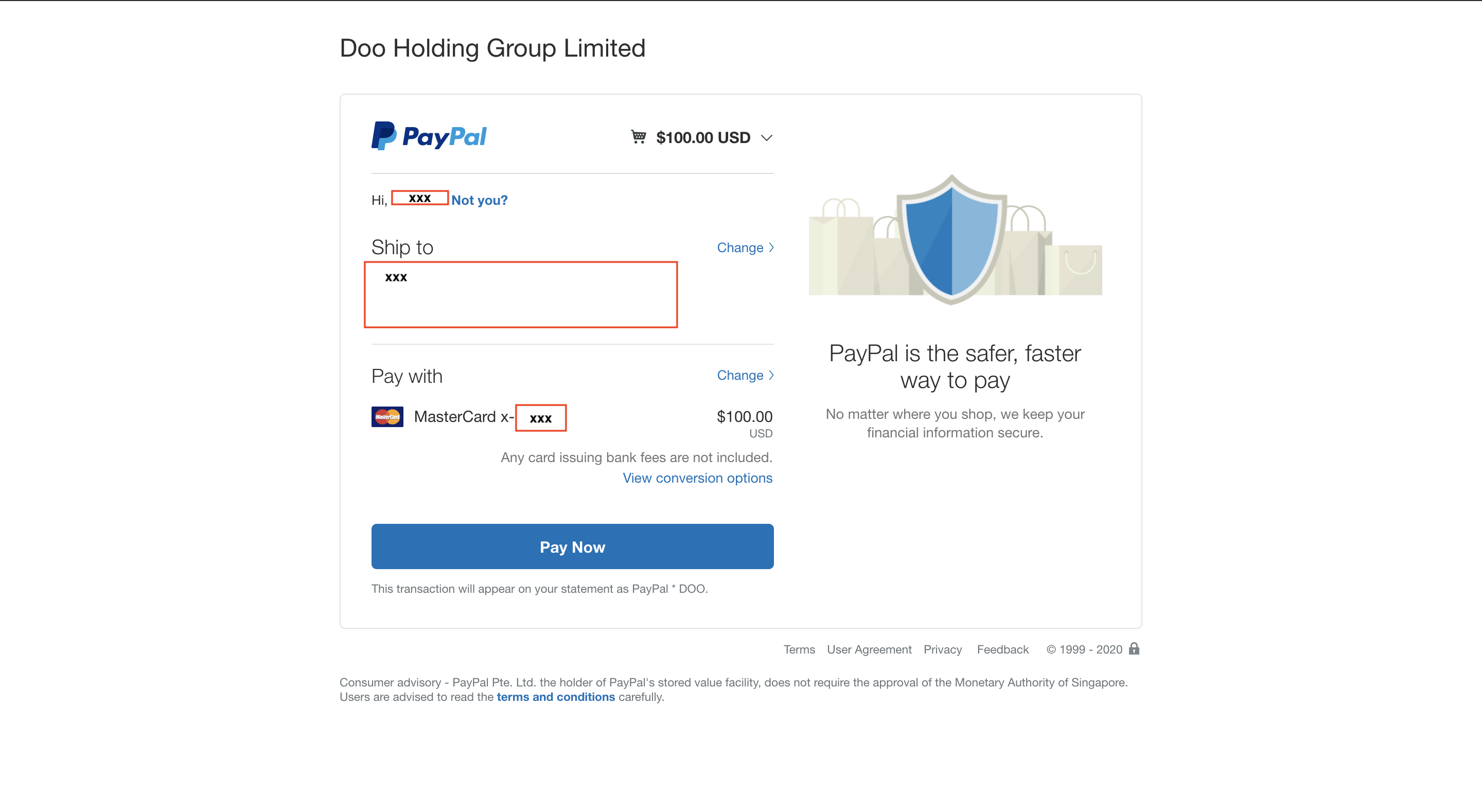 Step 8:  
Once the payment to the broker has been made, upload the remittance proof and click on Remittance Completed. Once the remittance is confirmed, the broker will transfer the amount to your account.
Note: 
1. Please do not forget to select Remittance Completed after the payment is made in order to avoid delay in depositing the amount into your account.
2. Please do not make any remarks or the amount paid will become irretrievable.
3. A unique payment code will be generated for every payment, please do not use the same code for another payment.
4. Your payment will be transferred to the broker's banking account. Any digital assets sold by the broker during the transaction will be held by the platform, ensuring a safe a secure transaction for users.