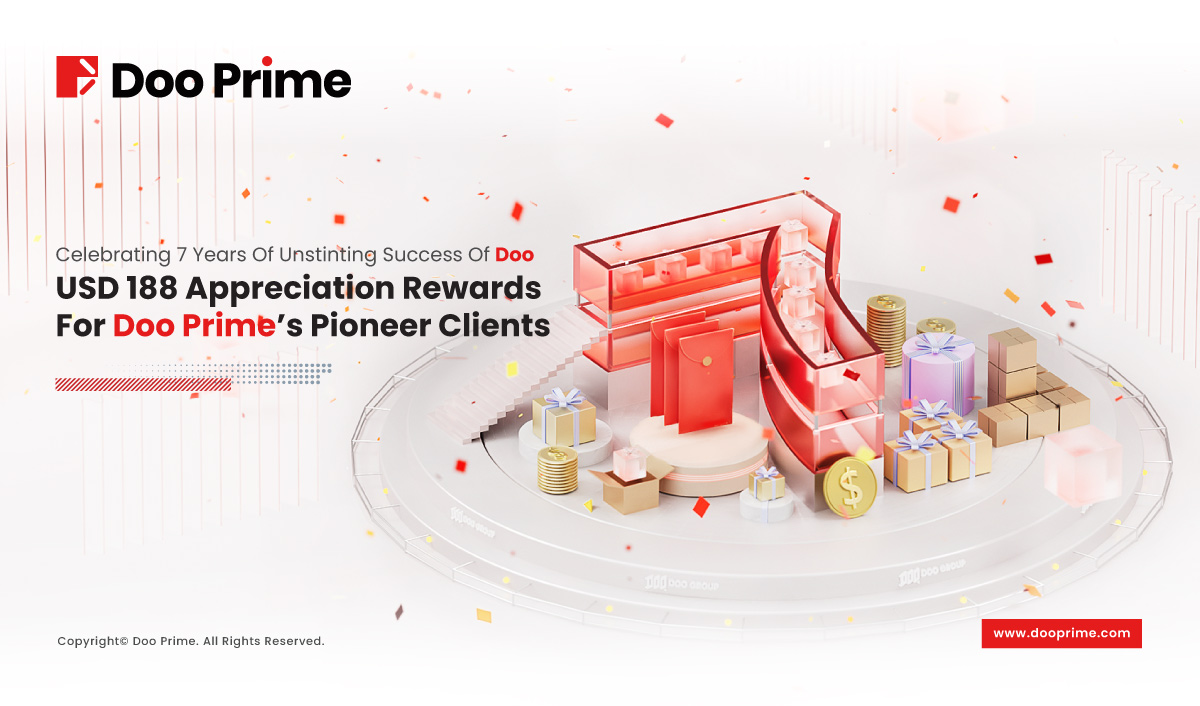 Doo Prime's parent company, Doo Group, celebrates its septennial anniversary!
Founded in 2014, the Group has been with its customers for 7 years, relentlessly providing top-quality financial services. With the Group's continuous exploration of technological innovation and excellence in products and services, Doo Group has successfully opened a new chapter in the story of global trading. 
As a renowned online broker, Doo Prime, has also achieved a number of impressive international achievements. This includes amassing 30,000+ global clients, and breaking a trading volume of USD 2200+ billion.
The trust and support of our customers are the essential source of motivation for the Group's development. On the occasion of the Group's 7th anniversary, Doo Prime has prepared a series of great prizes and exciting activities to thank our customers.
Giving Back To Our Loyal Clients – USD 188 Rewards Up For Grabs
Doo Prime will be giving away USD 188 to selected active pioneer traders* who have been trading on the Doo Prime platform since the very beginning. This is as a token of appreciation to thank them for their unwavering support over the past years.
Eligible clients will be notified via a one-to-one by our dedicated account manager.
This is the first phase of our 7th Anniversary Giveaway campaign – new and existing clients should look forward to more exciting anniversary events from Doo Prime. So, be sure to stay tuned and don't miss out! 
As we look ahead to the future, Doo Prime will continue to adhere to our original intention of being 'Your Private Broker,' and uphold the relentless pursuit of technological innovation as well as product safety for all traders. Doo Prime is relentless in our pursuit for excellence, so that more can be exposed to our quality financial products, services, and experience trading in a top-notch, secure environment.
*The above-mentioned pioneer customers are limited to those who have registered on Doo Prime platform from January 1, 2016 to August 31, 2017; Active customers are those who have traded on the Doo Prime platform in the last six months (i.e. May 1 to October 1, 2021).  
Terms and Conditions apply.
Disclaimers
This information is for general information purposes only and is intended for general information purposes only and should not be considered as any investment advice, recommendation, offer, solicitation or invitation to buy or sell any financial instruments. The information shown herein has been prepared without reference to or consideration of the investment objectives or financial situation of any particular recipient. Any reference to the past performance of a trading product, index or packaged trading products should not be considered a reliable indicator of its future performance. Doo Prime makes no representations or warranties with respect to the information displayed and shall not be liable for any direct or indirect loss or damage arising from any inaccuracies and incompleteness of the information provided. Doo Prime shall not be liable for any loss or damages as a result of any direct or indirect trading risks, losses or gains associated with any individual's investment.