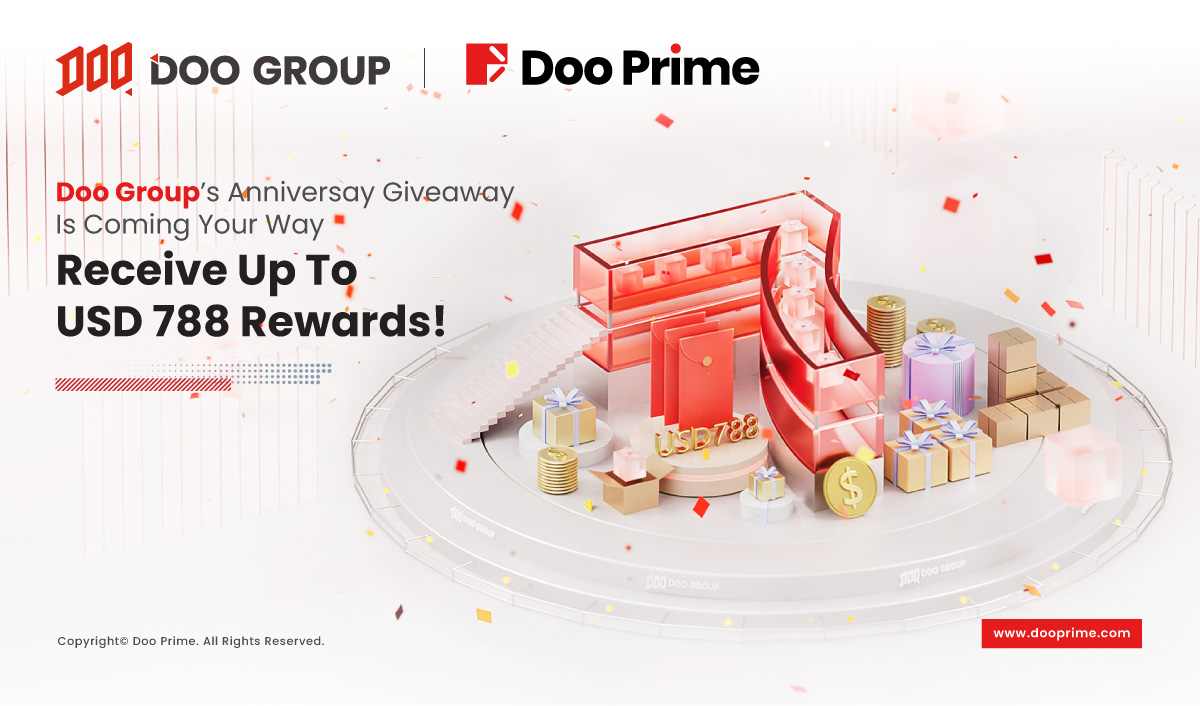 Doo Prime has been working diligently since our inception. We continuously put focus on financial technology innovation, and have achieved fruitful results around the globe. As an online trading platform, we have not only amassed awards in many brokerage competitions, but also surpassed 30,000 clients and USD 22 billion in trading volume worldwide. These are some of our milestones so far.
The trust and support of our clients are the driving force behind our brilliant achievements. This year, the Group is proudly celebrating its 7th anniversary. In order to give back to our customers' long-term support, we invite all new and existing clients to join the Group's 7th Anniversary Giveaway campaign and enjoy multiple anniversary rewards!
The Group's "7th Anniversary Giveaway" campaign runs from November 10, 2021 to January 1, 2022, during which multiple bonuses will be offered. This includes:
Trading Bonus
Individuals who deposit USD 1,000 or more, and trade 1 lot, will receive a bonus during this promotion period. You can get up to $788 bonus!
The more you trade, the more bonuses you will be able to enjoy – there is no limit!
Limited-Time Bonus
New and existing clients can get extra perks during selected bonus periods. Simply log in to this page at the following times (UTC+8):
November 11, 2021 00:00 – November 12, 01:00
7th Anniversary Celebration
November 18, 2021 00:00 – November 19, 01:00
December 12, 2021 00:00 – December 13, 01:00
December 31, 2021, 23:00 – January 1, 2022, 01:30
Please visit the official event page to find out more: CLICK
We look forward to working with you to build a better trading future!
Terms and Conditions apply.
Risk Disclosure
Trading in financial instruments involves a high degree of risk due to fluctuations in the value and price of the underlying financial instruments. Due to the adverse and unpredictable market movements, large losses exceeding the investor's initial investment could incur within a short period of time. The past performance of a financial instrument is not an indication of its future performance.
Please make sure you read and fully understand the trading risks of the respective financial instrument before engaging in any transaction with us. You should seek independent professional advice if you do not understand the risks disclosed by us herein.
Disclaimers
This information is for general information purposes only and is intended for general information purposes only and should not be considered as any investment advice, recommendation, offer, solicitation or invitation to buy or sell any financial instruments. The information shown herein has been prepared without reference to or consideration of the investment objectives or financial situation of any particular recipient. Any reference to the past performance of a trading product, index or packaged trading products should not be considered a reliable indicator of its future performance. Doo Prime makes no representations or warranties with respect to the information displayed and shall not be liable for any direct or indirect loss or damage arising from any inaccuracies and incompleteness of the information provided. Doo Prime shall not be liable for any loss or damages as a result of any direct or indirect trading risks, losses or gains associated with any individual's investment.