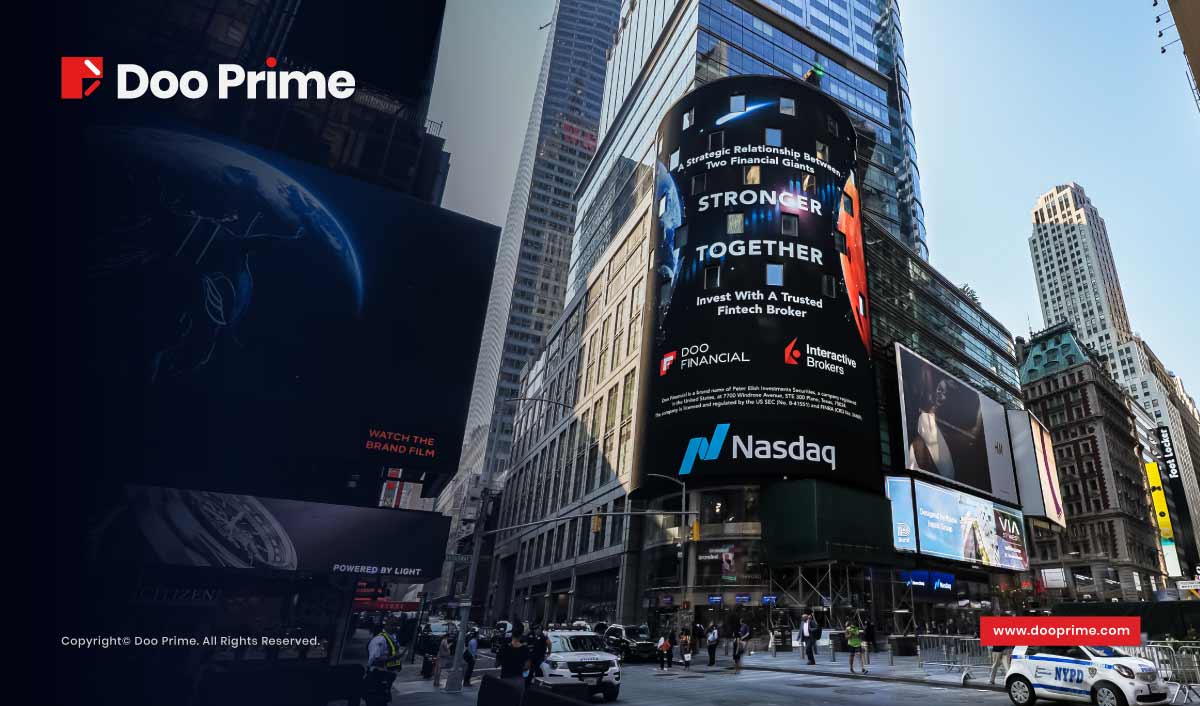 Establishing A Fully Disclosed Brokerage Relationship With Interactive Brokers
Doo Prime's parent company, Doo Group, is committed to expanding its global business footprint. Recently, Doo Financial – an online broker under Doo Group – has officially established a fully disclosed brokerage relationship with Interactive Brokers.
In celebration on this milestone, Doo Financial debuted on the Nasdaq Tower in New York Times Square, known as the "crossroads of the world".
With this relationship, Doo Financial will be facilitating the development and localization of Interactive Brokers' steadfast trading services in China, while Interactive Brokers provides reliable fundamental services to Doo Financial.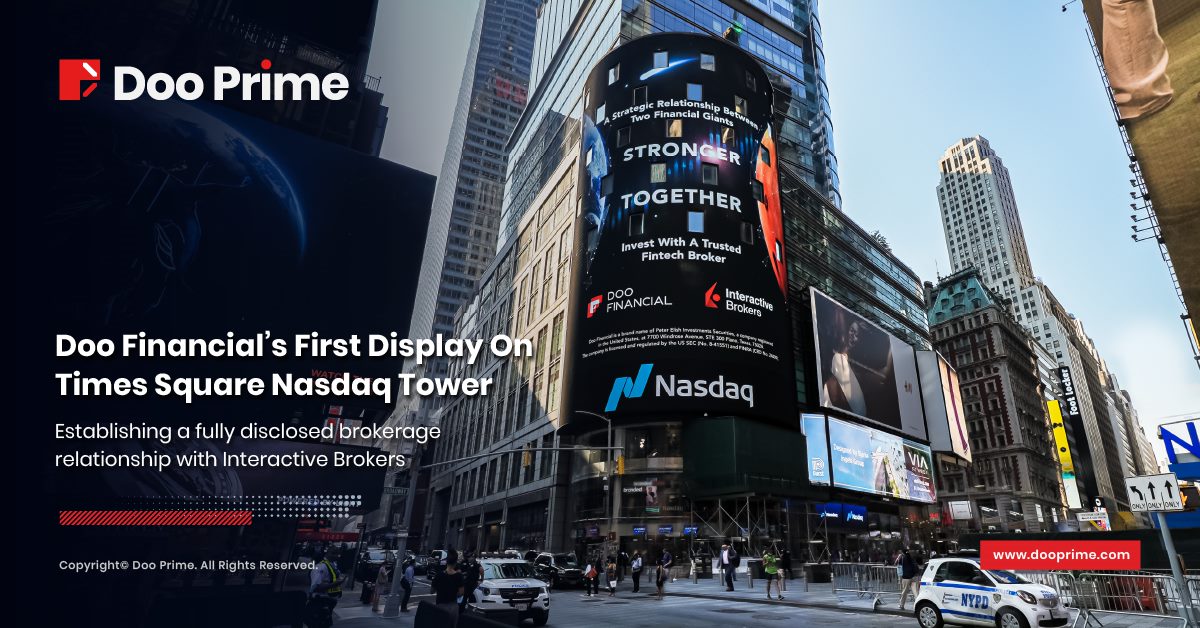 Doo Group's Global Securities Business Map Is Taking Shape
Since its establishment in 2014, Doo Group has been dedicated in providing new trading brokerage services for financial products, such as securities, futures, and contract for differences (CFDs) to individual and institutional clients around the world, deeply involving fintech as well as innovation, as well as continuously expanding the global securities market.
To ensure excellent service and financial security of high-net-worth clients with assets of more than $10 million, Doo Group establishes a fully disclosed brokerage relationship with Interactive Brokers. This provides Doo Group's clients with fundamental services, such as asset custody, trading liquidation, and access to funds. Such dedication and development has resulted in the taking shape of Doo Group's global securities business map.
Doo Financial, The New Online Broker
This fully disclosed brokerage relationship with Interactive Brokers is established by Doo Financial, an online broker affiliated with Doo Group, and Peter Elish Investments Securities, a subsidiary of our group based in the US.
The aim of Doo Financial is to provide professional investors with brokerage services in trading global securities, futures, CFDs, and many other financial products. With our leading financial technology and integrated service advantages, Doo Financial has achieved full efficiency in executing online account opening, deposit, and withdrawal, as well as trades. Such achievements enable Doo Financial to provide global investors with a convenient and reliable investment experience, unlocking a window of global financial assets.
Peter Elish Investments Securities is an established American securities firm wholly owned by Doo Financial. It has a 30-year history, and is regulated by the US Securities and Exchange Commission (SEC) and the US Financial Industry Regulatory Authority (FINRA).
Trades and Services Are Fully Enhanced
By virtue of the fundamental support of Interactive Brokers, Doo Financial's clients can seize global market opportunities by depositing their assets in Interactive Brokers' dedicated custodial account to trade in the US stock market and enjoy a wider selection of financial products.
Doo Financial provides global securities trading services to clients of the following types:
Individuals, joint, retired, trustees, trust clients
Hedge funds, mutual funds, fund managers, or similar investment vehicles
SICAV funds or similar investment vehicles
Financial consultant
Institutions (partnerships, companies, limited liability companies, and unincorporated enterprises)
At the same time, Doo Financial offers a variety of internationally recognized and reliable trading platforms to enhance the trading experience to its clients. Doo Financial's clients can trade using the broker's self-developed cloud-based network trading system, InTrade, as well as Interactive Brokers' Trader Workstation (TWS) securities investment trading software, all of which have been designed to meet the needs of each investor to trade on a wide range of products.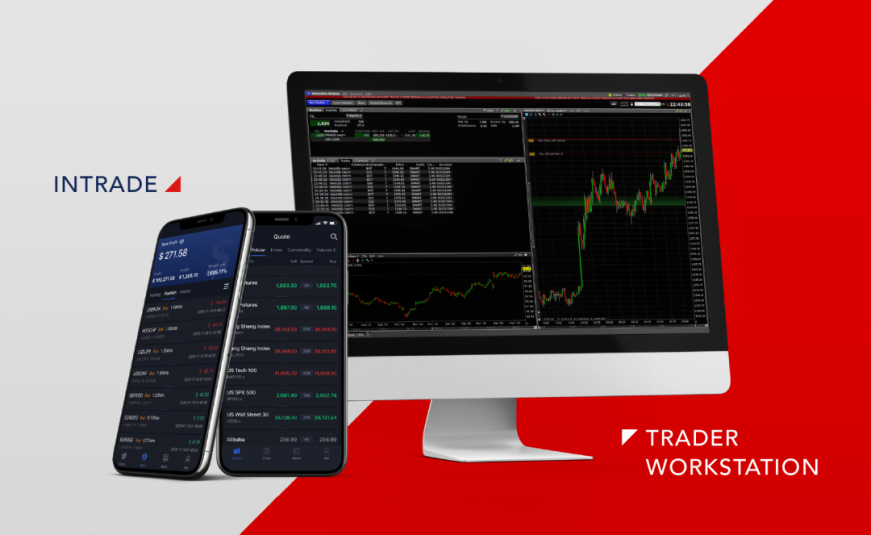 Relationship With Interactive Brokers to Achieve Full Disclosure Brokerages
Over the past 43 years, Interactive Brokers Group has grown internally to become a broker-dealer with capital exceeding $9 billion while maintaining more than 1 million client accounts. The company conducts brokerage and trading operations in 135 market centers around the world, and combined with its affiliates, executes more than 3.3 million transactions on a day-to-day basis.
This relationship with Interactive Brokers marks an important chapter of Doo Group's global securities business layout and it is a key step taken by Doo Financial toward the international financial markets.
In the future, Doo Prime will be working hand in hand with Doo Group's affiliates, such as Doo Financial and Doo Clearing, with the mission of providing clients a safe, reliable, professional, and convenient trading environment. With financial technology as its core, Doo Prime strives to become a global leading financial services group.
Doo Prime is an international pre-eminent online broker under Doo Group with operation centers in Singapore, Hong Kong, Dallas, Kuala Lumpur, and other regions. Our main ethos is to provide professional investors with global financial instruments (CFDs) on our trading platform.
Doo Prime holds the financial regulatory licenses in Mauritius and Vanuatu, which has granted us the opportunity to deliver the finest trading experience to more than 21,000 professional clients, alongside managing a massive trading volume of dozens of billions of dollars monthly.
By the virtue of robust technological innovation put forward by the group, Doo Prime has achieved seamless connection with the global trading market, providing thousands of CFD products on multiple trading terminals, such as MT4, MT5, TradingView, Doo Prime InTrade, and more, covering Forex, Precious Metal, Securities, Futures, Commodities, and Stock Indices, allowing clients to invest globally with one click.
With a solid vigorous group background, competitive trading cost, convenient deposit and withdrawal methods, plus 24/7 multilingual customer service, Doo Prime is committed to become your private veteran broker.
For more information about Doo Prime, please contact us at:
Phone:
Europe: +44 11 3733 5199
Asia: +852 3704 4241
Asia – China: +86 400 842 7539
E-mail:
Technical Support: [email protected]
Sales Representative: [email protected]
"Forward-looking" Statements
This article may contain "forward-looking statements" and may be identified by the use of forward-looking terminology such as "anticipate", "believe", "continue", "could", "estimate", "expect", "hope", "intend", "may", "might", "plan", "potential", "predict", "should", or "will", or other variations thereon or comparable terminology. However, the absence of such terminology does not mean that a statement is not forward-looking. In particular, statements about the expectations, beliefs, plans, objectives, assumptions, future events, or future performance of Doo Prime will be generally assumed as forward-looking statements.
Doo Prime has provided these forward-looking statements based on all current information available to Doo Prime and Doo Prime's current expectations, assumptions, estimates, and projections. While Doo Prime believes these expectations, assumptions, estimations, and projections are reasonable, these forward-looking statements are only predictions and involve known and unknown risks and uncertainties, many of which are beyond Doo Prime's control. Such risks and uncertainties may cause results, performance, or achievements materially different from those expressed or implied by the forward-looking statements.
Doo Prime does not provide any representation or warranty on the reliability, accuracy, or completeness of such statements. Doo Prime is not obliged to provide or release any updates or revisions to any forward-looking statements.
Risk Disclosure
Trading in financial instruments involves high risks due to the fluctuation in the value and prices of the underlying financial instruments. Due to the adverse and unpredictable market movements, large losses exceeding the investor's initial investment could incur within a short period of time. The past performance of a financial instrument is not an indication of its future performance.
Please make sure you read and fully understand the trading risks of the respective financial instrument before engaging in any transaction with us. You should seek independent professional advice if you do not understand the risks disclosed by us herein.
Disclaimer
This information is addressed to the general public solely for information purposes and should not be taken as investment advice, recommendation, offer, or solicitation to buy or sell any financial instrument. The information displayed herein has been prepared without any reference or consideration to any particular recipient's investment objectives or financial situation. Any references to the past performance of a financial instrument, index, or a packaged investment product shall not be taken as a reliable indicator of its future results. Doo Prime makes no representation and warranties to the information displayed and shall not be liable for any direct or indirect loss or damages as a result of any inaccuracies and incompleteness of the information provided. Doo Prime shall not be liable for any loss or damages as a result of any direct or indirect trading risks, profit, or loss associated with any individual's investment.