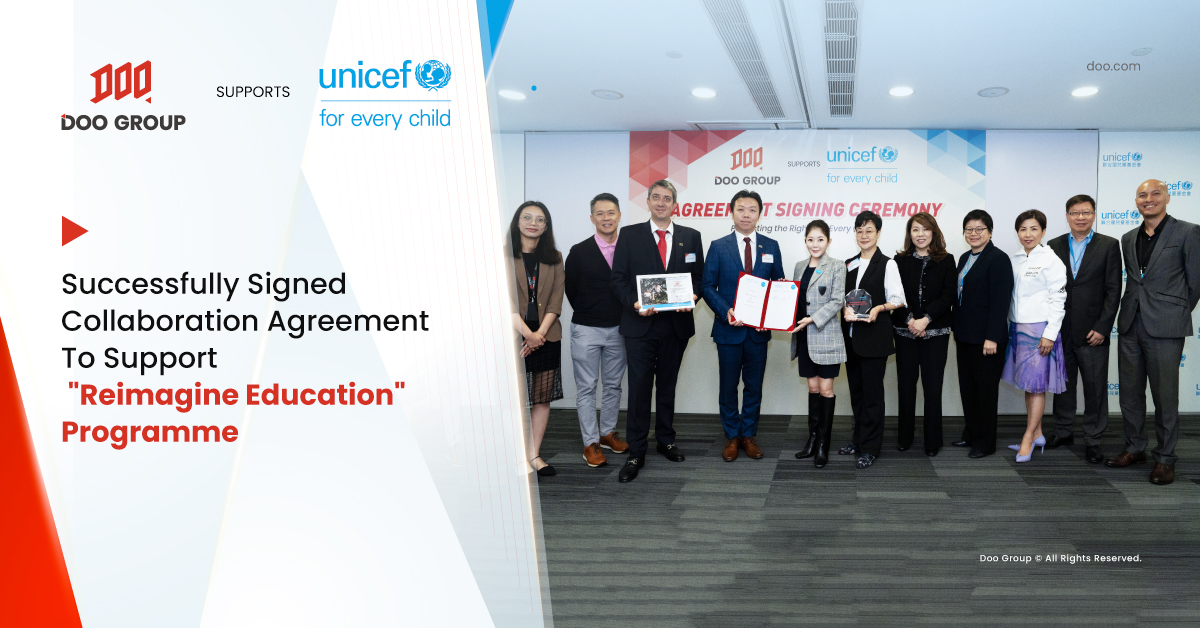 Doo Group is pleased to announce that we have successfully signed a collaboration agreement with UNICEF HK on September 19, 2023, in a partnership signing ceremony. Over the next three years, Doo Group will be participating in UNICEF's "Reimagine Education" program, which supports continuous learning by providing digital learning opportunities for children and adolescents in difficult circumstances to unlock their potential.
Collaboration Ceremony Successfully Conducted
The event is attended by Ms. Judy Chen, JP, Ms. Waiwans Lo, Fundraising Director, UNICEF HK, Mr. Windson Chan, Chief Executive Officer of Doo Group, and Mr. Costas Kappai, Managing Director of EMEA, Doo Group. Representatives from both sides delivered speeches on this collaboration and signed the collaboration agreement, officially commencing a new cycle of charitable collaboration.
Ms. Judy Chen, JP, Chairman of UNICEF HK, expressed her pleasure in continuing the partnership with Doo Group, which will provide more children and adolescents with digital learning opportunities and further expand their life prospects.
Doo Group's Chief Executive Officer highly acknowledges and appreciates UNICEF HK's rich experience and outstanding contributions in the field of child rights protection. He expressed great honor in continuing to collaborate with UNICEF HK to support the "Reimagine Education" program and make ongoing contributions to improving children's well-being.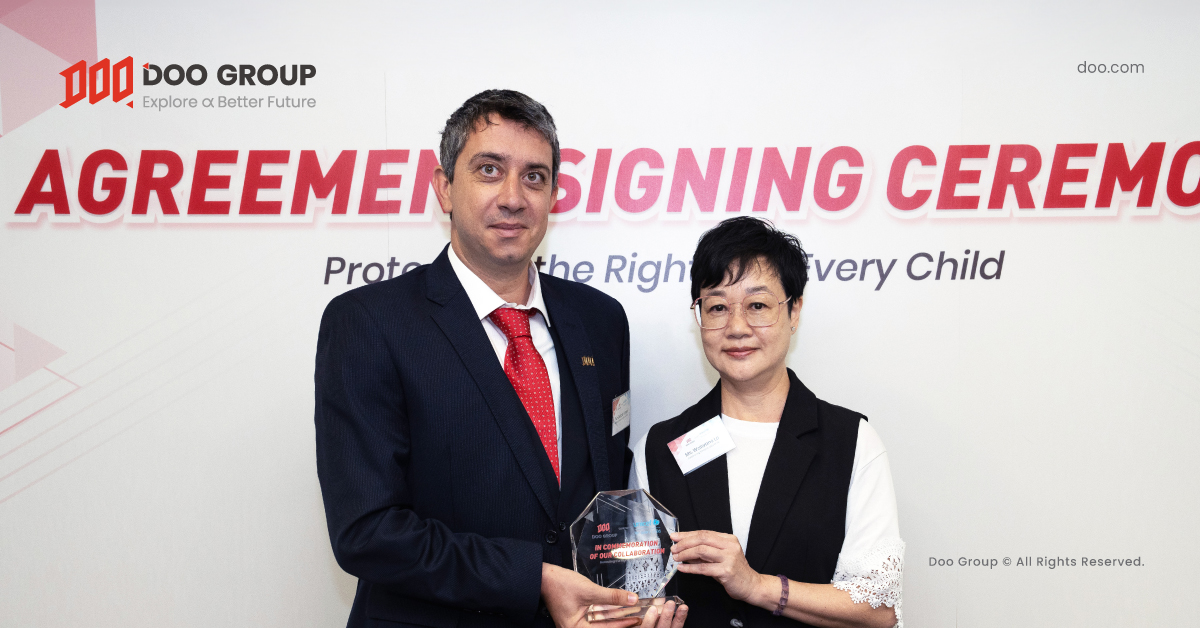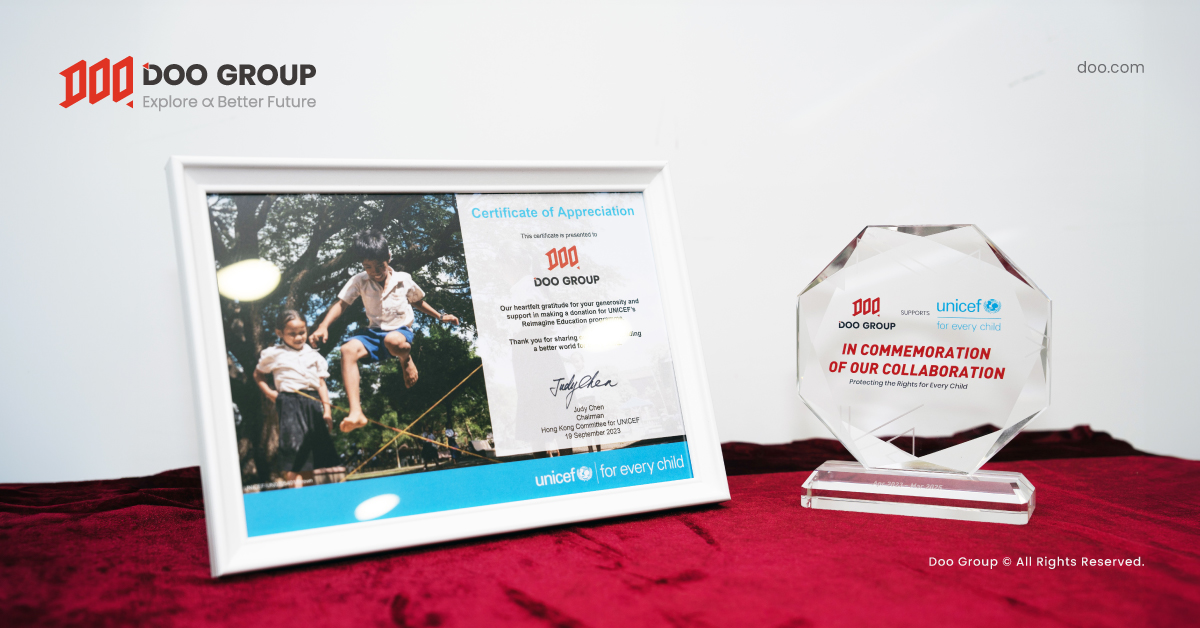 Unleashes Boundless Potential Through Education
Doo Group firmly believes that education is the power to create infinite possibilities. Through quality education, children can build confidence and hope towards a brighter future. Therefore, every child should have the opportunity to receive quality education that will help them better unlock their individual potential.
In April 2022, Doo Group entered into our first-ever partnership with UNICEF HK by supporting the "Schools for Asia" initiative to provide better learning conditions for children in need and protect their right to education. The initiative has successfully provided many children with quality learning resources and has achieved remarkable results in ensuring children's right to education.
In this new round of collaboration with UNICEF HK, Doo Group will be involved in the "Reimagine Education" program to assist children affected by the pandemic in continuing their education through digital learning solutions. This program is expected to help 3.5 billion children and adolescents in ending the education crisis by 2030 through measures such as supporting digital learning, connecting the internet to every school, purchasing electronic devices, and promoting youth-led initiatives.
As a socially responsible financial services group, Doo Group aims to do our utmost in this collaboration to help as many children as possible to "reimagine education", in order to ensure children's right to education. Driven by the Environmental, Social, and Governance (ESG) principles, Doo Group will continue to create hope through our efforts on the path to protecting the future of children.
About Doo Group
Doo Group was established in 2014, currently headquartered in Singapore. After years of development, Doo Group has become a multi-faceted financial services group with financial technology as its core. With multiple sub-brands such as Doo Clearing, Doo Financial, Doo Prime, Doo Wealth, Doo Health, Doo Academy, Lesspay, FinPoints and many more, the group is committed to providing individuals and institutional clients worldwide with one-stop high-quality financial services and innovative solutions.
Currently, the entities within Doo Group, according to their location and products, are regulated by many of the top global financial regulators, including, but not limited to the United States Securities and Exchange Commission (US SEC) and Financial Industry Regulatory Authority (US FINRA), United Kingdom Financial Conduct Authority (UK FCA), the Australian Securities & Investments Commission (ASIC), the Australian Transaction Reports and Analysis Centre (AUSTRAC), the Hong Kong Securities and Futures Commission (HK SFC), the Hong Kong Insurance Authority (HK Insurance Broker), the Hong Kong Companies Registry (HK Trust Company), the Hong Kong Customs and Excise Department (HK Money Service Operator), the Hong Kong Estate Agents Authority (HK EAA), the Malaysia Labuan Financial Services Authority (MY Labuan FSA), the Seychelles Financial Services Authority (SC FSA), Mauritius Financial Services Commission (MU FSC), and the Vanuatu Financial Services Commission (VU FSC). Doo Group has entities operating in various global locations, including Dallas, London, Sydney, Singapore, Hong Kong, Dubai, Kuala Lumpur as well as other regions.
For enquiries and further information, please contact us:
Website: www.doo.com
Hong Kong: +852 6701 2091
Singapore: +65 6011 1736
Email: [email protected]
About UNICEF
UNICEF works in the world's toughest places to reach the most disadvantaged children and adolescents – and to protect the rights of every child, everywhere. Across over 190 countries and territories, UNICEF does whatever it takes to help children survive, thrive and fulfil their potential, from early childhood through adolescence.
And we never give up.
About Hong Kong Committee for UNICEF
Hong Kong Committee for UNICEF (UNICEF HK) was founded in 1986 and was established as an independent local non-government organization to raise funds through public donations, corporate partnerships and special events, etc. to support UNICEF's work. UNICEF HK also promotes and advocates for children's rights through organizing education and youth programs in Hong Kong.
For more information about the UNICEF "Schools for Asia" campaign, please visit this following website:
UNICEF Hong Kong: https://www.unicef.org.hk/

Forward-looking Statement
"Forward-looking" Statements
This article contains "forward-looking statements" and may be identified by the use of forward-looking terminology such as "anticipate", "believe", "continue", "could", "estimate", "expect", "hope", "intend", "may", "might", "plan", "potential", "predict", "should", or "will", or other variations thereon or comparable terminology. However, the absence of such terminology does not mean that a statement is not forward-looking. In particular, statements about the expectations, beliefs, plans, objectives, assumptions, future events, or future performance of Doo Group will be generally assumed as forward-looking statements.
Doo Group has provided these forward-looking statements based on all current information available to Doo Group and Doo Group's current expectations, assumptions, estimates, and projections. While Doo Group believes these expectations, assumptions, estimations, and projections are reasonable, these forward-looking statements are only predictions and involve known and unknown risks and uncertainties, many of which are beyond Doo Group's control. Such risks and uncertainties may cause results, performance, or achievements materially different from those expressed or implied by the forward-looking statements.
Doo Group does not provide any representation or warranty on the reliability, accuracy, or completeness of such statements. Doo Group is not obliged to provide or release any updates or revisions to any forward-looking statements.
Risk Disclosure
Trading in financial instruments involves high risks due to the fluctuation in the value and prices of the underlying financial instruments. Due to the adverse and unpredictable market movements, large losses exceeding the investor's initial investment could incur within a short period of time. The past performance of a financial instrument is not an indication of its future performance.
Please make sure you read and fully understand the trading risks of the respective financial instrument before engaging in any transaction with us. You should seek independent professional advice if you do not understand the risks disclosed by us herein.
Disclaimer
This information is addressed to the general public solely for information purposes and should not be taken as investment advice, recommendation, offer, or solicitation to buy or sell any financial instrument. The information displayed herein has been prepared without any reference or consideration to any particular recipient's investment objectives or financial situation. Any references to the past performance of a financial instrument, index, or a packaged investment product shall not be taken as a reliable indicator of its future results. Doo Group makes no representation and warranties to the information displayed and shall not be liable for any direct or indirect loss or damages as a result of any inaccuracies and incompleteness of the information provided. Doo Group shall not be liable for any loss or damages as a result of any direct or indirect trading risks, profit, or loss associated with any individual's investment.
UNICEF does not endorse any company, brand, product, or service.