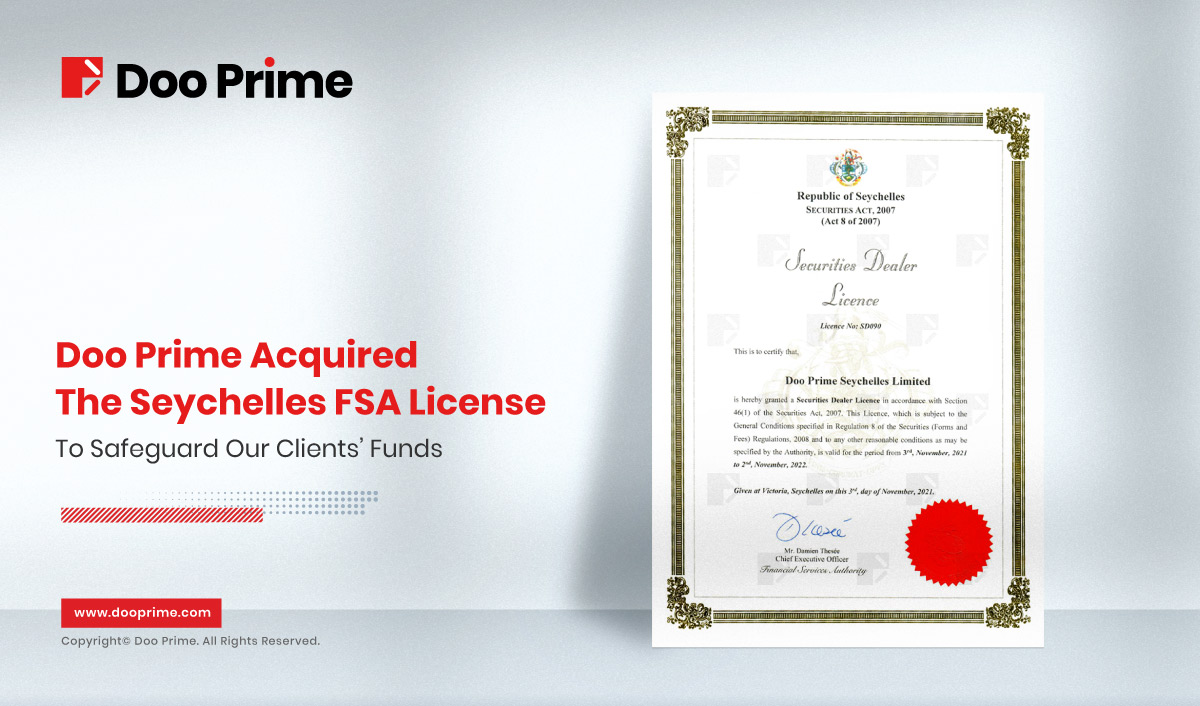 Doo Prime is pleased to announce that Doo Prime Seychelles Limited is now regulated by the Seychelles Financial Services Authority (FSA). This comes with the successful acquisition of the FSA Securities Dealer License.
With this, Doo Prime is in the position to protect clients' funds in multiple aspects within a safe and secure trading environment.


FSA License Approval Promotes Doo Prime's Multi-Dimensional International Regulation Ethos
The FSA is an autonomous regulator of non-bank financial services in Seychelles. Established under the Financial Services Authority Act 2013, it is responsible for supervising and ensuring regulatory compliance of non-bank financial services sector in Seychelles. Currently, the FSA is a member of the International Organization of Securities Commissions (IOSCO).
Seychelles has become increasingly attractive to foreign investors in recent years. In fact, the region has gradually become one of the most popular jurisdictions in the world when it comes to obtaining the financial trading license.
Companies holding a Seychelles FSA Securities Dealer License are not only able to advise clients on securities, stocks, Contracts for Difference ("CFD") as well as other trading products, but can also trade in securities on a principal or agency basis.
In line with the industry's standards, Doo Prime has applied for a Securities Dealer License from the FSA in furtherance of enhancing the protection of our clients' interests. Under the supervision of the FSA, Doo Prime is authorized to conduct relevant financial services and business in Seychelles. With strict regulation by both the Financial Services Act coupled with other financial services laws, Doo Prime has established a safer and more secure trading environment.
In addition to the FSA securities dealer license, Doo Prime is recognized and strictly regulated by multiple international financial institutions, including the Mauritius Financial Services Commission (FSC) and the Vanuatu Financial Services Commission (VFSC), to accommodate a multi-dimensional protection of clients' funds.


Assuring Clients With Accredited Financial Services
Doo Prime has always been committed to the principle of prioritizing clients' needs and places great importance on the safety and experience of its clients. This successful issuance of the FSA securities dealer license further catapults Doo Prime to create a progressively refined online trading environment.
As an internationally renowned online broker, Doo Prime has successfully gained the trust of its global clients by providing a safe and reliable financial protection. On the grounds of this, Doo Prime has made breakthroughs over the years in succession to heighten its leading position in the industry. As of September 2021, Doo Prime is serving 30,000+ global clients with a total trading volume of USD220+ billion in 2021.
Doo Prime strives to uphold the corporate philosophy of breakthrough and innovation to further enrich its financial products and service qualifications. Essentially, we aspire to continuously deliver clients excellent trading experiences through a top-notch trading environment.

About Doo Prime 
Doo Prime is an international pre-eminent online broker under Doo Group with operation centers in Dallas, Singapore, Hong Kong, Kuala Lumpur, and other regions. Our main ethos is to provide professional investors with global financial instruments (CFDs) on our trading platform.
Doo Prime holds the financial regulatory licenses in Mauritius and Vanuatu, which has granted us the opportunity to deliver the finest trading experience to more than 30,000 professional clients, alongside managing a massive trading volume of over 5 million dollars monthly.
By the virtue of robust technological innovation put forward by the group, Doo Prime has achieved seamless connection with the global trading market, providing thousands of CFD products on multiple trading terminals such as MT4, MT5, Doo Prime InTrade, TradingView, and more, covering Forex, Precious Metal, Energy, Index, Securities and Futures, allowing clients to invest globally with one click.
With a solid vigorous group background, competitive trading cost, convenient deposit and withdrawal methods, plus 24/7 multilingual customer service, Doo Prime is committed to become your private veteran broker.


For enquiries and further information, please contact us:
Phone:
Europe: +44 11 3733 5199
Asia: +852 3704 4241
Asia – China: +86 400 8427 539
Email:    
Technical Support: [email protected]    
Sales Representative:[email protected]  
Risk Disclosure 
Trading in financial instruments involves high risks due to the fluctuation in the value and prices of the underlying financial instruments. Due to the adverse and unpredictable market movements, large losses exceeding the investor's initial investment could incur within a short period of time. The past performance of a financial instrument is not an indication of its future performance. 

Please make sure you read and fully understand the trading risks of the respective financial instrument before engaging in any transaction with us. You should seek independent professional advice if you do not understand the risks disclosed by us herein. 
[Disclaimer]
This information is addressed to the general public solely for information purposes and should not be taken as an investment advice, recommendation, offer, or solicitation to buy or sell any financial instrument. The information displayed herein has been prepared without any reference or consideration to any particular recipient's investment objectives or financial situation. Any references to past performance of a financial instrument, index, or a packaged investment product shall not be taken as a reliable indicator of its future results. Doo Prime makes no representation and warranties to the information displayed and shall not be liable for any direct or indirect loss or damages as a result of any inaccuracies and incompleteness of the information provided. Doo Prime shall not be liable for any loss or damages as a result of any direct or indirect trading risks, profit, or loss associated with any individual's investment.