The U.S. Department of Labor released the July Consumer Price Index (CPI) data on 10th August 2022, which reflected a year-over-year increase of 8.5% in July 2022. The data was better than market expectations, and has eased the pressure on the Fed to raise interest rates. However, the CPI data in July alone cannot confirm that U.S. inflation ushered in a real inflection point. In fact, it is expected that the Fed rate hike cycle may carry on until September. Simultaneously, most of the investors will keep observing in the volatile market.
Affected by the active interest rate hike, investors should avoid single asset allocation in the constantly changing market. They can utilize a portfolio of diversified assets and hedging strategies to leverage the complementary effect of asset returns, which enables them to increase risk tolerance and grasp the opportunity for long-term returns.
Breaking Down Investment Barriers To Achieve Rational Asset Allocation 
Although the July CPI data shows some easing of U.S. inflation, the successive large rate hikes of the Fed still created a great deal of uncertainty for the global economic system. Therefore, it is critical for investors to choose a high-quality asset allocation and control risk.
With the impact of the current interest rate hike, U.S. stocks boosted by the CPI data in July rose sharply, and the overall shock macro environment led to high volatility in the U.S. stock market. In this case, investors can utilize hedging strategies to deal with the impact of short-term volatility, reducing risk, as well as grasping the opportunity for timely returns.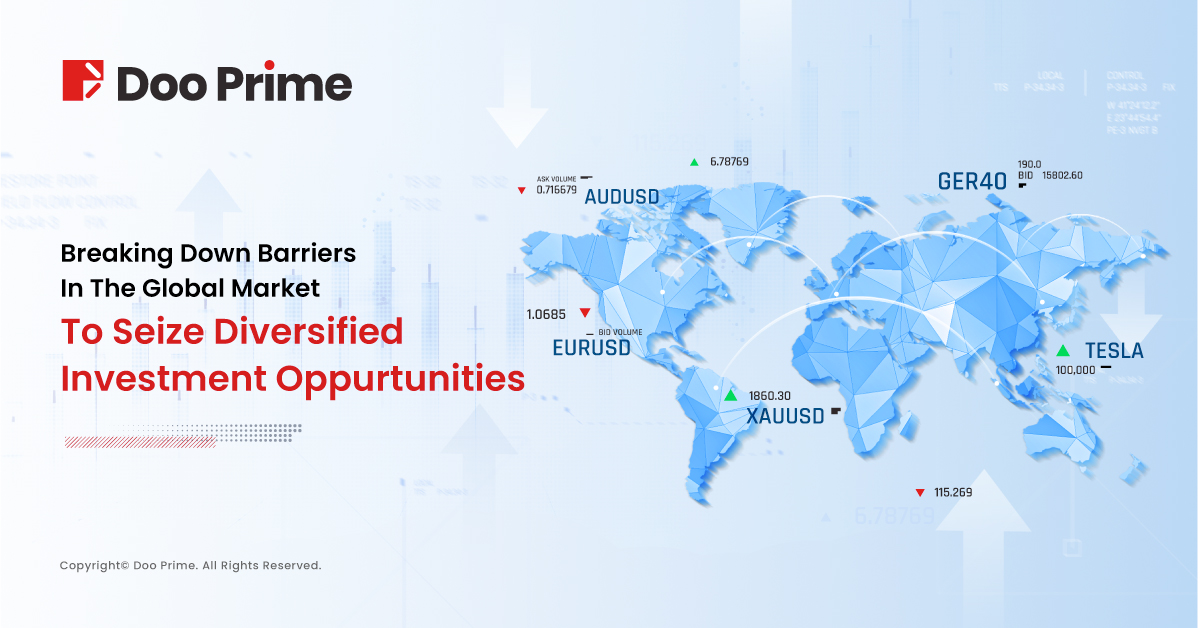 Let's take the US stocks and their derivative systems as an example: 
When the U.S. stock market shows high volatility, the volatility of constituent stocks takes the lead. Using the top 5 tech giants of the Nasdaq as a reference, the stocks of Meta (Facebook), Amazon, Apple, Microsoft and Google rise will drive the index as a whole, and vice versa. Stock index futures and spot index will also generate volatility, while the volatility index (VIX) will move in the opposite direction.
When investors hold Apple and Tesla CFDs, they can short sell VIX futures CFDs or stock index futures CFDs to hedge their positions. Correspondingly, they can also focus on China Concept Stocks, such as Alibaba, which was recently listed for the second time on the Hong Kong Stock Exchange, and the stocks of new energy car companies such as "Three Masters of the New Forces" in China – Xiaopeng Auto, Weilai Auto and Ideal Auto are popular choices.
In the past, investors who wanted to hedge their risks needed to cross multiple markets and open multiple accounts. In addition, traditional brokerage firms provides only a single product which did not have the advantage of leverage.
In Doo Prime, investors are able to invest in Securities CFDs, Futures CFDs, Forex, Precious Metal, Energy, and Stock Indices with just one integrated account. The Doo Prime platform breaks down the barriers in the global markets, making diversified portfolios easy to build. Furthermore, the platform has achieved rational asset allocation, helping investors to reduce risks and maximize returns in an uncertain market environment.
Rich Product Ecology, Global Investment In Just One Click 
The hedging strategy applied to the above mentioned Securities CFDs products is also applicable to Futures CFDs. If the U.S. CPI data for August is expected to continuously improve, the pressure on the Fed to raise interest rates will also continue to ease. The U.S. stock market will return to the bull market. In this case, investors could also directly hold the stock index Futures CFDs, either long sell the Dow Jones 2209 contract (YM2209, Doo Prime variety), or VIX futures CFDs (VIX2209, Doo Prime variety) for a protective hedge.
In addition, the European Central Bank has also shown strong interest rate hikes following the Fed rate hikes. Some investors are optimistic about the appreciation of the euro. In this case, they could long sell more euros, dollars, while short selling dollar index futures CFDs (DX2209, Doo Prime variety) to hedge position risk.
Following the return of assets from a strengthening dollar, gold, silver and crude oil came under downside pressure as dollar-denominated commodities fell. However, crude oil still needs special attention to the dynamics of interest rate hikes. Although the short term is positive, the medium to long term trend of crude oil also needs to focus on economic fundamentals and changes in supply and demand.
Whether investors would like to make multiple product combinations or hedge risk portfolios, they can seamlessly access the global trading markets at Doo Prime. In Doo Prime, investor can trade over 10,000 CFD products on multiple trading terminals such as MT4 and MT5, allowing investors to invest globally in just one click. Plus, the second round of Doo Prime's swap-free campaign is underway, with overnight interest waived on securities, precious metals, stock indices and major currency pairs, allowing investors to access the markets at a lower cost. Traders can seize this chance and grasp opportunities. 
Cohesive Financial Ecosystem To Ensure Trading Convenience And Safety 
Apart from a wide range of products, investors will also be able to enjoy a safe, convenient and fast trading experience with the world's leading and cutting-edge technology in Doo Prime. The Doo Prime platform has a strong customer data encryption system and advanced network security protection technology. Combined with the full-fledged international regulatory licenses we hold, and corporation with prestigious banks in fund segregation, Doo Prime strives to protect the safety of customer assets in all aspects, to build a complete and healthy financial ecosystem.  
In today's turbulent environment, it is vital for investors to understand rational asset allocation and risk avoidance. Accordingly, Doo Prime has designed a wide range of trading products to help investors respond flexibly to market volatility.
With the vision to keep innovating and moving forward, Doo Prime is committed to being a safe, reliable and trustworthy financial company that always puts clients' interests first.
About Doo Prime
Doo Prime is an international pre-eminent online broker under Doo Group, which strives to provide professional investors with global CFD trading products in Securities, Futures, Forex, Commodities, Stock Indices, and Funds. At present, Doo Prime is delivering the finest trading experience to more than 60,000 professional clients, with over 1 million trade orders fulfilled each month.
Doo Prime holds the financial regulatory licenses in Seychelles, Mauritius, and Vanuatu with operation centers in Dallas, Sydney, Singapore, Hong Kong, Dubai, Kuala Lumpur, and other regions.
With robust financial technology infrastructure, well-established partnerships, and an experienced technical team, Doo Prime boasts a safe and secure trading environment, competitive trading costs, as well as deposit and withdrawal methods that support 10 different currencies. Doo Prime also incorporates 24/7 multilingual customer service and extremely fast trade execution via multiple industry-leading trading terminals such as MT4, MT5, TradingView, and InTrade, covering over 10,000 trading products.
Doo Prime's vision and mission is to become a leading international online broker with financial technology as its core, to serve investors and make investing in global financial products a simple task.
For more information about Doo Prime, please contact us at:
Phone:
Europe : +44 11 3733 5199
Asia : +852 3704 4241
Asia – Singapore: +65 6011 1415
Asia – China : +86 400 8427 539
E-mail:
Technical Support: [email protected]
Sales Representative: [email protected]
Forward-looking Statements
This article contains "forward-looking statements" and may be identified by the use of forward-looking terminology such as "anticipate", "believe", "continue", "could", "estimate", "expect", "hope", "intend", "may", "might", "plan", "potential", "predict", "should", or "will", or other variations thereon or comparable terminology. However, the absence of such terminology does not mean that a statement is not forward-looking. In particular, statements about the expectations, beliefs, plans, objectives, assumptions, future events, or future performance of Doo Prime will be generally assumed as forward-looking statements.
Doo Prime has provided these forward-looking statements based on all current information available to Doo Prime and Doo Prime's current expectations, assumptions, estimates, and projections. While Doo Prime believes these expectations, assumptions, estimations, and projections are reasonable, these forward-looking statements are only predictions and involve known and unknown risks and uncertainties, many of which are beyond Doo Prime's control. Such risks and uncertainties may cause results, performance, or achievements materially different from those expressed or implied by the forward-looking statements.
Doo Prime does not provide any representation or warranty on the reliability, accuracy, or completeness of such statements. Doo Prime is not obliged to provide or release any updates or revisions to any forward-looking statements.
Risk Disclosure  
Trading in financial instruments involves high risks due to the fluctuation in the value and prices of the underlying financial instruments. Due to the adverse and unpredictable market movements, large losses exceeding the investor's initial investment could incur within a short period of time. The past performance of a financial instrument is not an indication of its future performance. Investments in certain services should be made on margin or leverage, where relatively small movements in trading prices may have a disproportionately large impact on the client's investment and client should therefore be prepared to suffer significant losses when using such trading facilities.
Please make sure you read and fully understand the trading risks of the respective financial instrument before engaging in any transaction with Doo Prime's trading platforms. You should seek independent professional advice if you do not understand any of the risks disclosed by us herein or any risk associated with the trade and investment of financial instruments. Please refer to Doo Prime's Client Agreement and Risk Disclosure and Acknowledgement Notice to find out more.
Disclaimer  
This information is addressed to the general public solely for information purposes and should not be taken as investment advice, recommendation, offer, or solicitation to buy or sell any financial instrument. The information displayed herein has been prepared without any reference or consideration to any particular recipient's investment objectives or financial situation. Any references to the past performance of a financial instrument, index, or a packaged investment product shall not be taken as a reliable indicator of its future performance. Doo Prime and its holding company, affiliates, subsidiaries, associated companies, partners and their respective employees, make no representation or warranties to the information displayed and shall not be liable for any direct, indirect, special or consequential loss or damages incurred a result of any inaccuracies or incompleteness of the information provided, and any direct or indirect trading risks, profit, or loss arising from any individual's or client's investment.