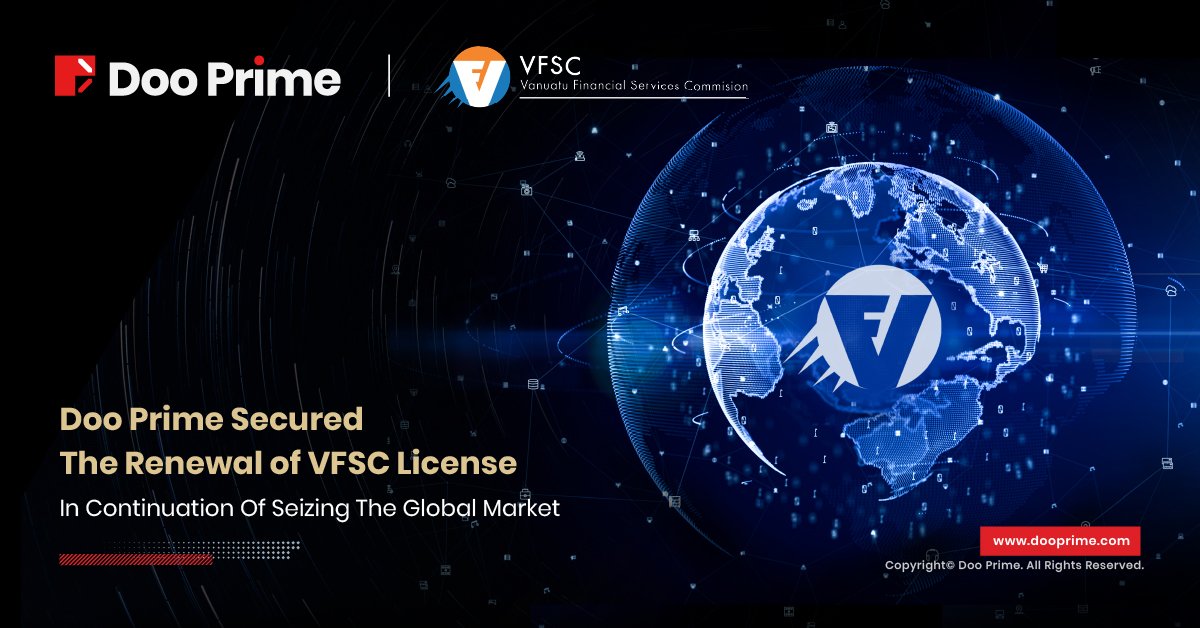 Doo Prime Secured the Renewal of VFSC License In Continuation of Seizing the Global Market


Doo Prime is pleased to announce that Doo Prime Vanuatu Limited has successfully renewed its financial dealers license from the Vanuatu Financial Services Commission ("VFSC"). In doing so, Doo Prime will continue to expand international relations, and seize the global financial market.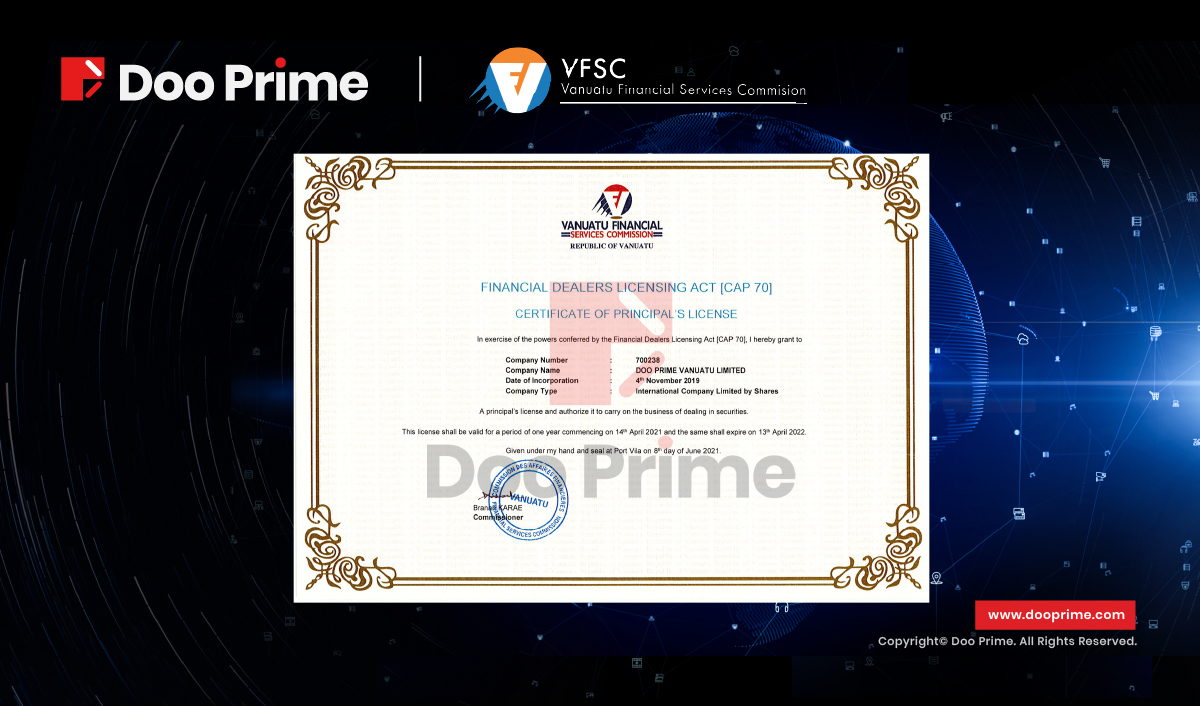 VFSC License Approval Enhances Doo Prime's Widely Recognized Quality Services


The VFSC financial dealers license is authorized by the VFSC. The VFSC was established in 1993 to regulate and supervise banking and financial services providers such as investment businesses, and credit businesses. They strive to create a strict and regulated financial environment.
The financial regulation and regulatory enforcement on the VFSC financial dealers license have always been as strict as the regulation imposed by the EU, US and other global jurisdictions.
This year, the VFSC has adopted a more stringent approach in approving and renewing all licenses on financial services in an attempt to create a more rigorous financial and investment environment. According to the requirements, companies must set up a local office, hire local directors, a compliance officer, an anti-money laundering officer, and appoint a third-party audit firm to conduct audits.
The number of financial services providers licensed by the VFSC declined from over 400 providers to only 124 providers remaining after screening, of which we proudly declare that Doo Prime Vanuatu Limited is one of them.
Doo Prime's success in the renewal of the financial dealers license has demonstrated our dedication in complying with the higher standards of practice in the industry, while adhering to strict regulatory requirements in order to provide our clients with safe and high-quality services.


Regulated Products and Services Promotes Doo Group's Exceptional Investment Environment


The VFSC financial license supports a variety of financial trading, namely, forex trading, commodity trading, securities trading, and so on. With the support of the regulatory system, Doo Prime is able to continue providing clients with a variety of top-notch financial products, while further developing the advantages of product diversity. Currently, Doo Prime integrates a diversified range of financial products, including 60+ currency pairs, 300+ featured US and Hong Kong stocks, 10+ global spot indices, and commodities on CFDs.
Doo Prime is an international pre-eminent online broker under Doo Group. As a large financial services group with financial technology as its core, Doo Group has obtained financial regulatory licenses from several countries.
As of now, Doo Group has been strictly regulated by multiple financial regulatory agencies around the world. Some of our legal entities are regulated by the United Kingdom Financial Conduct Authority (FCA), the United States Securities and Exchange Commission (SEC), the United States Financial Industry Regulatory Authority (FINRA), the Mauritius Financial Services Commission (MFSC), and Vanuatu Financial Services Commission (VFSC).
The approved renewal of the VFSC financial license this time reflects the recognition of Doo Group's excellent operations over the years. Doo Group's dedication has not only been recognized by the international market but also proved deep faith by clients. Henceforth, Doo Prime will continue to develop a prime trading environment by providing clients safe and reliable capital protection.



| About Doo Prime

Doo Prime is an international pre-eminent online broker under Doo Group with operation centers in Singapore, Hong Kong, Dallas, Kuala Lumpur, and other regions. Our main ethos is to provide professional investors with global financial instruments (CFDs) on our trading platform.
Doo Prime holds the financial regulatory licenses in Mauritius and Vanuatu, which has granted us the opportunity to deliver the finest trading experience to more than 21,000 professional clients, alongside managing a massive trading volume of dozens of billions of dollars monthly.
By the virtue of robust technological innovation put forward by the group, Doo Prime has achieved seamless connection with the global trading market, providing thousands of CFD products on multiple trading terminals such as MT4, MT5, Doo Prime InTrade, TradingView,, and more, covering Forex, Precious Metal, Energy, Index, Securities and Futures, allowing clients to invest globally with one click.
With a solid vigorous group background, competitive trading cost, convenient deposit and withdrawal methods, plus 24/7 multilingual customer service, Doo Prime is committed to become your private veteran broker.


For more information about Doo Prime, please contact us at:
Phone:
Europe: +44 11 3733 5199
Asia: +852 3704 4241
Asia – China: +86 400 8427 539
E-mail:
Technical Support: [email protected]
Sales Representative: [email protected]


"Forward-looking" Statements
This article may contains "forward-looking statements" and may be identified by the use of forward-looking terminology such as "anticipate", "believe", "continue", "could", "estimate", "expect", "hope", "intend", "may", "might", "plan", "potential", "predict", "should", or "will", or other variations thereon or comparable terminology. However, the absence of such terminology does not mean that a statement is not forward-looking. In particular, statements about the expectations, beliefs, plans, objectives, assumptions, future events, or future performance of Doo Prime will be generally assumed as forward-looking statements.
Doo Prime has provided these forward-looking statements based on all current information available to Doo Prime and Doo Prime's current expectations, assumptions, estimates, and projections. While Doo Prime believes these expectations, assumptions, estimations, and projections are reasonable, these forward-looking statements are only predictions and involve known and unknown risks and uncertainties, many of which are beyond Doo Prime's control. Such risks and uncertainties may cause results, performance, or achievements materially different from those expressed or implied by the forward-looking statements.
Doo Prime does not provide any representation or warranty on the reliability, accuracy, or completeness of such statements. Doo Prime is not obliged to provide or release any updates or revisions to any forward-looking statements.


Risk Disclosure
Trading in financial instruments involves high risks due to the fluctuation in the value and prices of the underlying financial instruments. Due to the adverse and unpredictable market movements, large losses exceeding the investor's initial investment could incur within a short period of time. The past performance of a financial instrument is not an indication of its future performance.
Please make sure you read and fully understand the trading risks of the respective financial instrument before engaging in any transaction with us. You should seek independent professional advice if you do not understand the risks disclosed by us herein.


Disclaimer
This information is addressed to the general public solely for information purposes and should not be taken as investment advice, recommendation, offer, or solicitation to buy or sell any financial instrument. The information displayed herein has been prepared without any reference or consideration to any particular recipient's investment objectives or financial situation. Any references to the past performance of a financial instrument, index, or a packaged investment product shall not be taken as a reliable indicator of its future results. Doo Prime makes no representation and warranties to the information displayed and shall not be liable for any direct or indirect loss or damages as a result of any inaccuracies and incompleteness of the information provided. Doo Prime shall not be liable for any loss or damages as a result of any direct or indirect trading risks, profit, or loss associated with any individual's investment.