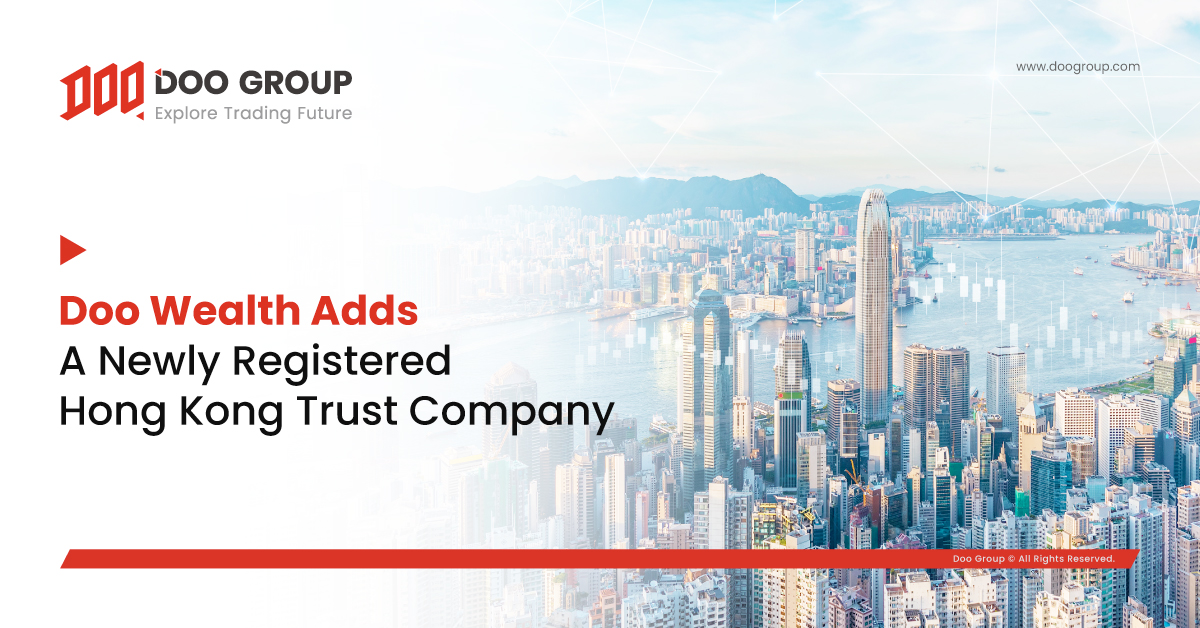 Doo Group's subsidiary company, namely, Doo Consulting Limited ("the Trust Company") and a member of Doo Wealth, embarks on a momentous milestone by receiving authorization from the Hong Kong Companies Registry ("CR") to be registered as a trust company pursuant to the Trustee Ordinance (Cap. 29 Laws of Hong Kong). CR is a government department that comes under the Government of Hong Kong's Financial Services and the Treasury Bureau.
In addition to becoming a registered Hong Kong trust company, the Trust Company currently holds a license to provide trust or company service business in Hong Kong ("TCSP license"). The CR is responsible for the administration of the licensing regime for TCSPs.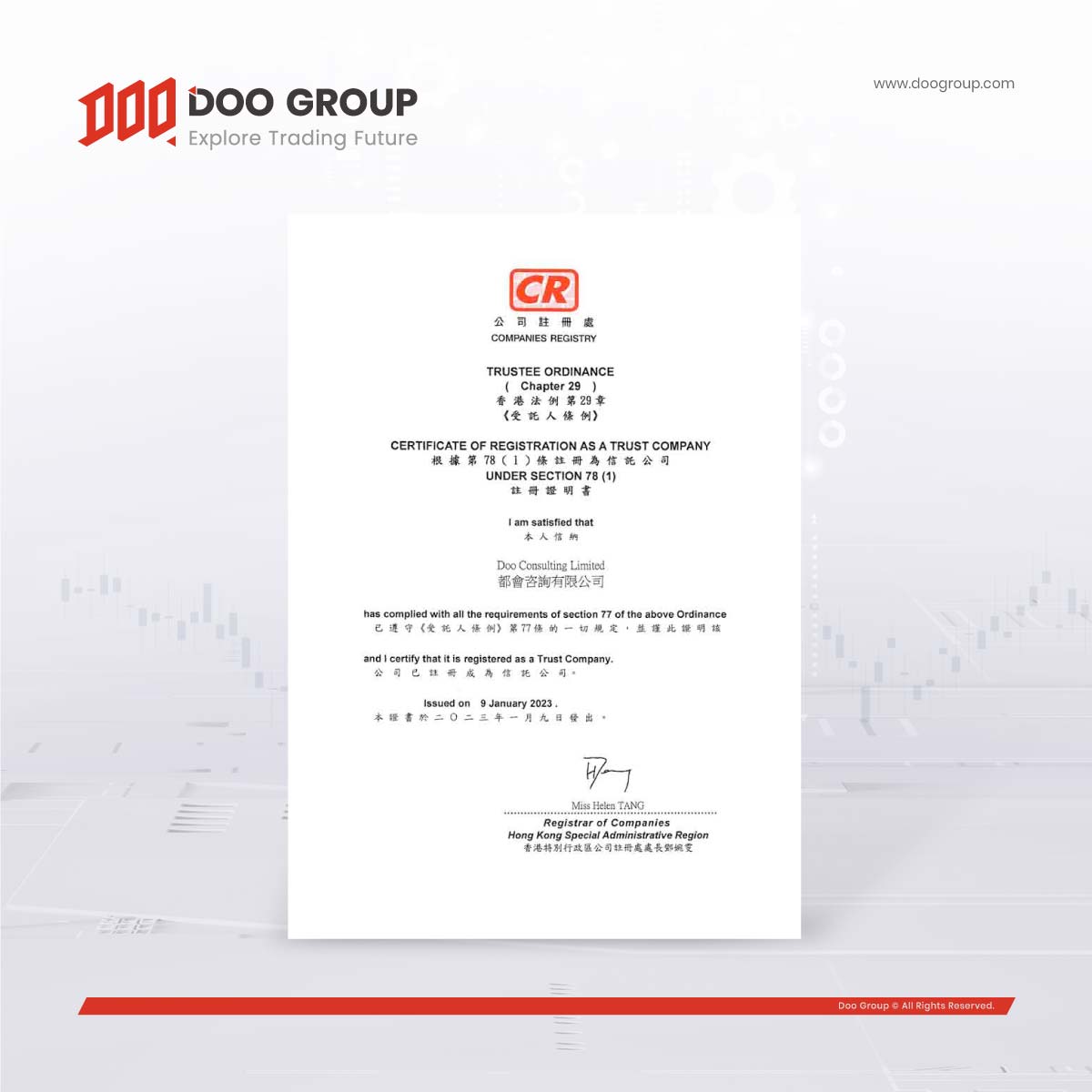 The Trust Company
A trust company ("the Trustee") is a legal entity engaged by an individual or a company ("the Settlor") to act as an agent or a trustee by holding, administering and managing the trust property for the benefit of the person(s) for whom the trust was created ("the Beneficiary") pursuant to the terms of a trust deed as per the Settlor's instructions ("Trust Deed"). The Trustee is bound by the terms stipulated in the Trust Deed which sets out the list of trust property, Beneficiary, ownership rights to the trust property, and the Trustee's power and duties in respect of the management and administration of the trust property.
A trust company as the Trustee acts as a custodian for trusts, estates, custodial arrangements, asset management, stock transfer, and beneficial ownership registration.
Asset Management
Using dynamically driven asset allocation, based on economic and market trends and our proprietary risk management techniques, the Trust Company, as trustee, makes decisions on behalf of clients. All the while ensuring the focus remains on the objectives of clients' customized investment strategy.
Alternatively, the Trust Company can help clients to develop investment strategies while providing expertise and advice, encompassing portfolio construction, asset allocation and re-investment suggestions.
Our asset management services and solutions include, but not limited to, the following:
Investment Portfolio Management
Investment Fund Management
Financial Planning Services
Financial Portfolio Management in Global Markets
Custody Services
Fast-paced, interconnected, and increasingly regulated, the global financial markets require an investor's constant attention. Asset custody refers to safekeeping of customer assets and rendering of fund clearing, accounting, valuation and supervisory duties and other services related with investment management under the client's entrustment.
As trustee, the Trust Company's specialized custody solutions complement other investment services, helping investment advisors and individual clients to fulfil a broader range of investment needs. The Trust Company strives to bring seasoned experience within the Group and a thorough understanding of the complexities involved in the custody process to every relationship. Our technology-enabled solutions help us to focus on our clients and intermediaries, in order to address the growing demand for alternatives.
Custody Solutions
Institutional Custody
Whether institutional clients need a qualified custodian, in order to satisfy regulatory requirements for your fund, or the need to protect physical documents in safekeeping, or require loan verification and certification for a lender, the Trust Company helps client organizations meet custody requirements and investor demand for transparency. The Trustee is your ally in the custody of investment assets, both traditional and alternative, to help institutions meet regulatory standards and high client expectations.
Investor Custody
It is important to work with a Trustee that specializes in and has the experience to administer a wide range of alternative assets as well as many different account types.
Types of Assets in Custody
While many financial institutions custody stocks, bonds and mutual funds, the Trust Company is an independent trust company that can custody both alternative and traditional assets.
Custody Services Benefits and Services
There are many reasons you may need a specialized custodian. The Trust Company can assist institutions and advisors to take advantage of the growing investor demand for alternatives. Whatever the reason, it is important to choose a custodian that understands the complexities of providing custody services for alternative assets. 
Leading The Way Towards A Sustainable Future
Standing as an industry-leading financial services group, Doo Group has been doing its utmost to deliver comprehensive financial services and create constant values to global clients. The Group offers a broad spectrum of tailored solutions for investing, financing, and wealth planning needs. Along the way, Doo Group has been unleashing potential opportunities in various fields to empower clients with a wider range of services.
The Trust Company has become the benchmark for Doo Group in forging a sustainable future and demonstrates the substantial strength of Doo Wealth as a Doo Group brand.
About Doo Group
Doo Group was established in 2014, currently headquartered in Singapore. After years of development, Doo Group has become a multi-faceted financial services group with financial technology as its core. With multiple sub-brands such as Doo Clearing, Doo Financial, Doo Prime, DooWealth, FinPoints and more, Doo Group is committed to provide trading and asset management services for over 20,000 financial products such as Securities, Futures, Forex, CFDs and Funds to global individual and institutional clients.
Currently, the entities within Doo Group, according to their location and products, are regulated by many of the top global financial regulators, including, but not limited to the United States Securities and Exchange Commission (US SEC) and Financial Industry Regulatory Authority (US FINRA), United Kingdom Financial Conduct Authority (UK FCA), the Australian Securities & Investments Commission (AU ASIC), the Hong Kong Securities and Futures Commission (HK SFC), the Hong Kong Insurance Authority (HK Insurance Broker), the Hong Kong Companies Registry (HK Trust Company), the Hong Kong Customs and Excise Department (HK Money Service Operator), the Seychelles Financial Services Authority (SC FSA), Mauritius Financial Services Commission (MU FSC), and the Vanuatu Financial Services Commission (VU FSC). Doo Group has entities operating in various global locations, including Dallas, London, Sydney, Singapore, Hong Kong, Dubai, Kuala Lumpur as well as other regions.
For enquiries and further information, please contact us:
Hong Kong: +852 6701 2091
Singapore: +65 6011 1736
Email: [email protected]
Forward-looking Statement
This article contains "forward-looking statements" and may be identified by the use of forward-looking terminology such as "anticipate", "believe", "continue", "could", "estimate", "expect", "hope", "intend", "may", "might", "plan", "potential", "predict", "should", or "will", or other variations thereon or comparable terminology. However, the absence of such terminology does not mean that a statement is not forward-looking. In particular, statements about the expectations, beliefs, plans, objectives, assumptions, future events, or future performance of Doo Group will be generally assumed as forward-looking statements.
Doo Group has provided these forward-looking statements based on all current information available to Doo Group and Doo Group's current expectations, assumptions, estimates, and projections. While Doo Group believes these expectations, assumptions, estimations, and projections are reasonable, these forward-looking statements are only predictions and involve known and unknown risks and uncertainties, many of which are beyond Doo Group's control. Such risks and uncertainties may cause results, performance, or achievements materially different from those expressed or implied by the forward-looking statements.
Doo Group does not provide any representation or warranty on the reliability, accuracy, or completeness of such statements. Doo Group is not obliged to provide or release any updates or revisions to any forward-looking statements.
Disclaimer
This information is addressed to the general public solely for information purposes and should not be taken as investment advice, recommendation, offer, or solicitation to buy or sell any financial instrument. The information displayed herein has been prepared without any reference or consideration to any particular recipient's investment objectives or financial situation. Any references to the past performance of a financial instrument, index, or a packaged investment product shall not be taken as a reliable indicator of its future results. Doo Group makes no representation and warranties to the information displayed and shall not be liable for any direct or indirect loss or damages as a result of any inaccuracies and incompleteness of the information provided. Doo Group shall not be liable for any loss or damages as a result of any direct or indirect trading risks, profit, or loss associated with any individual's investment.