MTE Media is an education provider with years of experience and development. With that, Doo Prime has added their services on our CRM platform for our clients.
In this collaboration, MTE Media is dedicated to providing us and our clients a tailored solution that will dramatically boost our clients' trading performance through top-quality education.
MTE Media comprises a group of professionals in the field of marketing, education, video production,  and translation. Furthermore, their team has developed the most robust and diverse educational platform out there.
Aligned with our main vision, we will work hand in hand in not only delivering educational tools for our clients but also enhancing their trading skills and knowledge through one single platform.
The new services available on Doo Prime's CRM includes online trading courses, eBooks, live market summaries, daily/weekly/monthly market summaries, as well as daily and weekly market reviews. Additionally, their services are available in several languages.
While there are several market research content providers, Doo Prime as a leading broker has chosen to feature the top-notch educational platform on our CRM system to prove our diligence in catering for both local and international clients as well as complying with the higher standards of practice in the online trading industry.
How to access MTE Media with Doo Prime?  
MTE Media is a cost-free platform entitled for all Doo Prime's clients. Additionally, it is available in multilingual on Doo Prime's CRM system without any additional charge.
Here's a brief manual on where you can find MTE Media's features on our CRM: 
Head to Doo Prime's website and login to your Doo Prime CRM account. Once that is done, you will be directed to the home page.
*If you do not have a Doo Prime Account yet, OPEN YOUR ACCOUNT NOW!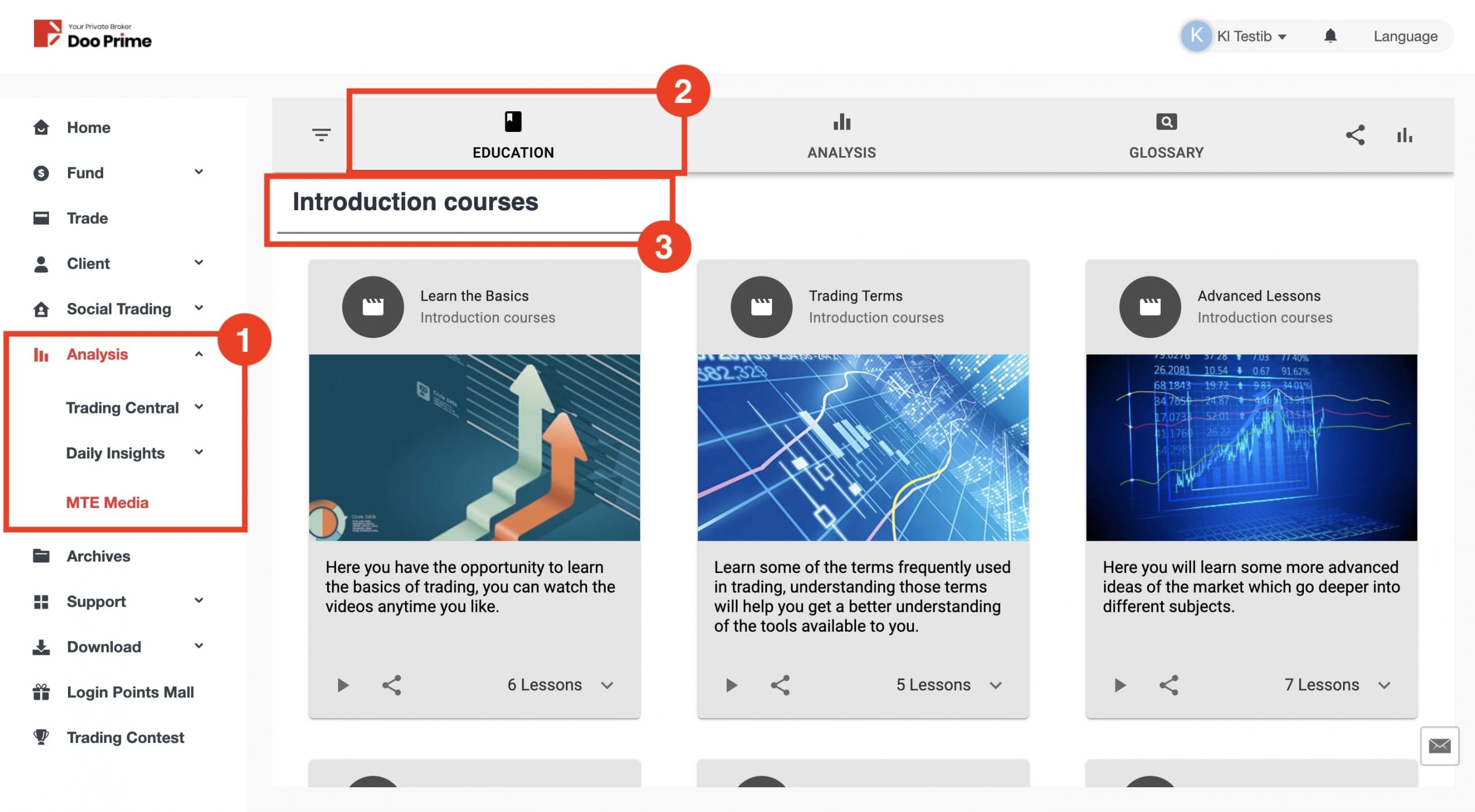 1.  Click on "Analysis", and select "MTE Media" located along the sidebar.
2.  On the main page of MTE Media, you will first see the "Education" category.
3.  This category includes "Introduction courses" which consist of basic trading lessons like Trading Terms, Social Trading, and ECN.
4.  As you navigate further down the "Education" page, you will find "In-depth courses" below "Introduction courses". The In-depth courses cover lessons on Trading Tools, CFDs, Stocks, and Trading Strategies.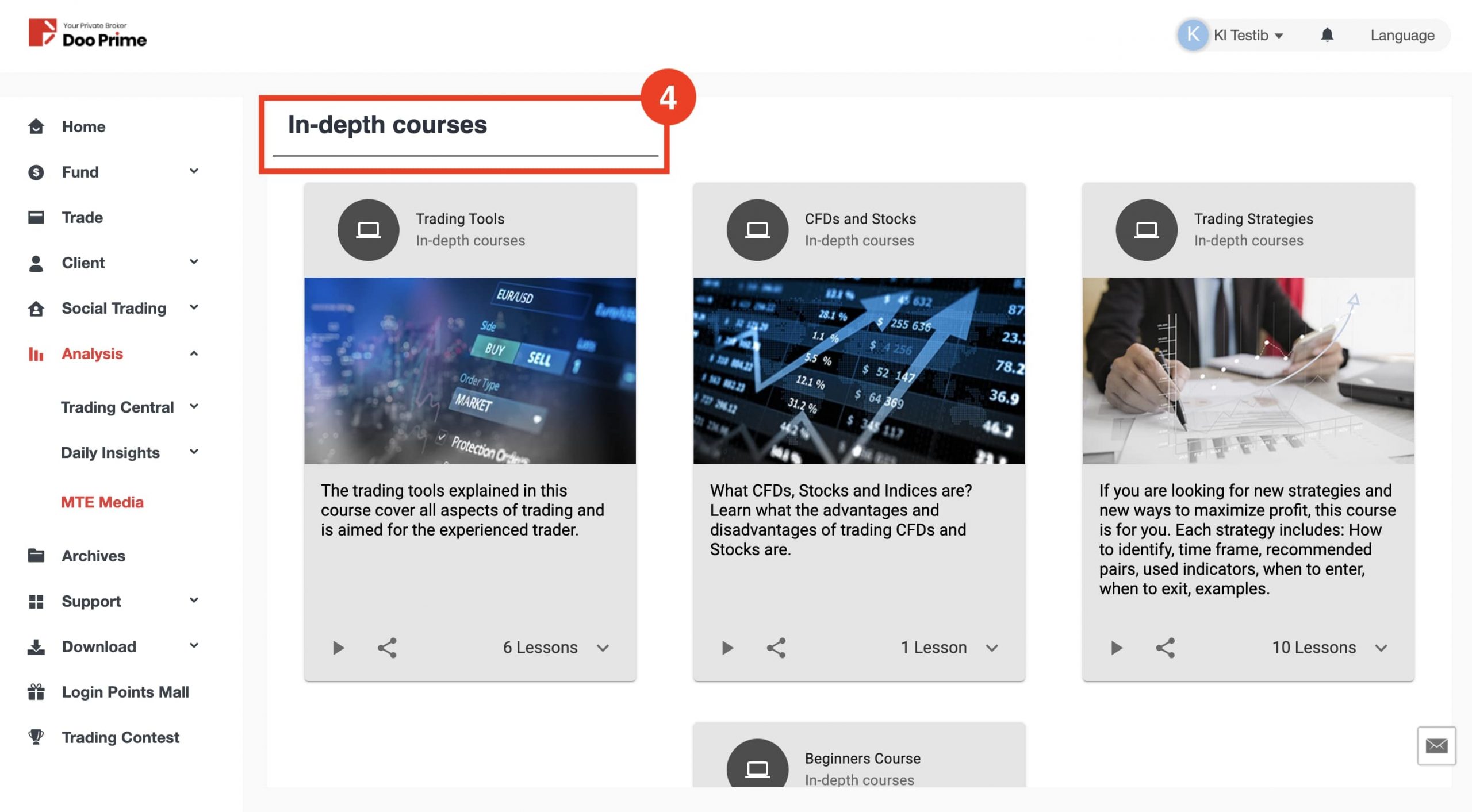 5.  The last sub-category under "Education" is "EBooks" where users can access up to 10 easy-to-read e-books on topics like Global Trading, Trading Psychology, and The Trading Market among others.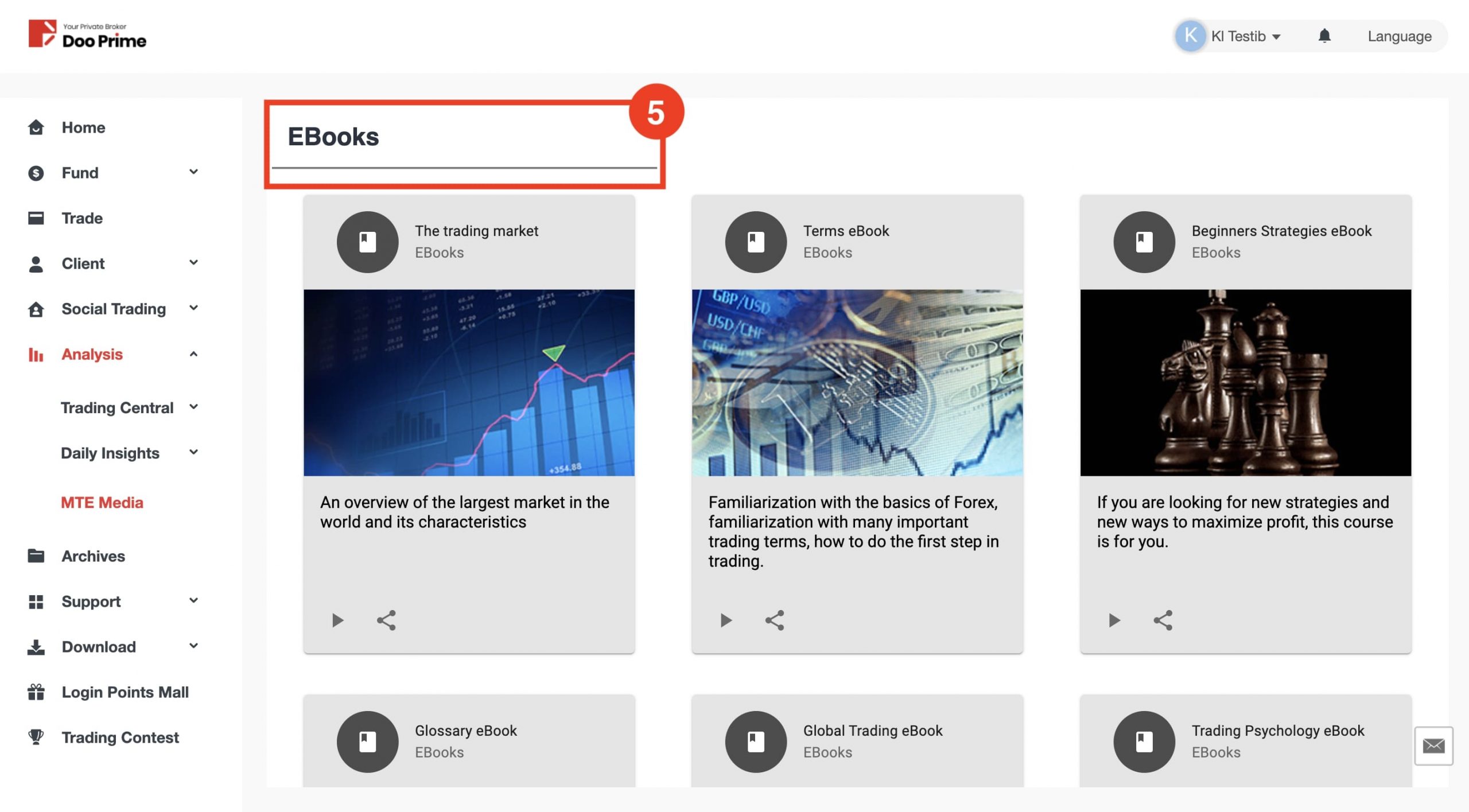 6. Under the "Analysis" page, you can find multiple trading signals, fundamental analysis, and technical analysis.
7. MTE Media provides live signals as well as other trading signals on commodities, indices, stocks,  and currencies.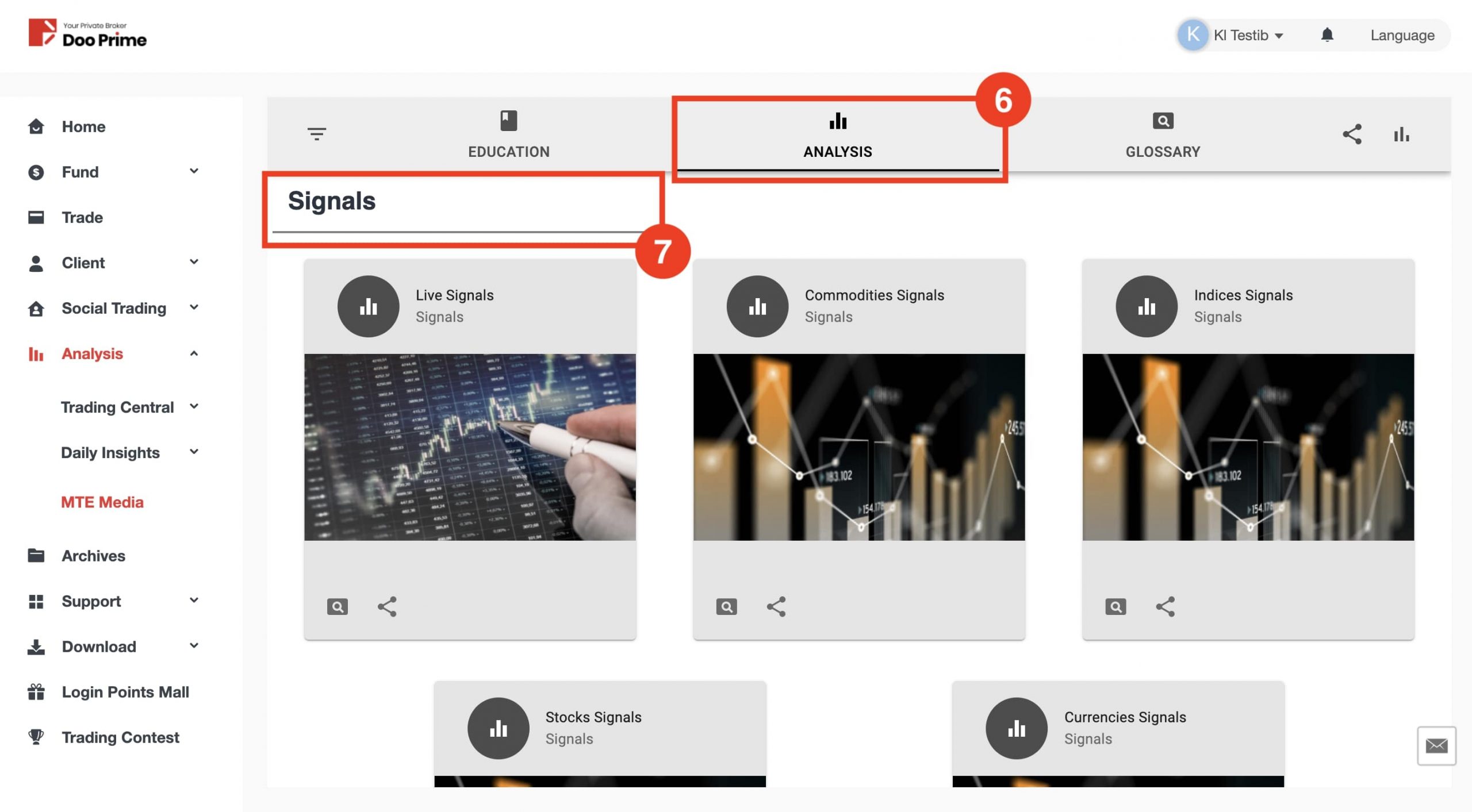 8. As you scroll further down, you will see the "Fundamental Analysis" section which comprises the Economic Calendar and alongside Market News.
9. The "Technical Analysis" found right after "Fundamental Analysis". This section contains daily analysis videos, commodities charts, indices charts, stocks charts followed by currencies chart.
10. Moving on to the last category of MTE Media; "Glossary". The glossary provided covers precise definition of all trading related terms featured under "Education" listed from A-Z.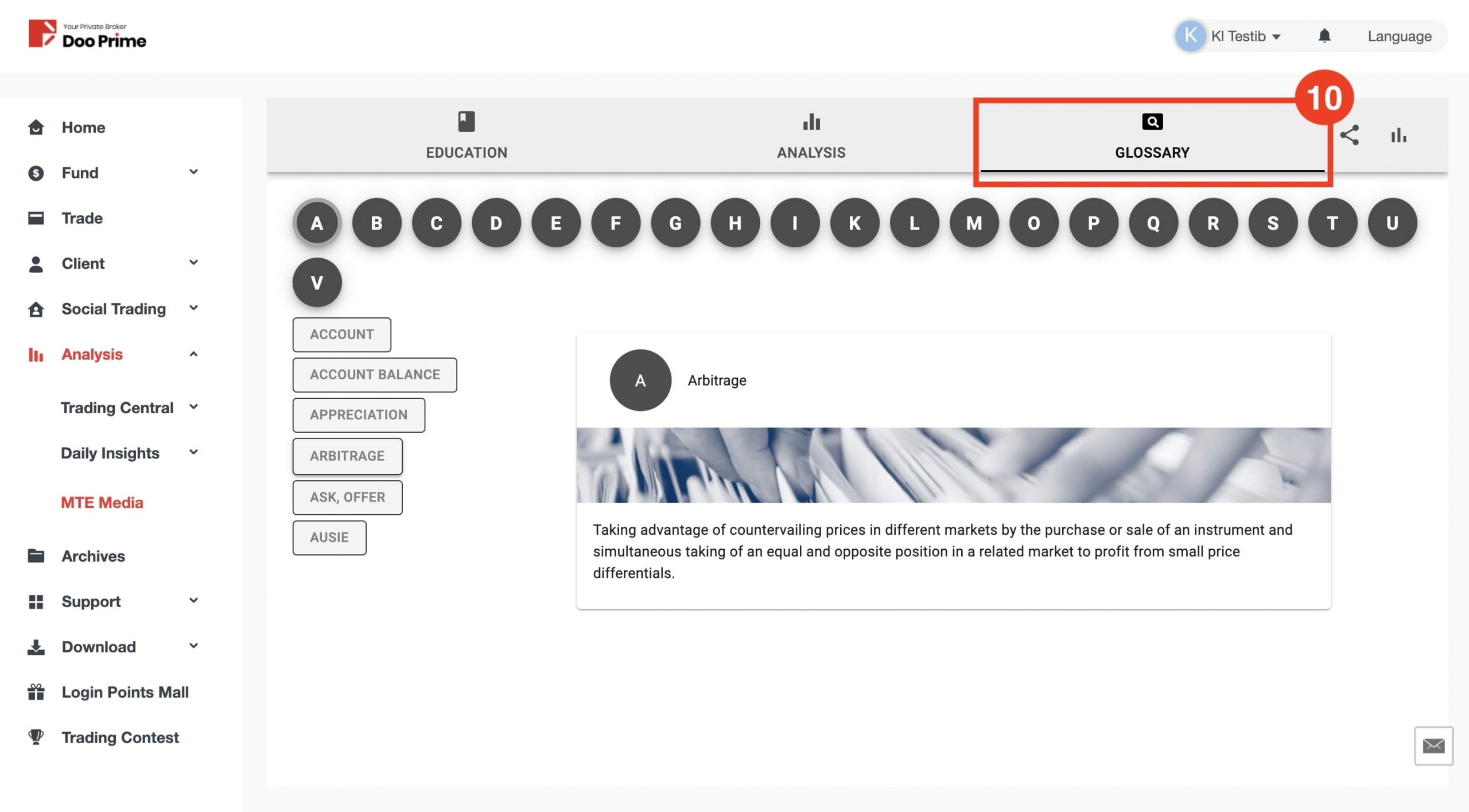 Through and through, we hope the cooperation between Doo Prime and MTE Media will elevate our clients trading experience with us as we keep striving to constantly upgrade and improve our trading platform along the way.
All of MTE Media materials can be accessed for free without any restrictions for Live Account holders at Doo Prime.
Please do not hesitate to contact us at [email protected] if you need any further assistance.