Doo Prime has been employing Trading Central, a premium, one-stop platform for investment decision support.  
Trading Central is an award-winning fusion of automated AI analytic and registered investment adviser expertise spans fundamental, technical, news, sentiment and economic analysis. This scope enables Trading Central to deliver suitable solutions to everyone in Doo Prime's clients base from new investors to experienced traders.
Trading Central's DNA blends decades of trading floor experience with pattern recognition. AI algorithms and big data for crunching and enabling Trading central to support Doo Prime's business in manners other vendors can't. With that, Doo Prime's clients will benefit from a talented team of market analyst to support the mutual success of trading and investing.
In short, Trading Central is a fintech company that provides transaction analysis related to derivatives services and it has cooperated with many of our associates alongside some large fintech and online trading platforms.
Aligned with Doo Prime's main ethos Trading Central will support our brokerage business by facilitating the long-lasting success of Doo Prime's investing customers.
The products that we are collaborating on are the Analyst Views, Featured Idea, Economic Insight, and Web TV.
Doo Prime has chosen Trading Central's technical analysis package which is intensified in real-time, actionable trading opportunities for our most popular trading product. All demo and live account clients have access to our Daily Market Report, and live account traders also receive log in details to access Trading Central's brand new MetaTrader 4 Indicator and the Trading News Portal.
Trading Central Adaptive Indicators are known as the charting revolution. At Doo Prime, we support clients to make more educated trading decisions. Therefore, we offer different sets of Trading Central indicators to use on our clients' MT4 account.
The main indicators available on Trading Central for Doo Prime's customers include the Analyst Views, Adaptive Candlesticks, and Adaptive Divergence Convergence.
Doo Prime  
As an international online broker, Doo Prime is dedicated to providing clients with more diversified trading products. By breaking borders between different financial product trading markets, it links markets of stocks, futures, currencies (Forex), precious metals, CFDs, and cryptocurrency together to facilitate clients' investment in as many types of financial products as possible with one account. In this way, one-stop worldwide investment is possible.
Doo Prime prevails over other traditional brokers by cooperating with different banks, futures exchanges, as well as large hedge funds, which is the core competitiveness of us.
As the world's leading provider of liquidity, Doo Prime offers a wide range of currency trading products, including direct, cross, and minority currency pairs. When you download the Doo Prime trading platform, you will be able to trade more than 60 currency pairs worldwide.
With our strong vision and technological strength as core, we are dedicated to provide superior clients services, stable trading conditions, competitive trading cost, ms-level trading execution, diversified trading products, secure and reliable capital guarantee and top-class international supervision. We strive to provide the best service to our clients regardless of how much money is traded on the forex market daily.
How to access the Trading Central platform with Doo Prime? 
Trading Central is a cost-free platform entitled for Doo Prime's clients. Additionally, clients can use it in both the Metatrader 4 and MetaTrader 5 trading platforms provided by Doo Prime without any additional charge.
These are the following steps to access the Trading Central platform from Doo Prime:  
Step 1:
Open your Doo Prime CRM system, click on "Analysis" button, and select the Analyst Views under this page
*If you do not have a Doo Prime Account yet, OPEN YOUR ACCOUNT NOW!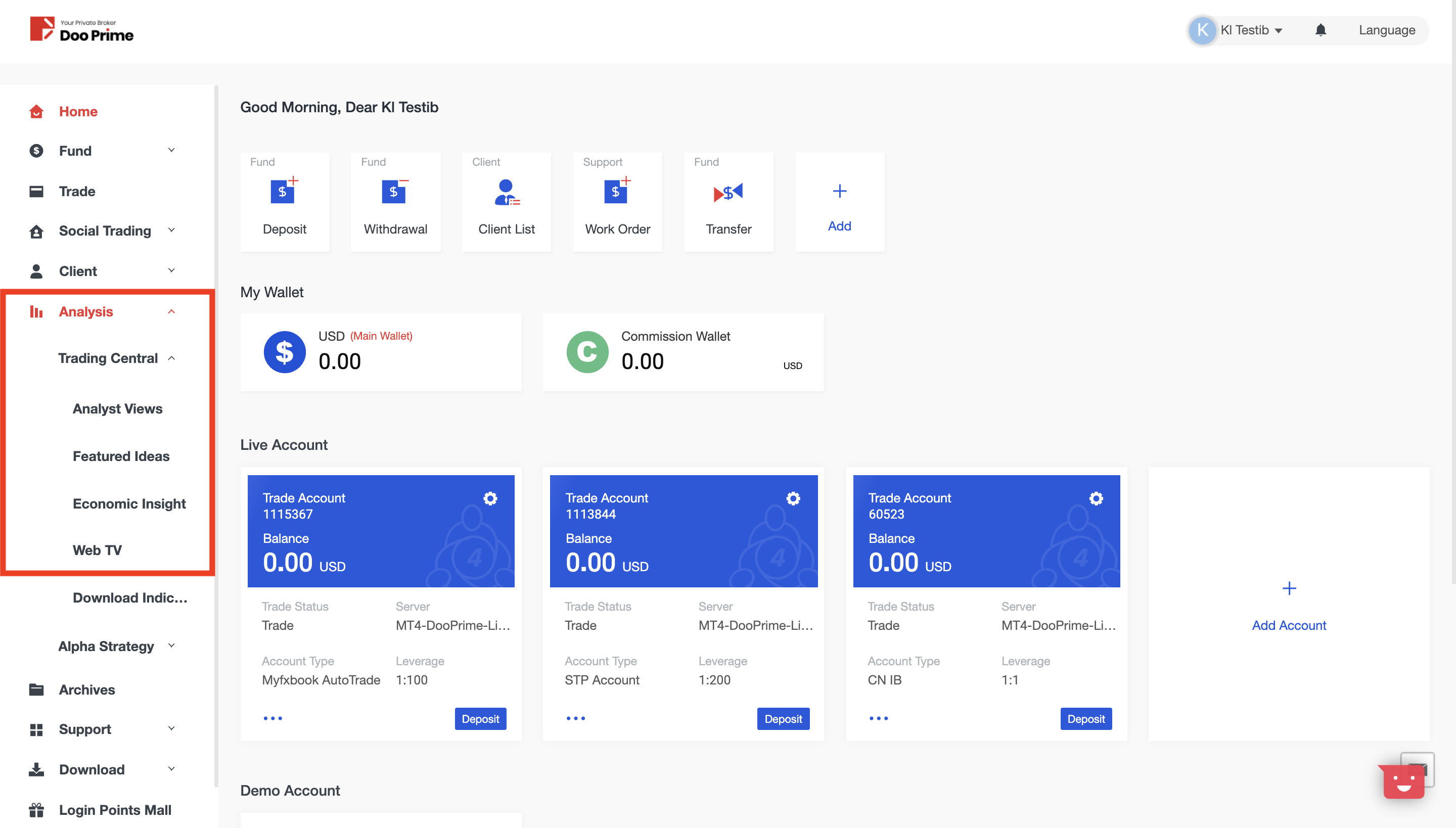 Click on "Download Indicators" to download Trading Central's indicator to your MetaTrader4 from the Doo Prime CRM system.
To directly download the indicator from Doo Prime's CRM User Center, please click here.
Step 2: 
Once the download is completed, double-click on the installer to launch it and select your preferred language during the installation.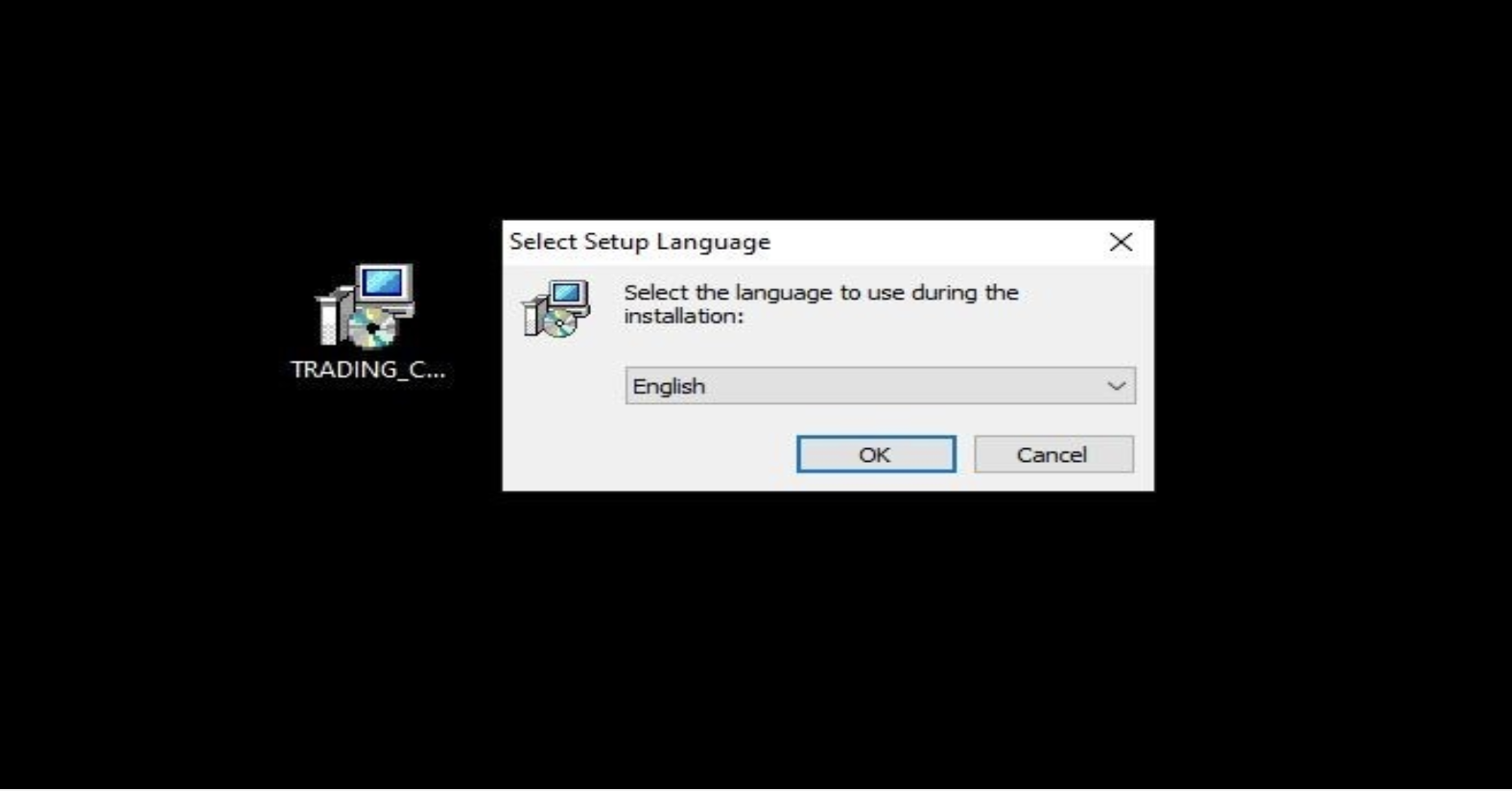 Step 3:  
On the first installation screen, select "Next" to begin the installation process.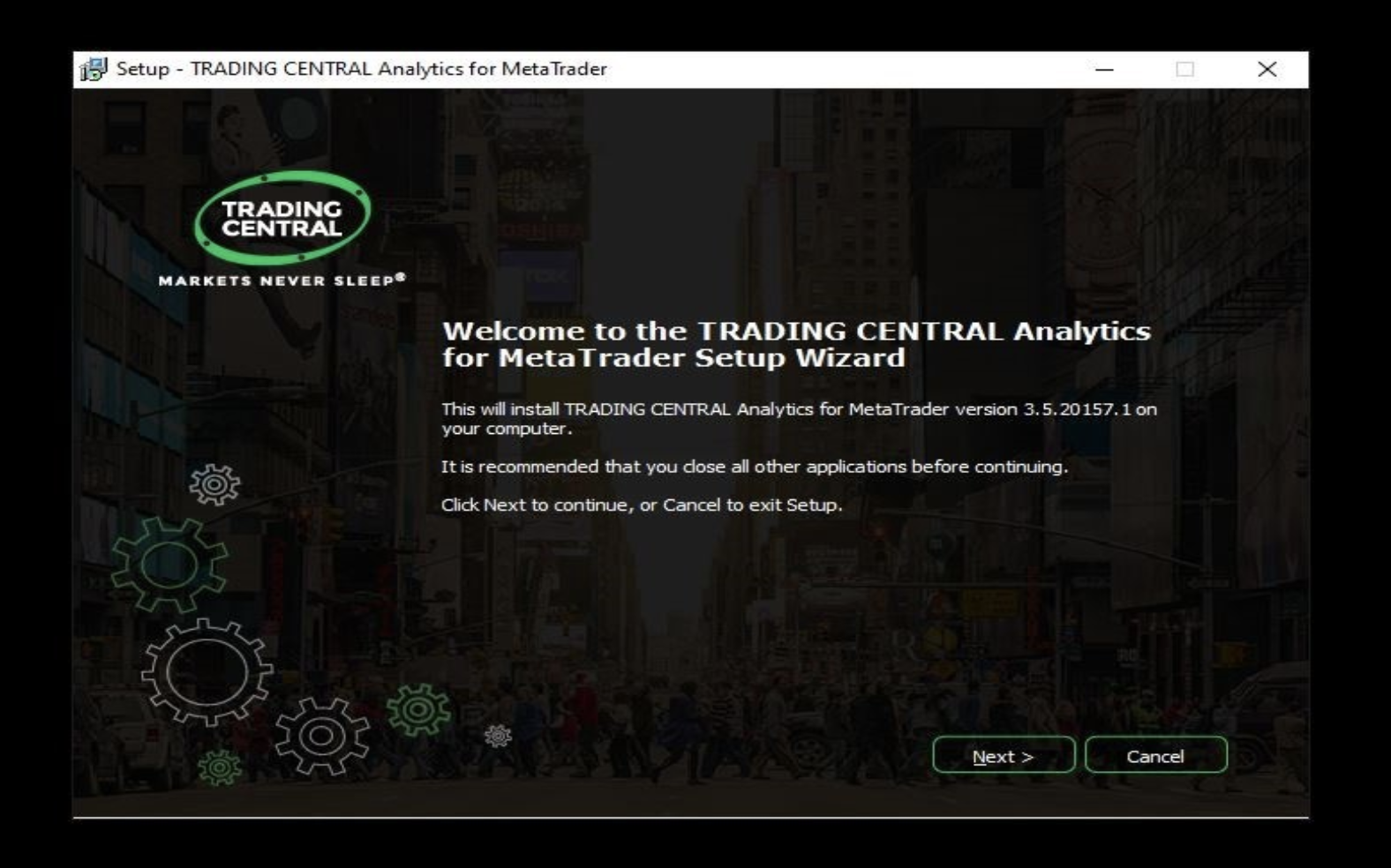 Step 4:  
Review the License Agreement and then click "Next" to continue.
Step 5:  
Select the Doo Prime MT4 Terminal and click "Install" to apply Trading Central's indicators. If the terminal is not listed on this page, please click "Browse…" and select the terminal data folder manually.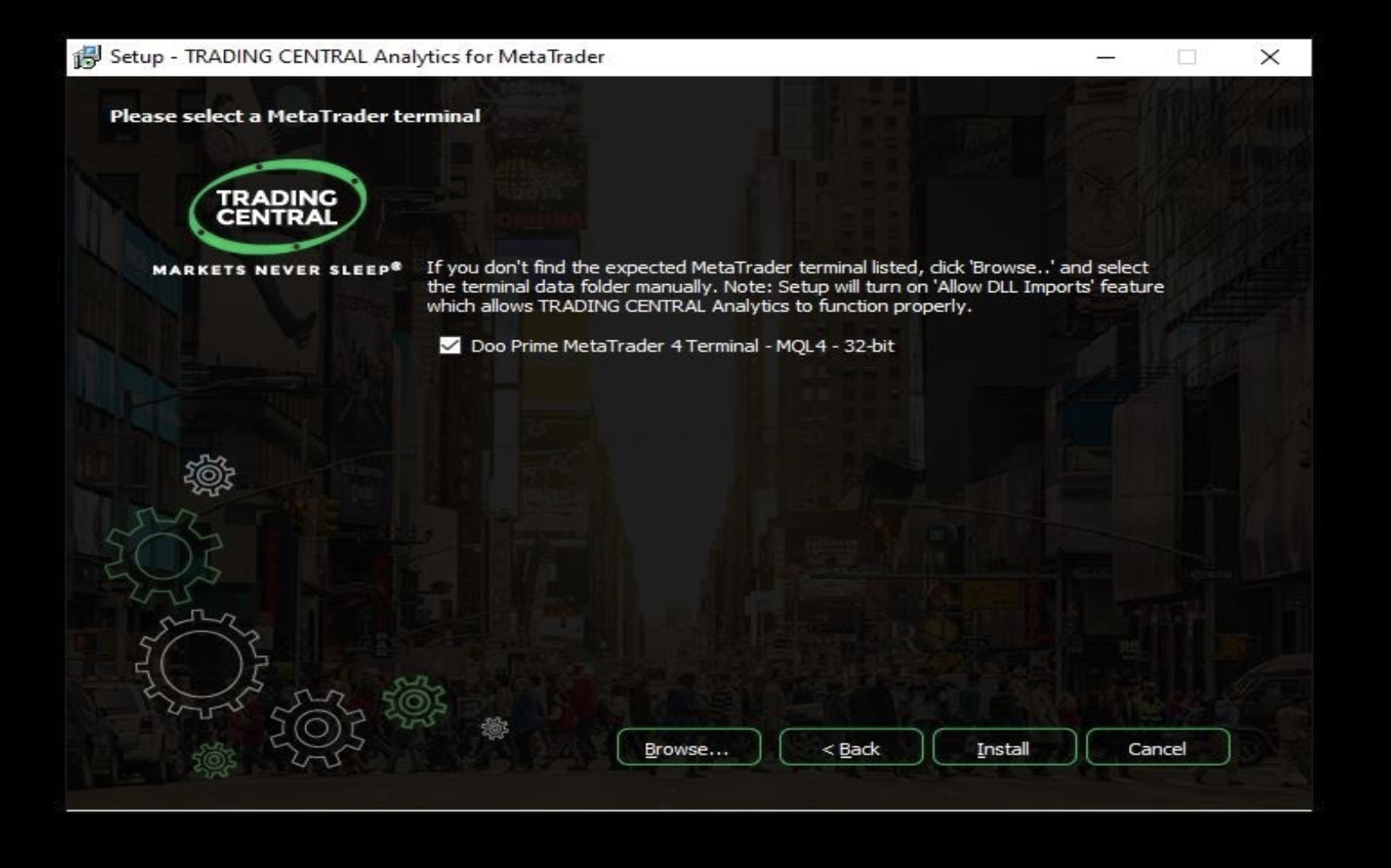 Step 6:  
Once the installation is completed, you can click "Finish" to exit the setup and view the user guide.
Step 7:  
Now restart your Doo Prime MT4 Terminal and login to your account.
Step 8:  
Go to the Navigator column and expand the Indicator folder.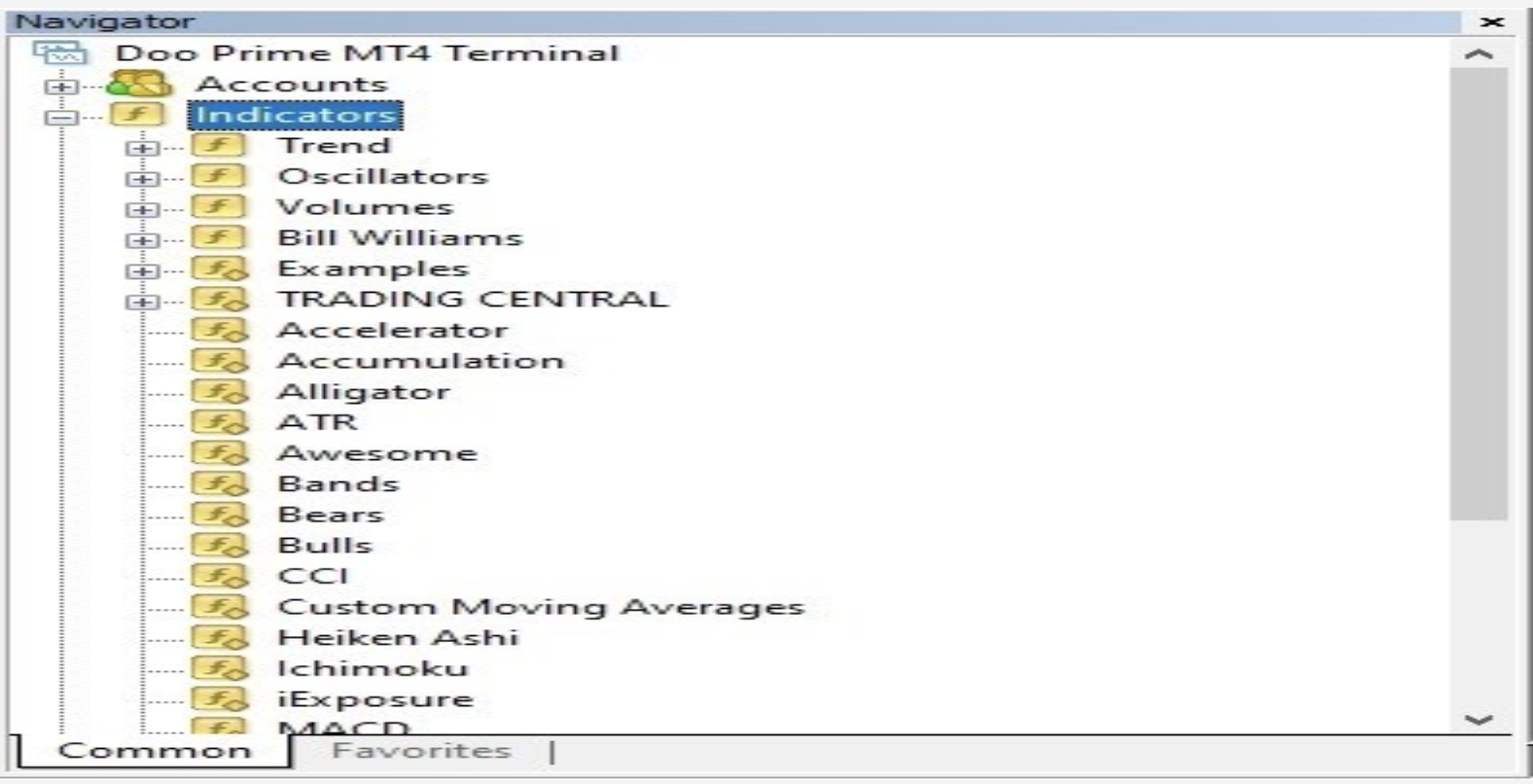 Step 9:  
Look for the TRADING CENTRAL folder and expand it to view all Trading Central's indicators.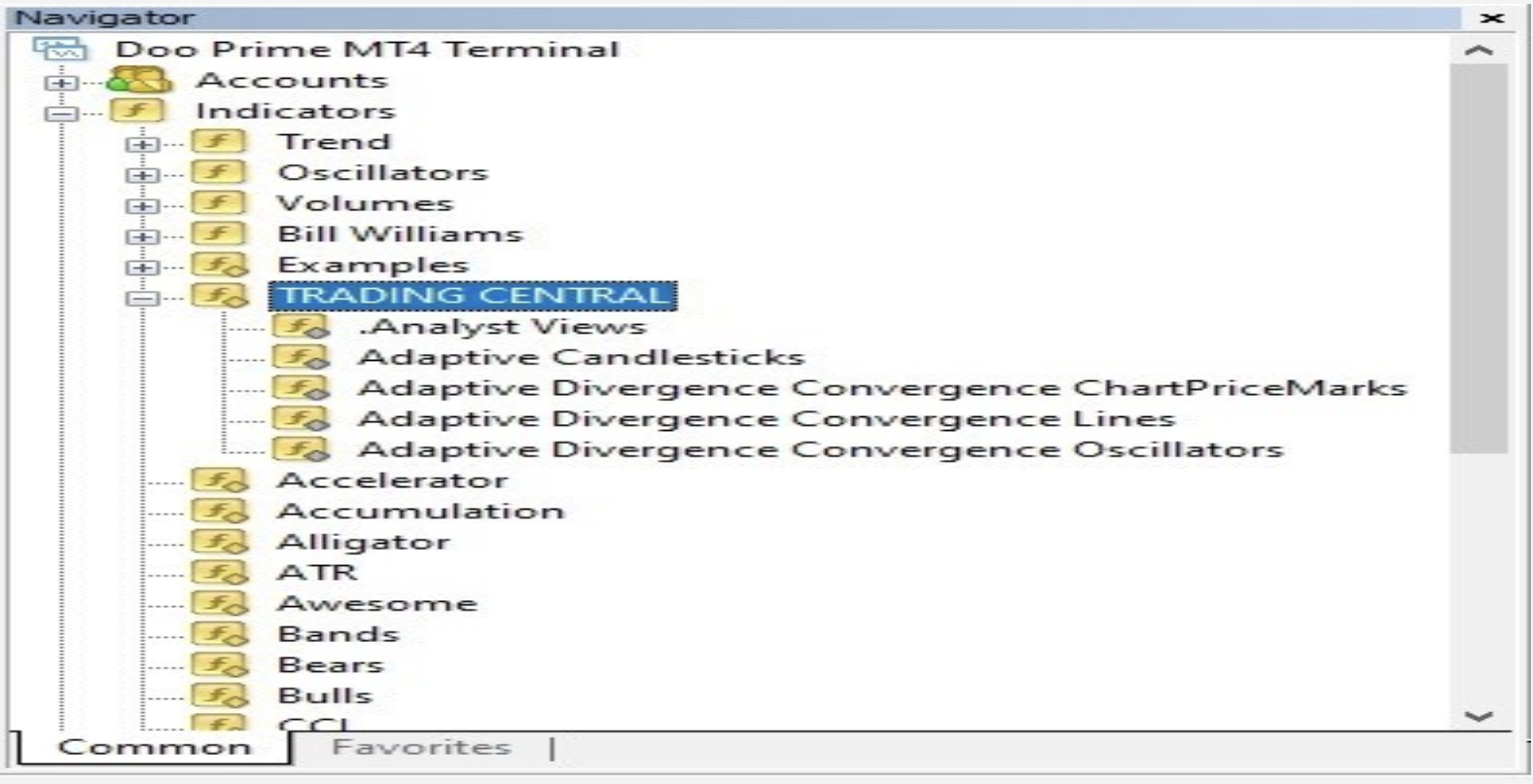 Step 10:  
Click and drag the indicators to a chart to view the technical analysis by Trading Central. You can even customize how you would like the indicator to be shown on the chart.

Step 11:  
Now you can start trading with an edge!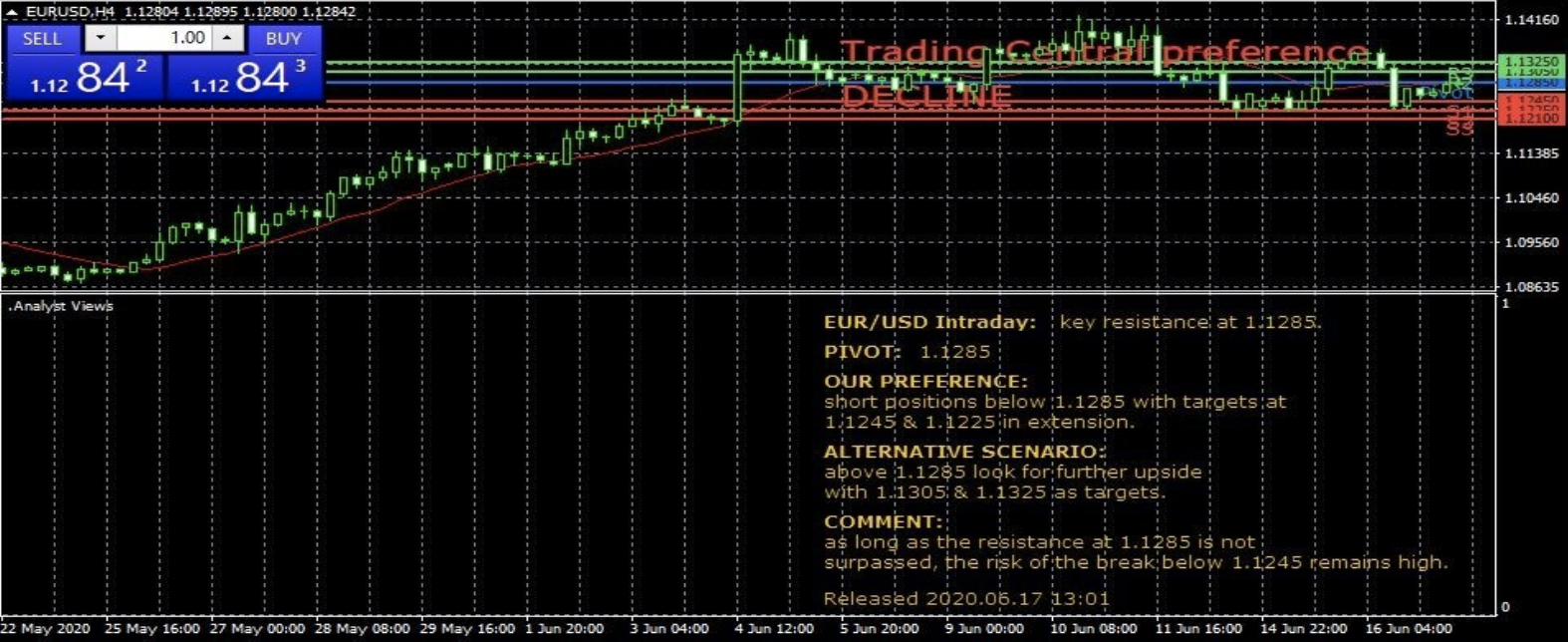 All indicators can be downloaded for free and will be activated automatically for Live Account holders at Doo Prime.
Please do not hesitate to contact us at [email protected] if you need any further assistance.
Risk Warning:  
Forward Rate Agreements, Options and CFDs (OTC Trading) are leveraged products that carry a substantial risk of loss up to your invested capital and may not be suitable for everyone. Please ensure that you understand fully the risks involved and do not invest money you cannot afford to lose. The information provided can under no circumstances be considered as a recommendation to engage in any trade.  
Our group of companies through its subsidiaries is licensed by the Financial Conduct Authority (FCA), Vanuatu Financial Services Commission (VFSC), and Mauritius Financial Service Commission (FSC).  
MetaTrader Trading Platform (MT4) is the proprietary product of MetaQuotes Software Corp. MT4 is a brand name of MetaQuotes Software Corp.  
Trading Central is the propriety product of TRADING CENTRAL ™