InTrade Web Version is Here! 
Learn how to access it in 8 easy steps 
Doo Prime has recently launched our very own web version of InTrade, in which users can directly access without downloading the trading software. Just by logging in to the CRM system, users can now swiftly enter InTrade with just a single click on the "Web Trading" button added on the homepage.
Backed by our powerful cloud network and technology, InTrade web version provides real-time market depth and accurate trend charts, as well as professional technical analysis indicators such as Relative Strength Index (RSI), Moving Average Channel, Bollinger Band, and more to help traders speculate and trade CFDs on Forex, Precious metal, Energy, Indices, Securities, and Futures conveniently.
Here's a brief tutorial on using InTrade web version via our CRM:  
1. Head to Doo Prime's website and login to your Doo Prime CRM account. Once that is done, you will be directed to the home page.
If you are a new user, please sign up for a trading account now on the Doo Prime website. Once you have provided all documents and information required, our team will process the account application as soon as possible.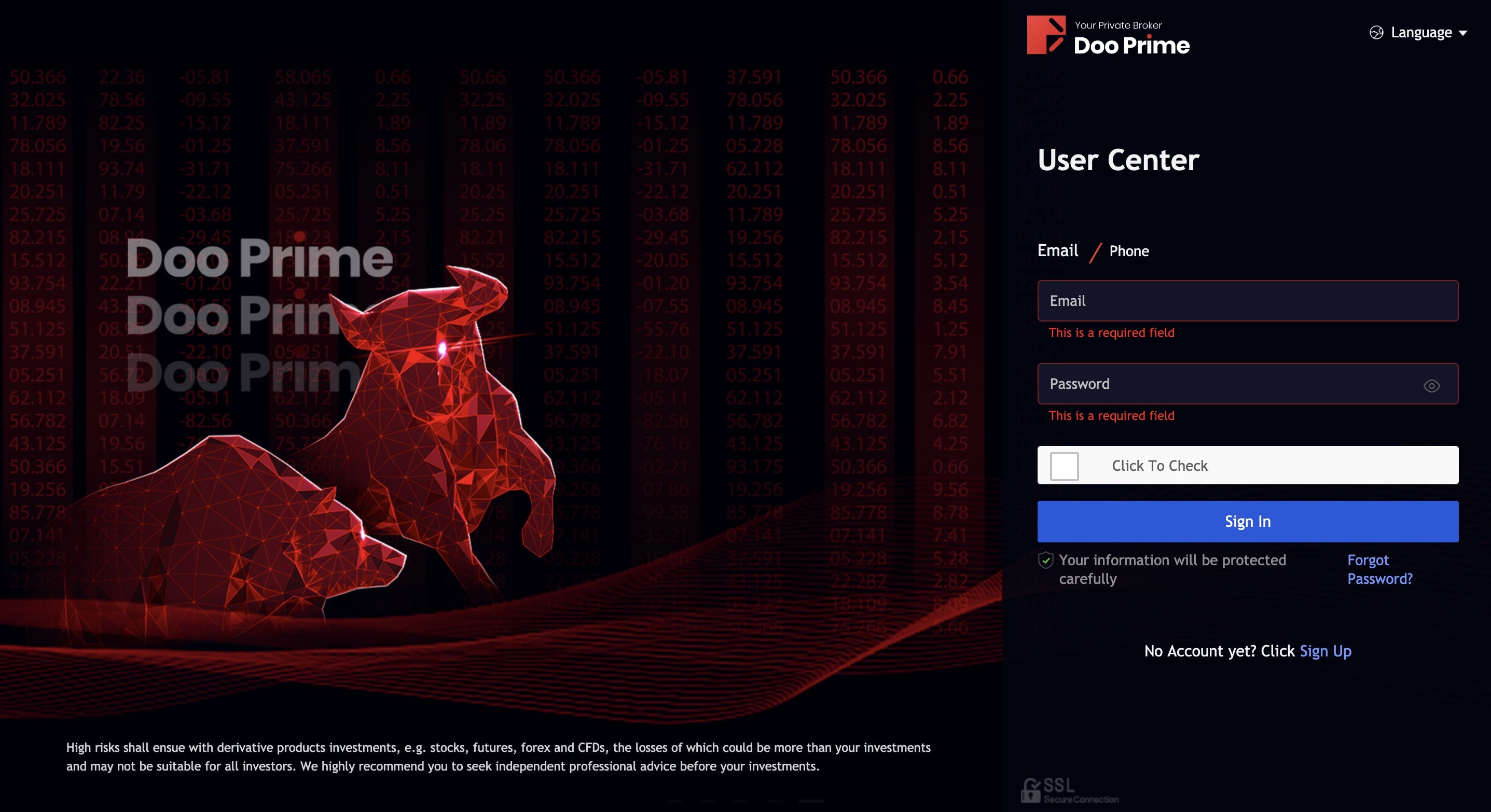 2. At Doo Prime CRM system's homepage, scroll down to the "Live Account" section. Then select your preferred trade account, and click on "Web Trade" located at the bottom right of the account information bar.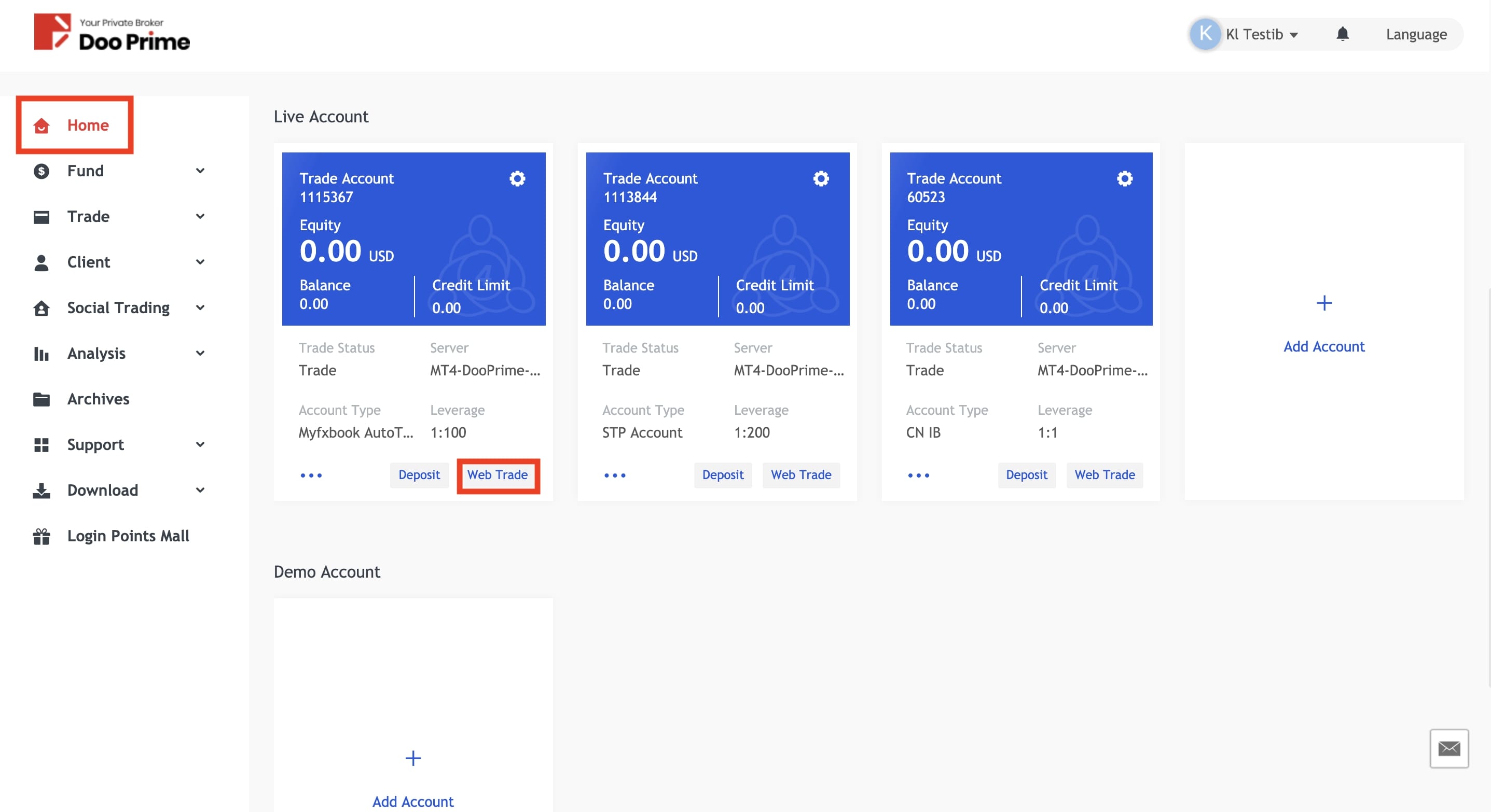 3. You will then be redirected to the InTrade web version shortly. At the top of the page, you will see your trading account balance, equity, margin, free margin, and total profit. Here, you can also click on your current trading account number to switch to another account.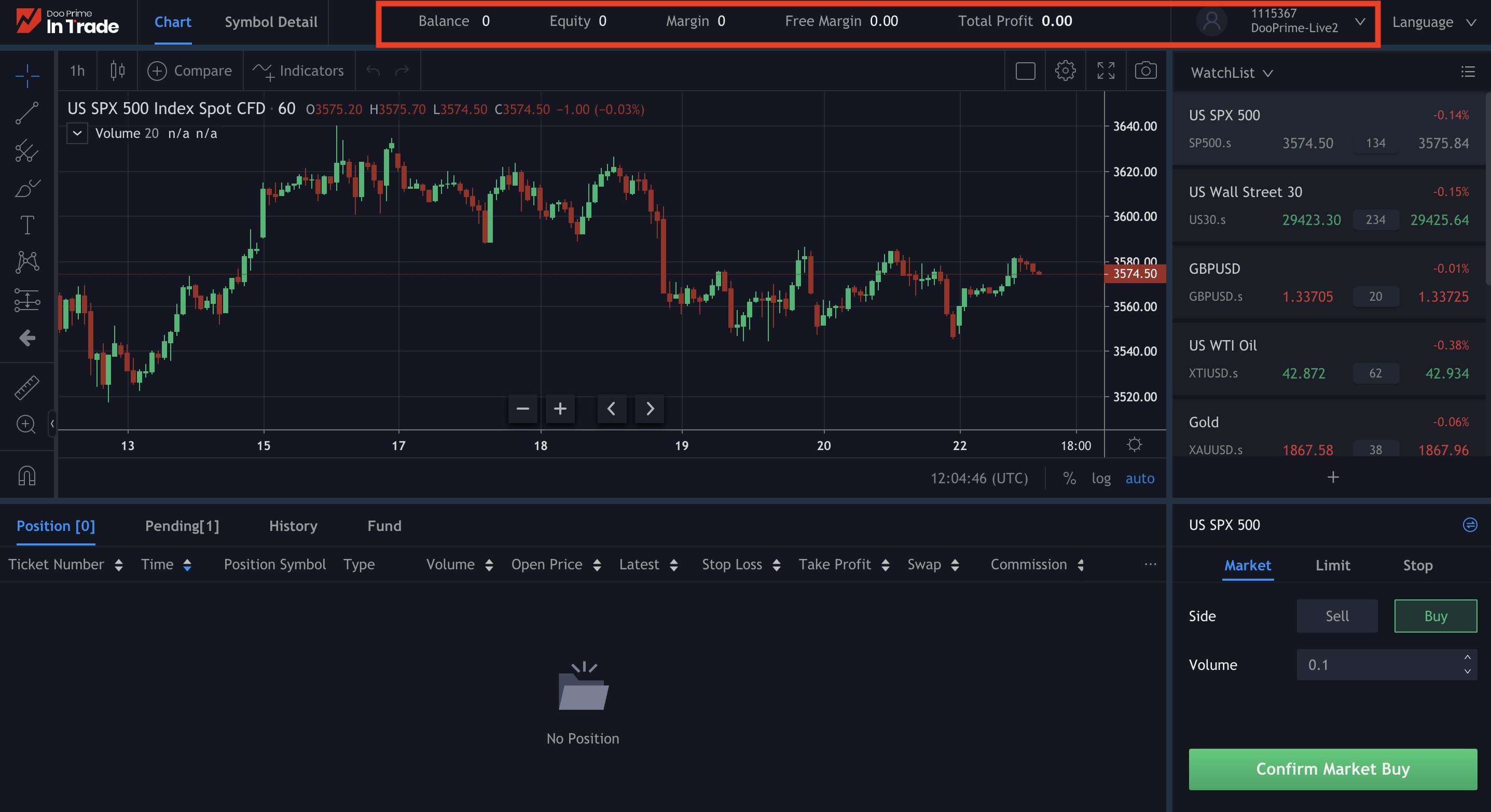 4. Additionally, you can select and customize your "Watchlist" by clicking on "+" symbol at the bottom of the list, and browse from different category such as "Popular", "Forex", "Commodity", and "Index" or simply search for your favorite trading instruments.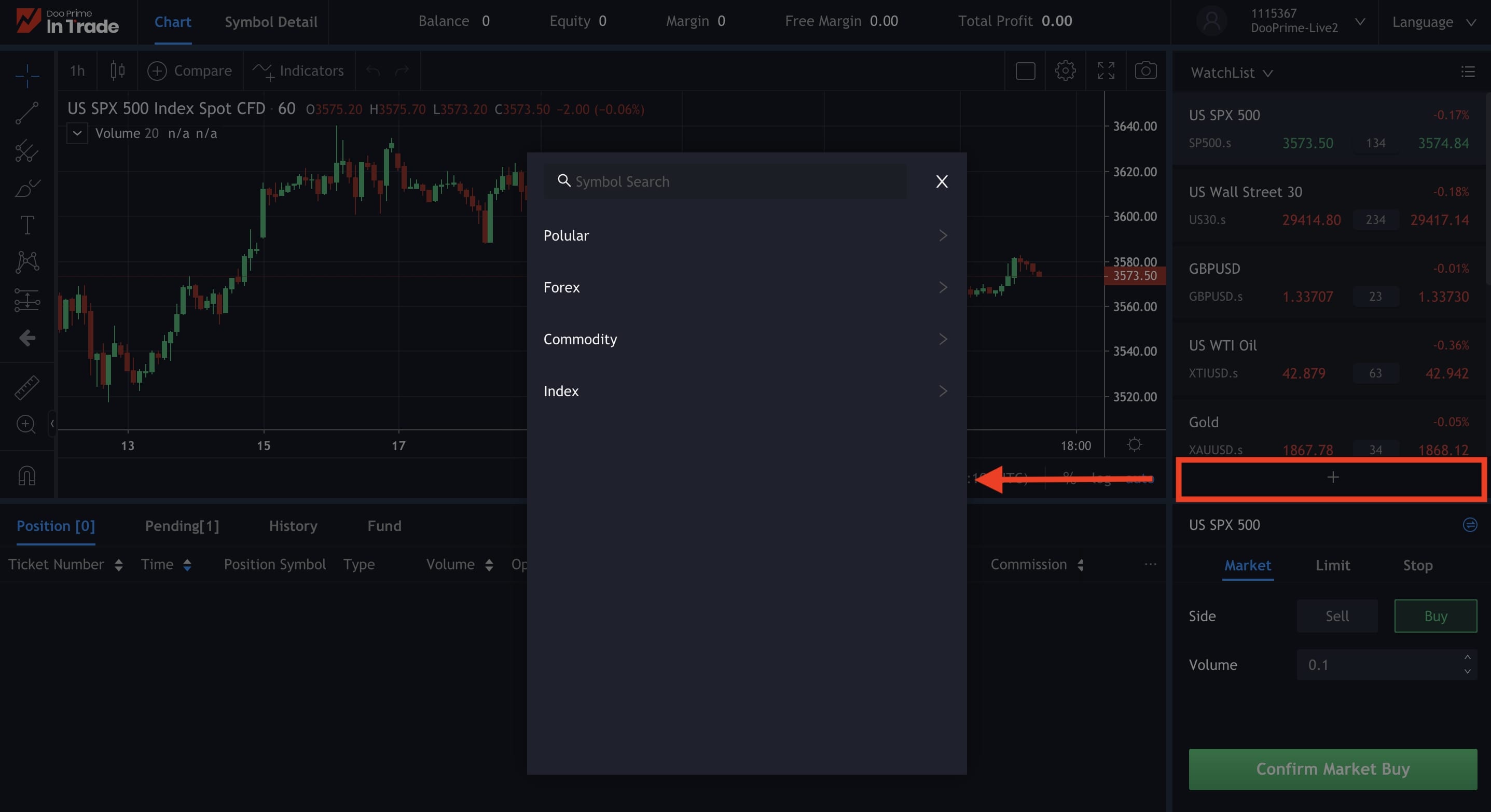 5. After selecting your preferred trading instruments, the chart of the selected trading instruments will be displayed on the left side of the webpage.
Moreover, you can click the "Symbol Detail" button above to view its market depth, product rules, and trade sessions.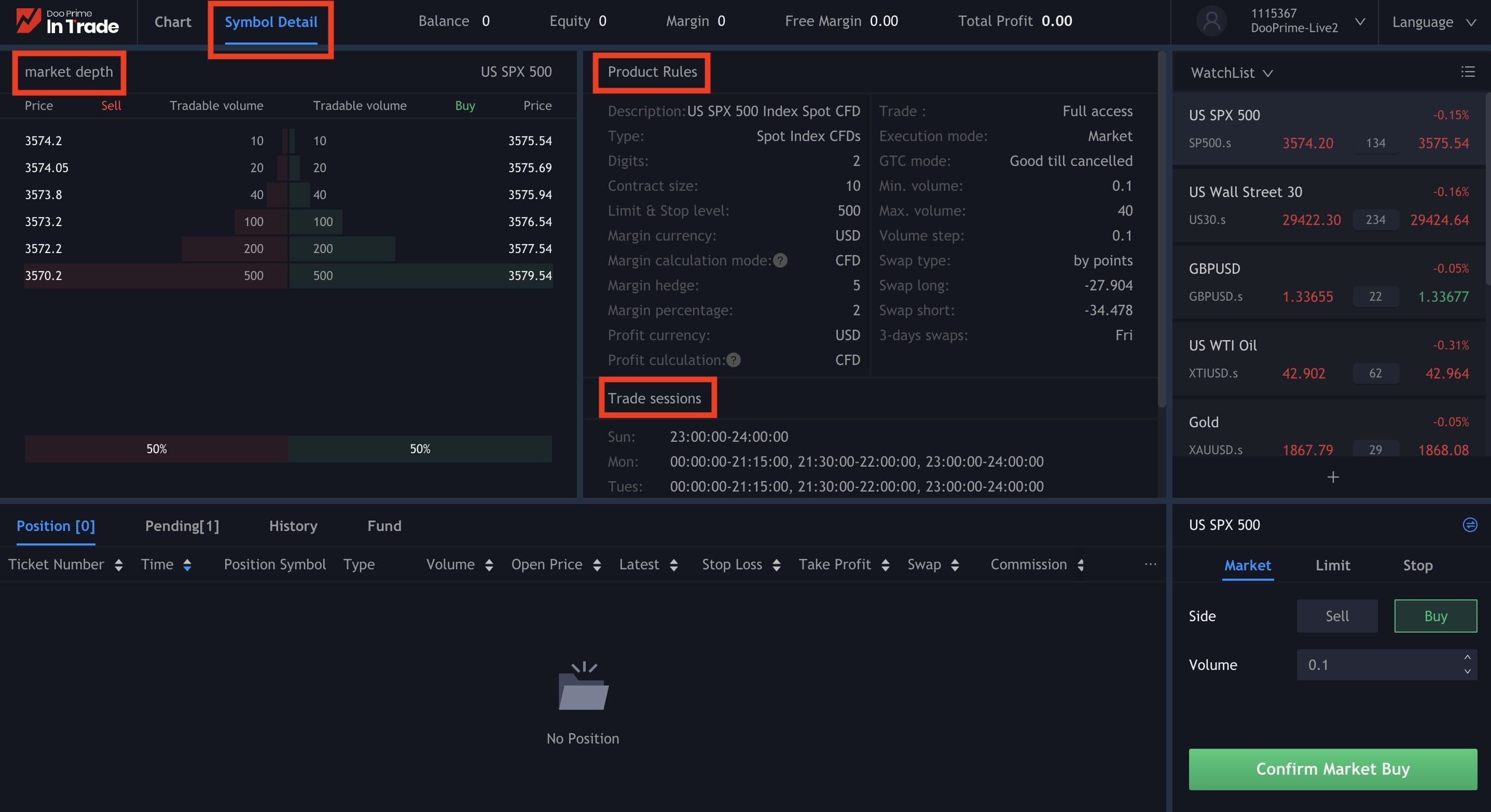 6. As shown in the figure below, InTrade web version includes features such as various technical indicators and tools bar located along the horizontal and vertical sidebar for users to analyze trades.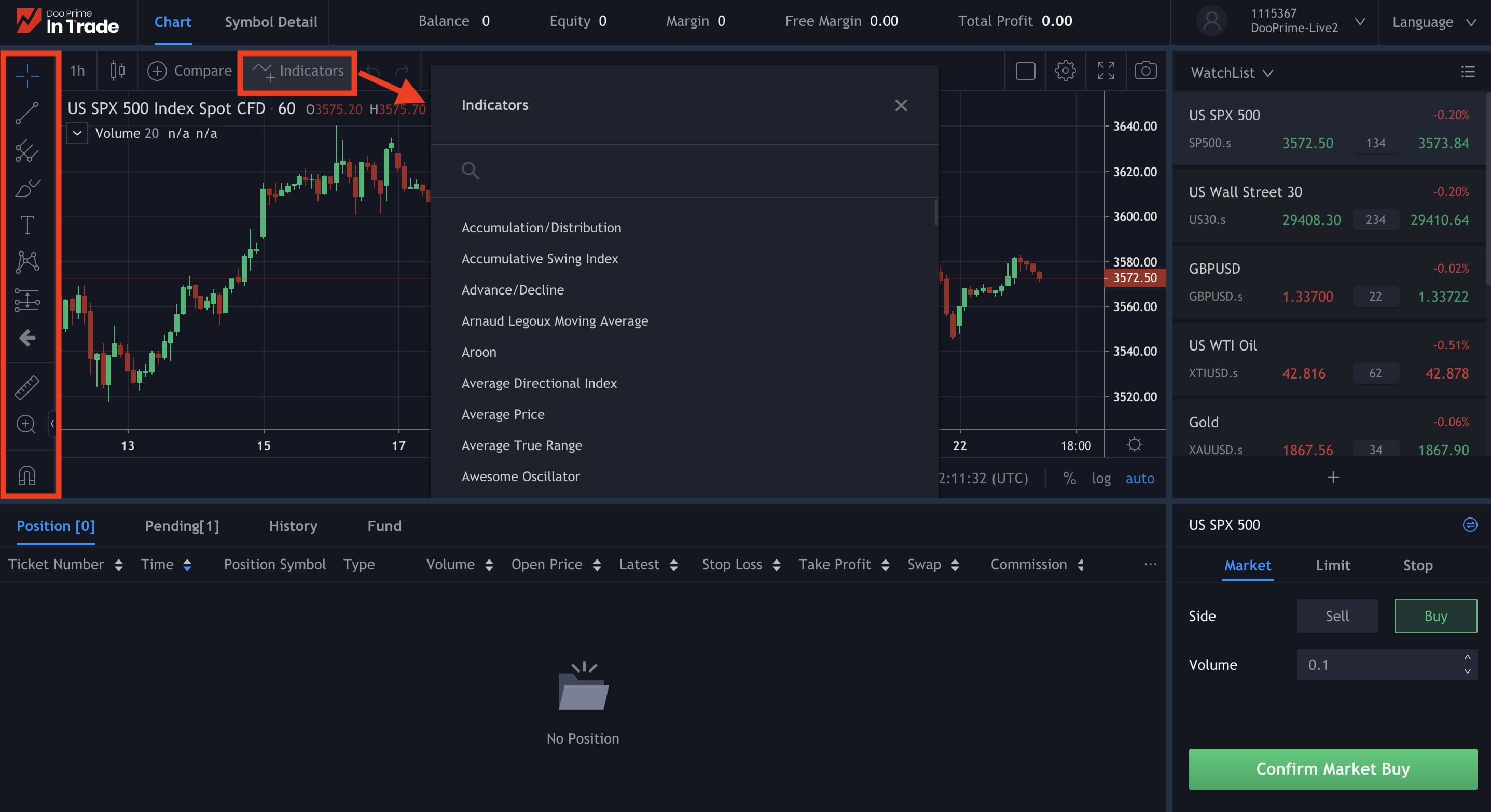 7. When you have decided on your trade, you can select your order type: market order, limit order, or stop-loss order in the trading form at the bottom right corner of the webpage. Then, select your preferred trading side, enter your desired trading volume, and click "Confirm Market Buy" seen at the bottom of the form to submit your order.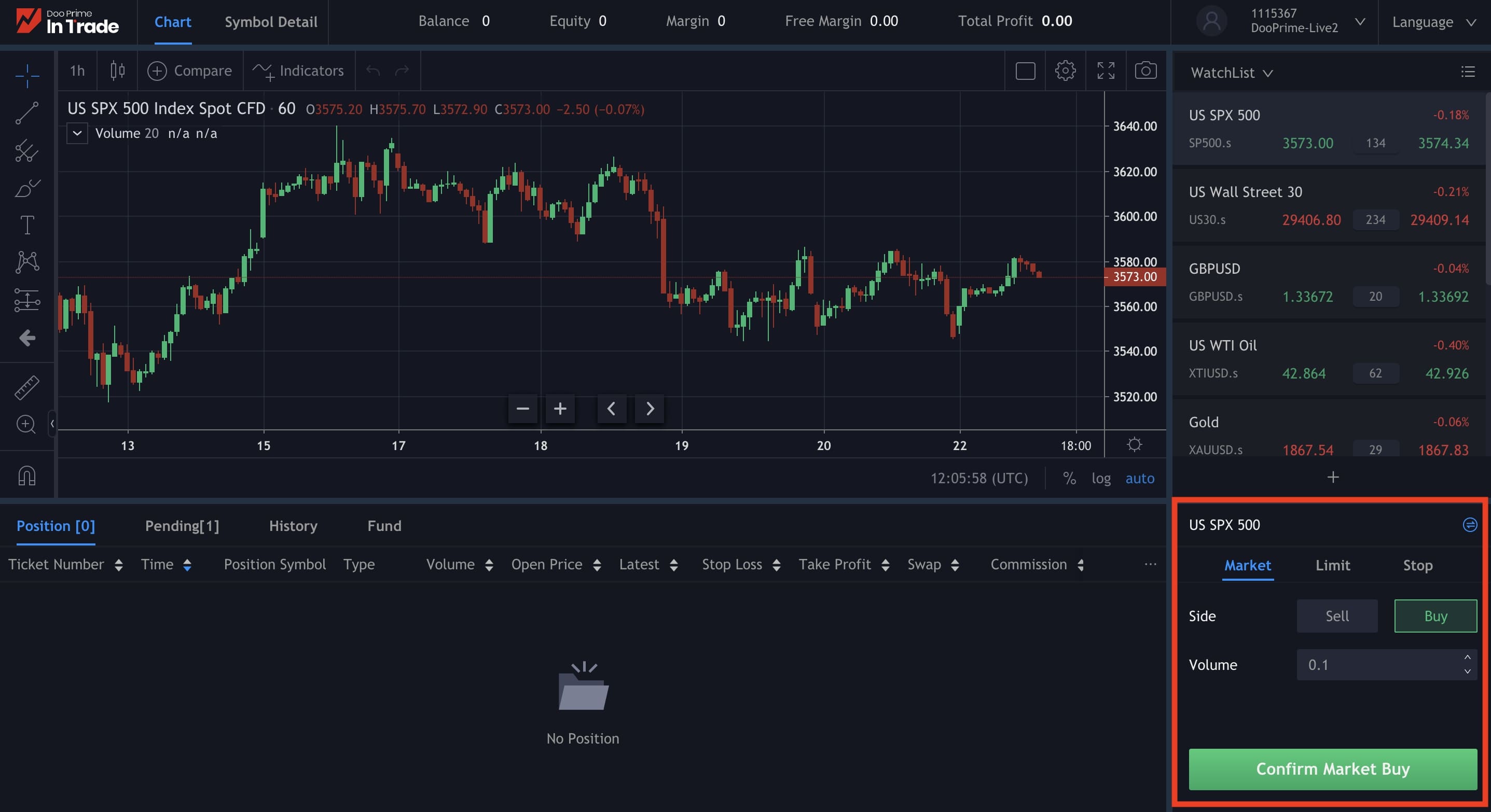 8. In the lower section, you can check on your account fund, history, and the current status of your orders. Successfully traded orders will be found under "Positions" while others can be found according to their own category.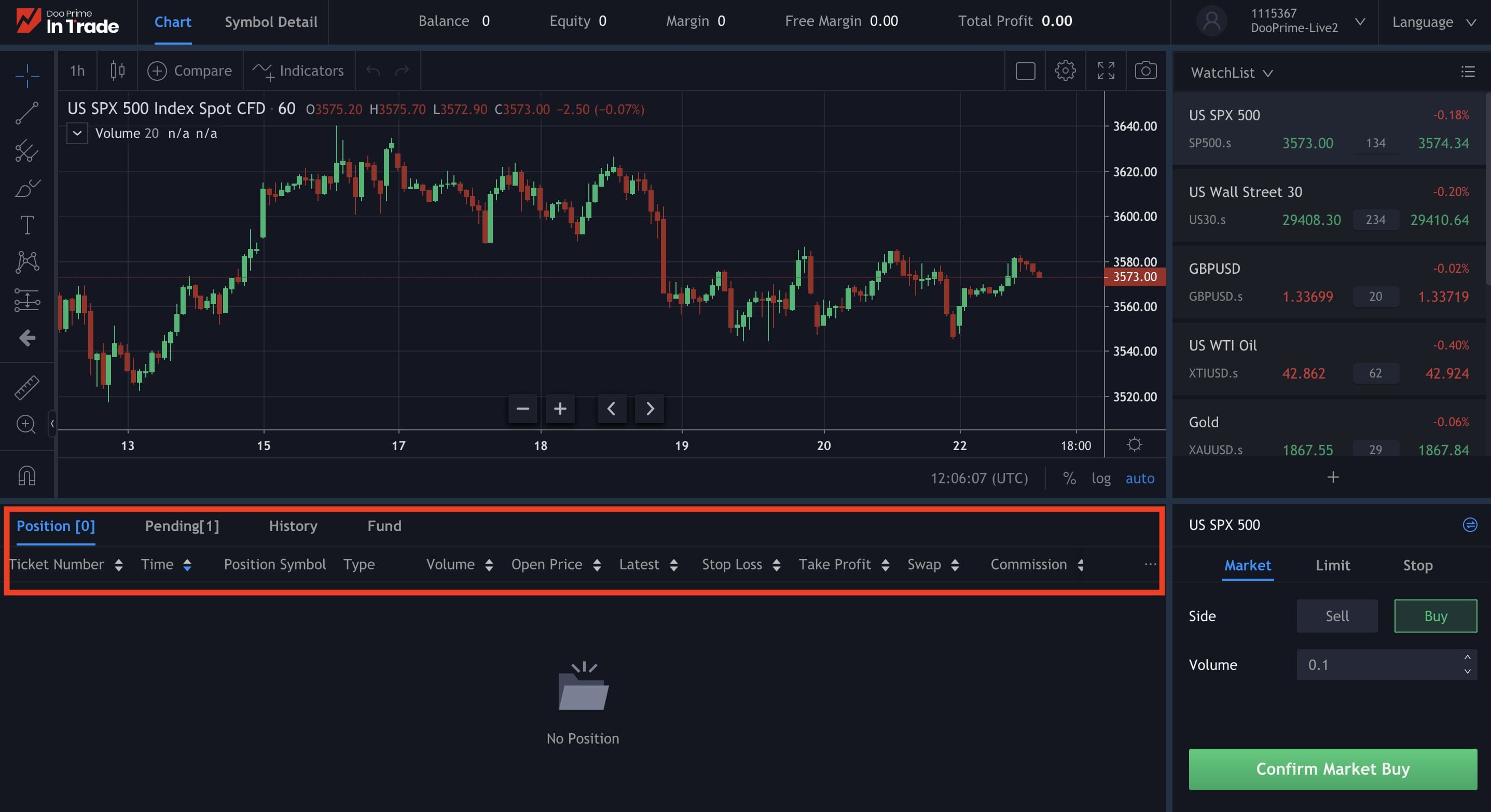 Doo Prime, a leading broker provides more than 300 CFD products on 6 different trading terminals, namely Forex, Precious Metal, Energy, Indices, Securities, and Futures globally. Our in-house developed InTrade trading software currently provides the best quality services to more than 15,780 professional clients, and we adhere to continuously bring you a professional trading experience through our newly launched web version.
If you need any further assistance, please do not hesitate to contact us at:
Phone:
Europe: +44 1137335199
Asia: +852 3704 4241
Asia-China: +86 4008427539
Email: [email protected]