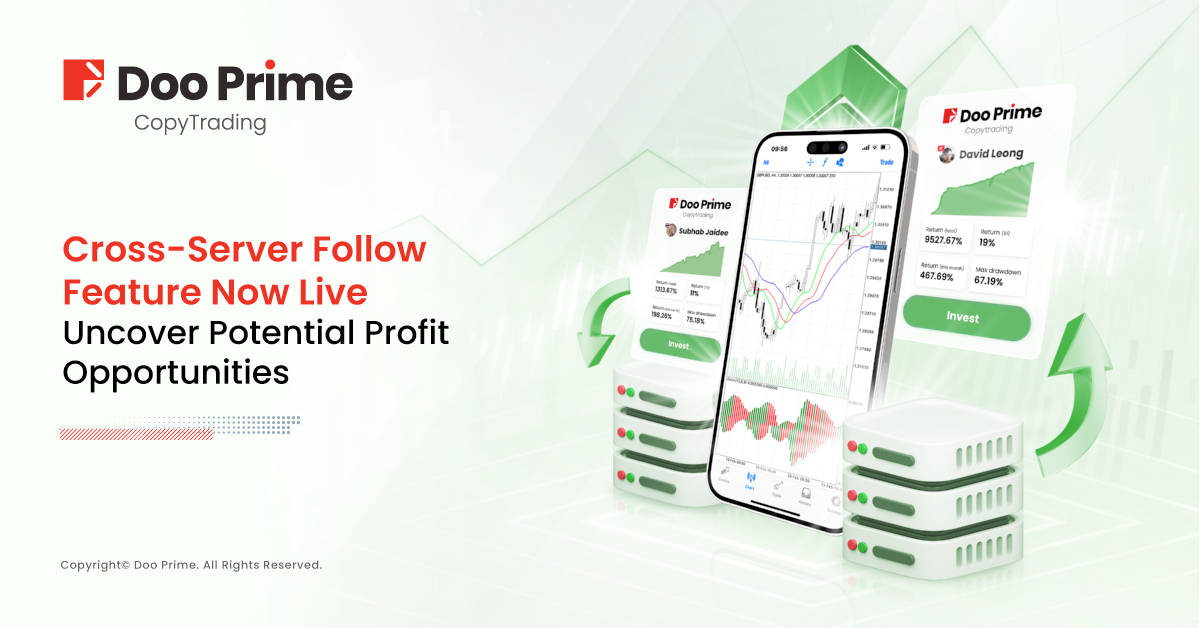 As Doo Prime steadily advances, its pursuit of excellence never wavers. In July, Doo Prime CopyTrading officially launched on Live 5 and Live 6 servers, extending the reach of this flexible profit-sharing trading community to clients in the European region.  
Today, over 5,500 active users of Doo Prime CopyTrading are enjoying the benefits of cross-server copy trading, free from the constraints of different servers and account types.
But that's not all — Doo Prime CopyTrading users can also tap into two significant features for potential earnings: "Referral Links" and "Partnerships."
With the introduction of cross-server copy trading, not only can Doo Prime CopyTrading signal providers share profits with a broader audience, but they can also use referral links to expand their pool of potential followers.
Simultaneously, they can designate "partners" to establish mutually beneficial partnerships. Followers, on the other hand, not only have the opportunity to copy signals from top-notch providers across different servers but can also become introducers or partners themselves, earning additional referral fees.
This article will introduce you to the two new features on Doo Prime CopyTrading: "Cross-Server Copy Trading" and "Referral Links," while further elaborating on the advantages of "Referral Links" and "Partnerships."
Unlocking More Opportunities: Doo Prime CopyTrading Expands Across Multiple Servers For Seamless Cross-Trading
Doo Prime CopyTrading has expanded its coverage to include Live 1, Live 3, Live 4, Live 5, and Live 6 servers. Whether you are using an STP account or an ECN account, you can now seamlessly communicate and share trading strategies across servers.
This means that signal providers with STP accounts can share their trading strategies with ECN account holders, and followers with STP accounts can copy top-quality signal providers from ECN accounts, and vice versa.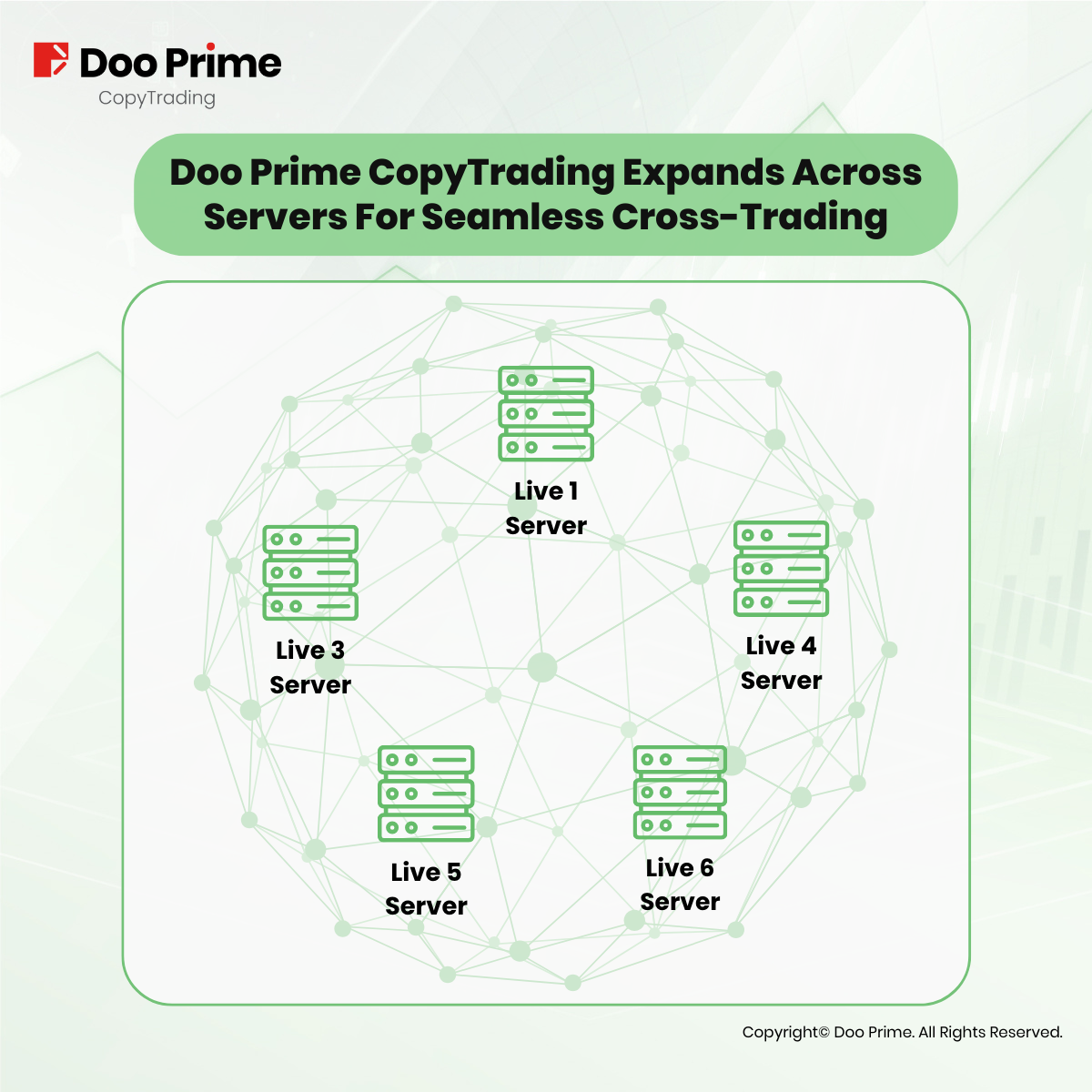 For signal providers, "Cross-Server Copy Trading" broadens the sources of followers, making it easier for them to gain followers and, in turn, increasing the potential profit-sharing for signal providers. This incentivizes signal providers to create high-quality trades.
For followers, "Cross-Server Copy Trading" helps discover high-quality signal providers that align with their risk preferences and investment goals. Even though top-notch STP or ECN signal providers are distributed across different servers, followers no longer need to apply for MetaTrader (MT) accounts on each corresponding server. As long as it is a USD account, they can engage in copy trading without the need for additional server-specific accounts.
Maximizing Returns With Referral Links: Simplifying Sharing On Doo Prime CopyTrading
Doo Prime CopyTrading has simultaneously rolled out the "Referral Links" feature for signal providers, allowing high-quality signal providers to garner broader attention and dissemination.
These referral links serve as a catalyst, streamlining the marketing-customer acquisition-monetization cycle, simplifying it for all users. This innovative feature creates a symbiotic relationship, benefiting both signal providers and followers.
For signal providers, referral links are a smart, cost-effective investment that yields substantial returns by expanding their follower base.
All it takes is setting a specific referral fee percentage, creating a straightforward link within their MT account, and effortlessly sharing their trading signals with potential users or followers.
Signal providers can even customize multiple referral fee percentages to engage various promoters, enhancing their signals' outreach.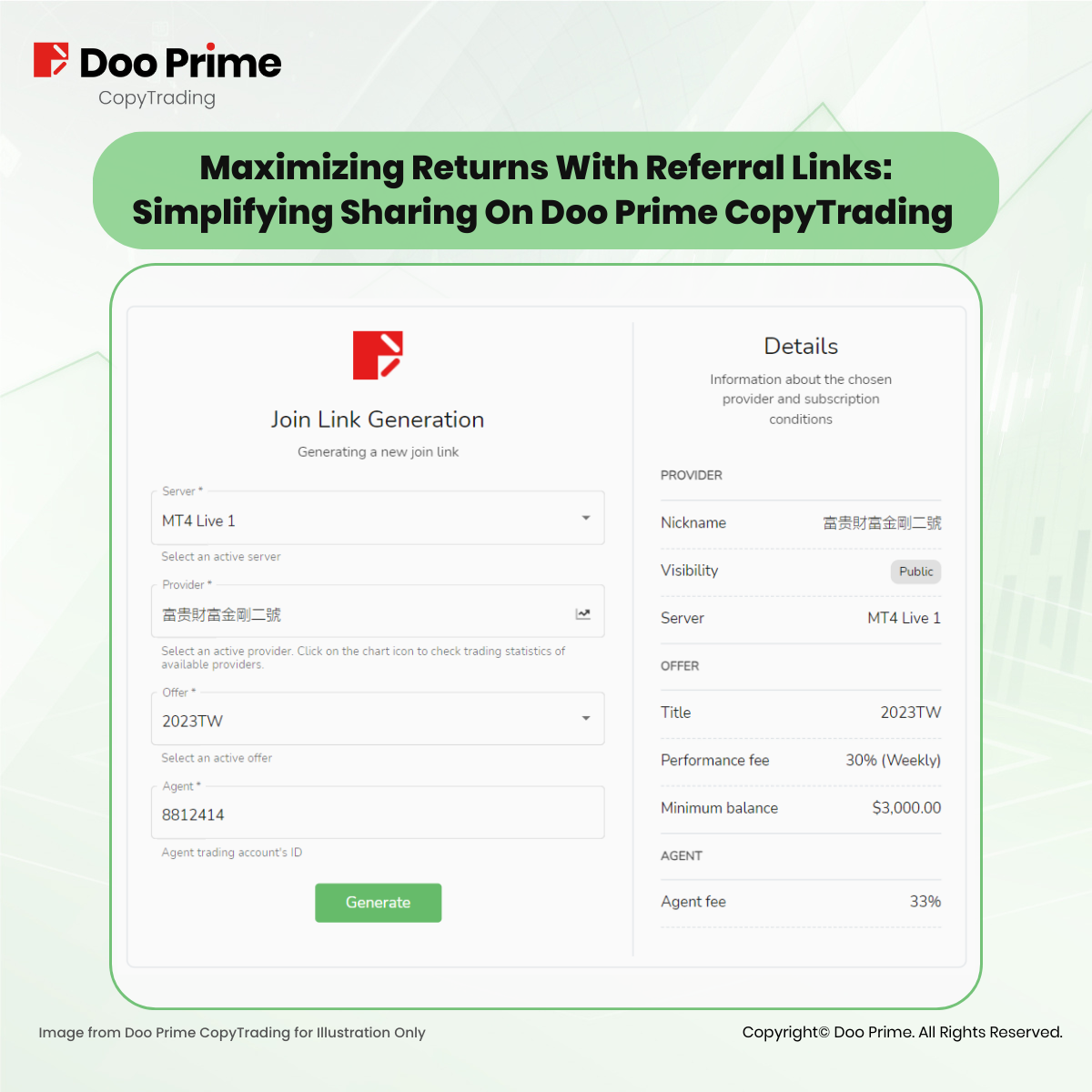 Followers, on the other hand, are empowered by referral links to become effective intermediaries, augmenting their income beyond their regular copy trading profits at minimal additional cost.
Anyone with a Doo Prime account can utilize these referral links, accompanied by associated referral fees, to partake in profit sharing from signal providers.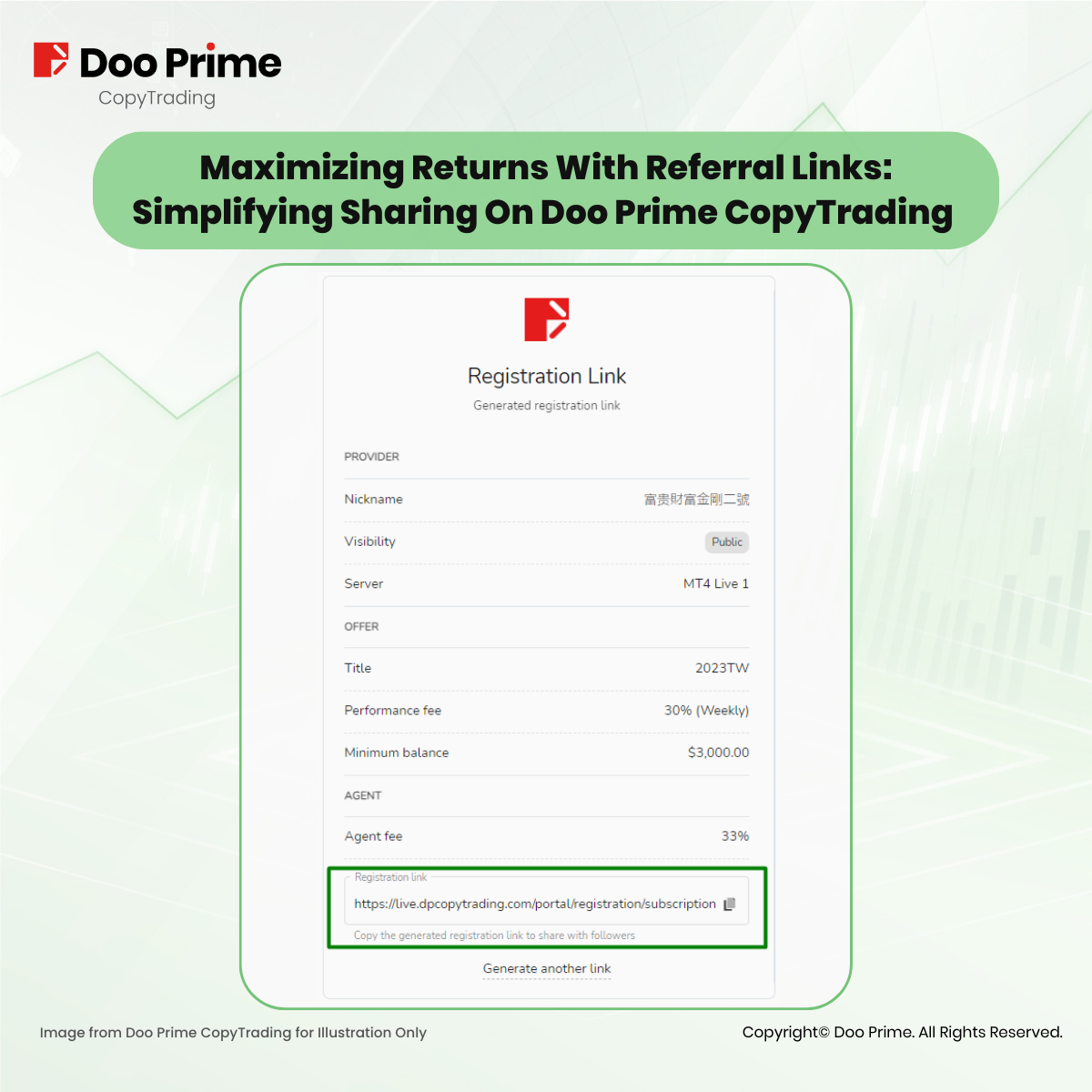 Even if the signal provider remains private, promoters can exclusively circulate it to potential followers through their unique referral links. This innovative feature not only simplifies the process but also motivates followers to actively participate in sharing and nurturing the growth of the Doo Prime CopyTrading community.
Becoming Partners: Forging Stronger Connections On Doo Prime CopyTrading
In addition to harnessing the potential of referral links, users of Doo Prime CopyTrading have the opportunity to establish profound "partnership" bonds.
Unlike promoters, partners share a more intimate connection with signal providers, as their partnership status can only be granted through a private arrangement by the signal provider.
For signal providers, partners become integral participants in the comprehensive profit-sharing landscape. Consider asset management companies, where partners may encompass fund managers, risk assessors, and sales professionals. Signal providers have the flexibility to tailor profit-sharing ratios uniquely for each partner role, while the referral fees for promoters remain fixed.
Additionally, partners operate within the framework of conditions set by the signal provider, distinguishing them from promoters, who are aligned with followers.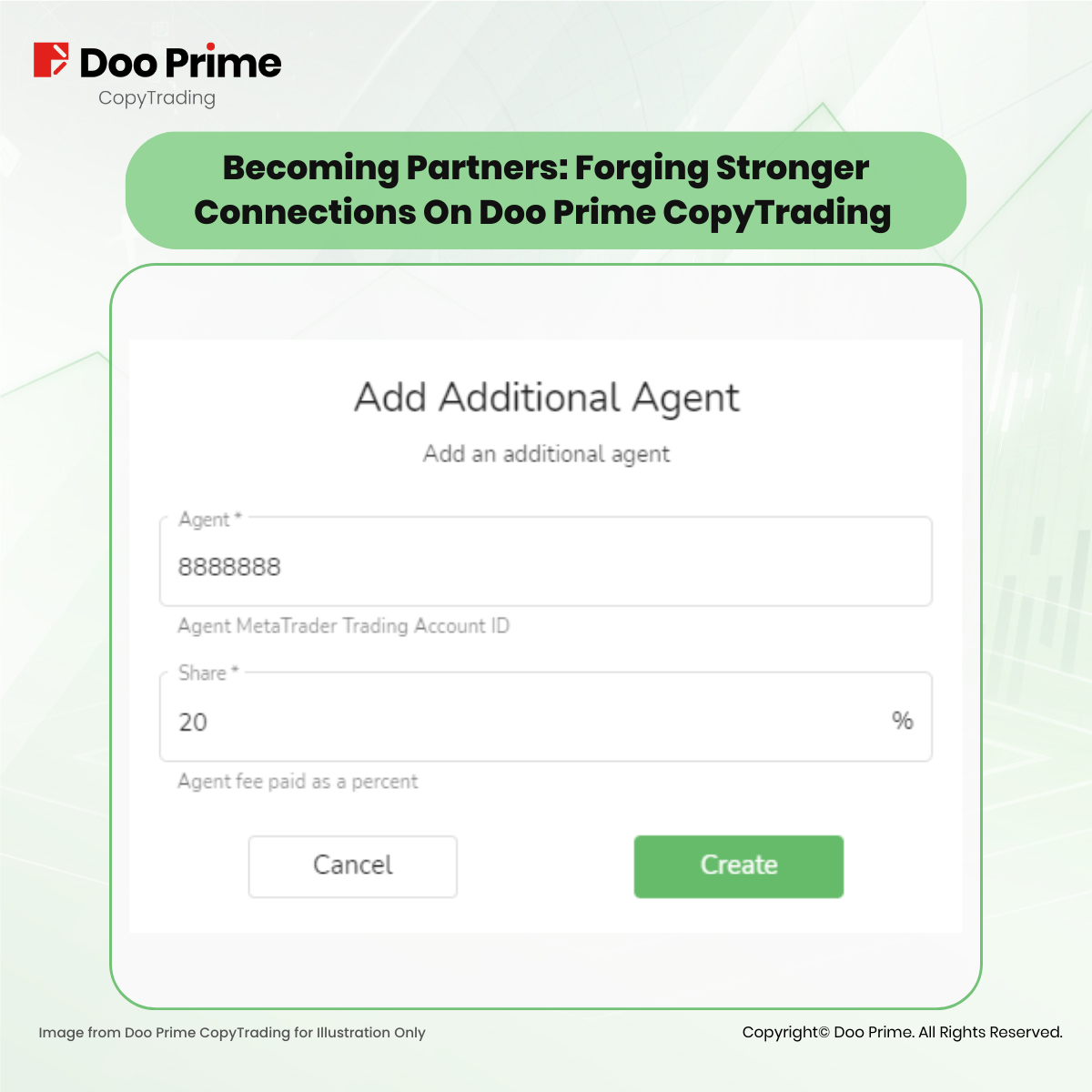 For followers, the journey extends beyond serving as promoter introducers; it beckons the possibility of ascending to the esteemed role of a signal provider's partner.
By doing so, they unlock access to additional, finely-tailored referral fee percentages offered directly by the signal providers.
It is worth noting, however, that the status of a follower transitioning to a signal provider's partner is a privilege exclusively determined by the signal provider and cannot be achieved through public means.
By nurturing these partnership relationships, Doo Prime CopyTrading not only deepens the engagement between signal providers and followers but also facilitates bespoke profit-sharing arrangements, fortifying the sense of collaboration and community within the platform.
Empowering Mutual Success Through Flexible Profit-Sharing
Doo Prime CopyTrading, an agile and efficient trading community platform, goes beyond merely fostering a tightly-knit trading community; it strives to establish a model of mutual benefit for all its users.
Beyond its instantaneous profit-sharing feature, Doo Prime CopyTrading offers a spectrum of profit-sharing models designed to empower signal providers with the potential for compounded gains, ultimately culminating in shared success.
If you aspire to be part of the Doo Prime CopyTrading platform, where you can not only lead a diverse group of novice traders towards victory but also increase your own earnings, simply click this link to register as one of our signal provider today!
For everyday investors seeking to follow exceptional signal providers to realize their investment objectives and emerge as triumphant winners in their financial journeys, or for those interested in becoming promoters or partners for signal providers, click this link to register as one of our dedicated followers right away!
This commitment to flexibility ensures that Doo Prime CopyTrading continues to thrive as a dynamic and mutually rewarding platform for all participants, setting the stage for a prosperous future. 


| About Doo Prime
Our Trading Products
Securities | Futures | Forex | Precious Metals | Commodities | Stock Indices
Doo Prime, an international preeminent online broker under Doo Group, strives to provide professional investors with global CFD trading products in Securities, Futures, Forex, Precious Metals, Commodities, and Stock Indices. At present, Doo Prime is delivering the finest trading experience to more than 130,000 clients, with an average trading volume of more than USD 51.223 billion each month.
Doo Prime entities respectively holds the relevant financial regulatory licenses in Seychelles, Mauritius, and Vanuatu with operation centers in Dallas, Sydney, Singapore, Hong Kong, Dubai, Kuala Lumpur, and other regions.
With robust financial technology infrastructure, well-established partnerships, and an experienced technical team, Doo Prime boasts a safe and secure trading environment, competitive trading costs, as well as deposit and withdrawal methods that support 20+ different currencies. Doo Prime also incorporates 24/7 multilingual customer service and extremely fast trade execution via multiple industry-leading trading terminals such as MT4, MT5, TradingView, and Doo Prime InTrade, covering over 10,000 trading products.
Doo Prime's vision and mission are to become a financial technology-focused broker, streamlining international global financial products investment.
For more information about Doo Prime, please contact us at:
Phone:
Europe: +44 11 3733 5199
Asia: +852 3704 4241
Asia – Singapore: +65 6011 1415
Asia – China: +86 400 8427 539
E-mail:
Technical Support: [email protected]
Account Manager: [email protected]
Forward-looking Statements
This article contains "forward-looking statements" and may be identified by the use of forward-looking terminology such as "anticipate", "believe", "continue", "could", "estimate", "expect", "hope", "intend", "may", "might", "plan", "potential", "predict", "should", or "will", or other variations thereon or comparable terminology. However, the absence of such terminology does not mean that a statement is not forward-looking. In particular, statements about the expectations, beliefs, plans, objectives, assumptions, future events, or future performance of Doo Prime will be generally assumed as forward-looking statements.
Doo Prime has provided these forward-looking statements based on all current information available to Doo Prime and Doo Prime's current expectations, assumptions, estimates, and projections. While Doo Prime believes these expectations, assumptions, estimations, and projections are reasonable, these forward-looking statements are only predictions and involve known and unknown risks and uncertainties, many of which are beyond Doo Prime's control. Such risks and uncertainties may cause results, performance, or achievements materially different from those expressed or implied by the forward-looking statements.
Doo Prime does not provide any representation or warranty on the reliability, accuracy, or completeness of such statements. Doo Prime is not obliged to provide or release any updates or revisions to any forward-looking statements.
Risk Disclosure
Trading in financial instruments involves high risks due to the fluctuation in the value and prices of the underlying financial instruments. Due to the adverse and unpredictable market movements, large losses exceeding the investor's initial investment could incur within a short period of time. The past performance of a financial instrument is not an indication of its future performance. Investments in certain services should be made on margin or leverage, where relatively small movements in trading prices may have a disproportionately large impact on the client's investment, and client should therefore be prepared to suffer significant losses when using such trading facilities.
Please ensure you read and fully understand the trading risks of the respective financial instrument before engaging in any transaction with Doo Prime's trading platforms. You should seek independent professional advice if you do not understand any of the risks disclosed by us herein or any risk associated with the trade and investment of financial instruments. Please refer to Doo Prime's Client Agreement and Risk Disclosure and Acknowledgement Notice to learn more.
Disclaimer
This information is addressed to the general public solely for information purposes and should not be taken as investment advice, recommendation, offer, or solicitation to buy or sell any financial instrument. The information displayed herein has been prepared without any reference or consideration to any particular recipient's investment objectives or financial situation. Any references to the past performance of a financial instrument, index, or a packaged investment product shall not be taken as a reliable indicator of its future performance. Doo Prime and its holding company, affiliates, subsidiaries, associated companies, partners and their respective employees, make no representation or warranties to the information displayed and shall not be liable for any direct, indirect, special or consequential loss or damages incurred a result of any inaccuracies or incompleteness of the information provided, and any direct or indirect trading risks, profit, or loss arising from any individual's or client's investment.