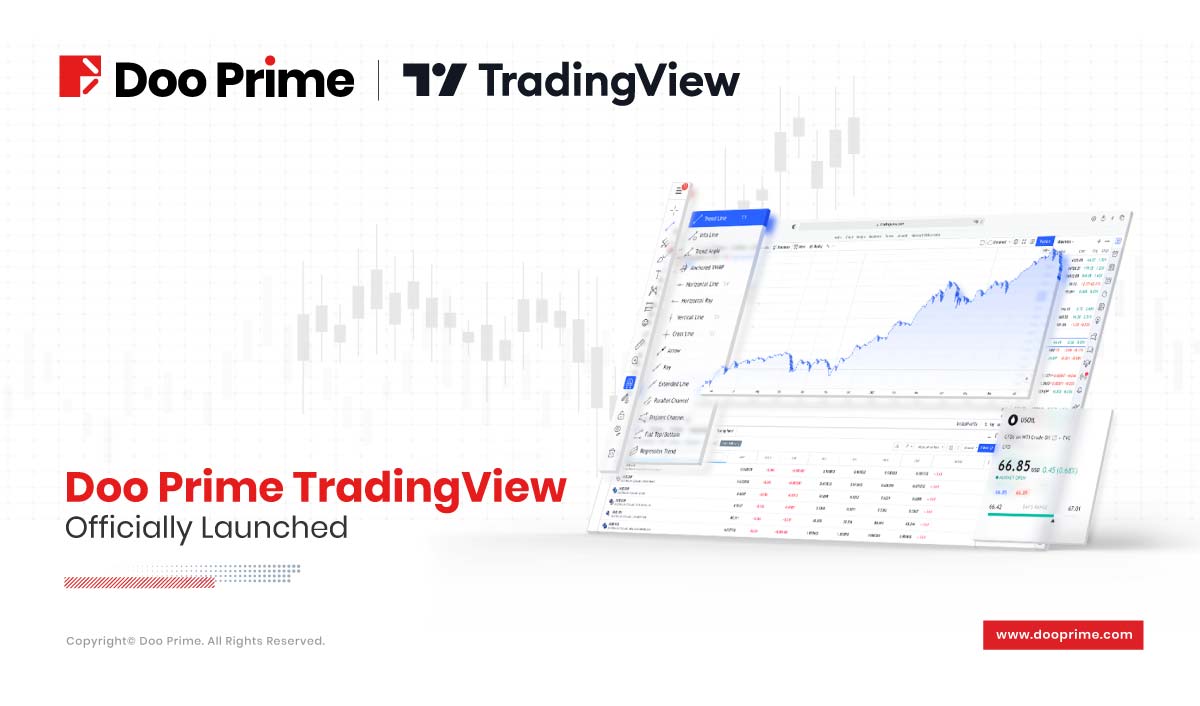 Doo Prime introduces a new trading terminal – TradingView, a trading terminal where one-click trading order can be executed in seconds. TradingView offers up to ten thousand of real-time interactive charts, with more than a hundred of technical analysis indicators that support you in taking insightful trading decisions.
TradingView provides comprehensive chart analysis tools for 10,000+ websites. Its robust functions and easy-to-operate interface are popular with millions of traders around the world.
With this successful launch and integration, Doo Prime's clients can seamlessly access Doo Prime TradingView by logging in to the user center through our official website. Clients can now conveniently get a hold of analysis charts and real-time data of 6 major markets. This includes securities, futures, forex, precious metals, commodities, stock indexes, and up to 10,000+ CFD products.
In addition, analyzing and observing visualized market trends can be done with ease. This is made possible with the advantageous functions of adding more than 100 technical indicators without an upper limit, while viewing the market depth of each product. Through this, clients are able to formulate and execute the most desirable trade with the best buying and selling price at the right timing!
On the whole, traders are required to create a TradingView account first, and then link a personal and compatible trading account with the platform before they can trade.
With Doo Prime TradingView, clients who wish to utilize this technology are not required to apply for an additional account, install complicated devices, nor pay any additional fees.
All of Doo Prime's clients can enjoy both TradingView's chart analysis tools and Doo Prime trading services, anytime, anywhere. Which means, you can take advantage in carrying out research and analysis to meet your personal trading needs in all aspects!


4 Key Features of TradingView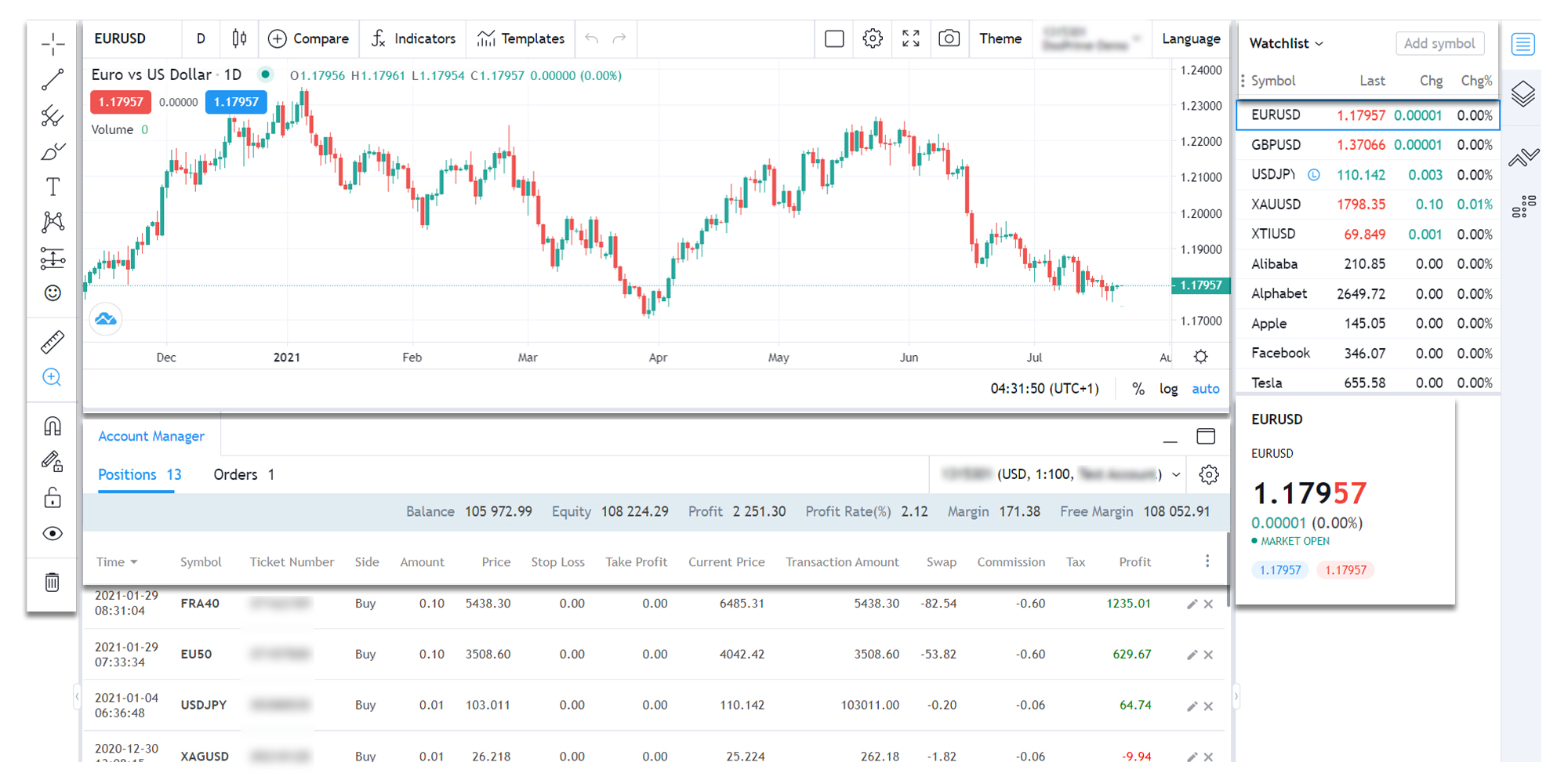 A. Personalized Settings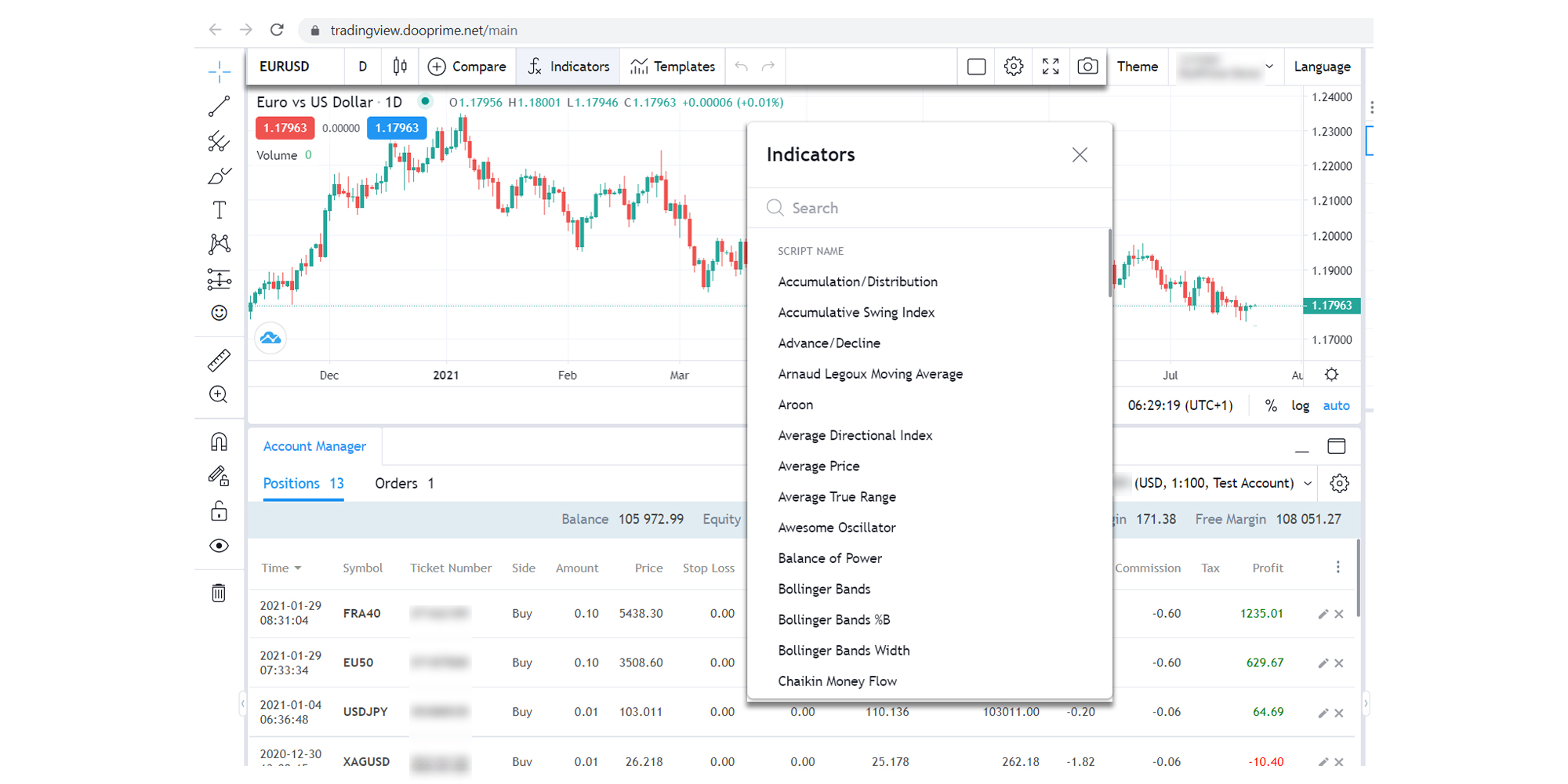 Through the function keys on the upper left, users can select candle charts of various trading levels and periods, compare the price trends of different trading varieties, and add technical analysis indicators. The upper right provides a total of three language options: simplified Chinese, traditional Chinese, and English.

B. Intelligent Drawing Tools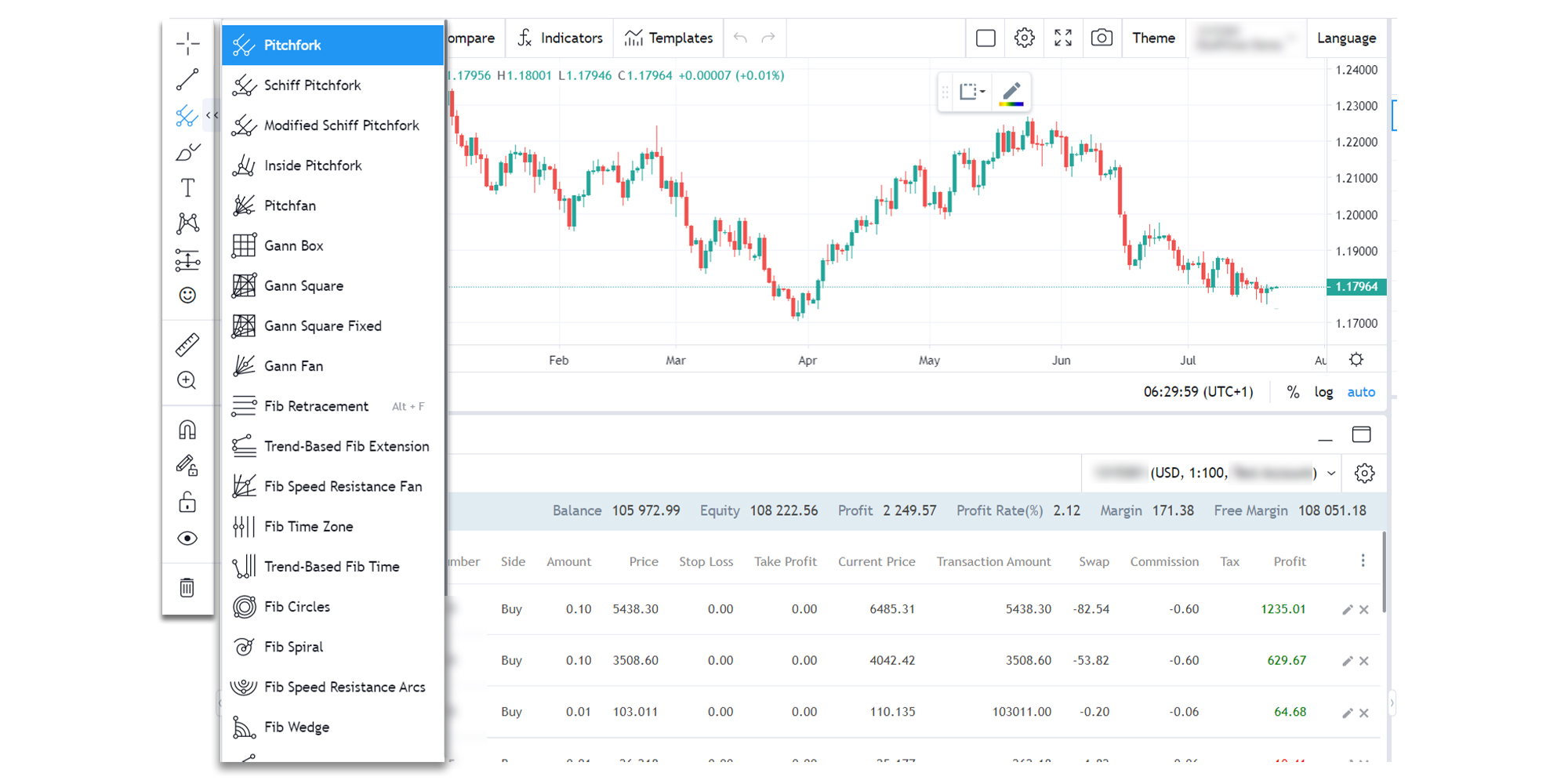 The navigation column on the left provides a variety of drawing and measurement tools, including trend lines, Gann boxes, Fibonacci retracements, ABCD patterns, Elliott triangle waves, and other geometric shapes commonly utilized by traders.

C. Advantageous Trading Settings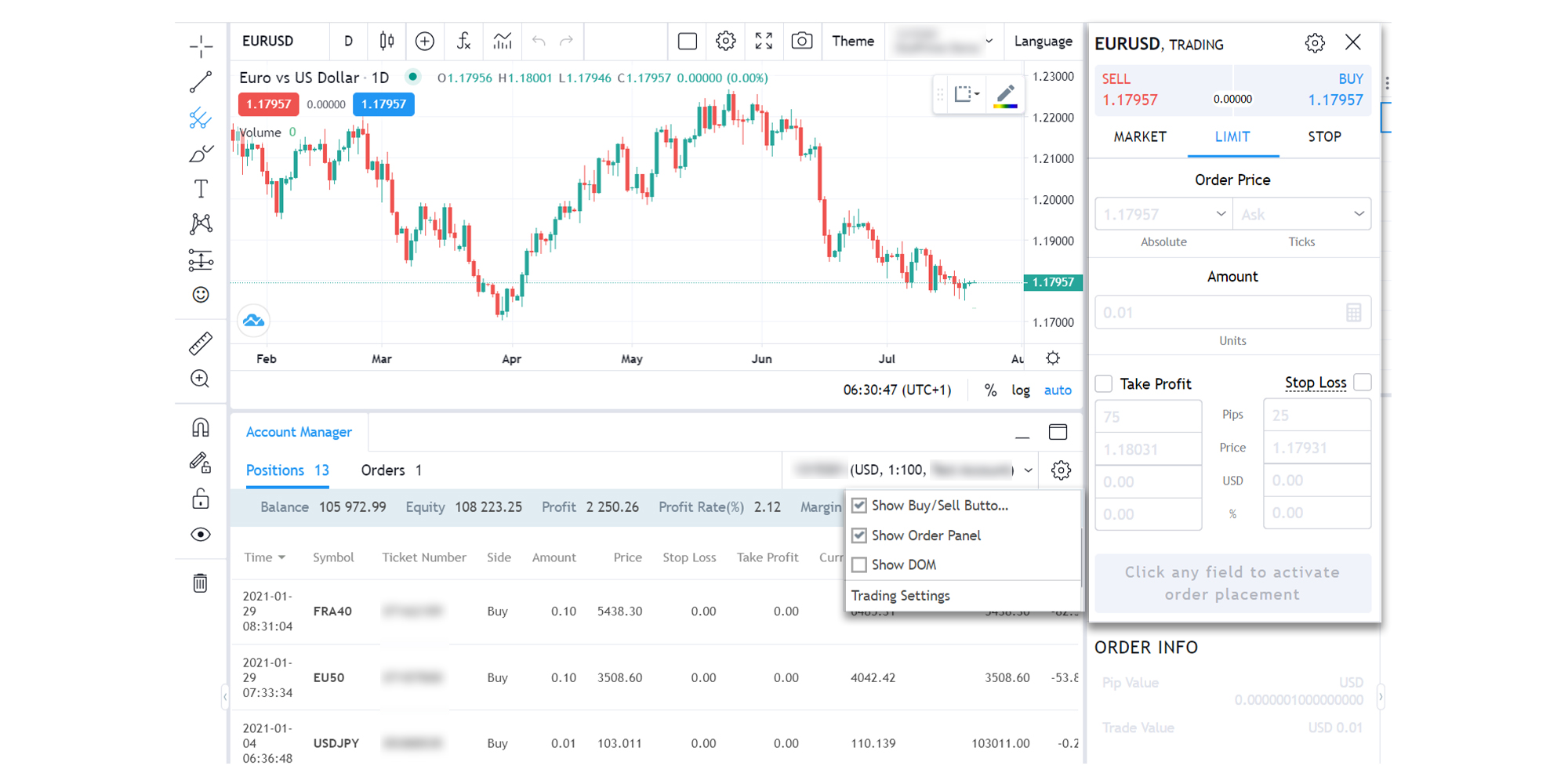 After turning on the "Show Buy/Sell Button" function, users can click on the quotation at the top left of the chart to quickly place an order. Turn on the "Show DOM" function to view the market depth of the trading product. There is also a "hot list" on the right side of the trading panel, allowing users to easily access the trading varieties of their choice.

D. Comprehensive Account Manager


Immerse in a distinctive display of the account balance and margin level, as well as the variety, quantity, current price, position profit and loss, inventory fees, and handling fees involved in each transaction. This section also shows the profit and loss changes of the account at a glance.


How to access the Doo Prime TradingView trading terminal?


1. Head to Doo Prime's User Center page. Log in to your personal account by entering your email/mobile phone number and password.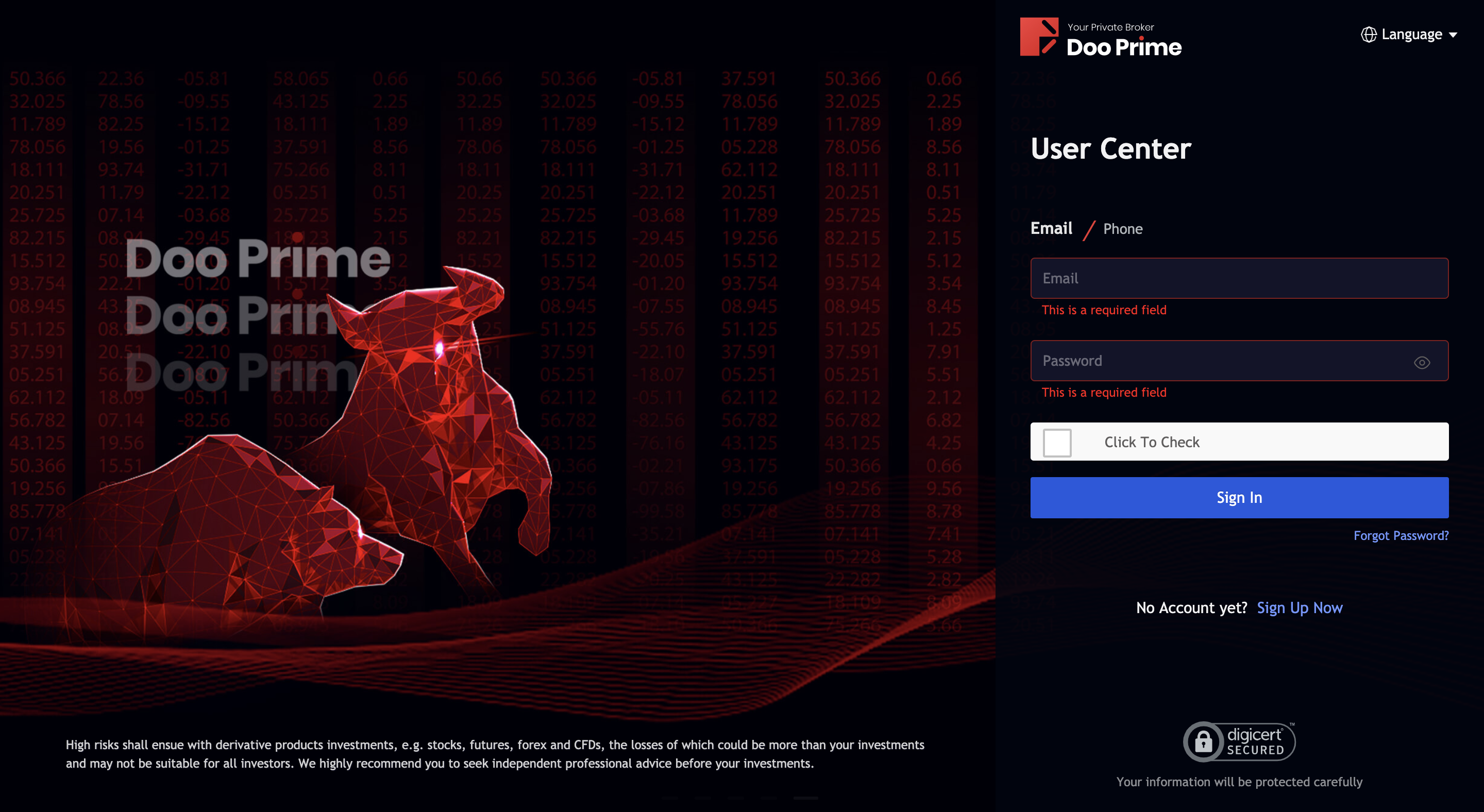 2. At the sidebar located on your left, click on "Trade" and select "Trading Software" to find the TradingView option.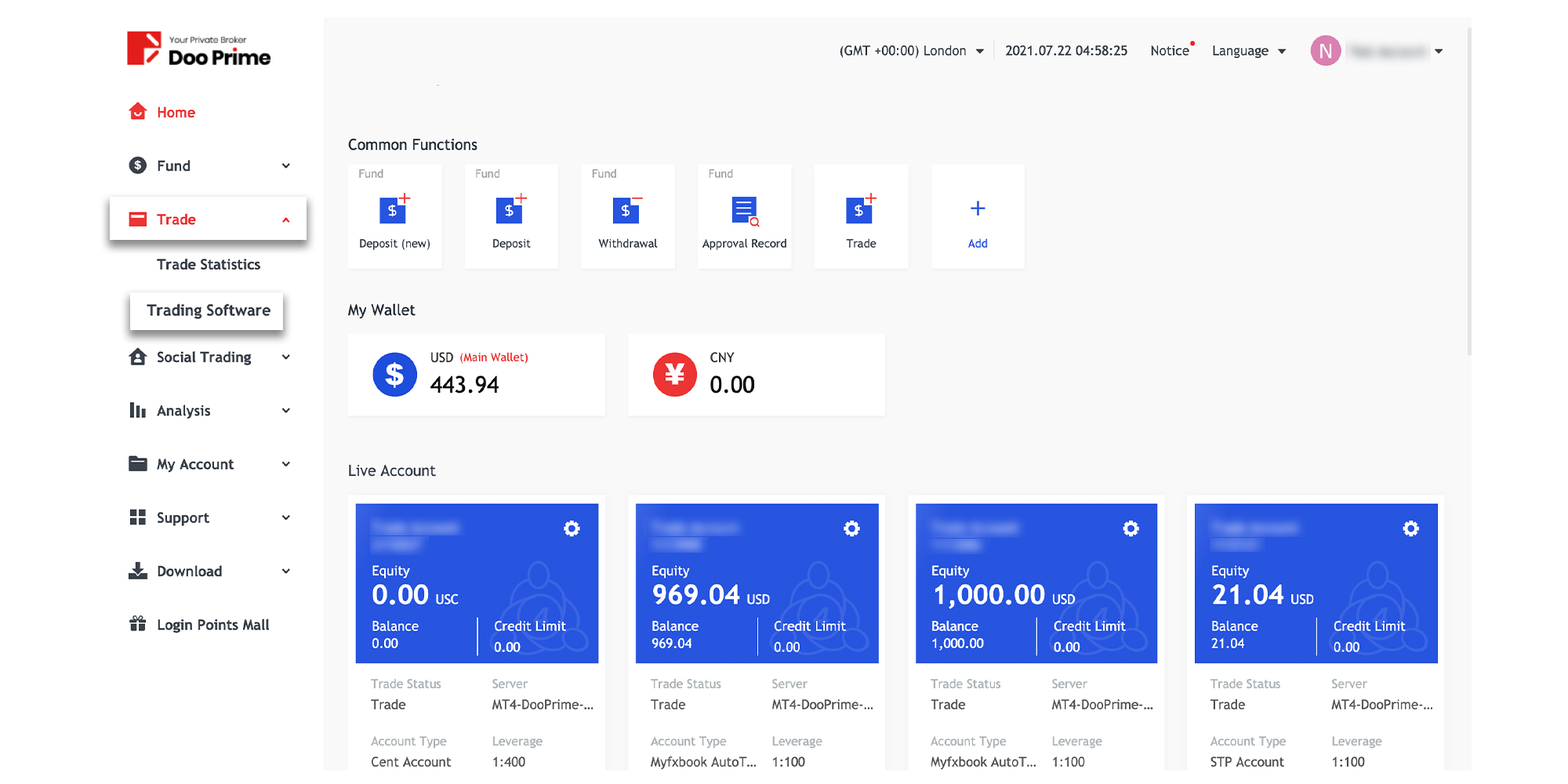 3. Once you have been redirected to the page, click on "Web page version" to access the TradingView trading terminal and luxuriate in a brand-new trading experience.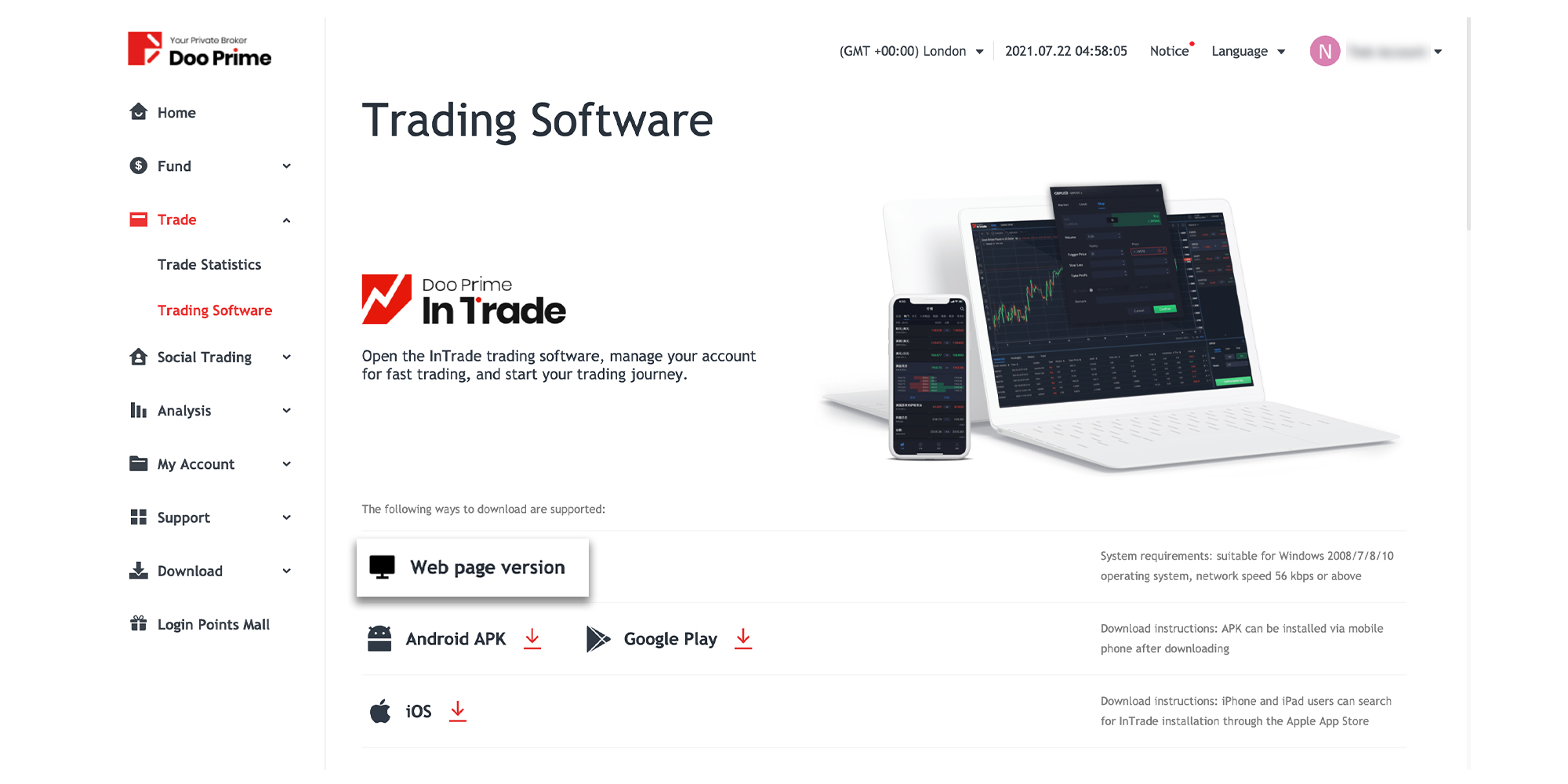 The Doo Prime TradingView trading terminal integrates analysis and trading functions, which will undoubtedly facilitate users to get ahead of others on the trading road.
Log in now or sign up as a Doo Prime client and discover more of the robust features of Doo Prime TradingView for yourself!




| About Doo Prime
Doo Prime is an international pre-eminent online broker under Doo Group with operation centers in Singapore, Hong Kong, Dallas, Dubai, Kuala Lumpur, and other regions. Our main ethos is to provide professional investors with global financial instruments (CFDs) on our trading platform.
Doo Prime holds the financial regulatory licenses in Mauritius and Vanuatu, which has granted us the opportunity to deliver the finest trading experience to more than 30,000 professional clients, alongside managing a massive trading volume of more than 5 million dollars monthly.
By the virtue of robust technological innovation and license advantages put forward by the group, grants Doo Prime the ability to provide more than 10,000 trading products on multiple trading terminals such as MT4, MT5, TradingView, InTrade, covering Securities, Futures, Forex, Precious Metals, Commodities, and Stock Indexes, allowing clients to invest globally with one click.
With a solid vigorous group background, competitive trading cost, convenient deposit and withdrawal methods, plus 24/7 multilingual customer service, Doo Prime is committed to become your private veteran broker.
For more information about Doo Prime, please contact us at:
Phone:
Europe: +44 11 3733 5199
Asia: +852 3704 4241
Asia – China: +86 400 8427 539
E-mail:
Technical Support: [email protected]
Sales Representative: [email protected]
"Forward-looking" Statements
This article may contains "forward-looking statements" and may be identified by the use of forward-looking terminology such as "anticipate", "believe", "continue", "could", "estimate", "expect", "hope", "intend", "may", "might", "plan", "potential", "predict", "should", or "will", or other variations thereon or comparable terminology. However, the absence of such terminology does not mean that a statement is not forward-looking. In particular, statements about the expectations, beliefs, plans, objectives, assumptions, future events, or future performance of Doo Prime will be generally assumed as forward-looking statements.
Doo Prime has provided these forward-looking statements based on all current information available to Doo Prime and Doo Prime's current expectations, assumptions, estimates, and projections. While Doo Prime believes these expectations, assumptions, estimations, and projections are reasonable, these forward-looking statements are only predictions and involve known and unknown risks and uncertainties, many of which are beyond Doo Prime's control. Such risks and uncertainties may cause results, performance, or achievements materially different from those expressed or implied by the forward-looking statements.
Doo Prime does not provide any representation or warranty on the reliability, accuracy, or completeness of such statements. Doo Prime is not obliged to provide or release any updates or revisions to any forward-looking statements.
Risk Disclosure
Trading in financial instruments involves high risks due to the fluctuation in the value and prices of the underlying financial instruments. Due to the adverse and unpredictable market movements, large losses exceeding the investor's initial investment could incur within a short period of time. The past performance of a financial instrument is not an indication of its future performance.
Please make sure you read and fully understand the trading risks of the respective financial instrument before engaging in any transaction with us. You should seek independent professional advice if you do not understand the risks disclosed by us herein.
Disclaimer
This information is addressed to the general public solely for information purposes and should not be taken as investment advice, recommendation, offer, or solicitation to buy or sell any financial instrument. The information displayed herein has been prepared without any reference or consideration to any particular recipient's investment objectives or financial situation. Any references to the past performance of a financial instrument, index, or a packaged investment product shall not be taken as a reliable indicator of its future results. Doo Prime makes no representation and warranties to the information displayed and shall not be liable for any direct or indirect loss or damages as a result of any inaccuracies and incompleteness of the information provided. Doo Prime shall not be liable for any loss or damages as a result of any direct or indirect trading risks, profit, or loss associated with any individual's investment.