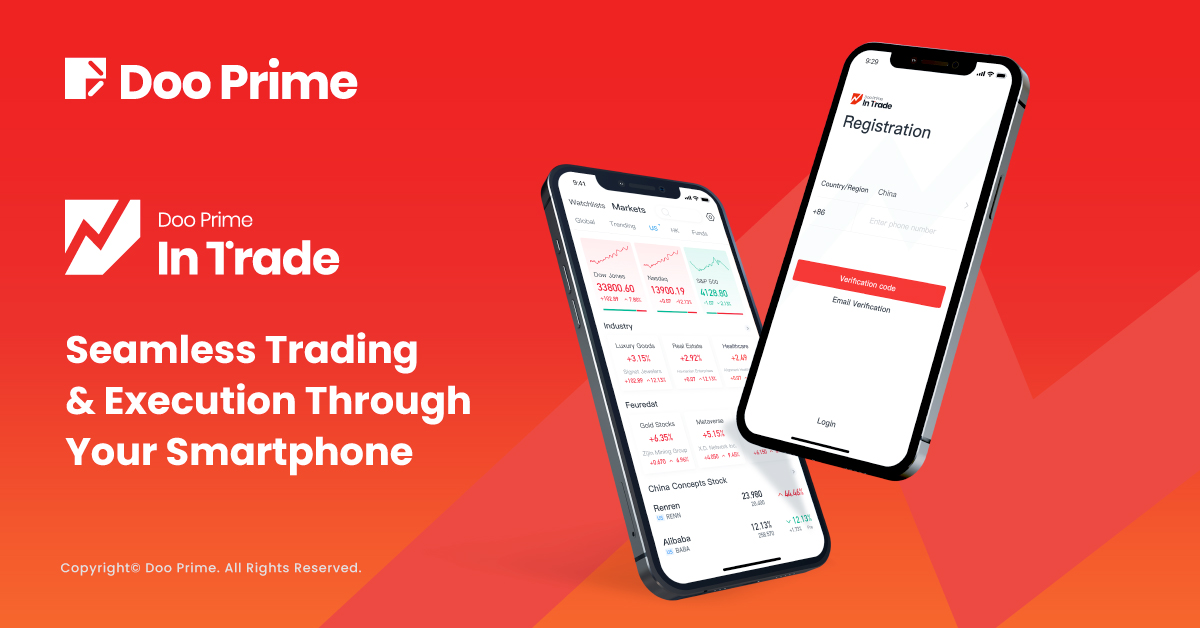 Exclusive One-Stop Investment Platform 
Doo Prime InTrade is an efficient and professional trading software, developed for traders as their exclusive one-stop investment platform. The Doo Prime InTrade mobile app is developed extensively with the evolution of mobile traders' preferences, as there is a growing number of traders opting to trade on their mobile devices.
Doo Prime InTrade app has embraced this transition by delivering an exclusive one-stop investment mobile app experience. The Doo Prime InTrade app's features and capabilities are highly efficient, plus the experiences and functionality are also increasingly virtually comprehensible.
The mobile app consistency provides traders with a more synchronized experience in terms of trading execution, watchlists, and updates, while also improving the ease with which traders manage and monitor their investment goals.
In short, the Doo Prime InTrade mobile app has features that assist, and uplift traders' trading decisions on your smartphone.
Extensive Trading Selections & Customizable Watchlists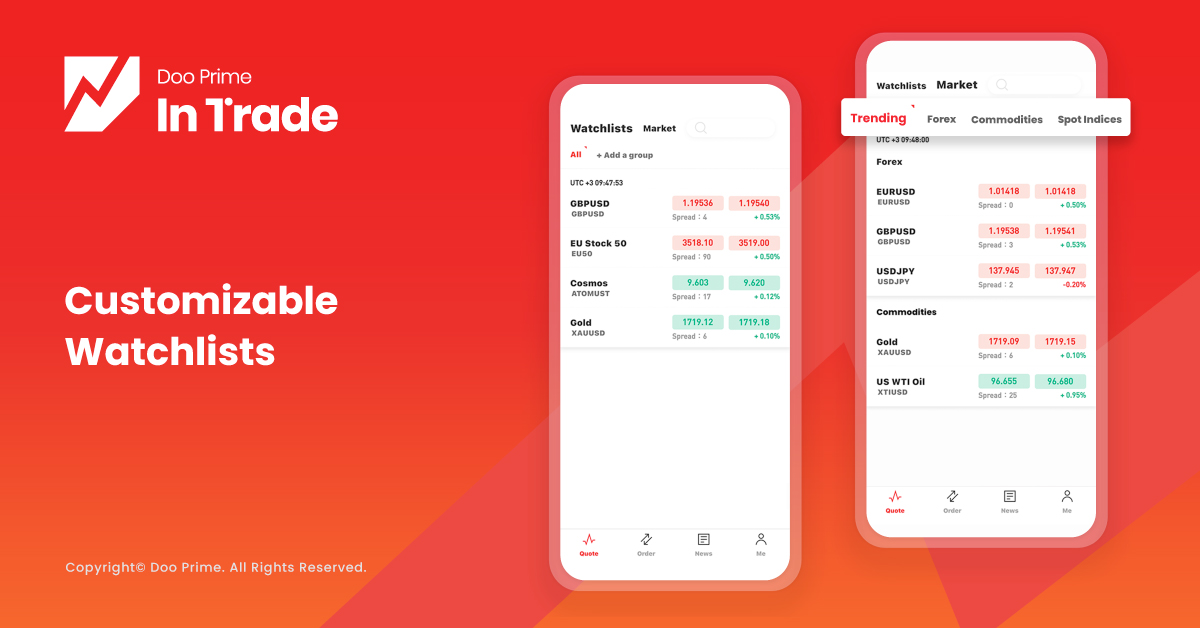 In the Doo Prime InTrade app, users can access and trade up to 10,000 CFD products from 6 major markets. From this, Doo Prime InTrade app users get to fulfill all their trading needs. All live quotes for each trading product are included on the first-page display. Hence, users get a quick overview of all their favorite trading products at a glance.
Additionally, users can select and customize their "Watchlist" by clicking on "+ Add a group" under the watchlists section and browse from different markets such as Trending list, Securities, Futures, Forex, Commodities, Precious Metal, and Stock Indices, or simply search for your favorite trading product. 


Free Access To All Technical Analysis & Charts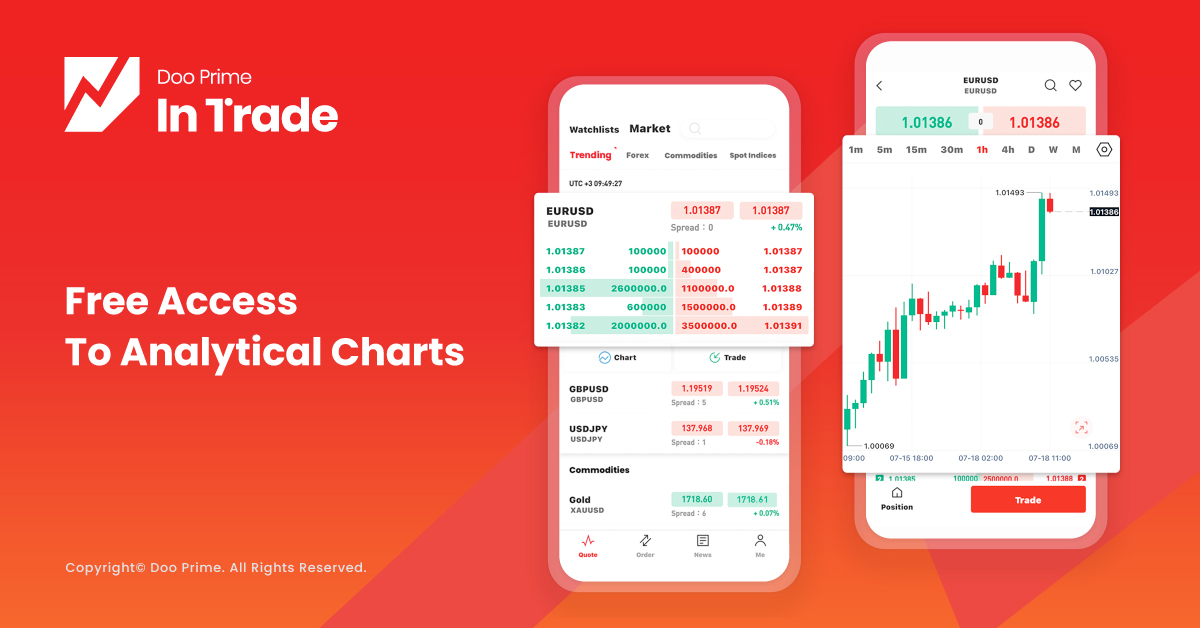 The Doo Prime InTrade app provides trend charts, as well as professional technical analysis indicators to help traders invest in Securities, Futures, Forex, Commodities, Precious Metal, and Stock Indices markets. 
From forex to indexes, users can get the full view of the technical analysis with the range of viewing by 1–minute to a 1-month chart. On this account, the Doo Prime InTrade mobile app experience successfully mimics the core functionality of the comprehensive desktop version.
With these free trading tools available on the app, users can identify trading signals and price patterns to transform opportunities to profit. 


Insightful Trading Analysis & Information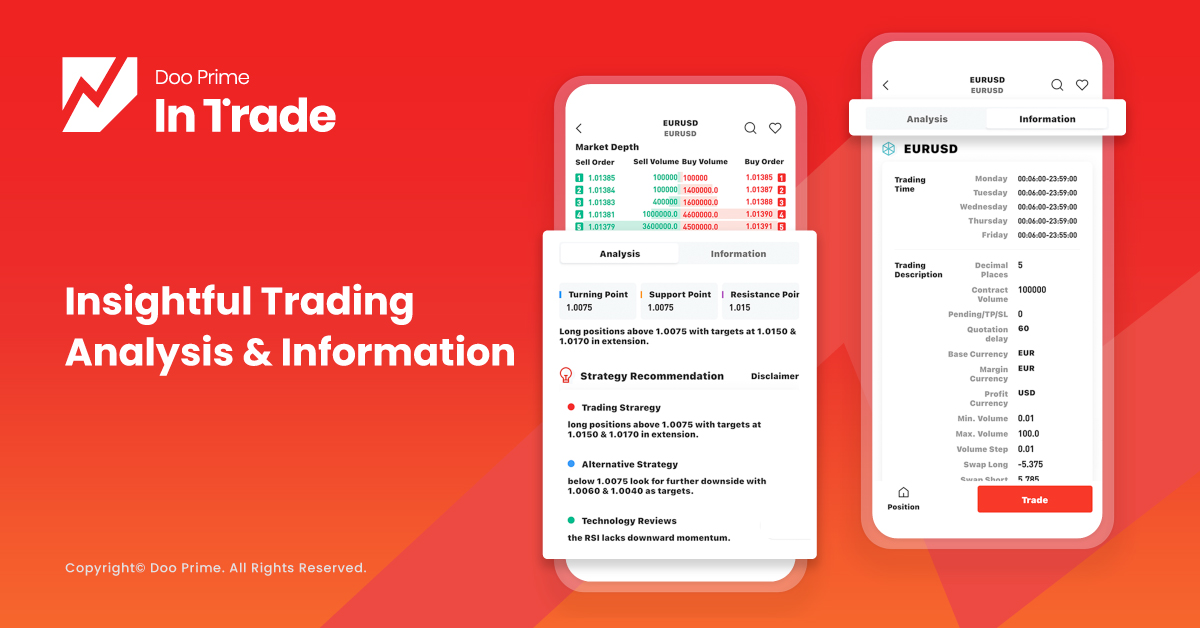 The Doo Prime InTrade app also features real-time market depth and the latest market insights to assist traders in decision making.
In the app, users can keep track of multiple order data in real-time, including trading varieties, order types, trading volume, opening and closing prices for each trading product.
Also, before executing any trades, users can catch a glimpse of the trading strategies provided by Trading Central, the leading technical analysis provider in the industry.
To add, users who are new to trading can also opt to check out the trading products' information made available within the app. This includes the trading time and details such as the contract volume, currency, or the margin of the trade. 


Quick & Professional Order Options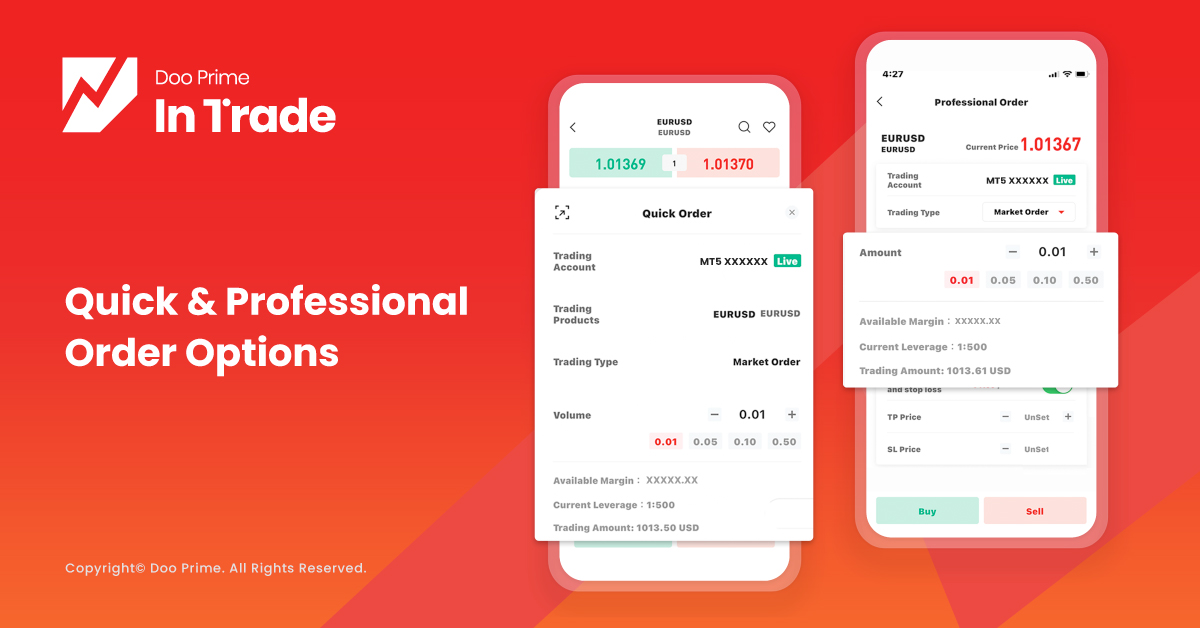 Trade execution speed is known to be the most crucial factor for traders. The Doo Prime InTrade app incorporates quick order and professional order options for traders.
Just as the name suggests, the quick order option allows traders to execute their trades with just an overview of the order, while the professional order includes a more thorough order detailing.
Both options allow traders to buy or sell, and pick their desired trade volume, plus the trading account they would like to trade from. Apart from that, users can also see the overview of their available margin, trading leverage, plus the trading amount for the current trade.
The professional order allows users to set their take profit and stop loss price before they execute the trade. Additionally, users can also choose their trading type or even add in a remark for their order. 


In-Depth Trading Performance Report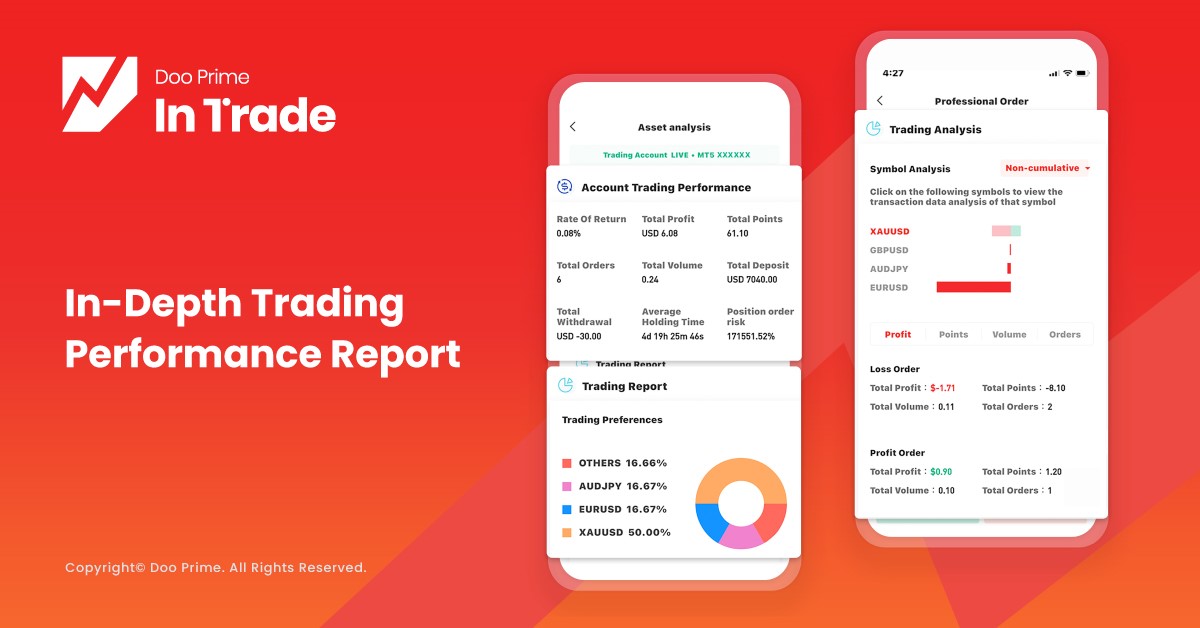 Apart from executing trades efficiently, the Doo Prime InTrade app also keeps track of traders' trading performance.
On the asset analysis page, users can find a detailed and all-inclusive trading report. Users will get an overview of their accounts' overall performance – rate of return, total profit, total orders, total volume, total deposit, and withdrawal, etc.
Of course, users can also browse through these data in detail with supporting analysis and charts.


Start Trading With Doo Prime InTrade Now
Over and above, the Doo Prime InTrade app has leveraged rapid mobile technological advancements to make it easier than ever to invest and trade.
Traders will most likely have their mobile device with them all the time, allowing traders to react to market movements and monitor their investments while on the go – something that just wasn't practical before.
Plus, the convenience of mobile trading has also made the market more accessible to users of all backgrounds, interests, and experience levels. Traders no longer need a trading terminal with four monitors anymore.
The Doo Prime InTrade app will give traders access to the financial markets right at their fingertips, wherever they are located. Users will get to research investments, check positions, and place new orders, all without having to leave the app.
With Doo Prime InTrade app, you have access to the same real-time market data on the go and can trade accordingly.
Download the app now and experience it yourself.


| About Doo Prime
Doo Prime is an international pre-eminent online broker under Doo Group, which strives to provide professional investors with global CFD trading products in Securities, Futures, Forex, Commodities, Stock Indices, and Funds. At present, Doo Prime is delivering the finest trading experience to more than 40,000 professional clients, with over 1 million trade orders fulfilled each month.
Doo Prime entities respectively holds the relevant financial regulatory licenses in Seychelles, Mauritius, and Vanuatu with operation centers in Dallas, Sydney, Singapore, Hong Kong, Dubai, Kuala Lumpur, and other regions.
With robust financial technology infrastructure, well-established partnerships, and an experienced technical team, Doo Prime boasts a safe and secure trading environment, competitive trading costs, as well as deposit and withdrawal methods that support 10 different currencies. Doo Prime also incorporates 24/7 multilingual customer service and extremely fast trade execution via multiple industry-leading trading terminals such as MT4, MT5, TradingView, and InTrade, covering over 10,000 trading products.
Doo Prime's vision and mission are to become a financial technology-focused broker, streamlining international global financial products investment.
Risk Disclosure      
Trading in financial instruments involves high risks due to the fluctuation in the value and prices of the underlying financial instruments. Due to the adverse and unpredictable market movements, large losses exceeding the investor's initial investment could incur within a short period of time. The past performance of a financial instrument is not an indication of its future performance.  Investments in certain services should be made on margin or leverage, where relatively small movements in trading prices may have a disproportionately large impact on the client's investment and client should therefore be prepared to suffer significant losses when using such trading facilities.      
Please make sure you read and fully understand the trading risks of the respective financial instrument before engaging in any transaction with Doo Prime's trading platforms. You should seek independent professional advice if you do not understand any of the risks disclosed by us herein or any risk associated with the trade and investment of financial instruments. Please refer to Doo Prime's Client Agreement and Risk Disclosure Statement to find out more.
[Disclaimer]     
This information is addressed to the general public solely for information purposes and should not be taken as investment advice, recommendation, offer, or solicitation to buy or sell any financial instrument. The information displayed herein has been prepared without any reference or consideration to any particular recipient's investment objectives or financial situation. Any references to the past performance of a financial instrument, index, or a packaged investment product shall not be taken as a reliable indicator of its future performance. Doo Prime and its holding company, affiliates, subsidiaries, associated companies, partners and their respective employees, make no representation or warranties to the information displayed and shall not be liable for any direct, indirect, special or consequential loss or damages incurred a result of any inaccuracies or incompleteness of the information provided, and any direct or indirect trading risks, profit, or loss arising from any individual's or client's investment.