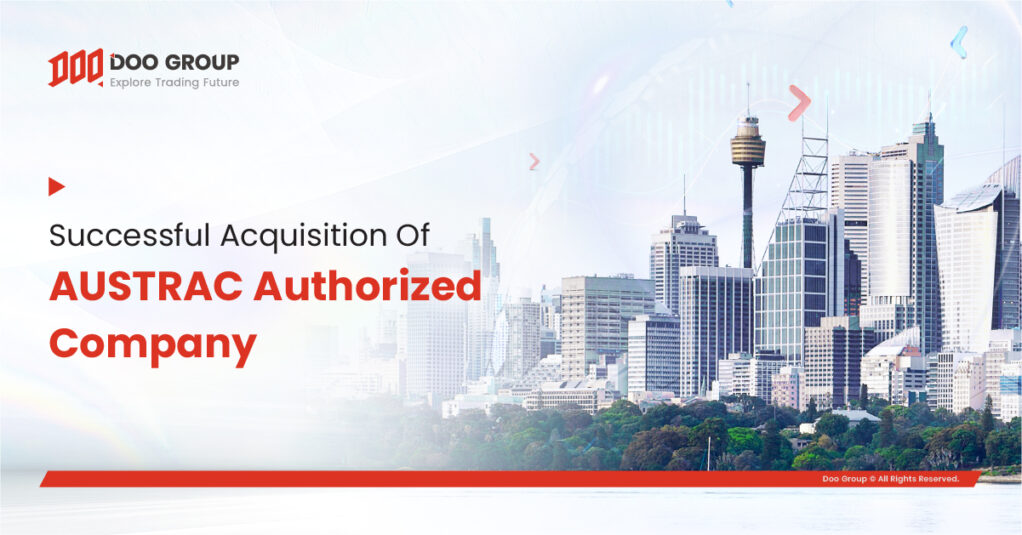 Doo Group's subsidiary brand, Doo Payment and Exchange, achieved new heights by acquiring an authorized remittance and digital currency exchange service provider, namely Doo Exchange AU Pty Ltd, which is regulated by the Australian Transaction Reports and Analysis Centre (AUSTRAC). This momentous milestone signifies the strength and tenacity of Doo Group in its global strategic roadmap.
With the vision to establish a global financial service system, Doo Group has been working dedicatedly to expand international markets along the way. Thus far, the group has nurtured over 550 experienced and knowledgeable professionals working in more than 10 offices worldwide. Furthermore, we have been venturing into diversified sectors, including insurance, wealth management and investment education.
The successful acquisition of Doo Exchange AU Pty Ltd begins a new chapter of Doo Group in the digital payment exchange sector.
Safeguarding Clients Benefits With The Authorization From World-Top Financial Regulator
Today's financial system is increasingly vast and complex following the widespread implications of digitalization, such as digital currencies and blockchain technology. While emerging technologies are boosting financial inclusion, criminals are attempting to take advantage of the rapid take-up of digital currencies to commit crimes and hide from law enforcement. Therefore, effective regulation is needed to maintain a safe and secure financial environment, and protect consumers from financial frauds.
AUSTRAC is the Australian Government agency formed in 1989. It is one of the world-leading financial regulators that mandated under the Anti-Money Laundering and Counter-Terrorism Financing Act 2006 (AML/CTF Act) to detect, deter and disrupt criminal abuse of the financial system.
To fulfil a financial system free from criminal abuse, AUSTRAC has been evolving constantly to address challenges brought by digitalization. Their financial intelligence specialists are collaborating with law enforcement and national security partners to identify national security threats, as well as detecting and disrupting criminal networks and the proceeds of their crimes.
As a financial service brand with financial technology as its core, Doo Payment and Exchange is pleased to begin a whole new journey along with the authorization from a world-top financial regulator that embraces innovation.
Professional Service Offerings
With the authorization of AUSTRAC, Doo Exchange AU Pty Ltd, is allowed to provide clients with the following services:
Remittance service provider (Independent remittance dealer number: IND100812107-001)
A remittance service accepts instructions from customers to transfer money or property to a recipient. Remittance service providers are also known as 'money transfer businesses'
Digital currency exchange service provider (Digital currency exchange registered provider number: DCE100812107-001)
A digital currency exchange service provider exchanges:
a. Money (Australian or foreign currency) for digital currency; or
b. Digital currency for money (Australian or foreign currency)
As part of operating as digital currency exchange business.
For more information, please search "Doo Exchange AU Pty Ltd" on AUSTRAC official website: https://online.austrac.gov.au/ao/public/rsregister.seam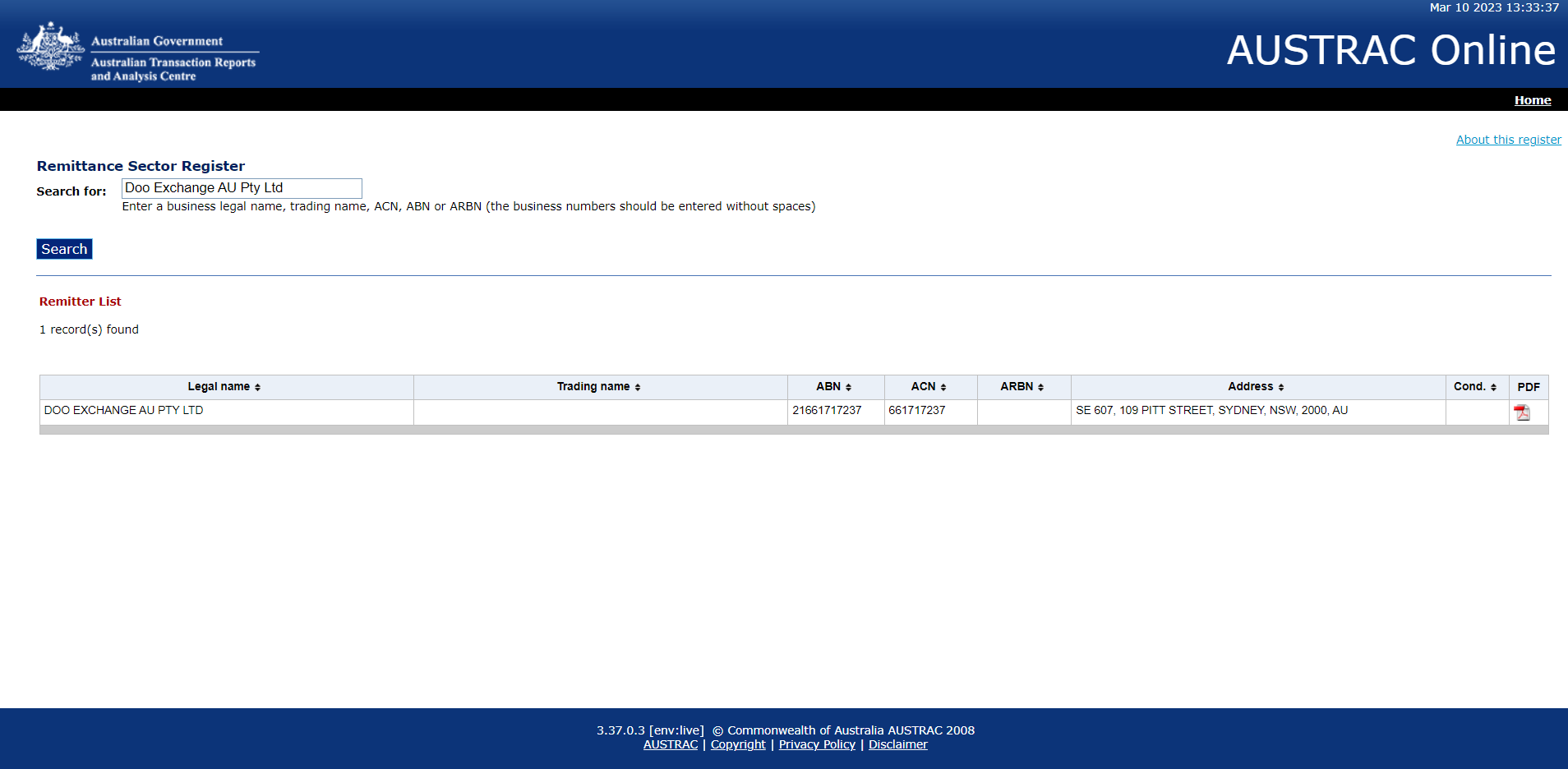 The authorization from AUSTRAC is a benchmark for Doo Group in forging a comprehensive financial system globally. In the future, Doo Group will be striving for more great achievements to keep its clients at the forefront of the industry.
About Doo Group
Doo Group was established in 2014, currently headquartered in Singapore. After years of development, Doo Group has become a multi-faceted financial services group with financial technology as its core. With multiple sub-brands such as Doo Clearing, Doo Financial, Doo Prime, FinPoints and more, Doo Group is committed to provide trading and asset management services for over 20,000 financial products such as Securities, Futures, Forex, CFDs and Funds to global individual and institutional clients.
Currently, the entities within Doo Group, according to their location and products, are regulated by many of the top global financial regulators, including, but not limited to the United States Securities and Exchange Commission (US SEC) and Financial Industry Regulatory Authority (US FINRA), United Kingdom Financial Conduct Authority (UK FCA), the Australian Securities & Investments Commission (ASIC), the Australian Transaction Reports and Analysis Centre (AUSTRAC), the Hong Kong Securities and Futures Commission (HK SFC), the Hong Kong Insurance Authority (HK Insurance Broker), the Hong Kong Companies Registry (HK Trust Company), the Hong Kong Customs and Excise Department (HK Money Service Operator), the Malaysia Labuan Financial Services Authority (MY Labuan FSA), the Seychelles Financial Services Authority (SC FSA), Mauritius Financial Services Commission (MU FSC), and the Vanuatu Financial Services Commission (VU FSC). Doo Group has entities operating in various global locations, including Dallas, London, Sydney, Singapore, Hong Kong, Dubai, Kuala Lumpur as well as other regions.
For enquiries and further information, please contact us:
Hong Kong: +852 6701 2091
Singapore: +65 6011 1736
Email: [email protected]
Forward-looking Statement
"Forward-looking" Statements
This article contains "forward-looking statements" and may be identified by the use of forward-looking terminology such as "anticipate", "believe", "continue", "could", "estimate", "expect", "hope", "intend", "may", "might", "plan", "potential", "predict", "should", or "will", or other variations thereon or comparable terminology. However, the absence of such terminology does not mean that a statement is not forward-looking. In particular, statements about the expectations, beliefs, plans, objectives, assumptions, future events, or future performance of Doo Group will be generally assumed as forward-looking statements.
Doo Group has provided these forward-looking statements based on all current information available to Doo Group and Doo Group's current expectations, assumptions, estimates, and projections. While Doo Group believes these expectations, assumptions, estimations, and projections are reasonable, these forward-looking statements are only predictions and involve known and unknown risks and uncertainties, many of which are beyond Doo Group's control. Such risks and uncertainties may cause results, performance, or achievements materially different from those expressed or implied by the forward-looking statements.
Doo Group does not provide any representation or warranty on the reliability, accuracy, or completeness of such statements. Doo Group is not obliged to provide or release any updates or revisions to any forward-looking statements.
Risk Disclosure
Trading in financial instruments involves high risks due to the fluctuation in the value and prices of the underlying financial instruments. Due to the adverse and unpredictable market movements, large losses exceeding the investor's initial investment could incur within a short period of time. The past performance of a financial instrument is not an indication of its future performance.
Please make sure you read and fully understand the trading risks of the respective financial instrument before engaging in any transaction with us. You should seek independent professional advice if you do not understand the risks disclosed by us herein.
Disclaimer
This information is addressed to the general public solely for information purposes and should not be taken as investment advice, recommendation, offer, or solicitation to buy or sell any financial instrument. The information displayed herein has been prepared without any reference or consideration to any particular recipient's investment objectives or financial situation. Any references to the past performance of a financial instrument, index, or a packaged investment product shall not be taken as a reliable indicator of its future results. Doo Group makes no representation and warranties to the information displayed and shall not be liable for any direct or indirect loss or damages as a result of any inaccuracies and incompleteness of the information provided. Doo Group shall not be liable for any loss or damages as a result of any direct or indirect trading risks, profit, or loss associated with any individual's investment.