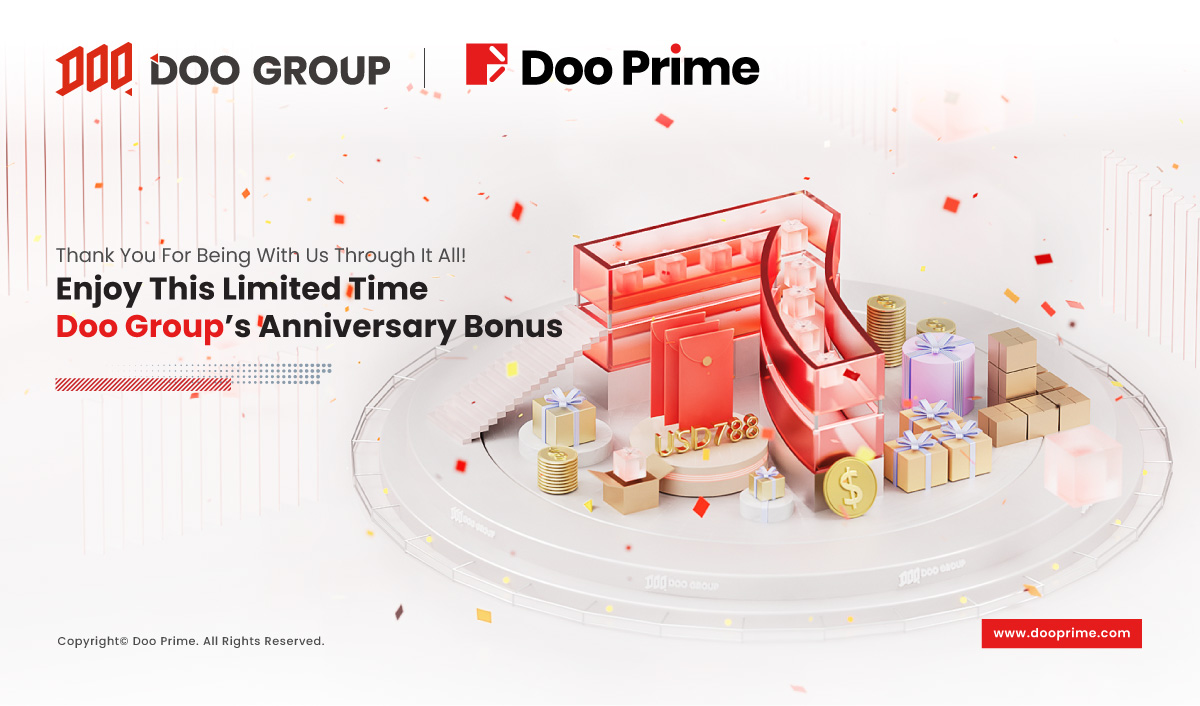 On 18th November 2021, Doo Prime's parent company Doo Group celebrates its seventh anniversary with pride. Over the course of 7 years, Doo Group has steadfastly developed into a large financial services group with financial technology as its core, providing high-quality financial services to more than 30,000 clients around the world.
Explore trading future with global recognitions
Since its establishment in 2014, Doo Group has always taken it as its mission to provide clients with safe, reliable, professional and convenient trading services. The Group strives to increasingly explore the field of financial technology and services as we gradually advance towards the goal of being a "leading global financial service group".
In order to protect the safety of clients' funds and rights, alongside ensuring clients' interests are treated fairly and equitably, Doo Group as well as its affiliates are regulated by a number of top financial regulators around the world. Doo Group operates its financial services under strict industry regulations, including the United States Securities and Exchange Commission (SEC), the Financial Industry Regulatory Authority (FINRA), the United Kingdom Financial Conduct Authority (FCA), the United Kingdom Financial Services Authority (FSA), the Mauritius Financial Services Commission (FSC), and the Vanuatu Financial Services Commission (VSFC).


Embrace the world in a stronger position
2021 signifies an important milestone and accomplishment for Doo Group.
Doo Group has further expanded its global business footprint by establishing new offices in Australia, Dubai, UAE, as well as Bangkok, Thailand, in order to provide global investors with more comprehensive support. In spite of the pandemic, our professionals across different offices have strived to sustain and optimize the services we provide. Thanks to the trust of global clients, Doo Group's monthly trading volume has generally shown a positive growth trend.
This also marks a remarkable year for Doo Group as we have gained great support from new partnerships with various renowned cooperation.  As of 3rd May 2021, Doo Group and Bison Bank, S.A. ("Bison Bank") came to an agreement and signed a Memorandum of Understanding (MoU) to promote management services and financial products to international clients between both parties. In July 2021, Doo Group entered a strategic business partnership with Abans International Limited, Mauritius to better facilitate asset and liquidity management for Doo Group's clients and partners. 

In the same month, Doo Financial – an online broker under Doo Group – officially established a fully disclosed brokerage relationship with Interactive Brokers. On top of that, Doo Group collaborated with oneZero, a global leader in multi-asset enterprise trading technology to enhance our liquidity clearing system. This happened within the mere span of 2 months.
As we thrive towards building global financial diversity, Doo Group and our affiliates still keep social responsibility in mind. In 2021, the Group set up a dedicated "Doo" bursary at King's College London to provide assistance to students with financial difficulties. In August 2021, Doo Group signed the United Nations "Principles for the Empowerment of Women" to firmly support and promote gender equality. It is hoped that through practical actions, the Group can contribute to the development of individuals, industries, and society.
Doo Prime also started a donation movement where USD0.01 is donated for every lot traded to support poor children around the world. This movement started since 1st January 2021. Through this, the group hopes to join hands with our global customers to help build a better future by improving their learning and living environment.


Celebrating Milestones: Enjoy up to USD 788 rewards  

We have our clients to thank for our vast accomplishments. In order to give back to our clients' long-term support, the Group's  "7th  Anniversary Giveaway" campaign has already begun, during which multiple bonuses will be offered. This includes: 
Trading Bonus  
Individuals who deposit USD 1,000 or more, and trade 1 lot, will receive a bonus during this promotion period. You can get up to USD788 bonus!  
The more you trade, the more bonuses you will be able to enjoy – there is no limit!  


Limited-Time Bonus 
New and existing clients can get extra perks during selected bonus periods. Simply log in to this page at the following times (UTC+8): 
7th Anniversary Celebration (on-going)
November 18, 2021 00:00 – November 19, 01:00  
Double 12 Celebration
December 12, 2021 00:00 – December 13, 01:00  
New Year's Celebration 
December 31, 2021, 23:00 – January 1, 2022, 01:30 


Please visit the official event page to find out more: CLICK 
Looking forward, Doo Prime will continue to uphold the group's core value of "customer first", and is committed to providing every customer with safe and convenient trading services. We look forward to working with you to build a better trading future!  


Terms and Conditions apply.
Risk Disclosure
Trading in financial instruments involves a high degree of risk due to fluctuations in the value and price of the underlying financial instruments. Due to the adverse and unpredictable market movements, large losses exceeding the investor's initial investment could incur within a short period of time. The past performance of a financial instrument is not an indication of its future performance.
Please make sure you read and fully understand the trading risks of the respective financial instrument before engaging in any transaction with us. You should seek independent professional advice if you do not understand the risks disclosed by us herein.
Disclaimers 
This information is for general information purposes only and is intended for general information purposes only and should not be considered as any investment advice, recommendation, offer, solicitation or invitation to buy or sell any financial instruments. The information shown herein has been prepared without reference to or consideration of the investment objectives or financial situation of any particular recipient. Any reference to the past performance of a trading product, index or packaged trading products should not be considered a reliable indicator of its future performance. Doo Prime makes no representations or warranties with respect to the information displayed and shall not be liable for any direct or indirect loss or damage arising from any inaccuracies and incompleteness of the information provided. Doo Prime shall not be liable for any loss or damages as a result of any direct or indirect trading risks, losses or gains associated with any individual's investment.