At the recent milestone celebration marking the production of China's 5 millionth new energy vehicle (EV), BYD Chairman Wang Chuanfu boldly proclaimed, "China is on the brink of giving birth to a new generation of globally recognized auto brands."
In the past few days, China's EV manufacturers have unveiled their delivery numbers for September and the third quarter, showcasing impressive growth, with many achieving historic highs. As the world's largest EV market, China's trajectory is poised to shape the future of the entire industry.
This article not only delves into the global positioning of Chinese EV companies but also dissects the challenges and opportunities that lie ahead in the Chinese EV market. Join us in spotlighting some of the industry's standout players.
China's EV Reshaping The Global Landscape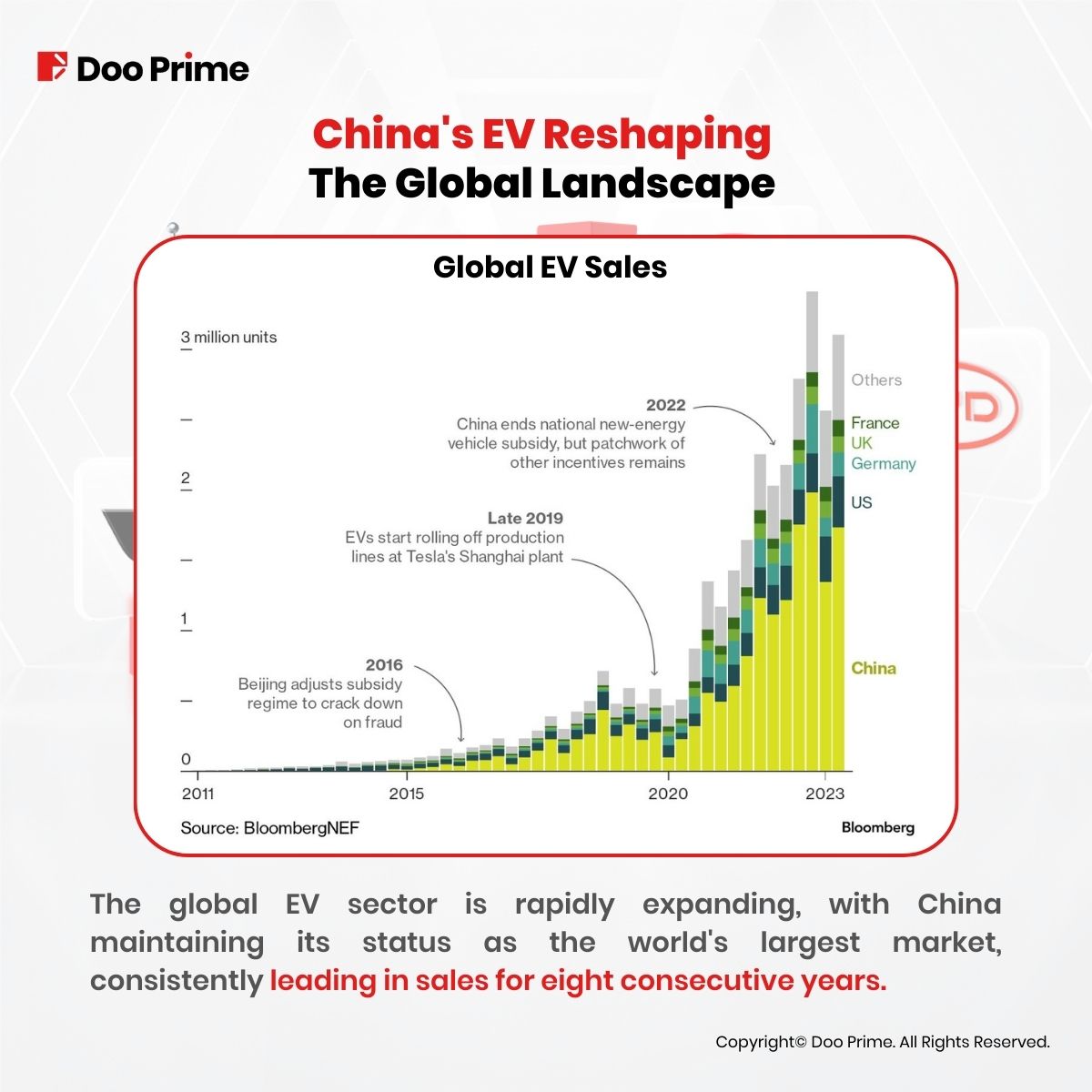 The global EV industry is experiencing rapid growth, and China, as the world's largest market for EVs, has maintained its position as the world leader in production and sales for eight consecutive years.
From January to August 2023, Chinese EVs accounted for approximately 61% of the world's EV market, with China's renewable energy rate reaching 28%.
In the same period, in the sales rankings of EV manufacturers in the Chinese market, apart from Tesla, the remaining nine are all domestic Chinese companies, including BYD, GAC Aion, SAIC-GM Wuling, Geely, Changan Automobile, Li Auto, Great Wall Motor, NIO, XPeng, and Hozon Auto.
Cui Dongshu, secretary general of the China Passenger Car Association, predicts that EV retail sales in September will reach approximately 750,000 units, a 22.3% year-on-year increase, with a market penetration rate of 37.9%.
EV companies have been releasing their delivery figures for September, generally showing an upward trend, with many achieving historic highs.
In September, Li Auto surpassed 30,000 units for the fourth consecutive month, while Leapmotor, NIO, Xpeng, and Hozon Auto all delivered more than 10,000 units.
Other manufacturers, like Changan Deep Blue, Lant Voyah Lantu, and Avita, set new single-month sales records, with Aion surpassing 50,000 units for the first time.
Simultaneously, Huawei's cross-border entry into the market with the "Huawei AITO 7" has made waves due to its exceptional safety features and impressive intelligent driving capabilities.
Since its release on September 12th, it has garnered over 50,000 pre-orders, achieving more than 7,000 orders in a single day on October 6th.
China's EV market is undergoing a transformation with the rise of both established and emerging players, as well as the impressive evolution of traditional automotive companies.
Within this diverse landscape, featuring both traditional and modern, high-end and affordable EV brands, China has created a matrix of EVs, driving global car manufacturers toward the future of sustainable transportation.
Balancing Act: Challenges And Advantages Of China's EV Industry
While the future of China's EV industry appears promising, it is not without its share of impending challenges.
EU Subsidy Investigation
Europe, the world's second-largest EV market and a significant overseas market for Chinese EVs, faces an EU Commission investigation into potential illegal subsidies benefiting China's Battery Electric Vehicles (BEVs) that may pose a threat to EU BEV manufacturers or cause economic harm.
If the EU imposes anti-subsidy tariffs on Chinese electric vehicles, it could impact China's automotive exports.
Tesla's Technological Edge
In September, news broke about Tesla's groundbreaking "gigacasting" technology, revolutionizing the vehicle manufacturing process. This innovation streamlines the chassis by integrating most of the traditional assembly work involving 400 parts. It holds the promise of helping Elon Musk achieve his goal of cutting production costs in half.
While most competitors may require three to four years to develop a new car, Tesla's technology enables them to complete the process in just 18 to 24 months.
Tesla's substantial price reductions earlier this year led to a price war among Chinese EV companies, and the latest manufacturing techniques may offer even more room for price reductions, allowing Tesla to seize a more significant share of the market.
The price war between Tesla and Chinese automakers has been ongoing for over nine months. Surprisingly, this has not put Chinese automakers at a disadvantage.
Instead, it has driven sales to unprecedented levels throughout the year. The discounts offered by these companies continue to stimulate market consumption potential, and the Chinese new energy vehicle market is experiencing a surge of new opportunities.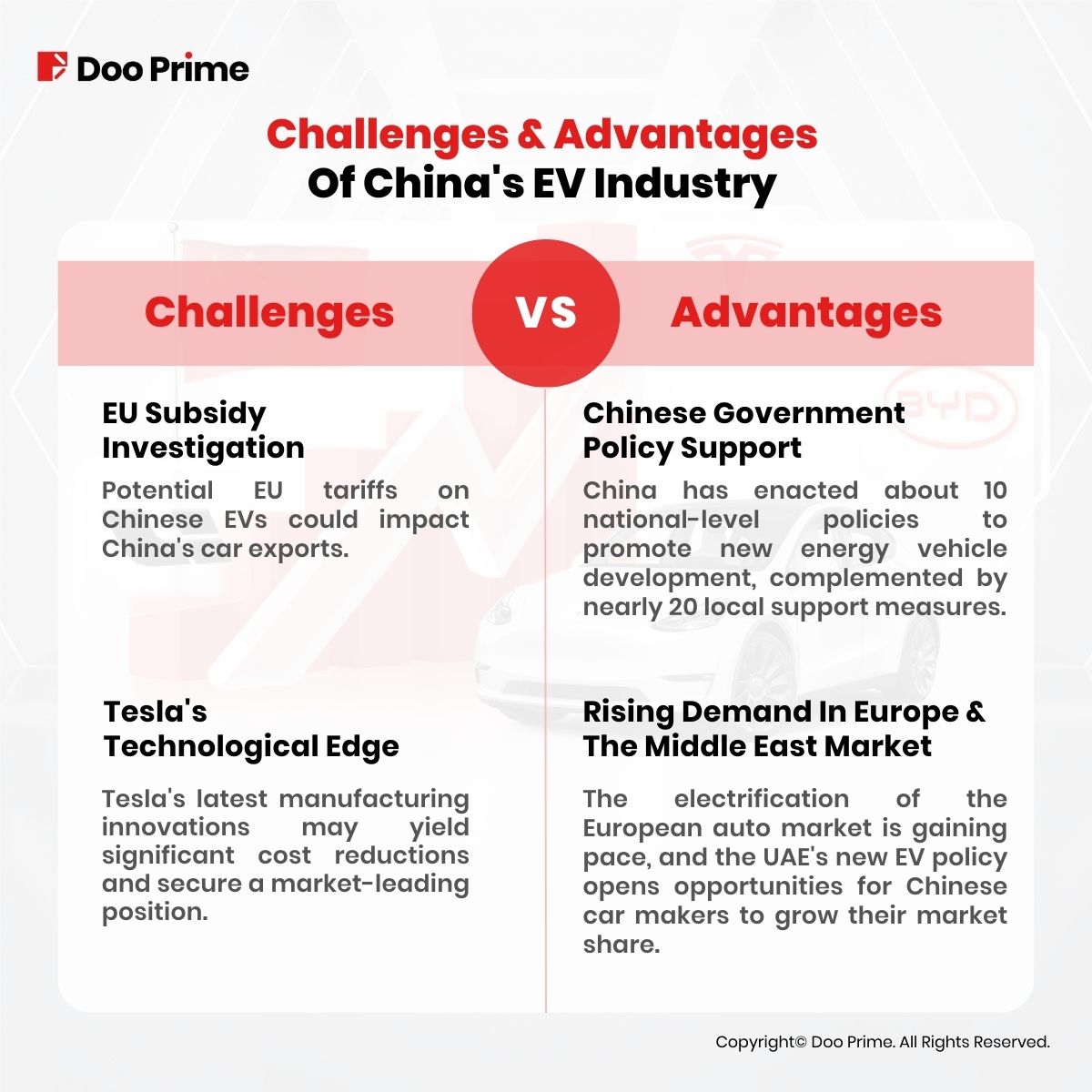 Chinese Government Support
The Chinese EV industry has entered a post-subsidy era. In the first half of 2023 alone, national and local authorities introduced nearly ten policies aimed at promoting EV development.
Of particular significance is the June 21st announcement extending and optimizing the policy for reducing the vehicle purchase tax for EV. This marks the fourth extension of the policy, with a gradual reduction in the tax exemption benefits over the years.
It aims to alleviate the burden on consumers, boost confidence in EV companies, and promote their adoption. The scale of tax reductions is expected to reach 520 billion yuan.
In the short term, the policy, set to take effect early next year, is expected to drive strong new energy vehicle sales in the fourth quarter of this year.
In the medium to long term, the tax reduction policies over the next four years will influence the strategic positioning and pricing rhythm of EV companies.
Fueled by multiple policy incentives, EVs are expected to maintain a strong growth trajectory.
Rising Demand In Europe And The Middle East
In 2023, the composition of the European EV market is undergoing a notable shift. Plug-in hybrid vehicle growth has stagnated since January, while pure EV sales have surged.
The electrification of the European automotive market has gained momentum, but European companies are struggling to keep up with the evolving market demand.
They now have an opportunity to collaborate with Chinese companies to develop the next generation of vehicles or adopt Chinese firms' core technologies and powertrains for new models, enhancing their market share in Europe.
Additionally, the recent approval of a new national EV policy in the UAE promotes the development of the EV industry.
The UAE is a key Middle Eastern destination for Chinese automotive exports, with brands like Hongqi, Geely, and BYD already entering the UAE's new energy vehicle market. This new policy opens up more opportunities for Chinese enterprises in the region.
Paving The Way For Global Auto Dominance: Spotlight On Top-Performing EV Stocks In China
In an environment characterized by both prospects and challenges, China's electric vehicle (EV) industry continues its rapid ascent, with two standout players—BYD and Li Auto —commanding attention.
BYD
BYD stands as a true vanguard of China's EV landscape. Not only is it the nation's largest EV manufacturer and distributor, but it is also emerging as a serious rival to Tesla. Recent developments indicate BYD's proactive foray into international markets, solidifying its competitive edge.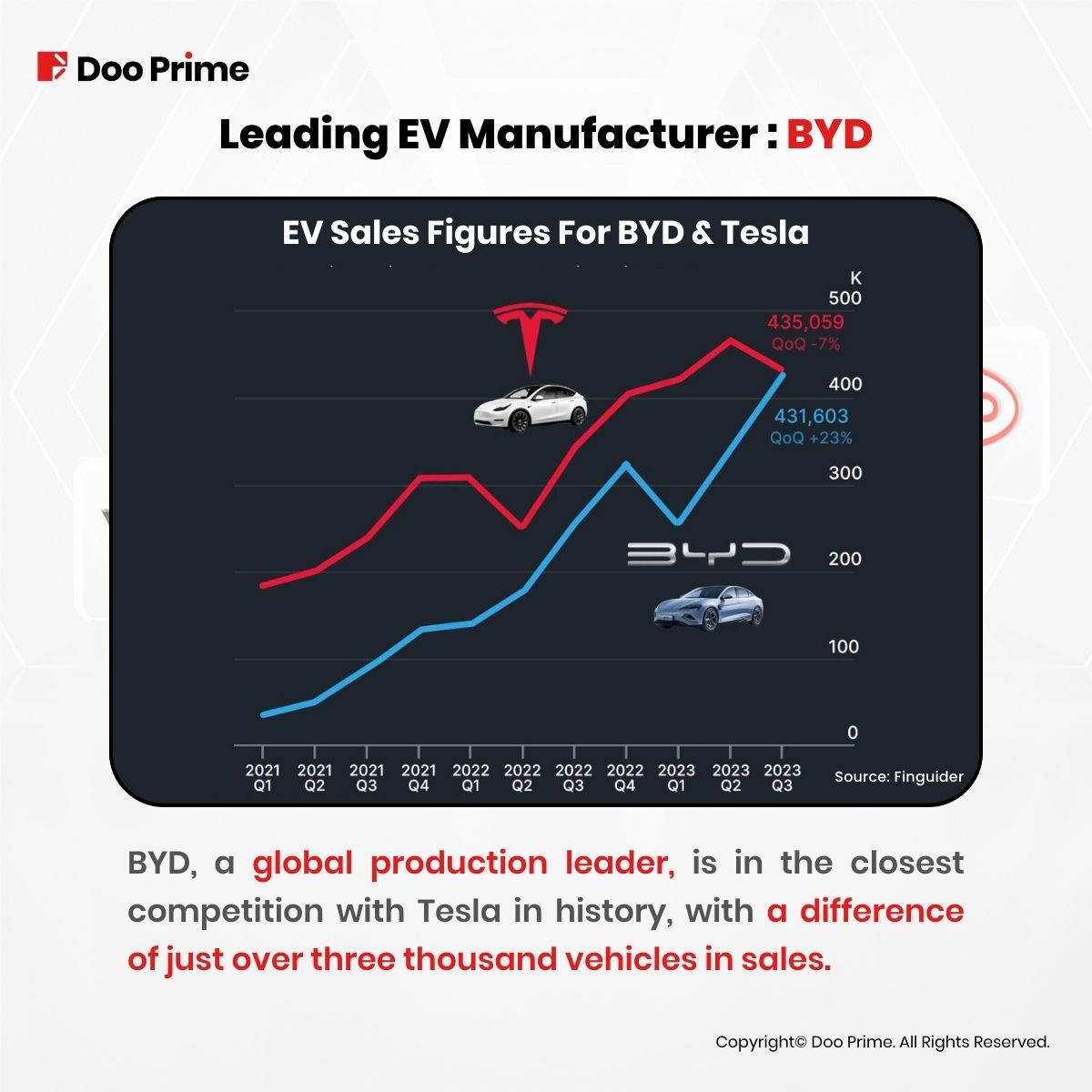 For the third quarter of this year, BYD achieved a remarkable milestone with a production of 440,000 pure electric vehicles—an impressive 67% year-on-year surge.
This remarkable feat surpassed Tesla's 18% year-on-year growth, as they reached 430,500 units, catapulting BYD to the title of the world's highest EV producer.
Furthermore, BYD's sales of pure electric vehicles showed a month-on-month growth of 23%, surging to a notable 431,600 units. This figure, just a whisker behind Tesla's 435,100 units, signifies BYD's resilience and proximity to its rival, even as Tesla navigates adjustments in its production line.
BYD has boldly ventured into fresh overseas markets, spanning Japan, the Middle East, Europe, and Latin America. These strategic moves have contributed to a consistent upward trend in delivery figures.
Simultaneously, Tesla's production line adaptations have led to a sales dip, narrowing the sales gap between the two automakers to the closest point in history.
Li Auto
Whether looking at September or the entire third quarter, Li Auto has delivered jaw-dropping results, boasting year-on-year growth rates that surpass 200%.
Unlike BYD, Li Auto has harnessed the power of domestic suppliers, carving out their unique space in the market.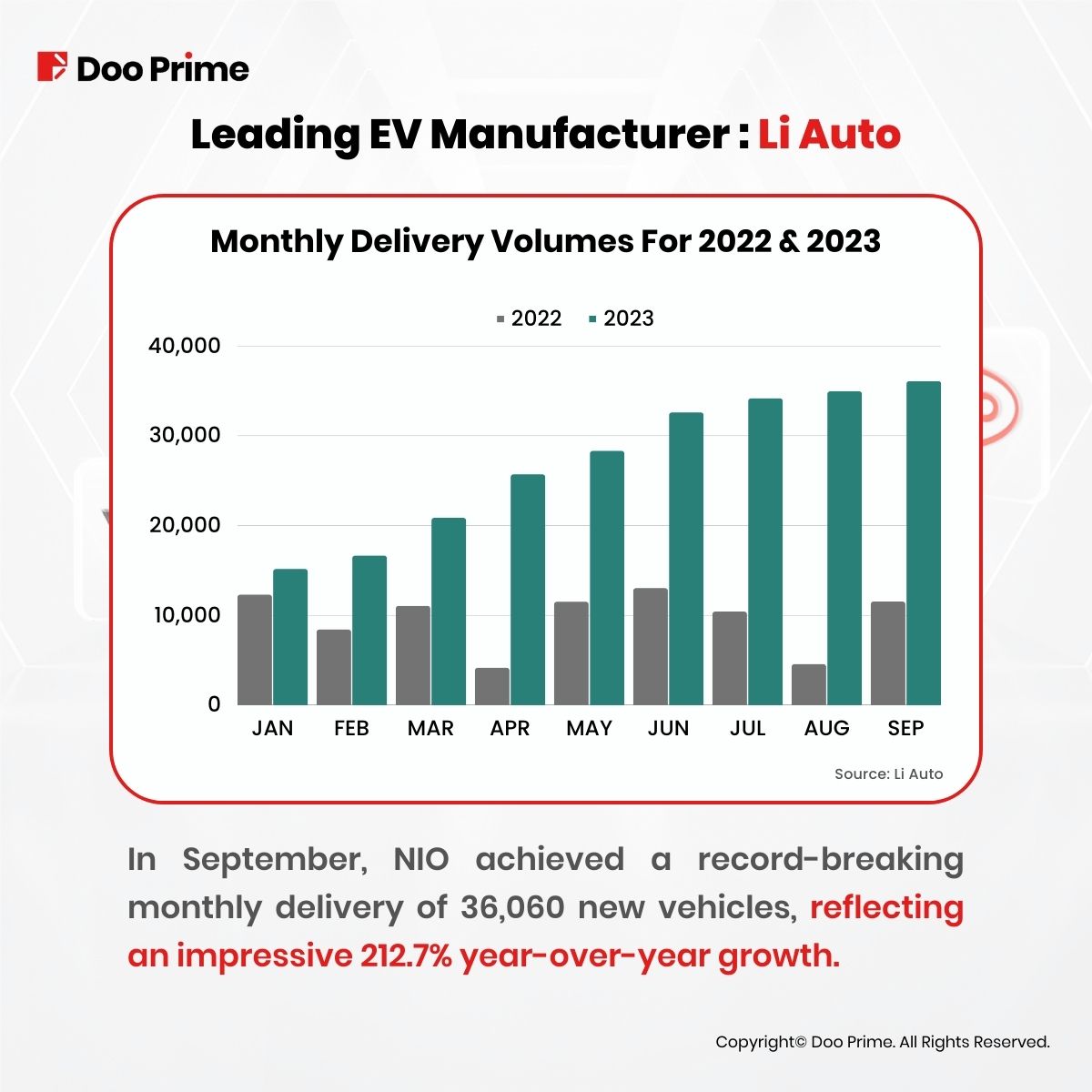 In September alone, Li Auto celebrated the delivery of 36,060 new vehicles, an astonishing 212.7% year-on-year increase and a new record for monthly deliveries.
As of September 30, 2023, the cumulative delivery total for the third quarter reached 105,108 units—an astounding 296.3% year-on-year growth. The annual cumulative delivery count has already soared to 244,225 units.
Li Auto shows no signs of slowing down, with founder Xiang Li anticipating a delivery figure exceeding 40,000 units in November.
Li Auto has been vocal about its strategy of not entering international markets until 2025. Currently, their primary focus revolves around extended-range electric vehicles, designed to alleviate range anxiety among Chinese consumers.
Xiang Li emphasizes, "We produce 99% of our primary components domestically," encompassing everything from chips and memory to batteries, air suspensions, and braking systems. This strong emphasis on local suppliers has significantly bolstered the company's competitive edge.
Charting The Road Ahead For The EV Market
The automotive sector remains a potent, dynamic force in the stock market, particularly with regard to EVs. Investors are encouraged to closely monitor the ever-evolving landscape of the EV market, remaining attuned to both the challenges and opportunities that come with it.
While concentrating on high-performing EV stocks, it is equally important to keep an eye on promising Chinese companies on the brink of entering the stock market, such as ZEEKR and others poised for future growth. 
| About Doo Prime
Our Trading Products
Securities | Futures | Forex | Precious Metals | Commodities | Stock Indices
Doo Prime, an international preeminent online broker under Doo Group, strives to provide professional investors with global CFD trading products in Securities, Futures, Forex, Precious Metals, Commodities, and Stock Indices. At present, Doo Prime is delivering the finest trading experience to more than 130,000 clients, with an average trading volume of more than USD 51.223 billion each month.
Doo Prime entities respectively holds the relevant financial regulatory licenses in Seychelles, Mauritius, and Vanuatu with operation centers in Dallas, Sydney, Singapore, Hong Kong, Dubai, Kuala Lumpur, and other regions.
With robust financial technology infrastructure, well-established partnerships, and an experienced technical team, Doo Prime boasts a safe and secure trading environment, competitive trading costs, as well as deposit and withdrawal methods that support 20+ different currencies. Doo Prime also incorporates 24/7 multilingual customer service and extremely fast trade execution via multiple industry-leading trading terminals such as MT4, MT5, TradingView, and Doo Prime InTrade, covering over 10,000 trading products.
Doo Prime's vision and mission are to become a financial technology-focused broker, streamlining international global financial products investment.
For more information about Doo Prime, please contact us at:
Phone:
Europe: +44 11 3733 5199
Asia: +852 3704 4241
Asia – Singapore: +65 6011 1415
Asia – China: +86 400 8427 539
E-mail:
Technical Support: [email protected]
Account Manager: [email protected]
Forward-looking Statements
This article contains "forward-looking statements" and may be identified by the use of forward-looking terminology such as "anticipate", "believe", "continue", "could", "estimate", "expect", "hope", "intend", "may", "might", "plan", "potential", "predict", "should", or "will", or other variations thereon or comparable terminology. However, the absence of such terminology does not mean that a statement is not forward-looking. In particular, statements about the expectations, beliefs, plans, objectives, assumptions, future events, or future performance of Doo Prime will be generally assumed as forward-looking statements.
Doo Prime has provided these forward-looking statements based on all current information available to Doo Prime and Doo Prime's current expectations, assumptions, estimates, and projections. While Doo Prime believes these expectations, assumptions, estimations, and projections are reasonable, these forward-looking statements are only predictions and involve known and unknown risks and uncertainties, many of which are beyond Doo Prime's control. Such risks and uncertainties may cause results, performance, or achievements materially different from those expressed or implied by the forward-looking statements.
Doo Prime does not provide any representation or warranty on the reliability, accuracy, or completeness of such statements. Doo Prime is not obliged to provide or release any updates or revisions to any forward-looking statements.
Risk Disclosure
Trading in financial instruments involves high risks due to the fluctuation in the value and prices of the underlying financial instruments. Due to the adverse and unpredictable market movements, large losses exceeding the investor's initial investment could incur within a short period of time. The past performance of a financial instrument is not an indication of its future performance. Investments in certain services should be made on margin or leverage, where relatively small movements in trading prices may have a disproportionately large impact on the client's investment, and client should therefore be prepared to suffer significant losses when using such trading facilities.
Please ensure you read and fully understand the trading risks of the respective financial instrument before engaging in any transaction with Doo Prime's trading platforms. You should seek independent professional advice if you do not understand any of the risks disclosed by us herein or any risk associated with the trade and investment of financial instruments. Please refer to Doo Prime's Client Agreement and Risk Disclosure and Acknowledgement Notice to learn more.
Disclaimer
This information is addressed to the general public solely for information purposes and should not be taken as investment advice, recommendation, offer, or solicitation to buy or sell any financial instrument. The information displayed herein has been prepared without any reference or consideration to any particular recipient's investment objectives or financial situation. Any references to the past performance of a financial instrument, index, or a packaged investment product shall not be taken as a reliable indicator of its future performance. Doo Prime and its holding company, affiliates, subsidiaries, associated companies, partners and their respective employees, make no representation or warranties to the information displayed and shall not be liable for any direct, indirect, special or consequential loss or damages incurred a result of any inaccuracies or incompleteness of the information provided, and any direct or indirect trading risks, profit, or loss arising from any individual's or client's investment.