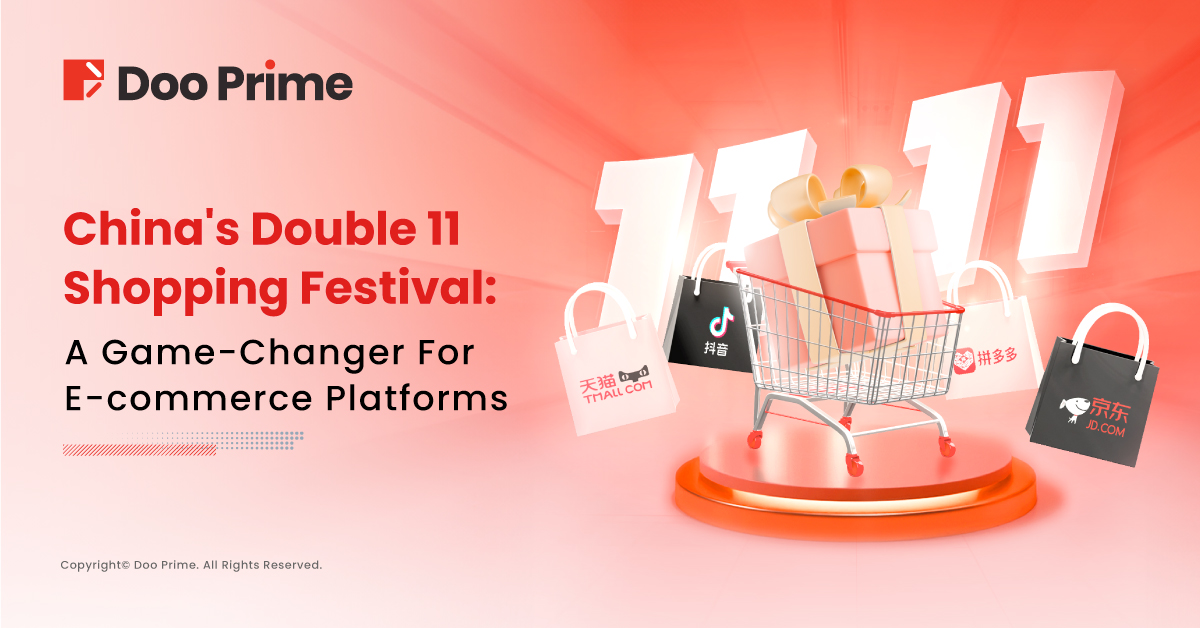 China's Double 11 shopping festival is celebrating its 15th year, with major Chinese e-commerce platforms vying for attention during the "2023 Double 11 Shopping Extravaganza."  
"Leveraging Low Prices: A Fundamental E-commerce Weapon" — JD Group's CEO Liu Qiangdong emphasized this during an internal training session.
Their marketing slogans revolve around "genuine affordability," "the lowest prices across the web," and "daily shocking discounts," all aimed at sparking consumer spending. Double 11 is not just a shopping frenzy for consumers; it's also a pivotal moment for e-commerce giants to unveil their strategic moves.
In this article, we'll explore the unique aspects of the 2023 Double 11 shopping festival, dissect the marketing tactics employed by players like Taobao Group, JD Group, Pinduoduo, and Douyin in both shelf-based e-commerce and social-driven e-commerce, and delve into how e-commerce platforms plan to overcome growth hurdles and shape the industry's future.
2023 Double 11: Three Key Highlights
Since the rise of Chinese e-commerce platforms, competition has intensified. Although these platforms boast impressive sales figures, their growth rates have slowed considerably. Is this a sign that the e-commerce market is reaching saturation?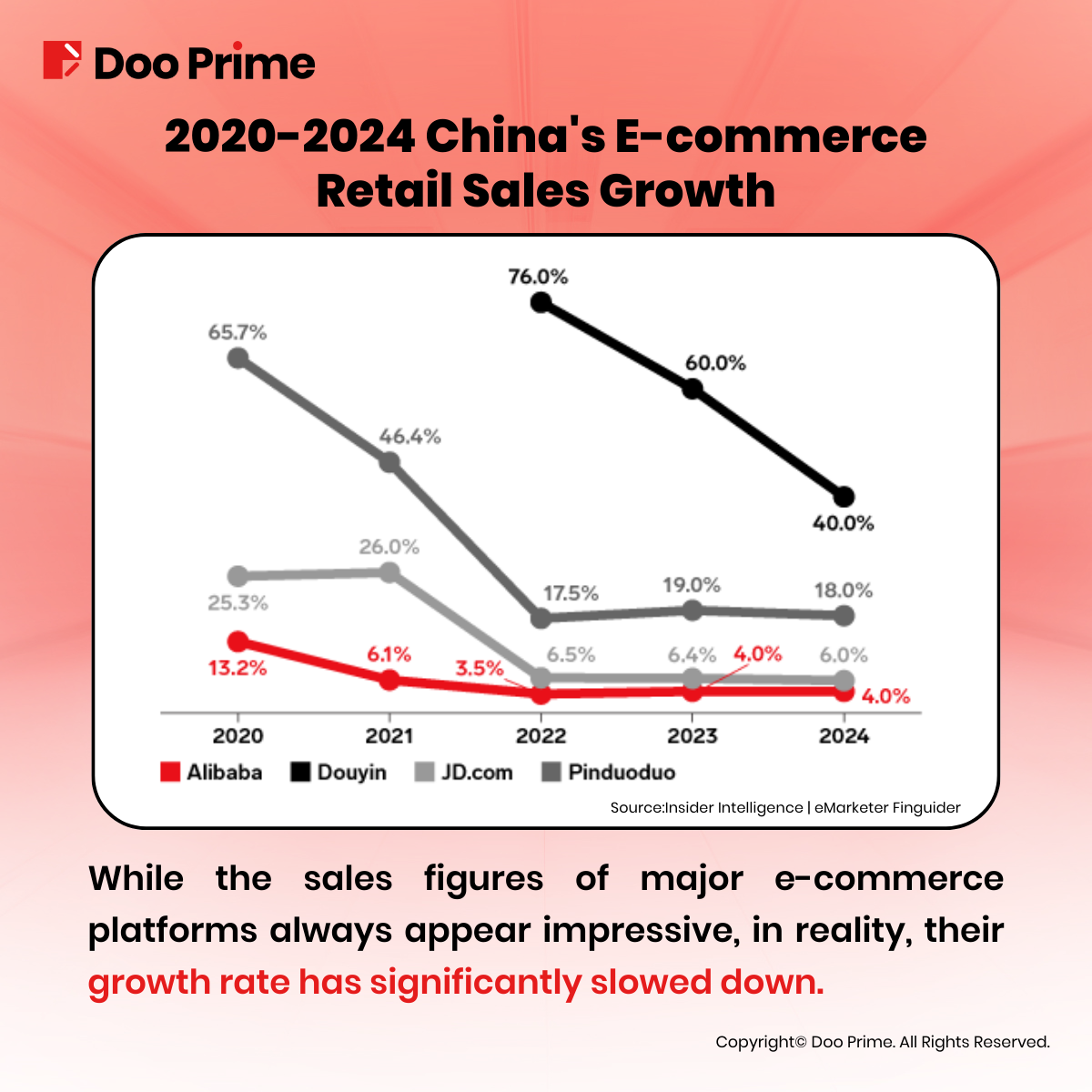 Furthermore, the performance of e-commerce platforms during the annual Double 11 shopping festival has lost some of its luster in recent years. Shoppers are growing weary of elaborate promotions, associating Double 11 more with complexity than affordability.
Few remember that when Alibaba's Daniel Zhang Yong first introduced the Double 11 shopping festival, it was a straightforward "shopping festival" focused solely on discounts. The strategy of offering genuinely low prices turned Double 11 into a global shopping phenomenon and an artificial holiday eagerly anticipated by both e-commerce platforms and consumers.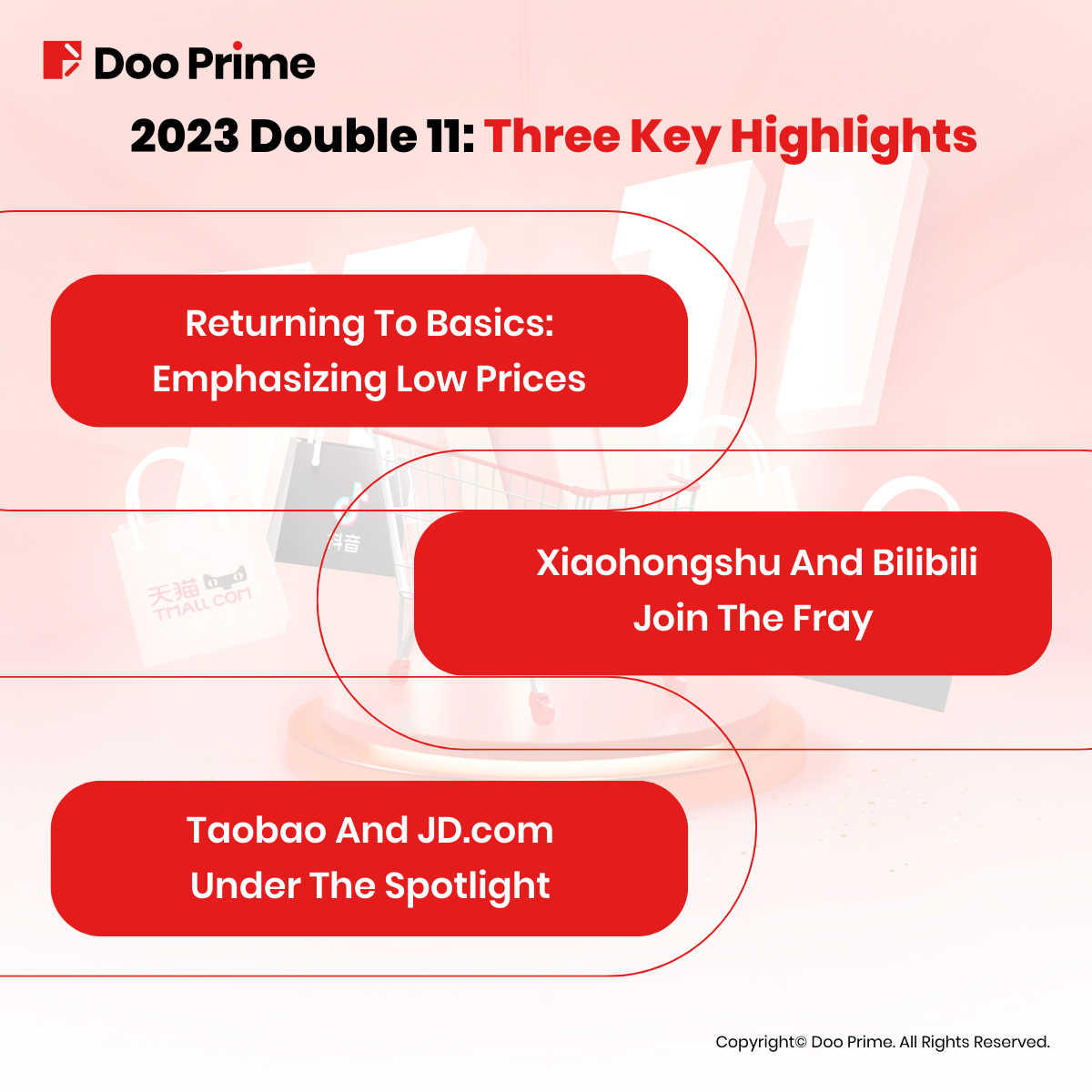 Returning To Basics: Emphasizing Low Prices 
To break through their growth bottlenecks, major e-commerce platforms have returned to their roots in the 2023 Double 11 festival, with a renewed emphasis on low prices. The promotional campaigns kicked off from the 23rd of the month.
This year, platforms are taking a more straightforward approach, offering "price guarantees" to ensure that consumers enjoy a hassle-free shopping experience without the need to combine orders or perform complex calculations.
Tmall, with its slogan "the lowest prices across the web," has launched official price reductions and instant discounts on a large scale, allowing consumers to enjoy discounts on individual items without meeting order requirements.
JD.com's theme is "genuinely affordable," with an emphasis on in-stock products and substantial subsidies. Pinduoduo combines billions in subsidies with "single-item instant discounts," while Douyin not only offers an "official 15% discount" but also introduces "same price as live stream" labels for many products.
Xiaohongshu And Bilibili Join The Fray 
This year's Double 11 competition is not limited to prices; it is about traffic too. In addition to social platforms like Douyin and Kuaishou, Xiaohongshu and Bilibili are making their debut in the Double 11 shopping festival.
Xiaohongshu, with its extensive user base built on content, has a natural advantage in terms of traffic. Now, it is looking to monetize its platform and is planning to achieve end-to-end marketing within its own platform.
On the other hand, Bilibili is opening its doors to various e-commerce platforms as a transit hub. Bilibili has not only rebranded its "member purchase" entry to "Double 11" but is also featuring user-favorite UP creators' live streams on its recommendation page, with most external links pointing to products from Tmall and JD.
Taobao And JD.com Under The Spotlight 
The 2023 Double 11 shopping festival is particularly notable for Taobao and JD.com as it is the first performance report card after personnel changes within these companies.
Taobao Group has undergone significant restructuring since its separation from Alibaba, with Cai Chongxin taking over as Chairman of the Board and Wu Yongming as CEO. The shift is in line with Alibaba's three major directions for future development — returning to Taobao, returning to users, and returning to the internet.
Similarly, this is the first Double 11 shopping festival since JD.com's CEO, Liu Qiangdong, regained control in November of the previous year. Under Liu Qiangdong's leadership, JD Group is now led by Sandy Ran Xu.
Liu Qiangdong's approach is all about emphasizing low-price strategies and returning to their core user base, shifting the marketing focus from premium services to affordability.
2023 Double 11: Shelf-Based E-commerce vs. Social E-Commerce
The times have changed, and although the Double 11 shopping festival began with Alibaba, it is no longer Alibaba's exclusive domain. Competitors like JD.com, Pinduoduo, and even the emerging Douyin have joined the competition.
Looking at the Gross Merchandise Volume (GMV) market share in the first three quarters of 2023, Alibaba's Taobao Group holds 45%, JD Group holds 21.6%, Pinduoduo holds 19.7%, and Douyin holds 7%.
However, when you consider the year-on-year growth rates of GMV in the third quarter, Taobao Group increased by nearly 3%, JD.com by 11%, Pinduoduo by 22%, and Douyin surged by 43%. This highlights a shift from shelf-based e-commerce to social-driven e-commerce.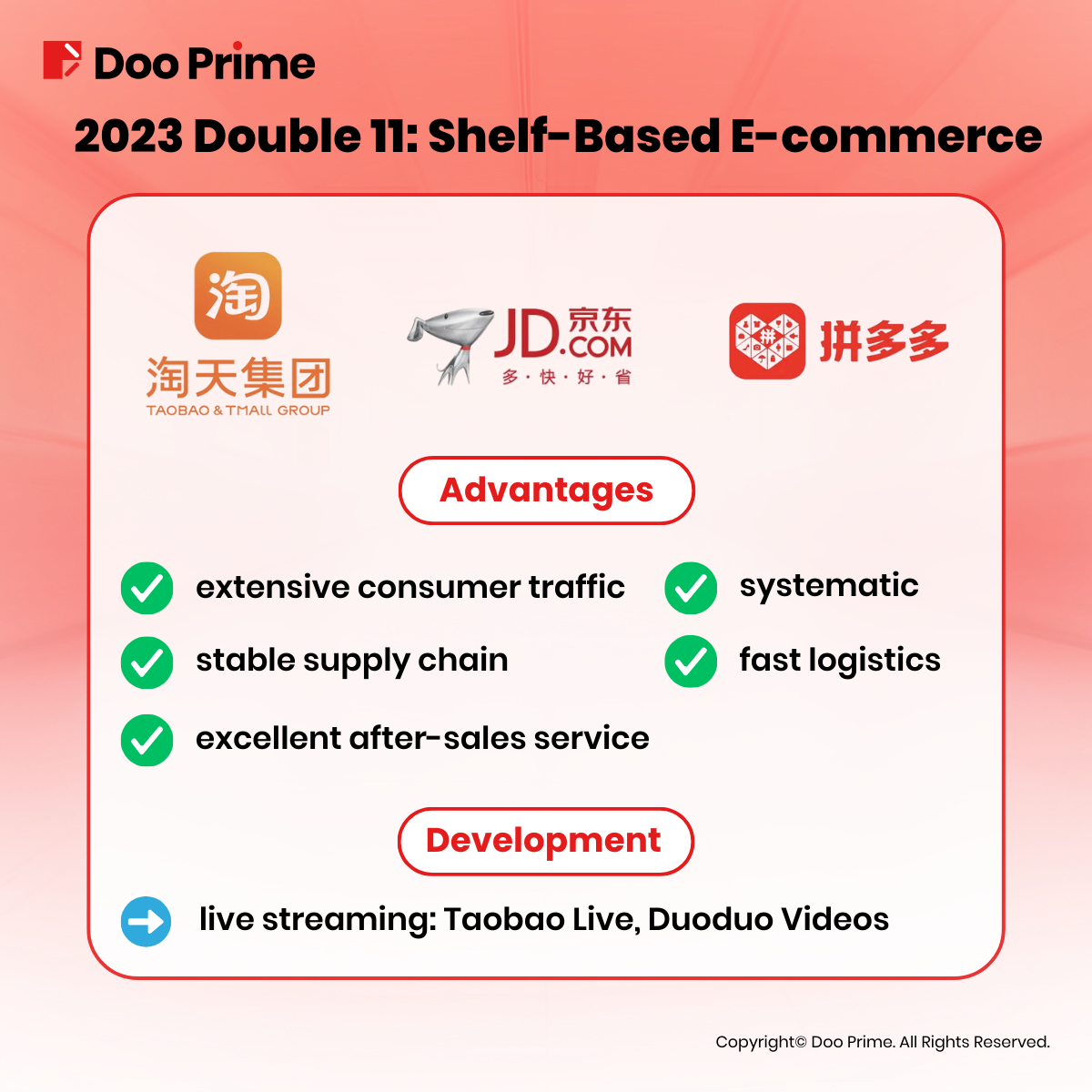 Taobao and JD.com represent the shelf-based e-commerce model, which focuses primarily on providing products. Taobao boasts an extensive supply chain that includes brand names, private labels, and various seller tiers. JD.com has established a self-operated model, focusing on high-quality products for high-end users.
However, Pinduoduo's long-term "low-price strategy" poses a significant threat because its strength lies in offering budget-friendly brands, appealing to consumers looking for economical options. This has caused Taobao and JD.com to lose their low-price advantage and has directly affected their growth rates.
The primary advantage of shelf-based e-commerce is its extensive consumer traffic and a stable supply chain. Shelf-based e-commerce platforms can systematically manage distribution and offer fast logistics, significantly enhancing the consumer shopping experience.
This year's Double 11 sees shelf-based e-commerce platforms putting extra effort into logistics. JD.com is introducing a "place your order, store packs it, same-day delivery within hours" service within 3 to 5 kilometers. Meanwhile, Taobao leverages Alibaba's Cainiao to provide half-day delivery and doorstep delivery services while offering free installation of appliances.
Moreover, shelf-based e-commerce platforms are heavily involved in live streaming promotions during this year's Double 11. They are shifting their focus to content to attract consumers and hope to break through the growth bottleneck.
Taobao Live has a dedicated "flash reduction" page for convenient access by consumers. Taobao Live has a low barrier to entry, stable traffic, and incentives for merchants' entire-store sales, marking Alibaba's first step into the live streaming e-commerce sector.
On the other hand, Pinduoduo is hosting its first live-streaming e-commerce event and a million-streamer challenge this year, accelerating its progress in the live-streaming e-commerce field. Duoduo Videos are focused on content-driven customer acquisition while offering cash incentives to stimulate purchases.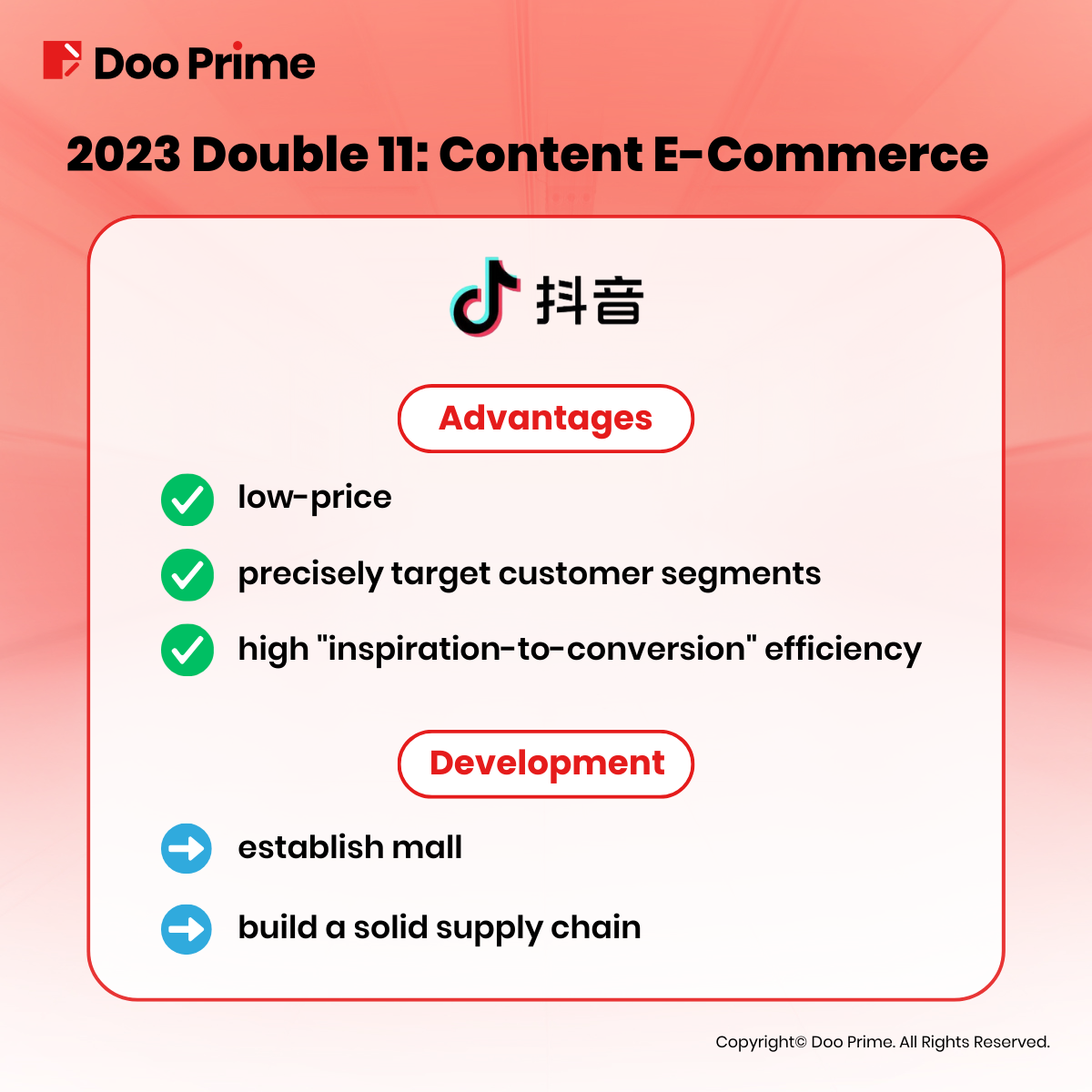 Douyin, which primarily offers content, represents social e-commerce. In addition to short videos and live streaming, Douyin is also expanding into text and image-based e-commerce.
While short videos and live streaming easily pique consumer interest, visual and textual formats provide a more intuitive and clear presentation of product information.
Douyin is enhancing the "inspiration-to-conversion" efficiency of social through comprehensive content and has already ascended to become China's fourth-largest e-commerce platform.
The rapid market capture by social e-commerce can be attributed to its low-price model and the ability to precisely target customer segments. Among various forms of social-driven e-commerce, live streaming offers the highest conversion rate.
Renowned live streamers like Austin Li Jiaqi, Luo Yonghao, and Xinba have started live streaming sales for Double 11. In addition to the allure of "lowest prices," these live streamers have delivered impressive results based on their personal branding.
However, the major challenge for social e-commerce is the high return rate due to impulsive buying by viewers. At the Douyin e-commerce author summit in September, Douyin emphasized the healthy ecosystem of "good content, good products, and good service."
Douyin proposed interconnecting social scenarios with shelf scenarios to drive the platform's ecosystem "towards new growth." To build a healthy e-commerce ecosystem and ensure the platform's long-term development, Douyin's official name for this year's event is "Douyin Mall Double 11 Festival."
Douyin aims to establish its mall as a parallel traffic entry point alongside live streaming and enable dual-engine-driven social and shelf scenarios.
Douyin is also intensifying subsidies and support measures for shelf-based e-commerce products and has even launched a premium membership service, "Douyin Mall Gold Card," following the lead of JD.com and Taobao.
Reshaping The E-Commerce Landscape: Moving Towards Holistic Development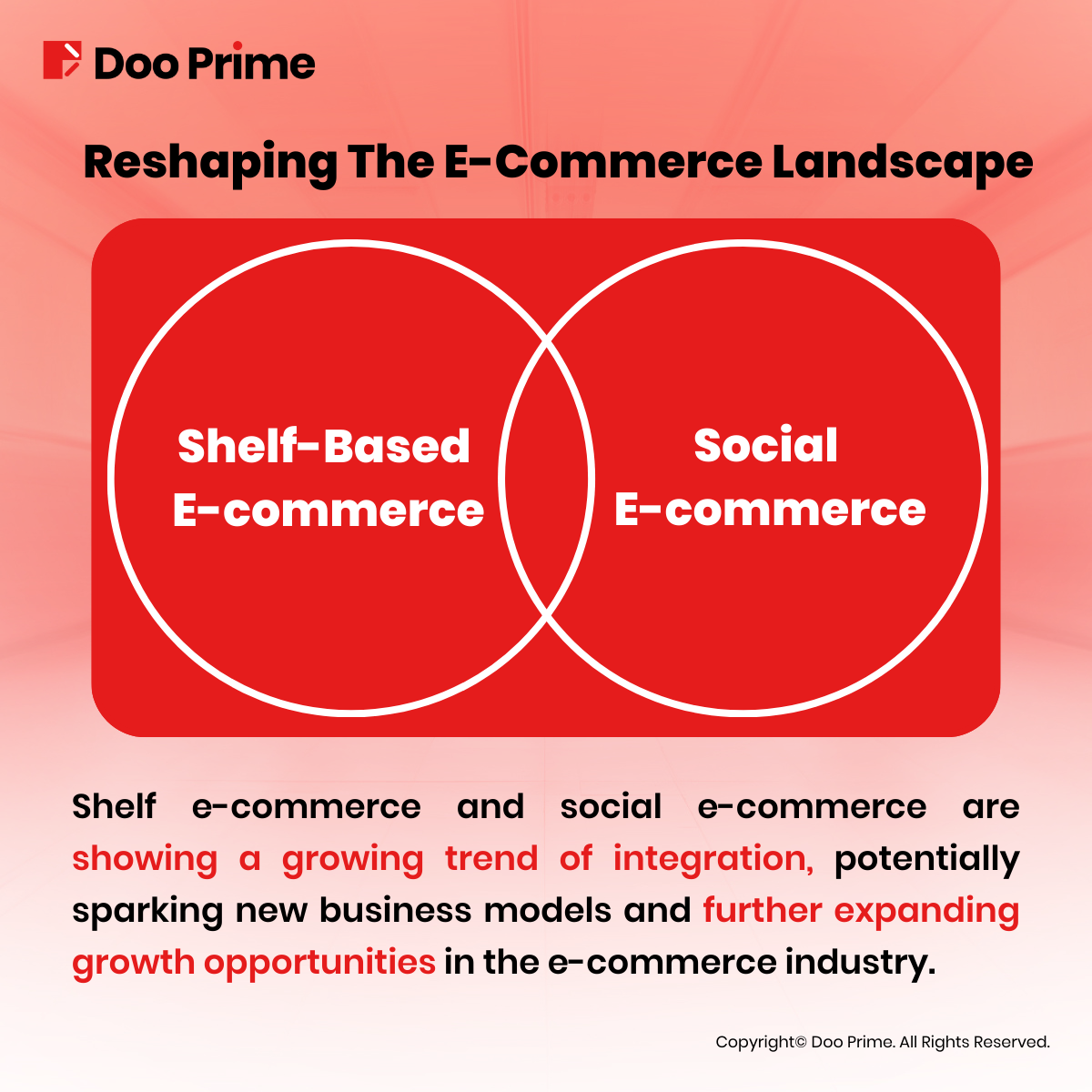 Competition among e-commerce platforms has intensified, and the Double 11 shopping festival is no longer just a battle between Tmall and JD.com; multiple platforms are racing to lead.
Against the backdrop of consumers getting increasingly scattered and the rising cost of acquiring customers for e-commerce platforms, both shelf-based and social-driven e-commerce are seeking ways to expand their development space.
Symbiotic relationships, mutual promotion, and mutual advancement are the nutrients that e-commerce ecosystems urgently need to thrive.
Shelf-based e-commerce platforms like Taobao, JD.com, and Pinduoduo are adding social content elements to their shopping platforms, increasing traffic entry points and their ability to influence consumers.
Meanwhile, social-driven e-commerce platforms like Douyin are venturing into shelf-based e-commerce, pushing the boundaries of their social platforms' commercial potential.
The convergence of shelf-based and social e-commerce is becoming a trend, and new business models may emerge in the future, opening up additional growth opportunities for the e-commerce industry.
For investors interested in e-commerce platforms like Taobao, JD.com, Pinduoduo, and Douyin, it is essential to consider risks such as tightening e-commerce policies and industry competition.
They should also observe whether shelf-based e-commerce successfully integrates content marketing and if social-driven e-commerce builds a solid supply chain and enhances after-sales services.
---
| About Doo Prime 
Our Trading Products
Securities | Futures | Forex | Precious Metals | Commodities | Stock Indices     
Doo Prime, an international preeminent online broker under Doo Group, strives to provide professional investors with global CFD trading products in Securities, Futures, Forex, Precious Metals, Commodities, and Stock Indices. At present, Doo Prime is delivering the finest trading experience to more than 130,000 clients, with an average trading volume of more than USD 51.223 billion each month.
Doo Prime entities respectively hold the relevant financial regulatory licenses in Seychelles, Mauritius, and Vanuatu with operation centers in Dallas, Sydney, Singapore, Hong Kong, Dubai, Kuala Lumpur, and other regions.
With robust financial technology infrastructure, well-established partnerships, and an experienced technical team, Doo Prime boasts a safe and secure trading environment, competitive trading costs, as well as deposit and withdrawal methods that support 20+ different currencies. Doo Prime also incorporates 24/7 multilingual customer service and extremely fast trade execution via multiple industry-leading trading terminals such as MT4, MT5, TradingView, and Doo Prime InTrade, covering over 10,000 trading products.
Doo Prime's vision and mission are to become a financial technology-focused broker, streamlining international global financial products investment.
For more information about Doo Prime, please contact us at:
Phone:
Europe: +44 11 3733 5199
Asia: +852 3704 4241
Asia – Singapore: +65 6011 1415
Asia – China: +86 400 8427 539
E-mail:
Technical Support: [email protected]
Account Manager: [email protected]
Forward-looking Statements
This article contains "forward-looking statements" and may be identified by the use of forward-looking terminology such as "anticipate", "believe", "continue", "could", "estimate", "expect", "hope", "intend", "may", "might", "plan", "potential", "predict", "should", or "will", or other variations thereon or comparable terminology. However, the absence of such terminology does not mean that a statement is not forward-looking. In particular, statements about the expectations, beliefs, plans, objectives, assumptions, future events, or future performance of Doo Prime will be generally assumed as forward-looking statements.
Doo Prime has provided these forward-looking statements based on all current information available to Doo Prime and Doo Prime's current expectations, assumptions, estimates, and projections. While Doo Prime believes these expectations, assumptions, estimations, and projections are reasonable, these forward-looking statements are only predictions and involve known and unknown risks and uncertainties, many of which are beyond Doo Prime's control. Such risks and uncertainties may cause results, performance, or achievements materially different from those expressed or implied by the forward-looking statements.
Doo Prime does not provide any representation or warranty on the reliability, accuracy, or completeness of such statements. Doo Prime is not obliged to provide or release any updates or revisions to any forward-looking statements.
Risk Disclosure
Trading in financial instruments involves high risks due to the fluctuation in the value and prices of the underlying financial instruments. Due to the adverse and unpredictable market movements, large losses exceeding the investor's initial investment could incur within a short period of time. The past performance of a financial instrument is not an indication of its future performance. Investments in certain services should be made on margin or leverage, where relatively small movements in trading prices may have a disproportionately large impact on the client's investment and client should therefore be prepared to suffer significant losses when using such trading facilities.
Please make sure you read and fully understand the trading risks of the respective financial instrument before engaging in any transaction with Doo Prime's trading platforms. You should seek independent professional advice if you do not understand any of the risks disclosed by us herein or any risk associated with the trade and investment of financial instruments. Please refer to Doo Prime's Client Agreement and Risk Disclosure and Acknowledgement Notice to find out more.
Disclaimer
This information is addressed to the general public solely for information purposes and should not be taken as investment advice, recommendation, offer, or solicitation to buy or sell any financial instrument. The information displayed herein has been prepared without any reference or consideration to any particular recipient's investment objectives or financial situation. Any references to the past performance of a financial instrument, index, or a packaged investment product shall not be taken as a reliable indicator of its future performance. Doo Prime and its holding company, affiliates, subsidiaries, associated companies, partners and their respective employees, make no representation or warranties to the information displayed and shall not be liable for any direct, indirect, special or consequential loss or damages incurred a result of any inaccuracies or incompleteness of the information provided, and any direct or indirect trading risks, profit, or loss arising from any individual's or client's investment.