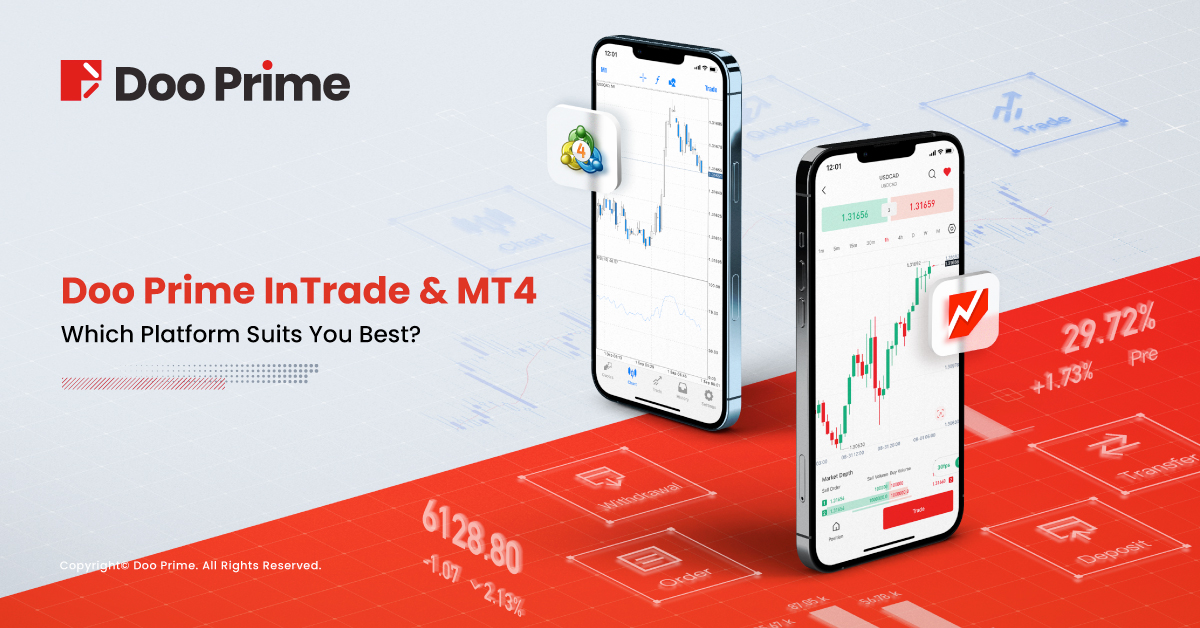 Exploring Doo Prime InTrade And MT4
Doo Prime InTrade is wholly developed for professional trading, where traders can manage all their trading-related matters such as executing trades, account management, funding, and staying ahead of the financial market.
As for MetaTrader 4, it is definitely no stranger to any traders as it has been the most widely used trading platform for traders for over 15 years. However, it is an increasingly dated application, released in 2005, and has become very popular among traders.
Naturally, these two platforms are both very different from each other as they both have their own user interface types and goals in the financial market.
But, in order to truly determine the difference between these two platforms, we need to look into the trading features, funding convenience, supporting insights as well as comprehensive usability for everyday traders.
Here, we will explore 4 different modules and aspects of what each platform can provide that caters to traders best.


Funding Module On Doo Prime InTrade & MT4
The funding process is undeniably the first and most essential measure for traders of all stages. In fact, no real-time trades could be executed without any funds in your account.
Doo Prime InTrade is developed in a manner where users can conveniently manage their deposits and withdrawals within the app itself. To add, users can even transfer funds to their other existing sub-accounts or even to other existing Doo Prime InTrade users.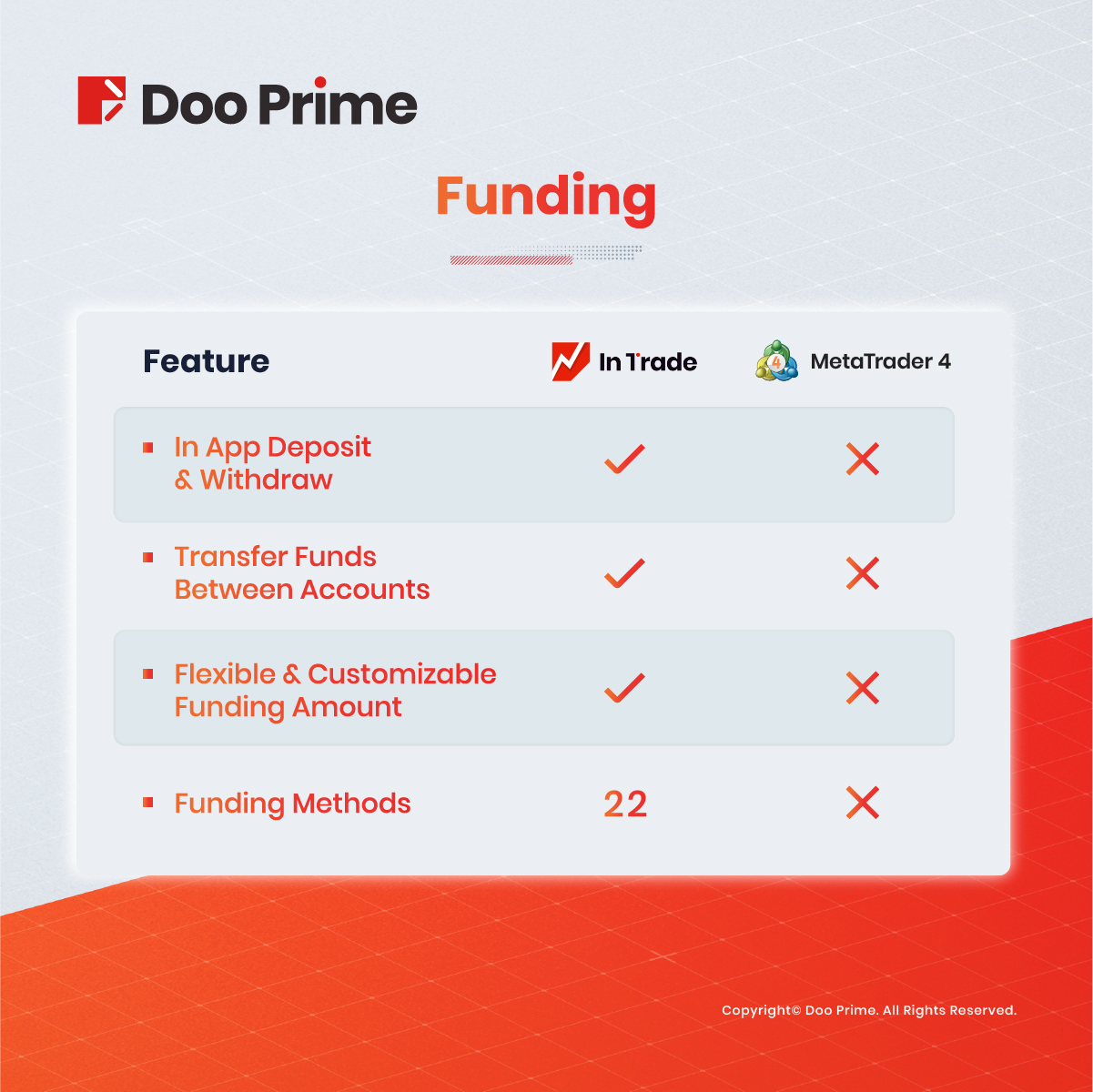 The Doo Prime InTrade funding feature offers flexibility, with up to 22 funding methods available, where users are free to deposit and withdraw their desired amount, given that the minimum or maximum amount is met.
As for MT4, users will be redirected to another pop-up page when they wish to carry out a deposit or withdrawal. Bearing this, the MT4 does not integrate a system where internal transfers are possible and funding amounts are usually standardized or rounded up.


Trading Module On Doo Prime InTrade & MT4: 


Product Varieties
MT4 mainly caters to the forex market, with 1024 trading products tradable via CFDs. Meanwhile, Doo Prime InTrade is a complete trading application that supports up to 10,000 CFD products from 6 major markets.
With Doo Prime InTrade, users can select and customize their "Watchlist" and trade from different markets including, Securities CFDs, Futures CFDs, Forex, Commodities, Precious Metals, and Stock Indices or simply search for their favorite trading product.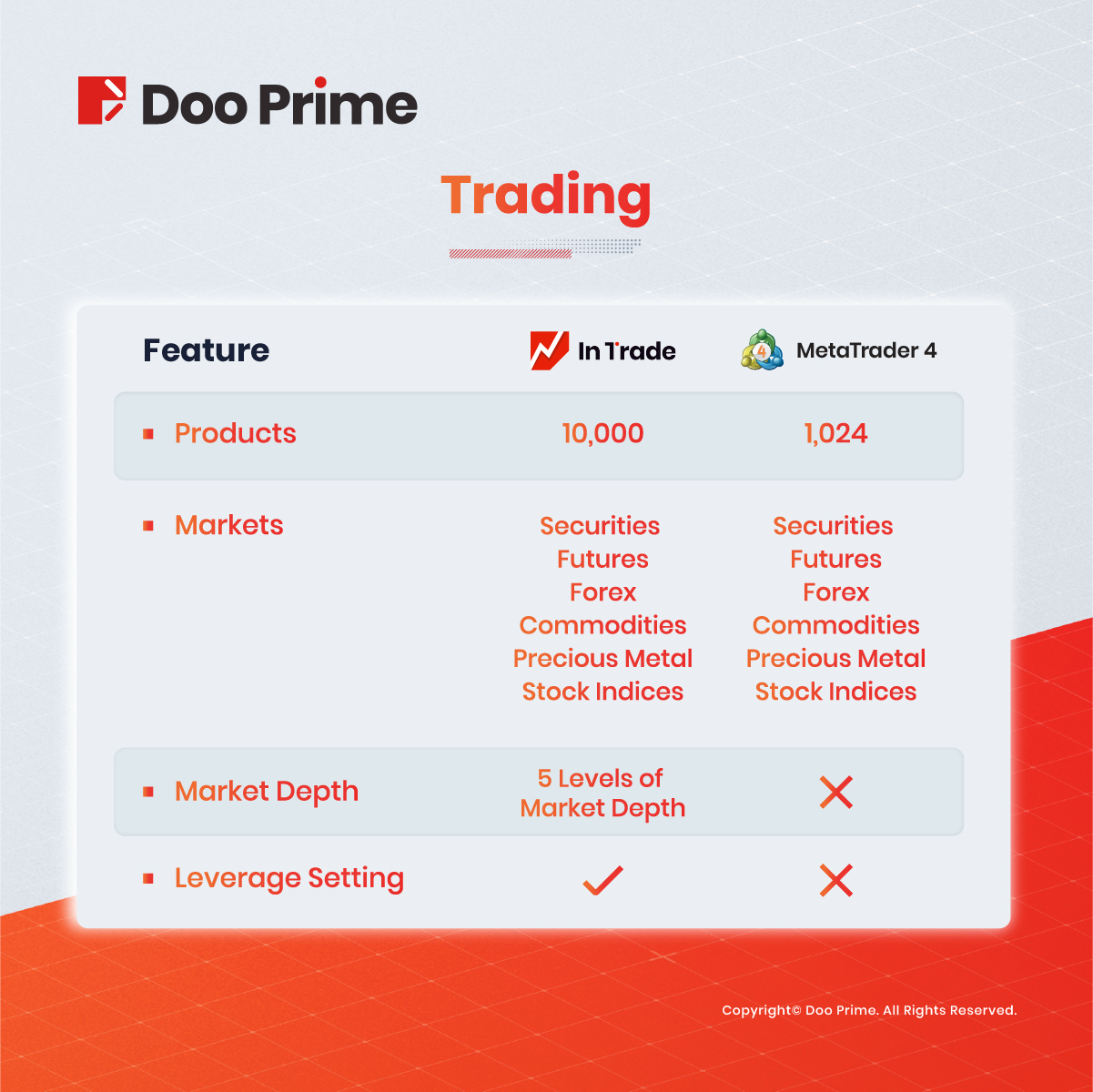 Trading Conditions & Tools
On Doo Prime InTrade and MT4, users are provided with all the basic trading tools and conditions. All real-time quotes, market condition, technical indicators, and time frame analysis for each trading product are included. Hence, users get a quick overview of all their favorite trading products at a glance.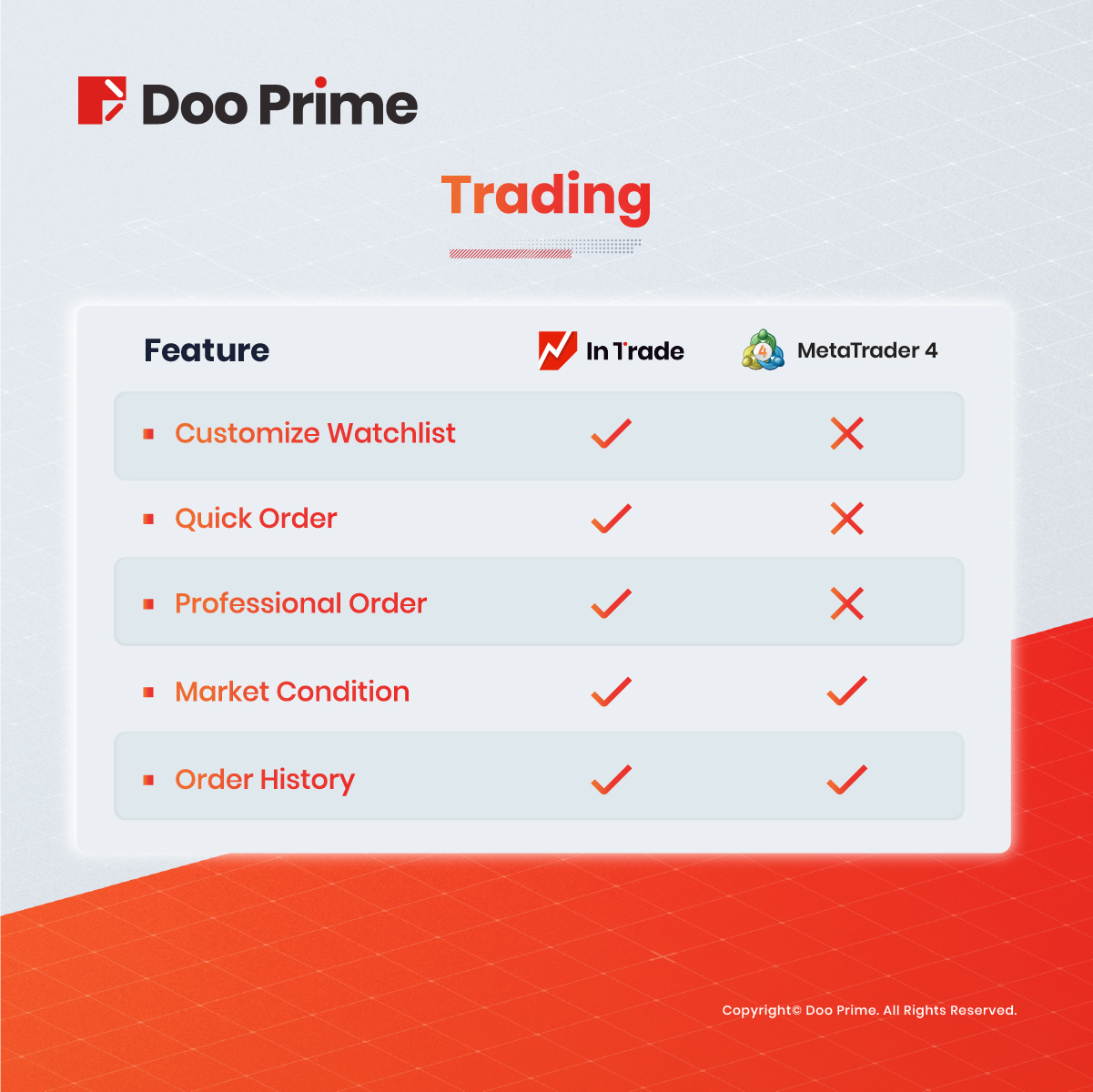 Doo Prime InTrade does, however, incorporate an in-depth trading analysis feature that the MT4 does not carry – market depth. Doo Prime InTrade displays market depth of up to 5 levels to help users grasp the pulse of the market.
Through these comprehensive and intuitive trading data in real time, including order types, volumes and open prices on all featured products, active traders can execute insightful trades.
Trading Execution
In the volatile world of financial trading, stability and speed mean a great deal.
With Doo Prime InTrade, orders are executed within 50ms, and users can freely adjust their desired trading leverage from 1:1 to 1:500, as well as executing trades with pips as low as 0.1.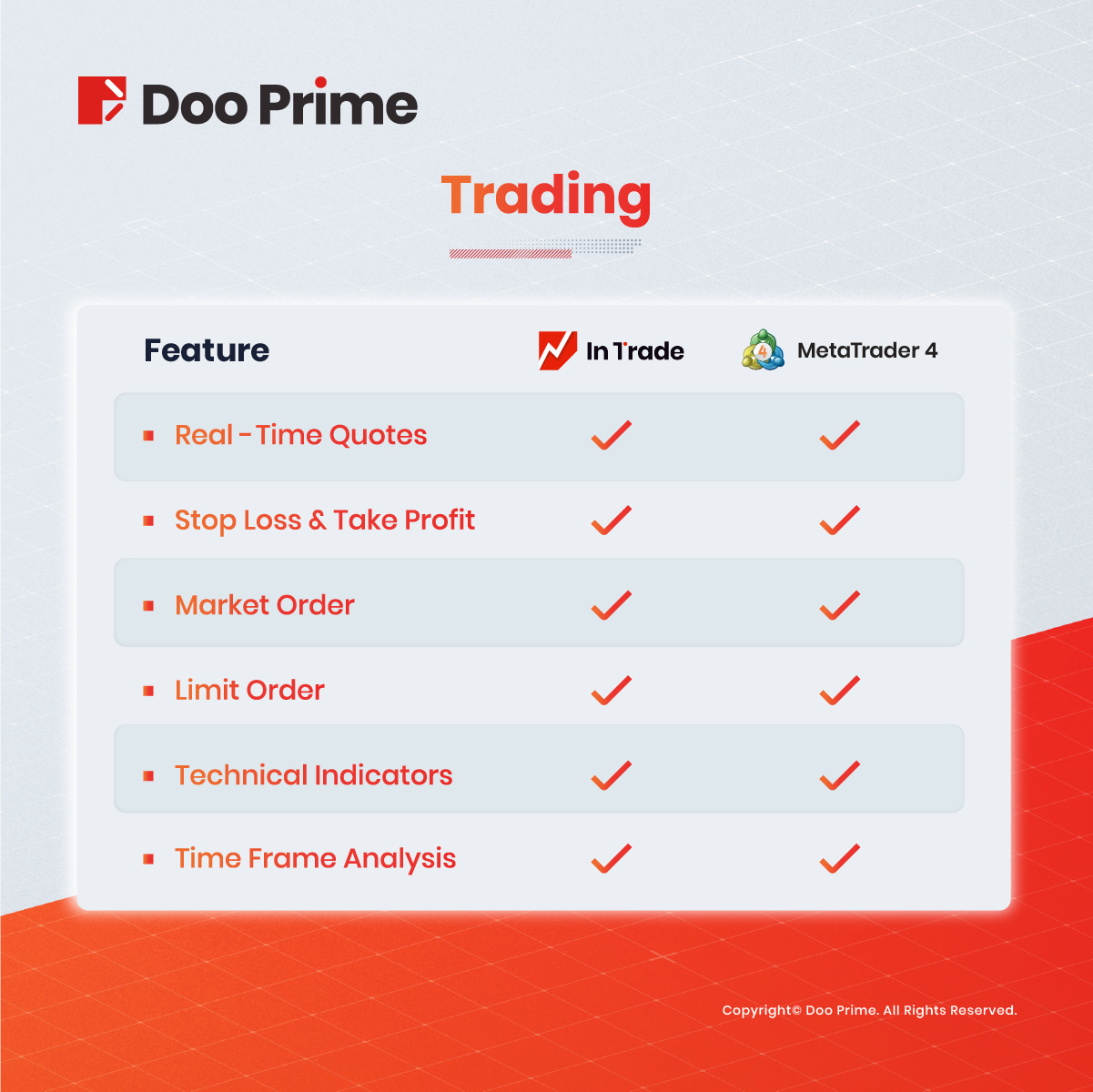 While MT4 does not support these settings, it does support the essential settings such as stop loss & take profit, limit order, and market order. Plus, it keeps track of all the users' order history as well.
Of course, Doo Prime InTrade offers all the settings mentioned above too and users can opt to execute a professional order with these adjustments or simply execute an instant quick order.
From this, Doo Prime InTrade app users get to fulfill all their trading needs.


Insight & Analysis On Doo Prime InTrade & MT4
Analyzing the market precisely is the key to success in trading. Hence, supporting insights and analysis are a huge boost for traders, especially when it comes to making a well-informed trade.
In this aspect, Doo Prime InTrade offers more insights and analysis in its application. Meanwhile, MT4 prioritizes its trading functionality for its application but still provides external insights and analysis for its users.
All of Doo Prime InTrade insights and analytics are accessible to everyone within the app, ranging from industry dynamics, economic calendar to Doo Prime's latest release and curated market commentaries.
While MT4 does provide these data, most of them are not accessible within the application itself and redirect users to an external source.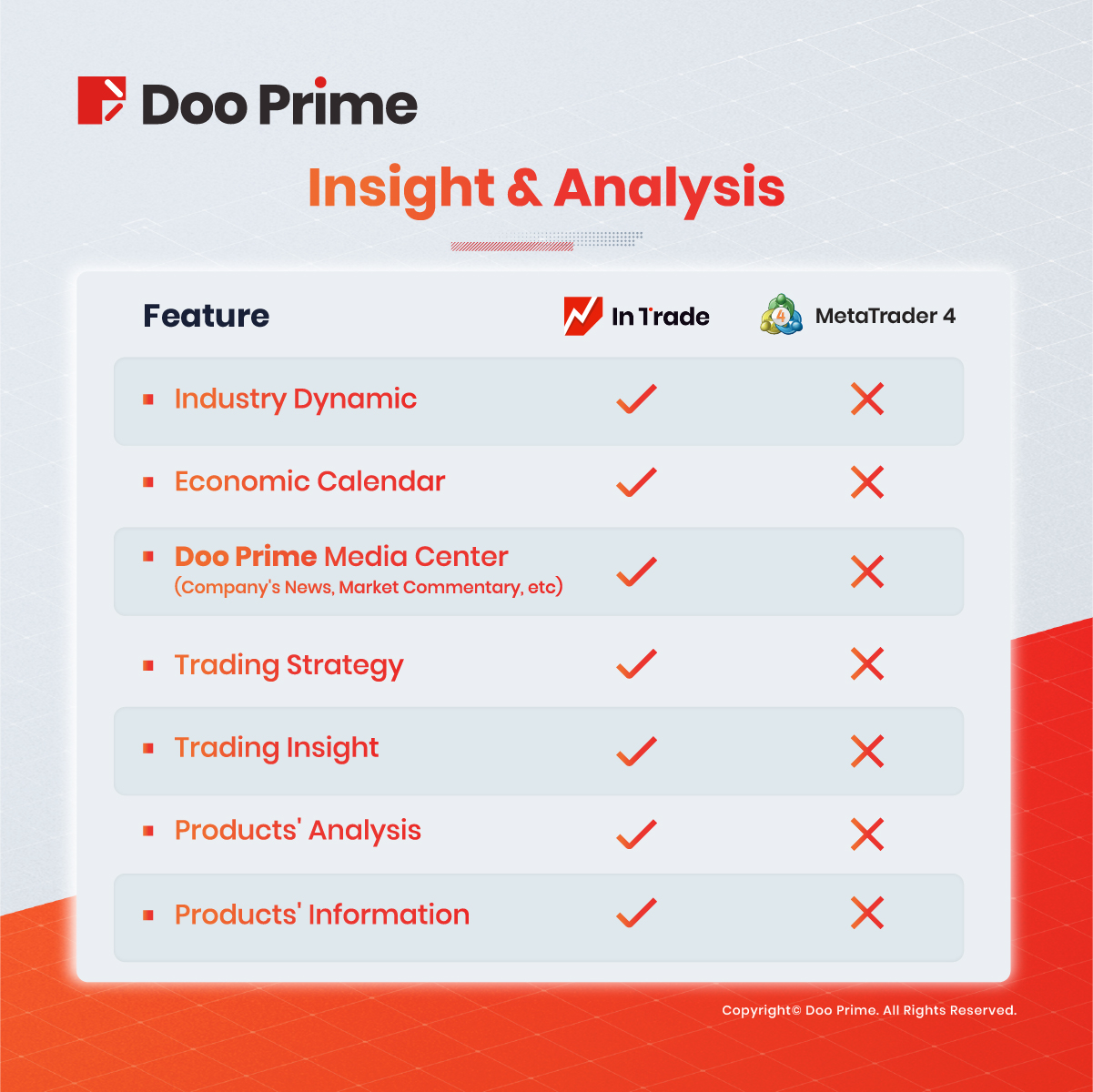 Doo Prime InTrade is linked to Doo Prime's media center where all trading related news, alerts, insights, and educational content are available. Users stay abreast of all market movements as Doo Prime's trading insights and analysis are updated daily and written by our in-house professional analysts.
Apart from these, Doo Prime InTrade also provides a summarized trading strategy, trading insight, product analysis, and product details for every product on the execution page.


Profile Management On Doo Prime InTrade & MT4
Truth to be told, the MT4's interface and functionality shows that it is extremely dated.
When it comes to profile management, the MT4 only put forward the two bare minimum profile details – an overview of account details and a personal trading report.
On the other hand, Doo Prime InTrade is a highly sophisticated trading application for users on the go.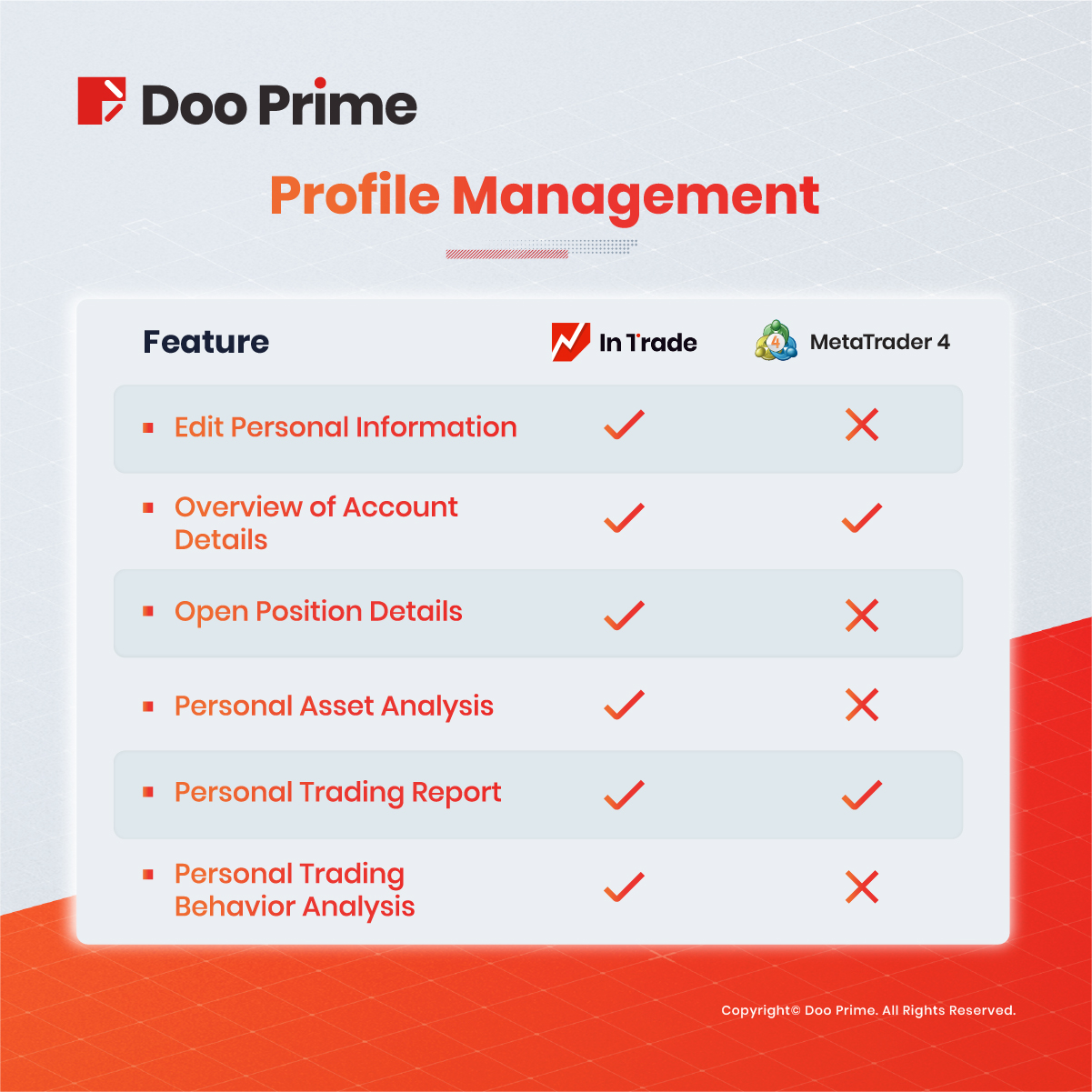 The application grants all personal information changes, from managing your emails, passwords to trading account information. To add, it also generates an overview of your account details, plus all your open positions details.
Ultimately, Doo Prime InTrade absorbs your trading activity and puts together a personal trading behavior analysis report, a personal asset analysis report, and a personal trading report for you to review all your trading results.


Conclusion: Comparison of Doo Prime InTrade & MT4
Both the Doo Prime InTrade and MT4 mobile applications serve and fulfill traders' essential trading needs.
If the user already has a favorite broker, opening an MT4 account and trading on the forum is relatively quick and convenient.
Doo Prime InTrade is an efficient and professional trading software, developed for traders as their exclusive one-stop investment platform, achieving global investments in just one click.
The Doo Prime InTrade app's features and capabilities are highly efficient, plus the experiences and functionality are also increasingly virtually comprehensible.
The Doo Prime InTrade has apparently more advantages and better functionality than MT4. Nonetheless, MT4 is still one of the most popular trading platforms, and it has been the most widely used platform albeit being particularly dated. But more and more Doo Prime clients increasingly love the user-friendly interface and flexibility of Doo Prime InTrade.
In essence, traders are encouraged to install both platforms and explore each of its trading experiences to suit their needs.


| About Doo Prime
Doo Prime is an international preeminent online broker under Doo Group, which strives to provide professional investors with global CFD trading products in Securities, Futures, Forex, Commodities, Precious Metals, and Stock Indices. At present, Doo Prime is delivering the finest trading experience to more than 60,000 professional clients, with an average monthly trading volume of USD51.223+ billion.
Doo Prime entities respectively hold the relevant financial regulatory licenses in Seychelles, Mauritius, and Vanuatu with operation centers in Dallas, Sydney, Singapore, Hong Kong, Dubai, Kuala Lumpur, and other regions.
With robust financial technology infrastructure, well-established partnerships, and an experienced technical team, Doo Prime boasts a safe and secure trading environment, competitive trading costs, as well as deposit and withdrawal methods that support 10 different currencies. Doo Prime also incorporates 24/7 multilingual customer service and extremely fast trade execution via multiple industry-leading trading terminals such as MT4, MT5, TradingView, and InTrade, covering over 10,000 trading products.
Doo Prime's vision and mission are to become a financial technology-focused broker, streamlining international global financial products investment.
Risk Disclosure 
Trading in financial instruments involves high risks due to the fluctuation in the value and prices of the underlying financial instruments. Due to the adverse and unpredictable market movements, large losses exceeding the investor's initial investment could incur within a short period of time. The past performance of a financial instrument is not an indication of its future performance.  Investments in certain services should be made on margin or leverage, where relatively small movements in trading prices may have a disproportionately large impact on the client's investment and client should therefore be prepared to suffer significant losses when using such trading facilities. 
Please make sure you read and fully understand the trading risks of the respective financial instrument before engaging in any transaction with Doo Prime's trading platforms. You should seek independent professional advice if you do not understand any of the risks disclosed by us herein or any risk associated with the trade and investment of financial instruments. Please refer to Doo Prime's Client Agreement and Risk Disclosure Statement to find out more.
[Disclaimer] 
This information is addressed to the general public solely for information purposes and should not be taken as investment advice, recommendation, offer, or solicitation to buy or sell any financial instrument. The information displayed herein has been prepared without any reference or consideration to any particular recipient's investment objectives or financial situation. Any references to the past performance of a financial instrument, index, or a packaged investment product shall not be taken as a reliable indicator of its future performance. Doo Prime and its holding company, affiliates, subsidiaries, associated companies, partners and their respective employees, make no representation or warranties to the information displayed and shall not be liable for any direct, indirect, special or consequential loss or damages incurred a result of any inaccuracies or incompleteness of the information provided, and any direct or indirect trading risks, profit, or loss arising from any individual's or client's investment.