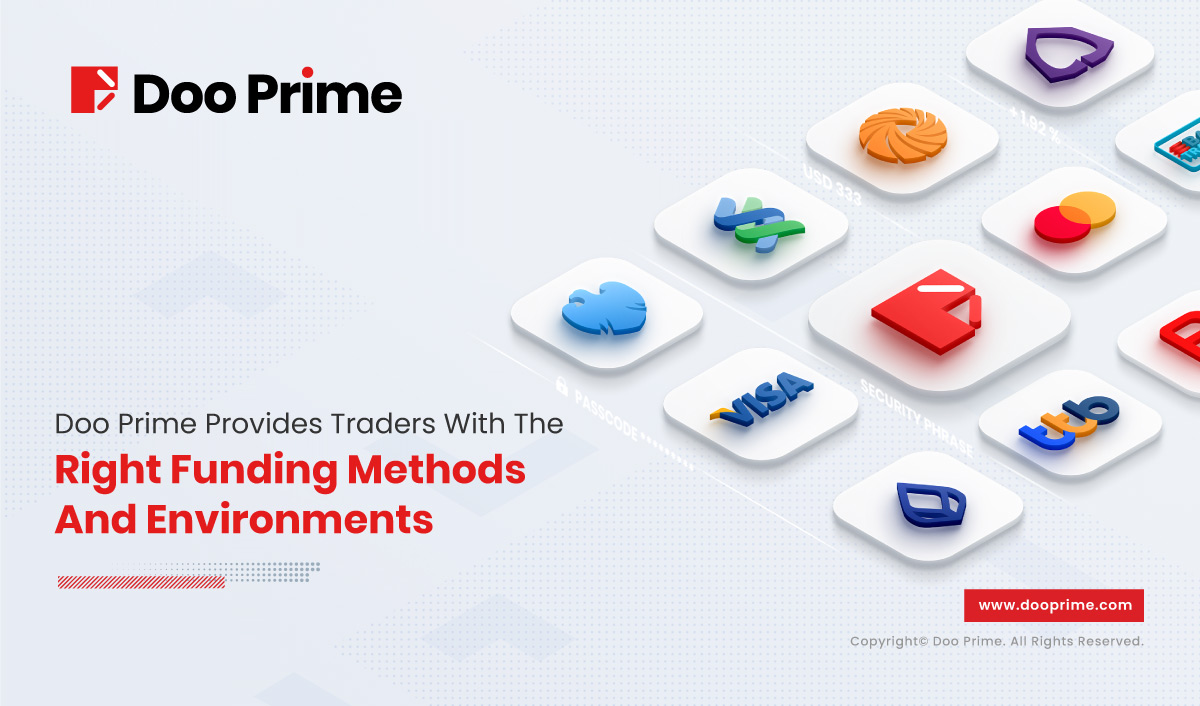 Efficacious Funding Methods For Your Trading Funds 
Doo Prime is a rising innovative online broker under Doo Group with years of industry experience alongside world-class multilingual technical support.  
As one of the fastest-growing financial technology companies in the world, we have a solid base in Dallas, Singapore, Hong Kong, Dubai, Kuala Lumpur, and other regions. Ultimately, our main ethos is to provide professional investors with global financial instruments (CFDs) on our trading platform.
By the virtue of robust technological innovation and license advantages put forward by the group, grants Doo Prime the ability to provide more than 10,000 trading products on multiple trading terminals such as MT4, MT5, TradingView, InTrade, covering Securities, Futures, Forex, Precious Metals, Commodities, and Stock Indices, allowing clients to invest globally with one click.


Secure Withdrawal and Deposit Methods 
For the longest time, investors have always been concerned with not only the efficiency of withdrawing funds but also the safety of depositing funds.
Under the strict authorization and supervision of multinational regulatory agencies around the world, Doo Prime always prioritizes the safety of our clients' funds, ensuring that clients are able to deposit and withdraw funds seamlessly.
With a solid vigorous group background, competitive trading cost, convenient deposit and withdrawal methods, plus 24/7 multilingual customer service, Doo Prime is committed to become your private veteran broker.


Doo Prime Incorporates A Safe & Regulated Trading Environment  
Through our years of operation, Doo Prime has been consistently securing bilateral partnerships with a number of important financial institutions, and renewing multiple regulatory licenses.
In terms of capital protection, Doo Prime has achieved independent custody of client assets. We strictly isolate clients' funds from our company's funds in accordance with regulatory requirements. By doing so, we deposit the funds in Standard Chartered Bank, Bison Bank, and Barclays Bank, to fully protect the rights and interests of our clients.
In addition, Doo Prime has successfully renewed its financial dealer's license issued by the Vanuatu Financial Services Commission (VFSC) in June 2021 and the Professional Indemnity Insurance (PII) in May 2021.
In accordance with legal standards, the VFSC financial license has been in line with the EU and other regulations, prompting it to be a gradual new drift in industry regulation. Meanwhile, the PII is based on internationally applicable standards of practice, knowledge, and professional ethics. It is designed to distinguish licensed professionals from other unregulated entities.
Through these regulatory licenses, insurance, and partnership undertaken by Doo Prime, we have not only demonstrated our dedication in complying with the higher standards of practice in the online trading industry, but also uphold our values in ensuring utmost security and safety for all our clients.


Doo Prime's Efficient & Unhindered Deposit and Withdrawal of Funds Service 
At Doo Prime, making deposits and withdrawals are simple, straightforward and hardly takes up any of your time. We are constantly striving to offer you even more deposit and withdrawal options in order to make the process even easier.
There are multiple deposits and withdrawal methods to choose from at Doo Prime. Our deposit mode includes International Bank Wire Transfer, Local Bank Transfer, E-Wallet, and credit card.
Doo Prime's clients are able to deposit and withdraw funds from their account quickly without any additional costs which usually takes up 2-5 working days at most.
Furthermore, Doo Prime consistently updates and reminds our users whenever there is any deposit withdrawal notice due to the market closure. For instance, the market closure on Labour Day or any bank holiday.
As a comprehensive and leading online broker, Doo Prime is well aware of the importance when it comes to depositing and withdrawing funds for clients. In the years ahead, we will continue to strive in providing clients with a safer, more convenient, and efficient deposit and withdrawal experience, while upholding our values as promised to our clients.


If you have any queries, please do not hesitate to contact our Client Support Team at any time via:
Phone:  
Europe: +44 11 3733 5199         
Asia: +852 3704 4241         
Asia – China: +86 400 8427 539     
Email:    
Technical Support: [email protected]     
Sales Representative: [email protected]