Financial regulators are at the core of economic development, ensuring the safety and soundness of the financial system. A well-functioning financial regulatory body not only reinforces sustainable economic growth, but also protects consumers from improper business practices. As a prominent online broker that puts clients' interests first, Doo Prime always practices high ethical standards to create a safe trading environment.
Therefore, we have acquired full-fledged financial regulatory licenses across various countries and regions. In this article, we would like to share about one of our licenses granted by the respected world-class financial regulatory authority, the FSA Securities Dealer License, and how to undergo the license verification process of a company.
About The Seychelles FSA
Issued by the Seychelles Financial Services Authority (FSA), the FSA Securities Dealer License is a license that allows company to trade in securities either as a principal or as an agent. Established in 2013, the Seychelles FSA is responsible for supervising and ensuring regulatory compliance of non-bank financial services sector in Seychelles. It is also an associate member of the International Organisation of Securities Commission's ("IOSCO") Objectives and Principles of Securities Regulation.
In line with global standards, the Authority is mandated under the Financial Services Act, 2013.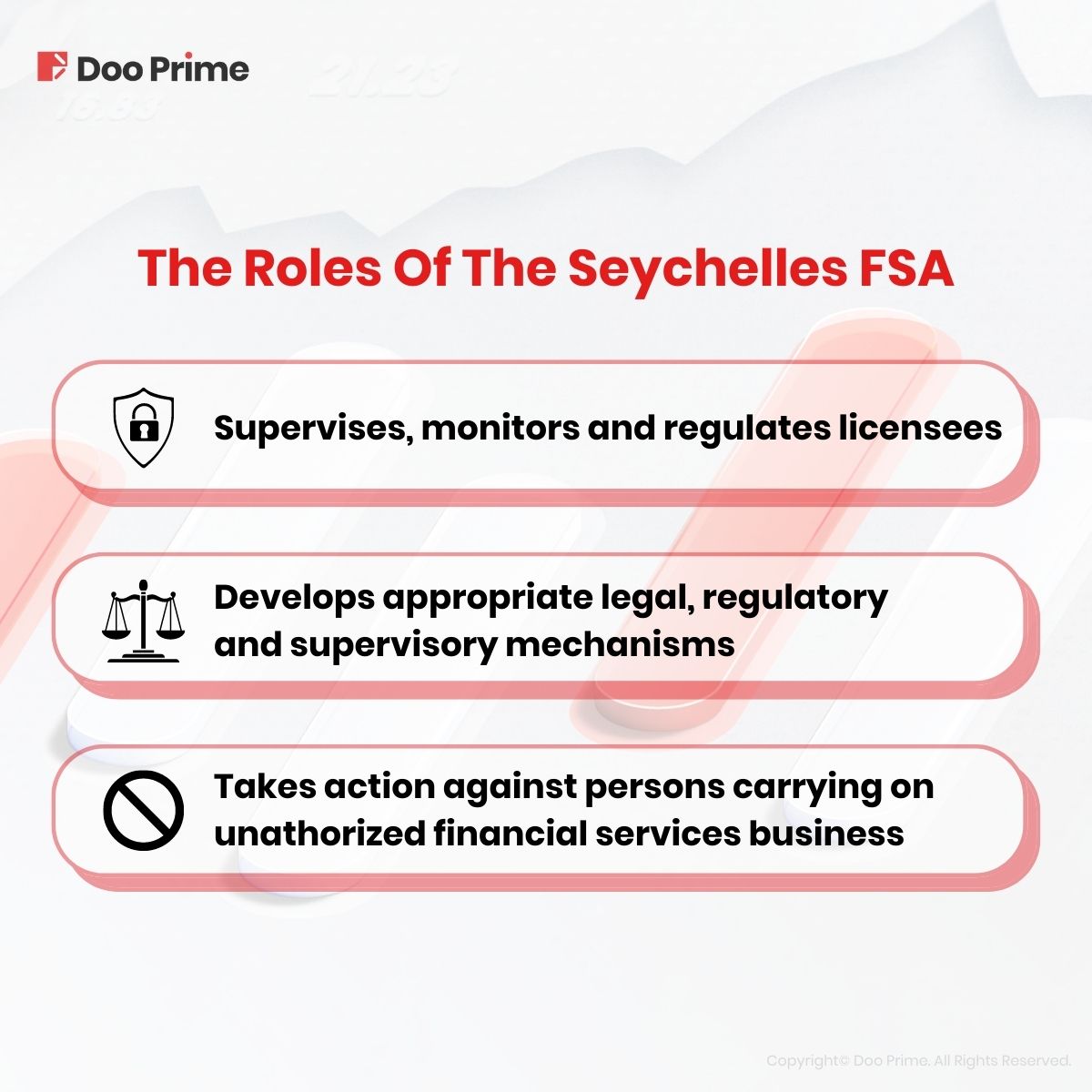 Upholding the core values of integrity, professionalism, vigilance, transparency, accountability and collective contributions, the Seychelles FSA strictly adheres to international norms and supervisory framework, in order to protect the consumers and stakeholders' investment.
Just like here in Doo Prime, our vision is strongly driven by our client-centric culture. This is what made us to apply for a Securities Dealer License from the Seychelles FSA. Under the supervision of the Authority, Doo Prime is authorized to conduct relevant financial services and business in Seychelles.
In order to let our clients learn more about our license details, we have prepared guidelines on the license verification procedures.
How to Identify and Verify Financial Firms Regulated by the Seychelles FSA:
You may perform the verification through a search on Seychelles FSA Services Register. Let's use Doo Prime Seychelles Limited as an example here.
Step 1: Please visit the Seychelles FSA's official website at www.fsaseychelles.sc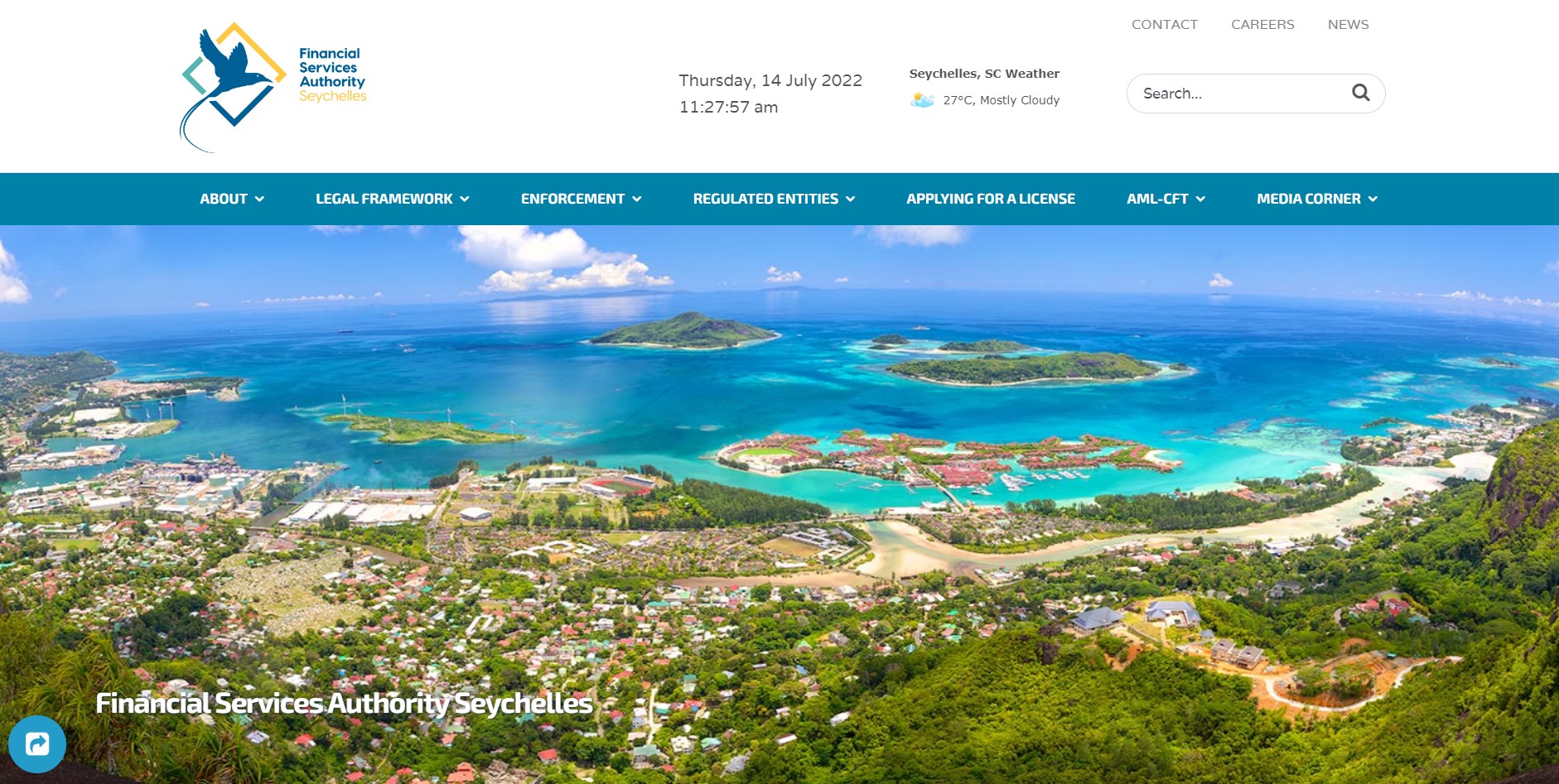 Step 2: Please click on "Register of Licensees"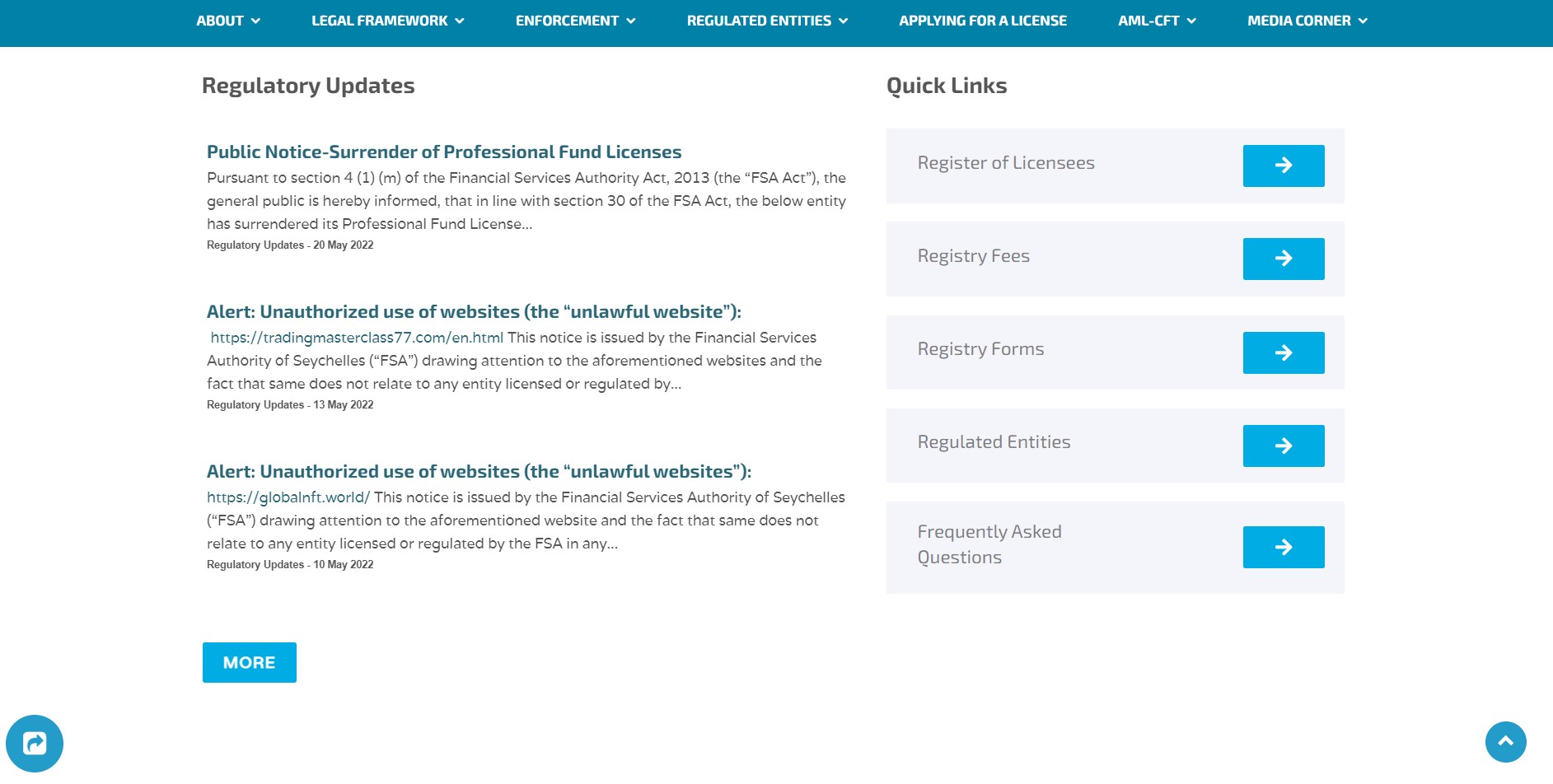 Step 3: You will be redirected to the "Regulated Entities" page. Please click on "Capital Markets".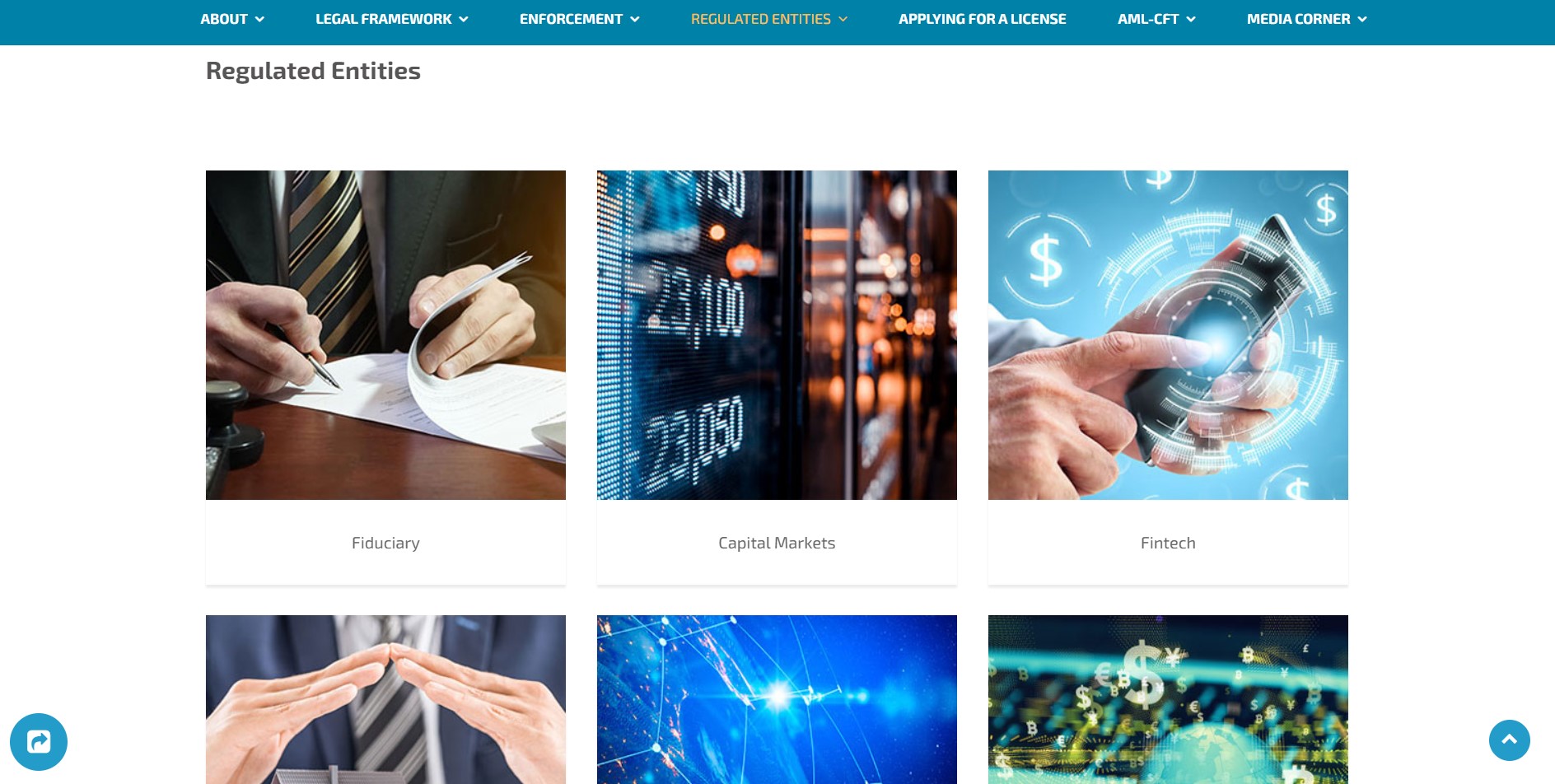 Step 4: You will be redirected to the "Capital Markets" page. Please click on "Securities Dealer" and scroll down to "Doo Prime (Seychelles) Limited".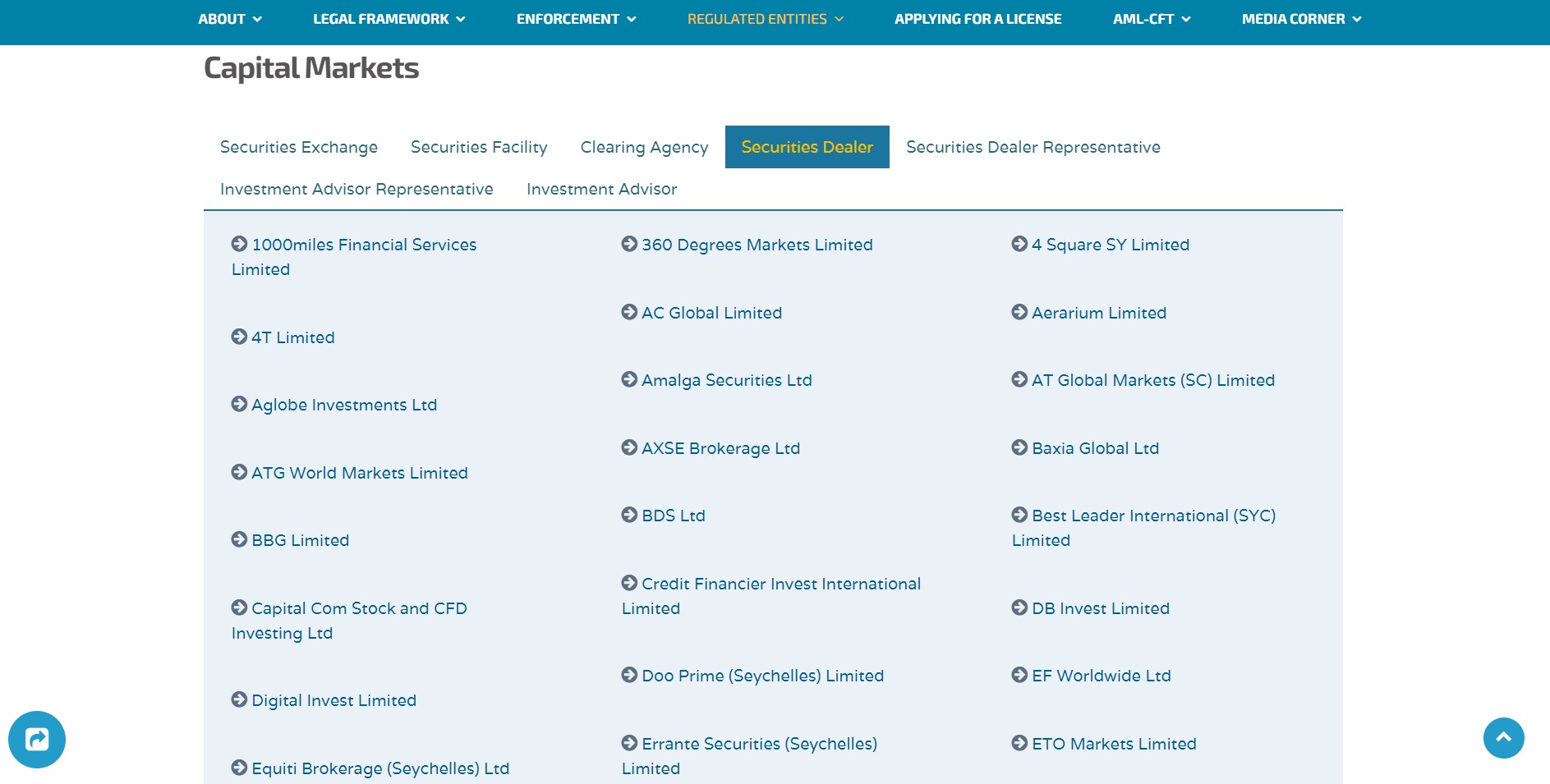 Step 5: Please click on "Doo Prime (Seychelles) Limited". The details of the firm will be shown, including office address, company email and website and compliance officer as below.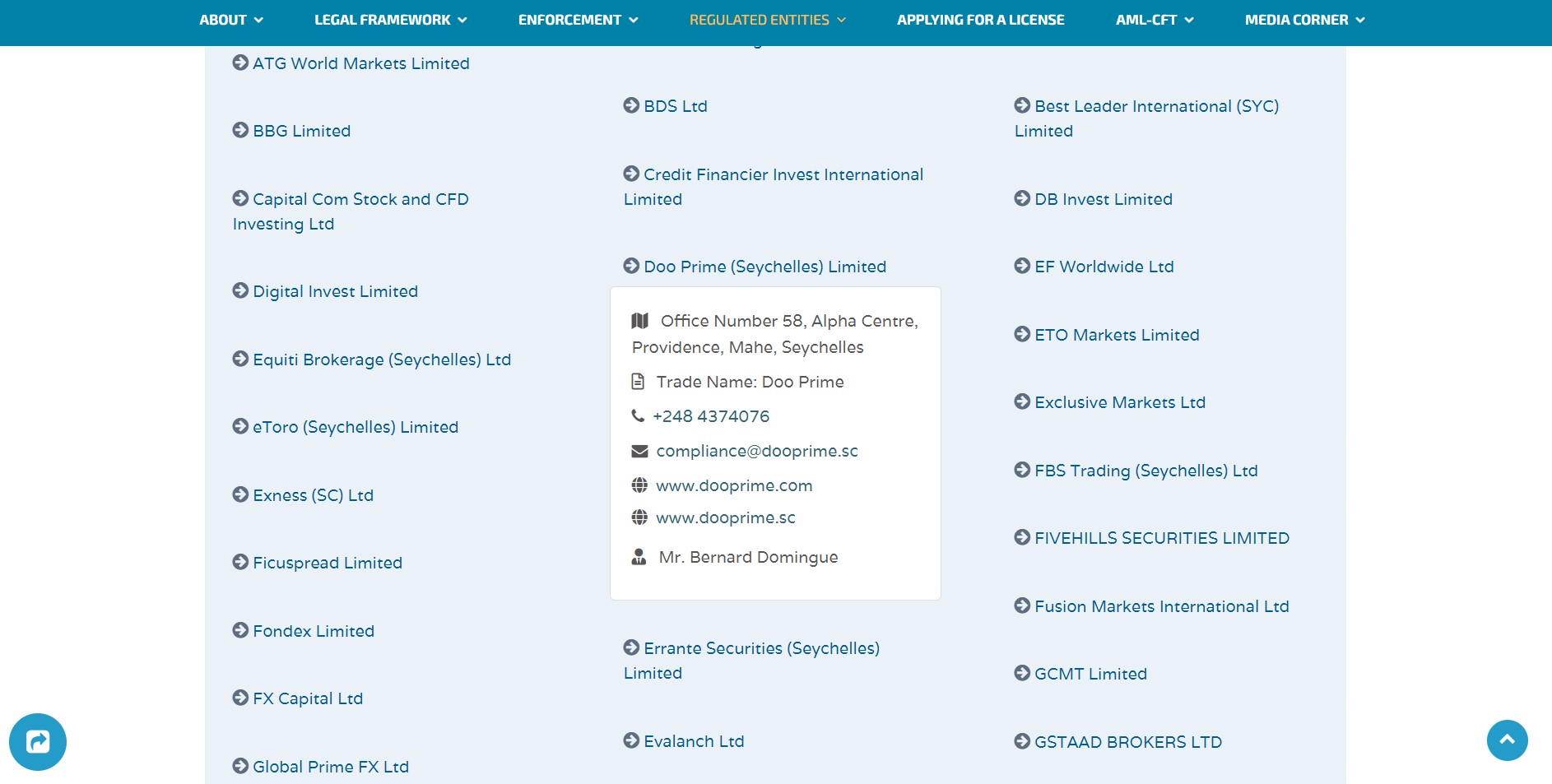 Under the regulation of the FSA, Doo Prime strictly adheres to the relevant regulatory requirements, ensuring every trading transaction is safe and secure.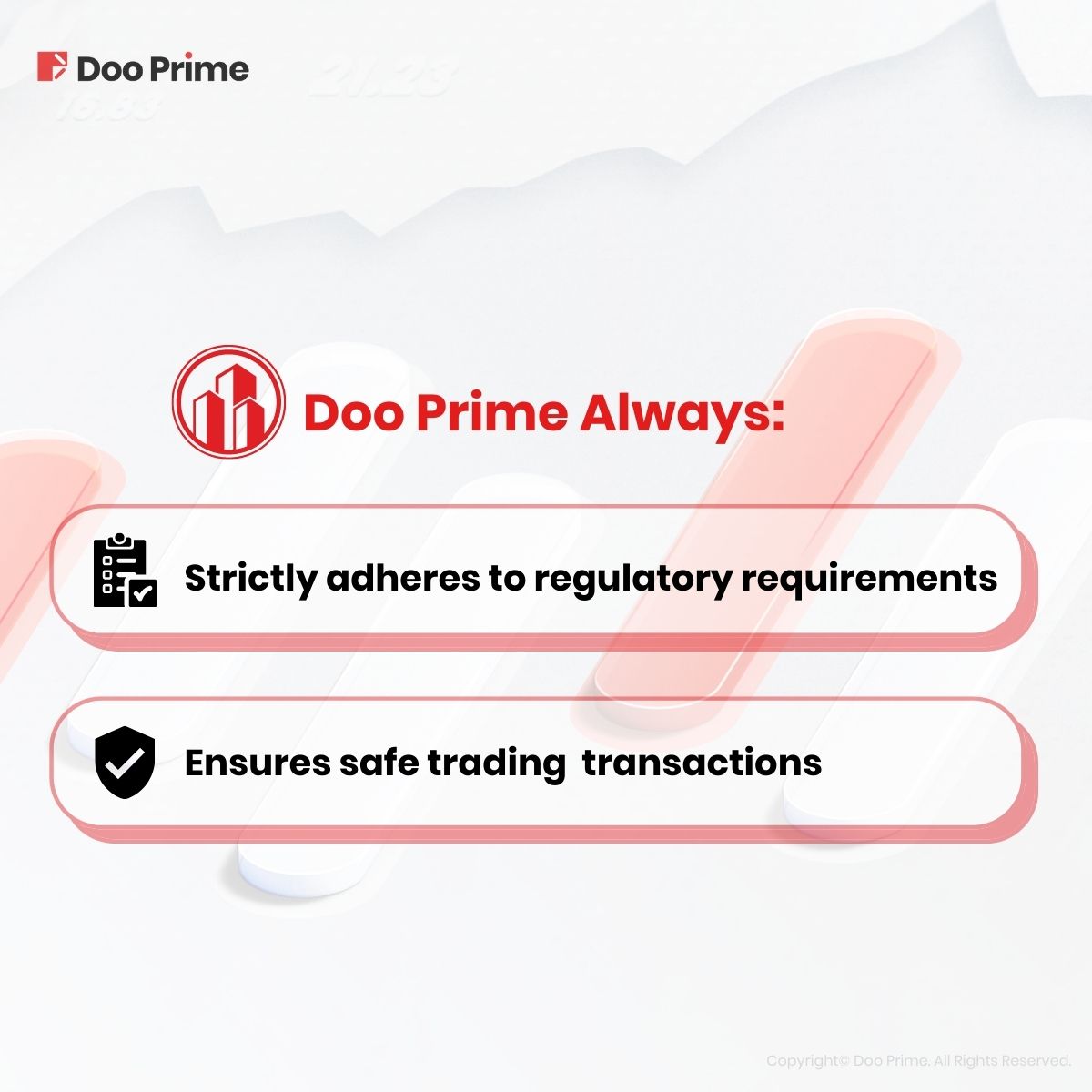 A properly certified securities dealer will have these legal details shown and detailed on the Seychelles FSA Register when one performs the check.
Doo Prime will continue to provide safe, reliable and professional services to our valued clients under the regulation of the top financial regulator.
About Doo Prime
Doo Prime is an international pre-eminent online broker under Doo Group, which strives to provide professional investors with global CFD trading products in Securities, Futures, Forex, Commodities, Stock Indices, and Funds. At present, Doo Prime is delivering the finest trading experience to more than 40,000 professional clients, with over 1 million trade orders fulfilled each month.
Doo Prime holds the financial regulatory licenses in Seychelles, Mauritius, and Vanuatu with operation centers in Dallas, Sydney, Singapore, Hong Kong, Dubai, Kuala Lumpur, and other regions.
With robust financial technology infrastructure, well-established partnerships, and an experienced technical team, Doo Prime boasts a safe and secure trading environment, competitive trading costs, as well as deposit and withdrawal methods that support 10 different currencies. Doo Prime also incorporates 24/7 multilingual customer service and extremely fast trade execution via multiple industry-leading trading terminals such as MT4, MT5, TradingView, and InTrade, covering over 10,000 trading products.
Doo Prime's vision and mission is to become a leading international online broker with financial technology as its core, to serve investors and make investing in global financial products a simple task.
For more information about Doo Prime, please contact us at:
Phone:
Europe : +44 11 3733 5199
Asia : +852 3704 4241
Asia – Singapore: +65 6011 1415
Asia – China : +86 400 8427 539
E-mail:
Technical Support: [email protected]
Sales Representative: [email protected]
Forward-looking Statements
This article contains "forward-looking statements" and may be identified by the use of forward-looking terminology such as "anticipate", "believe", "continue", "could", "estimate", "expect", "hope", "intend", "may", "might", "plan", "potential", "predict", "should", or "will", or other variations thereon or comparable terminology. However, the absence of such terminology does not mean that a statement is not forward-looking. In particular, statements about the expectations, beliefs, plans, objectives, assumptions, future events, or future performance of Doo Prime will be generally assumed as forward-looking statements.
Doo Prime has provided these forward-looking statements based on all current information available to Doo Prime and Doo Prime's current expectations, assumptions, estimates, and projections. While Doo Prime believes these expectations, assumptions, estimations, and projections are reasonable, these forward-looking statements are only predictions and involve known and unknown risks and uncertainties, many of which are beyond Doo Prime's control. Such risks and uncertainties may cause results, performance, or achievements materially different from those expressed or implied by the forward-looking statements.
Doo Prime does not provide any representation or warranty on the reliability, accuracy, or completeness of such statements. Doo Prime is not obliged to provide or release any updates or revisions to any forward-looking statements.
Risk Disclosure  
Trading in financial instruments involves high risks due to the fluctuation in the value and prices of the underlying financial instruments. Due to the adverse and unpredictable market movements, large losses exceeding the investor's initial investment could incur within a short period of time. The past performance of a financial instrument is not an indication of its future performance. Investments in certain services should be made on margin or leverage, where relatively small movements in trading prices may have a disproportionately large impact on the client's investment and client should therefore be prepared to suffer significant losses when using such trading facilities.
Please make sure you read and fully understand the trading risks of the respective financial instrument before engaging in any transaction with Doo Prime's trading platforms. You should seek independent professional advice if you do not understand any of the risks disclosed by us herein or any risk associated with the trade and investment of financial instruments. Please refer to Doo Prime's Client Agreement and Risk Disclosure and Acknowledgement Notice to find out more.
Disclaimer  
This information is addressed to the general public solely for information purposes and should not be taken as investment advice, recommendation, offer, or solicitation to buy or sell any financial instrument. The information displayed herein has been prepared without any reference or consideration to any particular recipient's investment objectives or financial situation. Any references to the past performance of a financial instrument, index, or a packaged investment product shall not be taken as a reliable indicator of its future performance. Doo Prime and its holding company, affiliates, subsidiaries, associated companies, partners and their respective employees, make no representation or warranties to the information displayed and shall not be liable for any direct, indirect, special or consequential loss or damages incurred a result of any inaccuracies or incompleteness of the information provided, and any direct or indirect trading risks, profit, or loss arising from any individual's or client's investment.