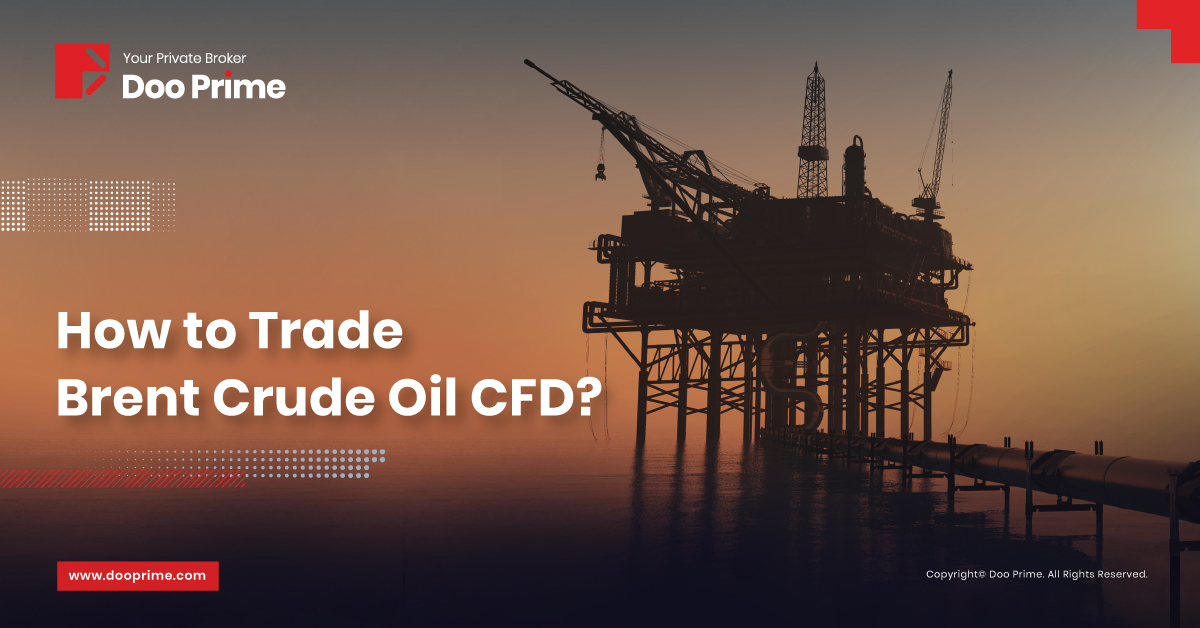 Trading Brent Crude Oil CFDs with Doo Prime 

Now that you know what is Brent Crude Oil and CFDs, it is time to learn how to trade Brent Crude Oil CFD.
As shared in our "What is Brent Crude Oil CFD" piece, CFDs are a choice option for those interested in crude oil markets. Trading Brent Crude Oil CFD allows you to trade on the changing prices of futures and options. And this is without needing to buy and sell the contracts themselves.
Building on from the points above, with Brent Crude Oil CFD, traders will yield financial from the value difference within the period of the contract. A good understanding on how to trade Brent Crude Oil CFD can bring several advantages. Such as:
You don't need a huge capital or be a professional to get started on trading Brent Crude Oil CFD
Have the opportunity to trade on the spot prices of oil benchmarks, as well as futures and options
The trader is able to perform both long and short on a huge variety of oil markets, on a single platform
This trading method and strategy generally gives the trader leverage. This is especially when you know the best practices and how to trade Brent Crude Oil CFDs.


How To Trade Brent Crude Oil CFD?

The key to success on how to trade Brent Crude Oil with CFD involves several factors. The trader is trying to capitalize through the crude oil movement, but there is more to that.
When it comes to trading Brent Crude Oil CFDs, an essential point to always keep in mind is that the trader would not be attempting to assess the 'real' value of the crude. Instead, he or she will be speculating on short-term price movements.
In order to successfully execute that, the trader should have good intuition and experience. Thankfully, these are skills that can be attained through market research, analysis, and observations on Brent Crude Oil CFD trading.
To add, having an understanding of factors that drive the commodity price can help you predict the price fluctuation in Brent Crude Oil trading. And it can subsequently bring you one step closer to making the most profit.


Guide On How To Trade Brent Crude Oil CFD

Below is a guide on how to trade Brent Crude Oil CFD, along with some important factors and components you should consider:
1. Paying Attention To Supply
Just like anything and everything in the world, supply plays a role in the price fluctuation of Brent Crude Oil.
This mainly has to do with how much oil is available to the market. The Organization of the Petroleum Exporting Countries (OPEC) determines the supply. Past events and observations show that if major oil-producing countries yield a lot of crude, the supply will be high – and sometimes more than the world can consume. When this happens, oil prices tend to drop sharply.
An example of this is when oil and natural gas prices plummet in 2014. According to sources like The Washington Post, the price of crude dropped roughly 40 per cent in that year: from $115 a barrel for the Brent benchmark, to about $70 a barrel. This is because Saudi Arabia did not hold back on production, and continued to produce oil at record high levels.
Observing Brent Crude Oil production can help you make these predictions.
2. Understanding Demand
Demand comes hand-in-hand with demand. This factor is determined by how much need is needed, for things such as heat, electricity, transportation. The general rule of thumb is as such: the more economic growth a region sees, the more demand there will be for oil. And, therefore, the more demand there is from Brent Crude Oil.
As a result, the demand will naturally push the price of oil – and this is the opportunity for Brent Crude Oil CFD trading.
3. Looking Into Financial And Political Instability
It is no secret that crises and political uncertainty in the financial markets plays a role in weakening the economy.
As shared, supply is determined by the big oil-producing countries. This also means that tension in one of those nations can give rise to problems when trading Brent Crude Oil. To explain, if there is war or conflict in an oil-producing region, crude inventories could seem threatened. This would then spark concerns and the possibility of altering the price of oil.
Look back at the Gulf War of 1991: oil production fell, which caused prices to rise. Fast forward from then to 2003, and we see oil prices soaring after the U.S. invaded Iraq. It is known that this Middle Eastern nation produces a lot of oil. When instability hit that region, people were cautious and unsure of what would happen to the supply. Thus, a rise to prices.
4. Researching And Choosing A Reliable Broker To Trade Brent Crude Oil
Brokers can make a huge difference to your trading fortunes. By choosing a good broker from the start, you are setting yourself up with a better chance success with CFDs.
There are several key factors to take into account when choosing an online CFD broker. At the top of the list are the trading platforms and software used and offered, commission and spreads, regulations, and trader convenience.
All these are available at Doo Prime.


How To Trade Brent Crude Oil CFD With Doo Prime

Doo Prime prides ourselves in being a well-founded and reliable broker. We promise to offer unparalleled trading experience, especially when trading Brent Crude Oil CFDs.
Our groundbreaking trading platforms and cutting-edge technology make this possible.
Take for instance our Doo Prime InTrade. This is an easy-to-use and professional trading platform backed by the latest cloud-based technology. Moreover, this is a trading platform that also supports MT4 and MT5. It is equipped with NDD (No Dealing Desk) Mode, and offers Direct Market Access (DMA) to the institutional-grade trading market, as well as electronic communication network (ECN). There are also 8 layers of market depth.
Our trading platforms and tools available on Doo Prime form a solid foundation to trading Brent Crude Oil. We strive to provide the best online trading experience to global traders. These are some of the most outstanding features Doo Prime adheres to deliver when trading with us:
Regulation: Doo Prime holds the financial service regulatory licenses in Mauritius and Vanuatu, which has granted us the opportunity to deliver the finest trading experience to more than 21,000 professional clients, alongside managing a massive trading volume of dozens of billions of dollars monthly.
Spreads and commissions: With spreads of 0.1 pips and leverages up to 1:500, the cost of trading CFDs with Doo Prime is substantially lower. At Doo Prime, we are committed to ensuring stability and transparency in the bid and ask price for our clients – in order to deliver the best trading experience.


Interested in learning more about the various benefits of trading Brent Crude Oil CFDs with Doo Prime? Click here to learn more about us and crude oil trading. Or head to our website now and sign up for an account with Doo Prime.